Browser Malware & Virus Scanners: 6 Best to Use in 2023
Many years ago, it was common to find an online scanner offered by an antivirus company for free which can be used to scan your computer directly from your web browser. As we may think an online antivirus scanner that runs from a web browser does not need to download and install a program, it actually still requires to download an add-on that stays installed and enabled on the browser until it is manually removed by the user.
Most of the online antivirus scanners do not have the ability to remove or clean any found viruses as it is merely used to detect if there is any active malware on the computer. Although the online scanners are very useful for a quick scan and also to get a second opinion since it doesn't interfere with the antivirus installed on the system, they aren't very popular and the number of online scanners has dropped drastically from around 60 to only 3 today.
Here are the 3 remaining online antivirus scanners that works with the current web browsers. Do note we are only looking at online scanners that work within a browser window and not the many others that need you to download a custom frontend or require any form of separate installation.

ESET Internet Security is among the top browser malware and virus scanner utility tools available. The cybersecurity software includes a web-protection feature that scans websites for potential threats before accessing them, preventing users from visiting malicious websites that can infect and damage their computers. Although the application checks against a database of recorded security viruses and threats, the software also uses machine learning to detect, isolate, understand, and terminate any malware that attacks your device.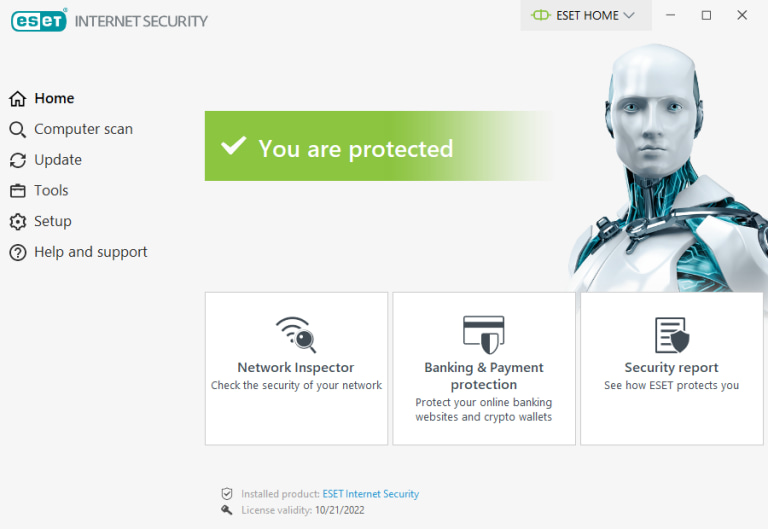 Furthermore, the application is compatible with Windows, Linux, macOS, and Android devices. ESET uses a combination of behavioral analysis and machine learning to detect malware and virus within the user's browser. The application runs automatic updates about emerging threats and vulnerabilities, providing more protection to its users. When the engine spots a virus, it issues an alert and most of the malware is disabled and removed immediately without requiring the user's attention.
In addition to browser security, the ESET application provides additional features that enable the user to enjoy a well-rounded cybersecurity experience. For example, the application allows for parental control, an anti-theft watch for stolen devices, and provides email and spam protection from harmful sites and addresses.
Download ESET Internet Security
---
2. Guard.io
This browser extension provides protection for the user while they surf the internet. It provides real-time warnings about potentially dangerous websites and downloads that can disrupt the system's activities. Guard.io also acts as a watchdog over the user's personal information, protecting them from websites where their identities can be stolen. After installation, the software automatically detects and deletes any malware and adware that sends unsolicited notifications and ads. The software sends warnings and alerts when the user's data is leaked or stolen online.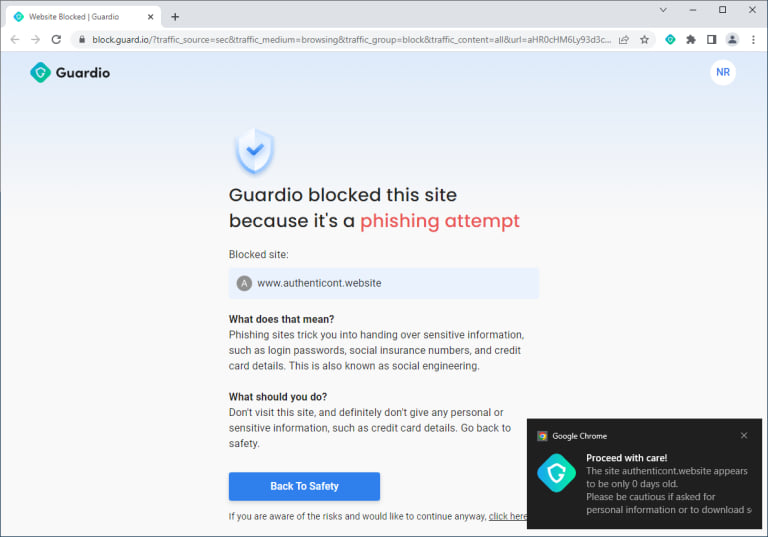 The application is GDPR compliant and only collects the data it needs to provide its protective services on your computer. One great thing is that it sits in the background and uses behavioral analysis to detect, flag, and resolve malware and viruses to the user. Additionally, it provides real-time monitoring reports and analysis of the users can use to keep their system safe.
---
3. Total AV
Total AV's web filtering tool automatically flags and blocks harmful websites and browsing activity. For example, it blocks websites with a low-trust level, malicious-acting websites, and crypto-mining URLs. You can add up to three devices to your account across Windows, Mac, iOS, and Android, giving you well-round protection everywhere. Furthermore, the application provides real-time monitoring to protect users and a VPN to keep their mobile connection private. Total AV provides an option for tracking cookies, junk files, autorun programs, browser history and cookies, duplicate junk files, and potentially unwanted applications (PUAs), and offers security recommendations.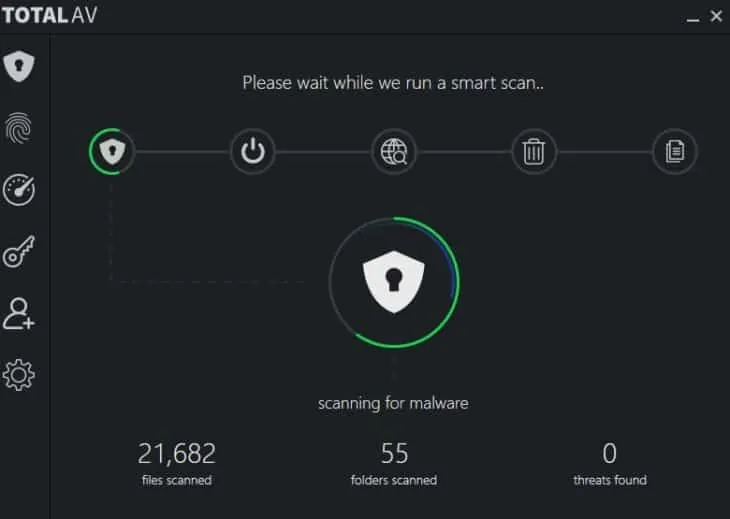 The virus scanner separates threats into different categories, making it easier for users to follow up on their computer health. You can run a data break check, add your mobile devices, or conduct a full system scan with a Total AV account. It is also a great malware detector for users with low-powered machines as it doesn't fill up the processor while performing regular malware and virus scans. The application includes other services like ad block, password vault, junk cleaner, application uninstaller, browser cleanup, and setup manager.
---
4. Bitdefender QuickScan
Bitdefender is one of the top antivirus applications today and unlike other companies, they still maintain the free online scanner called QuickScan. It loads fast because it doesn't need to download the huge antivirus definition file to the computer. Basically what QuickScan does is it creates a list containing hashes that are calculated from active process and critical areas. The list is then sent to Bitdefender's servers for remote analysis and finally files with unknown hashes are uploaded for scanning in the cloud.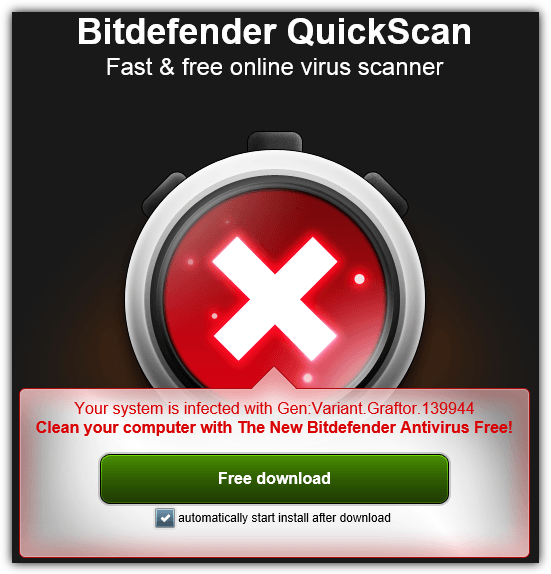 If QuickScan detects that your system is infected with a malware, the page will show a huge red notice with a button to download the Bitdefender Antivirus Free Edition, not the trial. Bitdefender Quickscan runs on Internet Explorer, Chrome and Firefox through installing an add-on. Do note that Internet Explorer runs in Protected Mode by default and this prevents QuickScan from scanning your system's memory. To solve this, you can either temporarily disable UAC or run Internet Explorer as Administrator.
---
5. ESET Online Scanner
ESET has a free online scanner that only runs in Internet Explorer. Other web browsers such as Firefox or Chrome will require you to download and run a standalone program called ESET Smart Installer. Unlike Bitdefender's QuickScan, ESET Online Scanner downloads the virus signature database to your computer which means the scanning and analysis is performed locally on your computer.
ESET Online Scanner allows you to configure the scan settings such as enabling the detection of potentially unwanted applications (PUP), scan archives, scan for potentially unsafe applications, anti-stealth technology, and even selecting the location that you would like to scan.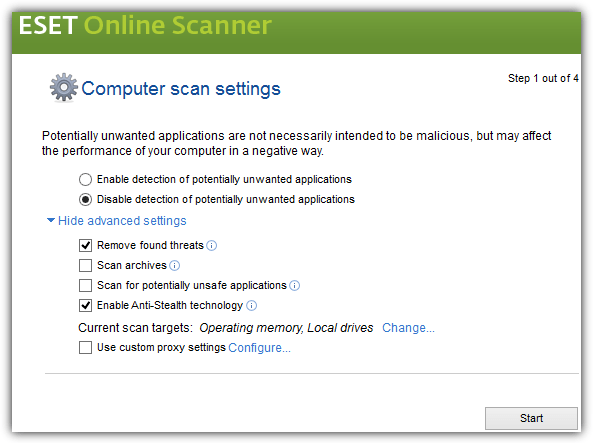 An advantage in using ESET Online Scanner is it can remove found threats. However do take note that if you've selected to only scan the memory but not the hard drive, ESET Online Scanner won't be able to remove any detected threats. You need to scan both the memory and hard drive in order for the removal of found threats to work.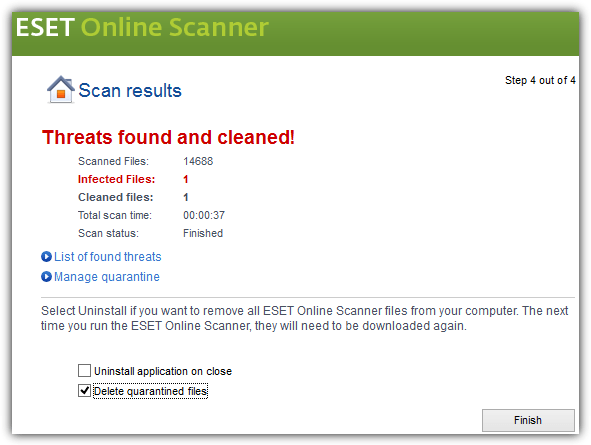 ---
6. BullGuard Virus Scan
Many people have the misconception that BullGuard is the same as Bitdefender just because Bullguard uses the Bitdefender virus signature database. Although they share some similarities, BullGuard actually has a second scanning engine that focuses on behavioral and on access detection with 3 sets of definition, with one that is homemade. BullGuard Virus Scan only detects threats but does not clean.
BullGuard Virus Scan works exactly the same as Bitdefender QuickScan. It only downloads the scanning engine, creates a list of MD5 hashes from critical areas such as startup, running processes, browser plugins and uploads to the server to check for unknown hashes. Files with unknown hashes are uploaded to BullGuard's servers for further analysis.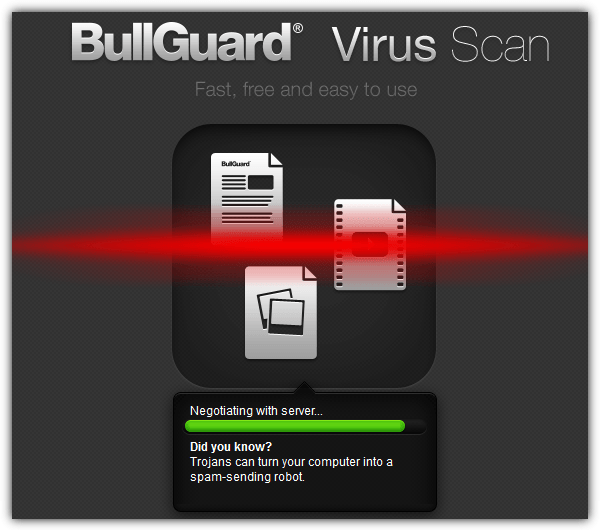 During testing, we found that BullGuard Virus Scan does not work with Internet Explorer 11 as we get the message error "Browser not supported!". It does however work on Internet Explorer 10, Chrome and Firefox through installing an add-on. Although the online BullGuard Virus Scan feels the same as the Bitdefender QuickScan, there is an additional advantage which is you can view the scan report that tells you the location of the infected files, it lists all the files that has been scanned and uploaded.
---
As a simple test, we infected our test machine with a known malware that can be seen actively running in Windows Task Manager and all 3 online scanners picked it up as threat.
To test it further, we installed a stealth keylogger that uses rootkit methods to hide its presence and scanned the computer using all 3 online antivirus scanners mentioned above. Both Bitdefender QuickScan and BullGuard Virus Scan did not detect it. However ESET Online Scanner detected one of the executable files used by the keylogger as threat, and automatically quarantined the detected file but the keylogger is still running which means that it failed to fully remove the keylogger from the system.
A quick scan using the online antivirus scanners are useful to detect common malware or to get a second opinion but definitely are not powerful enough to detect the lower level types of malware.