3 Cloud Based Antivirus Software Review
The traditional method for an antivirus to detect if a program is malicious is by cross checking with their virus definition database file to see if there is a match. The numbers of malware keeps on growing at a very fast rate and that would increase the size of the virus definition database. Try to imagine scanning a single file would have to be checked against a database containing millions of records.
This creates a challenge for an antivirus company today in keeping their software fast and as light as possible without slowing down the computer. One of the most efficient method that is being implemented on antivirus software to bring down the load is cloud technology. You can find most of the major antivirus brand such as Kaspersky still uses the traditional definition together with modern cloud detection, but very few that solely uses only the cloud protection method.
The cloud-based antivirus would be very light on the computer because all the heavy scanning work is done on the server side. Sending every file to the cloud for scanning doesn't make sense as it would be very slow, hence the cloud based antivirus would still need to employ some other kind of technology such as behavioral scanning to tell if the file is suspicious, then only sends the digital fingerprint of the file to the cloud for identification.
In this article we'll list the cloud based antivirus software that delivers protection from the cloud without relying on the local signature-based scanning.
1.
Webroot SecureAnywhere AntiVirus
Webroot SecureAnywhere AntiVirus is currently known to be the tiniest antivirus around because it uses cloud based technology from PrevX which they acquired back in late 2010. According to PassMark's Benchmark Reports that was released on 31 August 2015, Webroot SecureAnywhere AntiVirus achieved the first place in 9 out of 12 metric tests, making it the best performing antivirus in its class.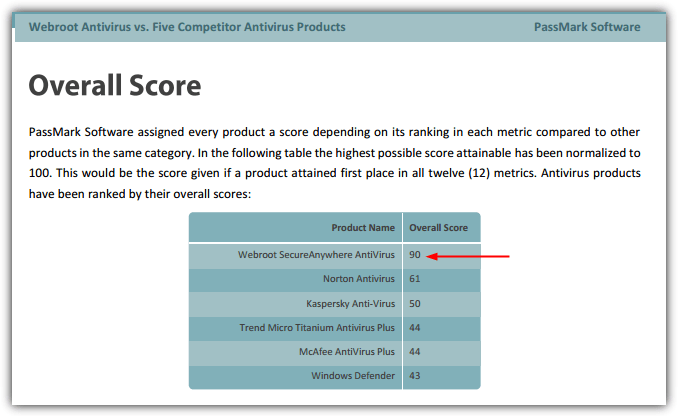 While most malicious software comes from the Internet, offline computers can also be infected by malware through USB flash drives. When Webroot SecureAnywhere AntiVirus is unable to communicate with their cloud services because the computer is offline, there are a set of rules to help protect the computer such as executing the suspicious program in a sandbox, logging the program's behavior and send it to cloud for analysis once the computer gets back online.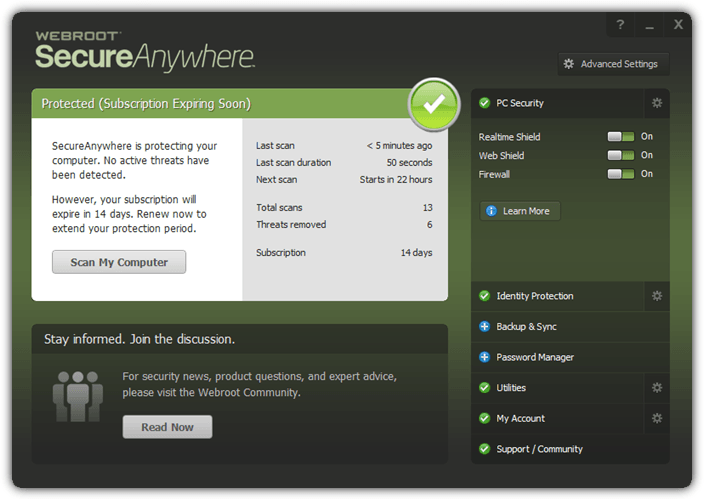 Unfortunately Webroot SecureAnywhere products are shareware only that cost $39.99 for a year of AntiVirus subscription on 1 device with an impressive 70-day money-back guarantee. They also offer a 14 days free trial to evaluate the software.
Download Webroot SecureAnywhere AntiVirus
---
2. Panda Free Antivirus
Back in 2009, Panda Security was one of the first to take the bold step in creating a fully cloud-based antivirus software while the traditional signature based line of products are also available to purchase and install. As many years has gone by with many improvements, Panda Security has renamed their "Panda Cloud Antivirus" to "Panda Free Antivirus".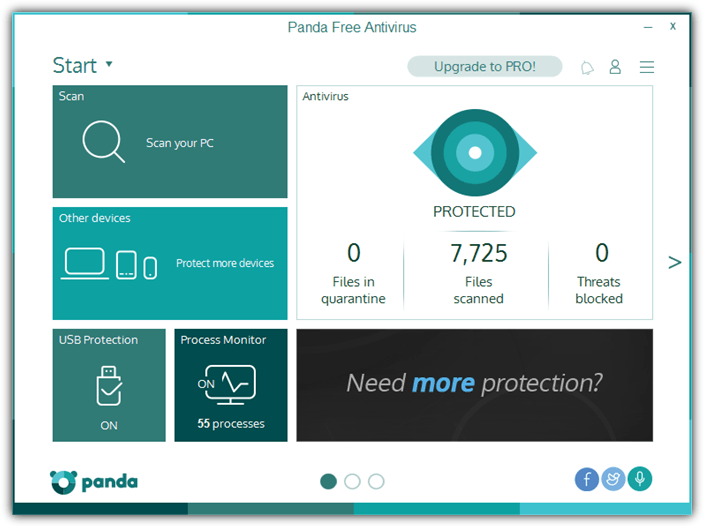 Unlike Webroot SecureAnywhere AntiVirus that runs an unknown file in a sandbox, Panda Free Antivirus relies on a cache of active malware signatures together with other technologies such as heuristic and behavioral when the computer is offline. The multiple signature files found in Panda Security's cache folder is around 40MB which is considered to be quite large in file size. According to AV-Comparatives performance test, Panda Free Antivirus has a pretty high system impact score.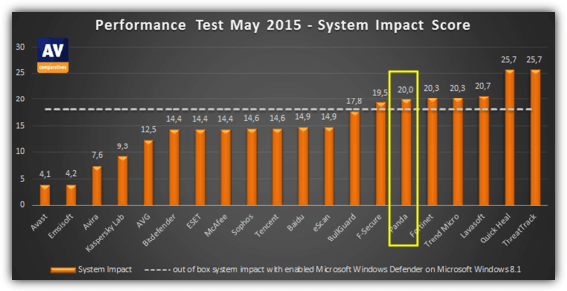 Panda Free Antivirus cannot be considered as a fully cloud based antivirus software because it isn't very light on system resources and still uses a "small" subset of virus signature file. This may be one of the reason why Panda Cloud Antivirus has been renamed.
---
3. Immunet
Immunet is a cloud based community driven antivirus software that was first acquired by SourceFire in 2011 and then in 2013, the whole SourceFire company was acquired by Cisco. After two acquisitions, it looks like the development of Immunet has come to a halt although Cisco has mentioned that the development will continue and expanded in the coming months. The paid plus version of Immunet has been discontinued while the free version is still available for consumer use.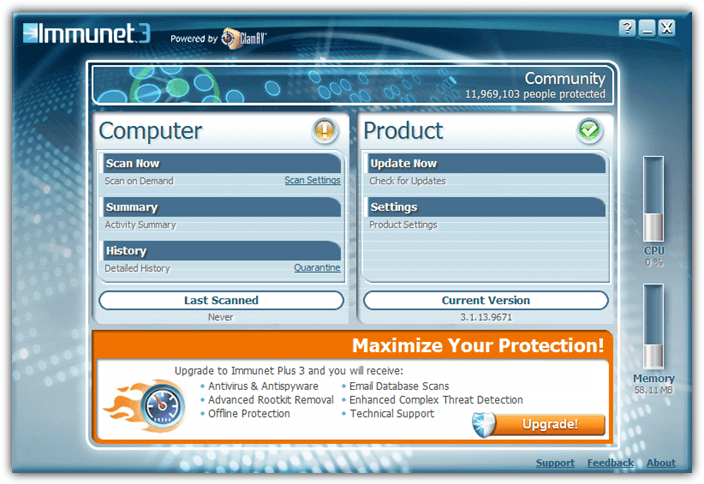 Immunet comes with ClamAV detection engine which is automatically used as the scanning engine when the computer is offline and not able to access the cloud scanning feature. However do take note that the ClamAV detection engine is turned off by default in Settings and you should enable it to ensure that your computer has some protection when not connected to the Internet.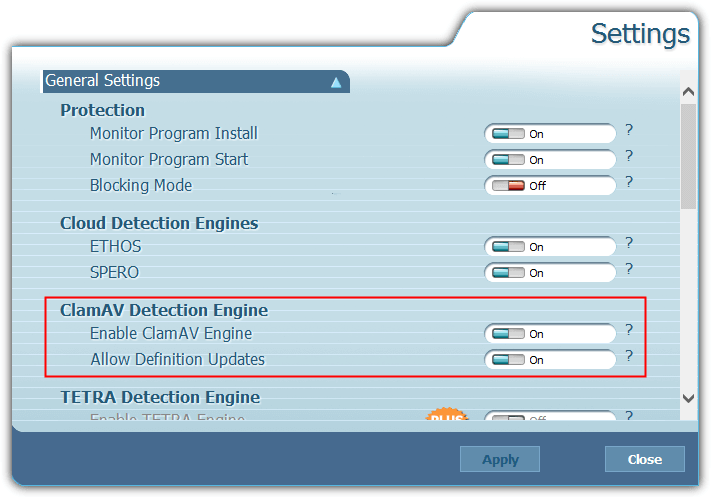 We experienced a problem whereby if you've chosen the plus/trial option during installation, there is no way to switch back to the free version when the trial has expired other than uninstalling and reinstalling the program.