Cisco Network Monitoring Tools – 10 Best Picks for 2023
In the world of IT infrastructure and hardware, Cisco reigns supreme as the go-to brand for many organizations including 87 percent of Fortune 500 companies seeking high-performance networking devices and reliable security firewalls.
Cisco is the leading provider of a variety of hardware devices ranging from switches to wireless controllers. Also, the brand is well-known for its routing devices. When equipped with Cisco network devices, it's crucial to monitor their uptime, health status, security, and performance, ensuring your business stays safe and optimal.
Have you also filled your network with Cisco devices and joined countless businesses enjoying Cisco's products? If so, this list of the best Cisco network monitoring tools will make your network even better.
Best Cisco Network Monitoring Software
1. ManageEngine OpManager: Best Cisco Network Monitoring Tool Overall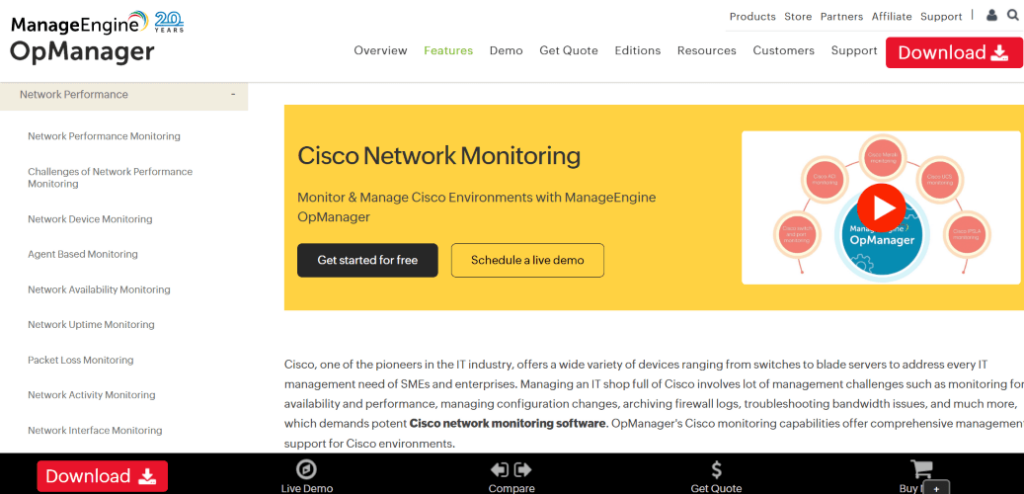 Operating System: Windows and Linux
Pricing: Paid, includes free version
Developer: ManageEngine
ManageEngine's OpManager is an entire infrastructure and network monitoring software with comprehensive management support for Cisco systems. The tool supports monitoring a variety of Cisco devices such as Nexus, ASR series, UCS, and much more from a single console.
OpManager first collects key performance indicators (KPI) data, then verifies the thresholds, and immediately alerts you of any anomalous behavior found in the metrics.
With tons of data flowing over the network of connected devices, it's crucial to monitor the endpoints through which this data travels in order to ensure security. Thankfully, OpManager's Cisco port monitor discovers the interfaces through which data passes and monitors their availability, traffic, and performance.
Moreover, OpManager's Cisco network monitoring tool can take control of the hardware devices' configurations by performing tasks such as configuration backup, configuration captures, automatic rollbacks for faulty configurations, and configurations setup. More importantly, you can quickly do all this via its web client.
Pros:
Capable of monitoring different types of Cisco devices.
OpManger draws a network map of connected devices and the map automatically updates with network changes.
Leverages UCS Manager XML API to monitor various components such as blade servers, rack mount servers, fabric extenders, etc.,
Supports advanced technology like Netflow to monitor your bandwidth usage across the network.
Alerts you of faulty configurations and performance deviations.
Cons:
Too many features take time to learn.
Download ManageEngine OpManager
2. Site24x7: Best SAAS tool for Cisco device monitoring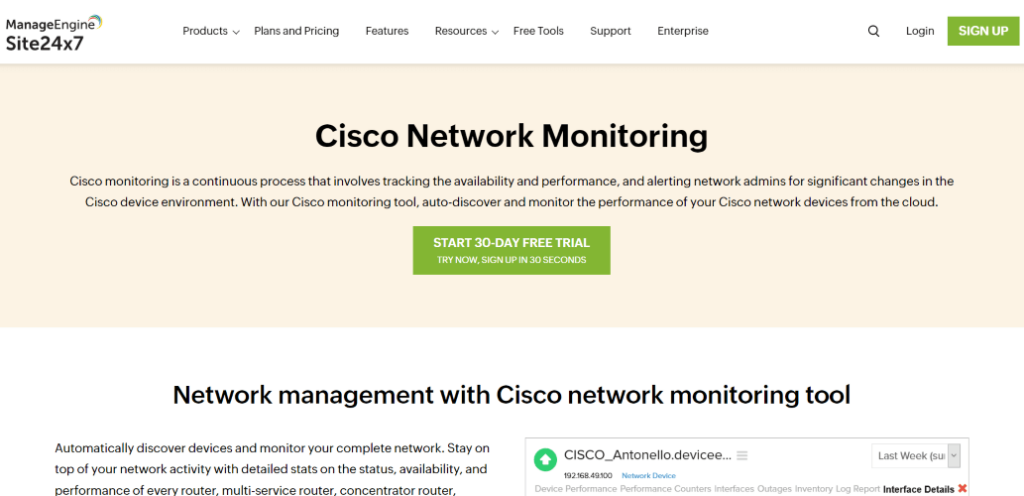 Operating System: Windows, Linux, and all major browsers
License: Free trial for 30 days
Developer: ManageEngine
With Site24x7 Cisco network monitoring tool, you'll be guaranteed the excellent health, high availability, and optimal performance of your Cisco devices from the cloud, but requires an agent to be installed on the network to gather metric stats. However, all Cisco devices come with agent software installed in them by default.
Agent software in the Cisco devices continuously collects the data and passes it to cloud servers via SNMP for the live stats to be displayed.
The tool is capable to track the number of Cisco devices such as Cisco PIX, Cisco cloud controllers, Catalyst devices, Cisco stack switches, and much more.
Get a comprehensive understanding of your Cisco network performance using bandwidth metrics, memory metrics, interface metrics, and CPU metrics. The tool provides more than 1500 unique templates to monitor various metrics and device types.
Pros:
Automatic discovery of network devices.
Cloud service that facilitates remote monitoring.
Allows you to add 100 performance metrics of your choice.
Supports Cisco stack switches monitoring.
Get immediate downtime alerts.
Cons:
Not built for on-premise monitoring.
3. PRTG: Excellent Sensors Specially Designed for Monitoring Cisco Devices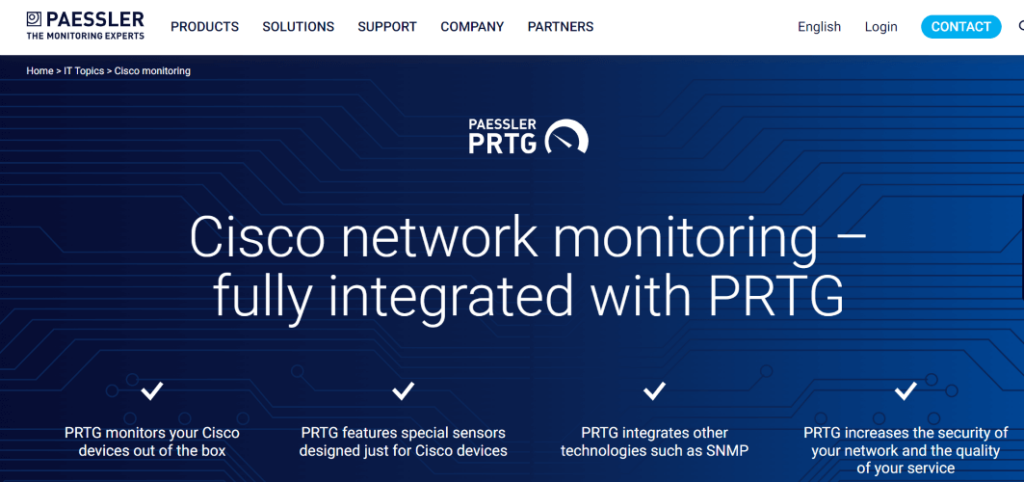 Operating System: Windows, PRTG Desktop – alternative application for Linux and macOS
Pricing: Paid, includes free version
Developer: Paessler AG
Find out all there is to know about Cisco network devices' health and status with PRTG Cisco monitoring sensors.
It's as easy as configuring the PRTG sensors and hitting the ground running by monitoring the necessary metrics. 'Sensors' here are the basic monitoring elements. You can picture them as one sensor for monitoring a specific aspect of performance like traffic, availability, or disk usage.
You can get an overview of traffic, resource usage, availability, and security status of Cisco hardware devices. While numerous specific sensors are developed to track Cisco devices, there are also sensors that utilize Netflow technology to monitor Cisco network traffic.
Pros:
Employs Netflow and SNMP to monitor Cisco routers.
Get Instant alerts when a Cisco device malfunctions.
Get stats on Cisco ports and traffic flow over them.
Equipped with sensors for monitoring the quality of service and service level agreements.
Cons:
Demands time and patience to explore all the available sensors for each functionality.
Although PRTG is available for Linux, it's primarily a windows-based software.
Download PRTG Cisco Monitoring
4. SolarWinds Network Performance Monitor: Leading Network Monitoring Tool for Cisco Application-Centric Infrastructure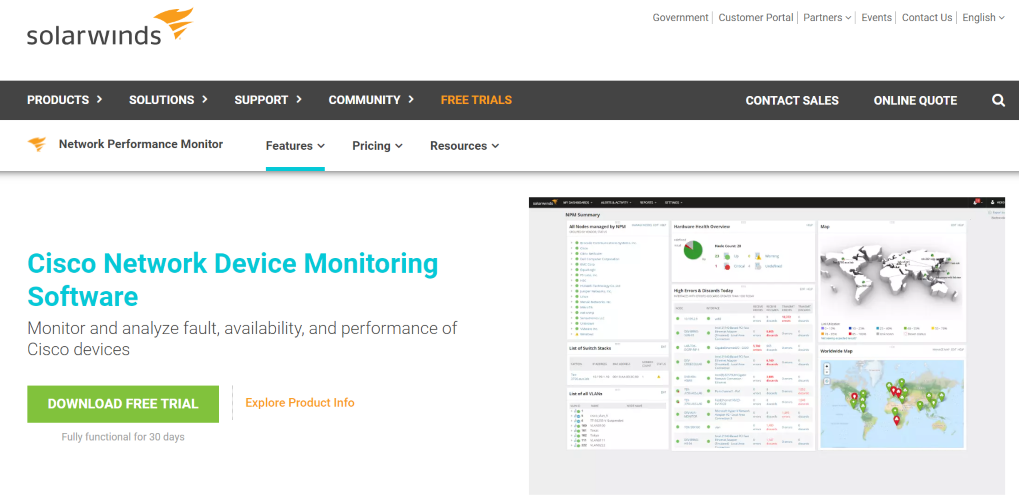 Operating System: Windows
Pricing: Free trial for 30 days
Developer: SolarWinds
Keep track of the health, traffic, availability, performance, and malfunctions of your Cisco network devices with SolarWinds Network Performance Monitor. Like any other monitoring tool, the software employs SNMP for continuous Cisco hardware network checks.
The tool immediately spots all the connected devices and creates a network topology map which continuously gets updated to whatever changes happened over the network. This allows you to visualize the entire network performance at a glance on a single map.
The user-friendly dashboard doesn't require you to be a technical wizard to understand the network, and the flexibility to tailor them for displaying stats of your choice is what makes the tool even better.
Pros:
Detailed charts and reports on performance stats.
Automatically identifies connected Cisco devices.
Comprehensive monitoring of different types of Cisco devices.
Intelligent alerting system and advanced troubleshooting features.
Fully functional free trial for 30 days.
Cons:
Lack of some cloud monitoring capabilities.
5. Datadog: Best Cloud-based Network Monitoring Tool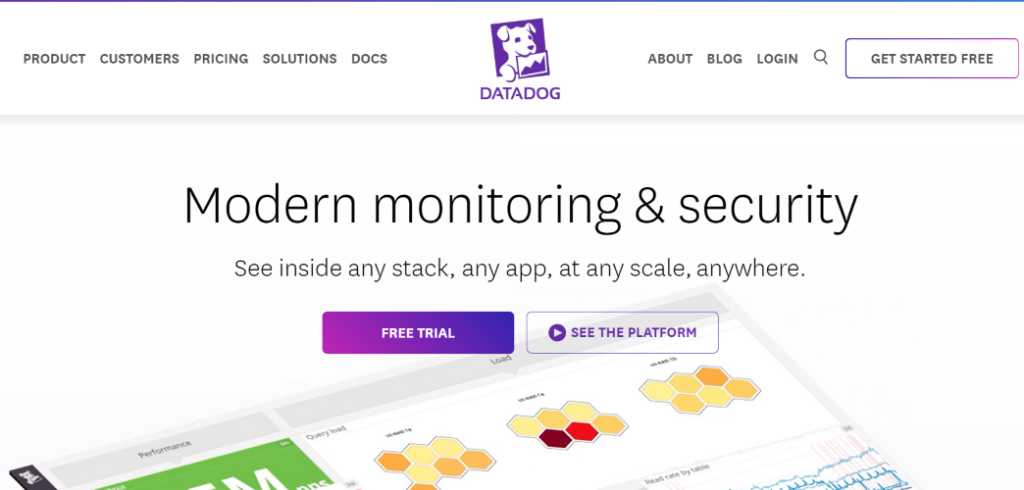 Operating System: Windows, Linux, and macOS
Pricing: Paid, includes free version.
Developer: Datadog, Inc
Equip your IT teams with this premium network device monitoring tool to speed up the process of monitoring network hardware devices from all major brands including Cisco.
Datadog's Meraki integration seamlessly scales the health and performance monitoring of your growing network devices.
The tool's drag-and-drop feature facilitates you to effortlessly create personalized dashboards that display performance counters of your choice through reports, charts, and visuals.
With Datadog's Meraki integration, you will have access to many critical metrics of all your Cisco devices, extending the monitoring capabilities of the tool.
Pros:
Cloud hosted tool.
Expands Cisco monitoring capabilities with Meraki integrations.
Collects event logs of connected hardware.
SNMP integration for auto device discovery and metric data collection.
Instant alerting system.
Cons:
Documentation could be more clear.
6. Nagios: Best Cisco Network Monitoring Tool in Linux Environment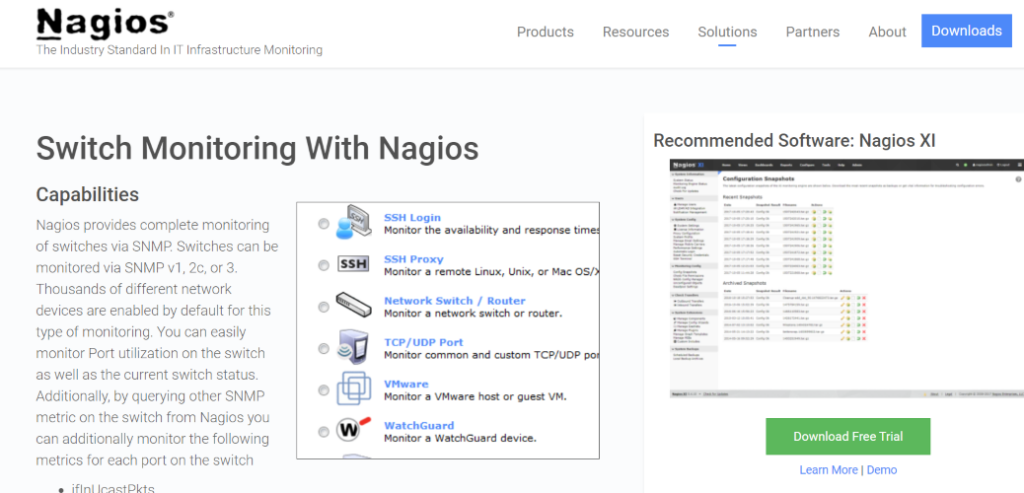 Operating System: Linux, and Windows
Pricing: Paid, includes free version
Developer: Nagios Enterprises
Nagios is a well-known network monitoring tool that comes equipped with a plethora of plugins to keep an eye on servers, databases, applications, and the network as a whole.
Given that Cisco devices dominate today's hardware infrastructure, Nagios has risen to the challenge and developed specialized plugins for monitoring Cisco routers, switches, and firewalls.
Nagios has Core and XI versions. One offers free monitoring services with limited capabilities while you should pay for the other to leverage sophisticated Cisco monitoring features.
You can use the "Check Admin Up Oper Down" Nagios plugin to detect connected interfaces that are operationally down, and the "Check cisco 3750 stack status" plugin to check your Cisco catalyst devices series. In fact, Nagios has many other plugins that can serve multiple Cisco monitoring capabilities.
Pros:
Cisco-specific plugins.
Comes with the free version (Nagios core).
30-day free trial.
Can create network topology maps.
Cons:
Limited templates include reporting feature and they can't be edited.
7. Zabbix: Get Excellent Cisco Monitoring Features at no Cost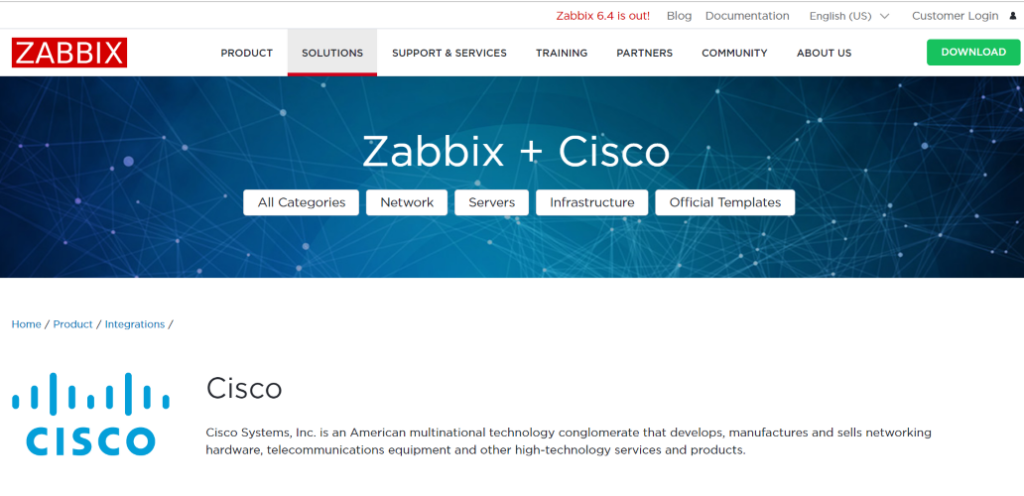 Operating System: Windows, Linux, and macOS
Pricing: Open-source
Developer: Zabbix LLC.
Zabbix is a free Cisco monitoring tool that can be easily configured to monitor your network as you wish. Templates in Zabbix come with pre-defined configurations for typical network monitoring capabilities however you can customize them to your preferences.
Zabbix offers numerous templates equipped with SNMP monitoring capabilities that suit nearly all types of Cisco devices ranging from switches to firewalls, and to top it off, you can access these templates for free.
Pros:
Open-source software.
A plethora of free and customizable templates.
Can be integrated with third-party solutions for additional features.
Clear data visuals and reports.
Easy-to-use dashboard.
Cons:
Creating custom templates or integrating third-party solutions needs technical expertise.
8. Logic Monitor: Best Cloud-based Solution especially for Cisco Nexus Devices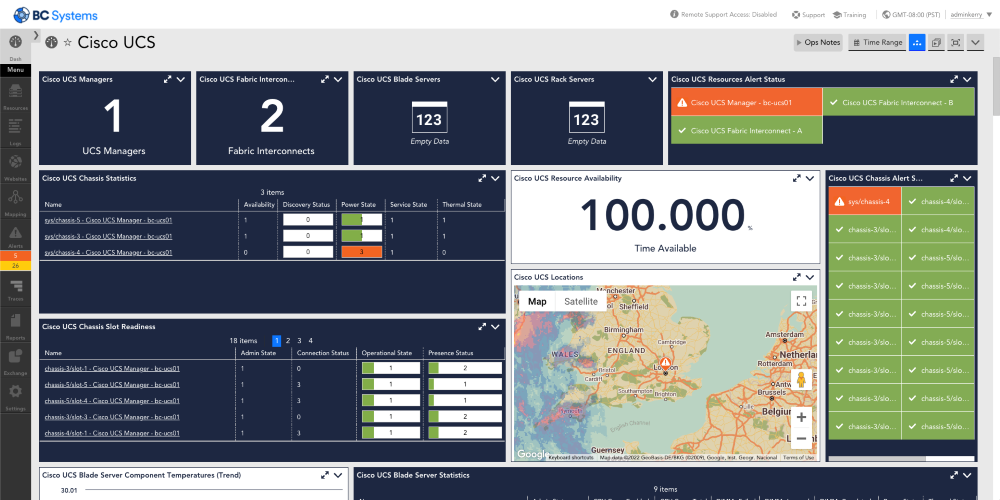 Operating System: Windows, macOS, and Linux
Pricing: 14 days free trial
Developer: LogicMonitor, Inc.
Logic Monitor, a cloud-based Cisco preferred solution partner to monitor the health and performance of your Cisco infrastructure. The tool is well-designed for Cisco device monitoring and traffic analysis.
With its powerful visuals and customizable dashboards, you can watch the critical and out-of-box metrics of your Cisco devices.
Additionally, the tool has packages for Cisco SD-WAN monitoring, VoIP monitoring, Meraki monitoring, and Cisco UCCX monitoring.
Pros:
Supports Nexus, Meraki, Catalyst, or any other Cisco networking gear.
Get deeper insights into Network traffic, ASA firewalls, and Cisco hardware.
Its numerous pre-built integrations cater to different modules of your infrastructure.
Uses Netflow to gather traffic stats.
Cons:
No free version.
Cloud solutions demand for stable internet connection.
9. WhatsUp Gold: Best for Monitoring Large Cisco Networks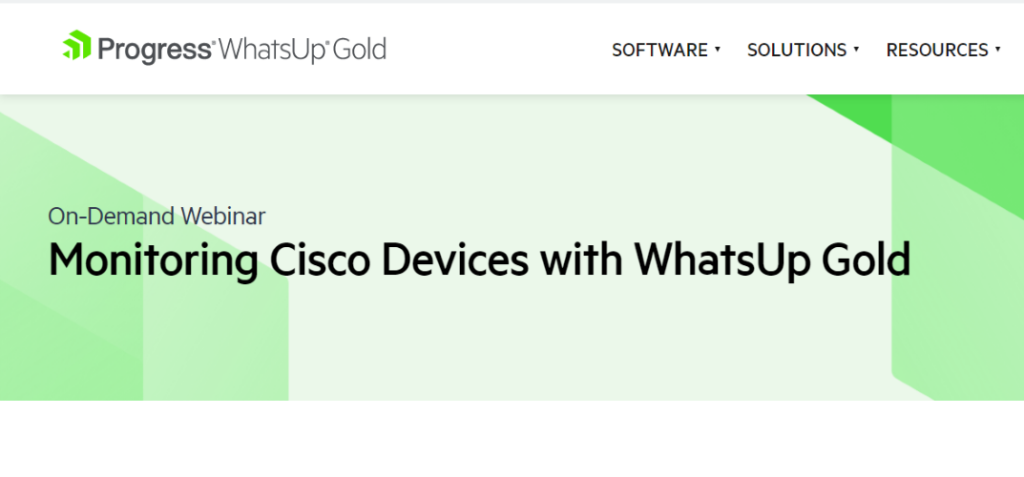 Operating System: Windows
Pricing: Paid, includes a free version to monitor up to twenty points at no cost
Developer: Ipswitch, Inc.
Whatsup Gold is another general package for monitoring your network, applications, and IT infrastructure available in the market for many years, comes with add-ons to monitor SNMP-enabled or Netflow-configured Cisco devices.
Moreover, the tool discovers the devices instantly, draws a network map, and turns the collected data into reports, aimed at providing deeper visibility into the status and performance of your IT infrastructure.
Pros:
Real-time alerting system.
Flexible pricing options.
Supports network traffic and bandwidth utilization analysis.
Offers device configuration management and backup Cisco configurations.
Cons:
Limited support for Cisco ACI.
Some users reported issues regarding its device discovery feature.
10. Opsview: Great Tool for all your Cisco Network Monitoring needs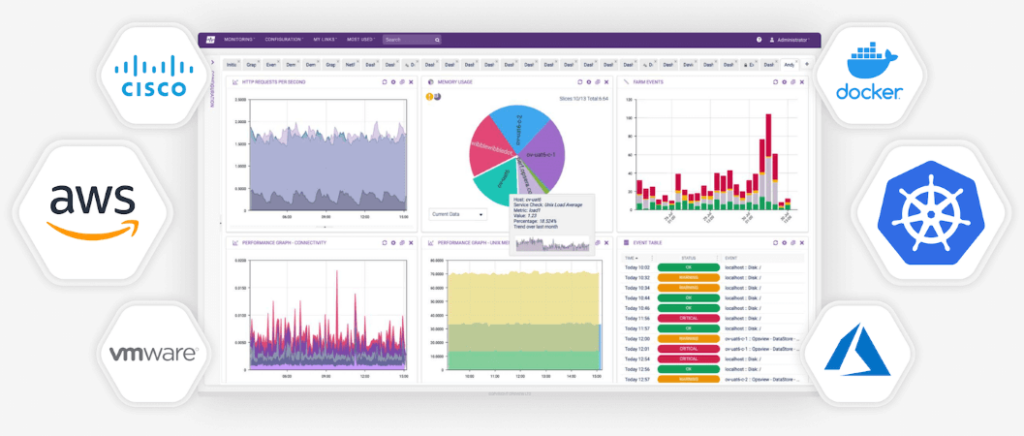 Operating System: Native deployment on Linux, Agent available for Windows
Pricing: Paid
Developer: Opsview Ltd
Opsview is a network monitoring software bundle consisting of specialized solutions for different types of your Cisco network environments. It supports all the features that you will need to monitor your Cisco networks, from health and performance checks of Cisco devices to advanced Cisco monitoring.
Cisco ACI monitoring Opspack provides various host templates for Cisco application-centric infrastructure monitoring. For instance, the APIC template in the ACI Cisco monitoring pack tracks APIC CPU usage, APIC disk usage, health state, and temperature. You have a Pod template that checks health score, leaf summary, and spine summary.
If your infrastructure is packed with blade servers, chassis housing, or fabric extenders then Opsview offers UCS monitoring Opspack to monitor these elements of the Cisco unified computing system.
The other Cisco network monitoring offerings from Opsview include Cisco Monitoring, Cisco Advanced Monitoring, Cisco IP SLA Monitoring, and many more.
Pros:
The all-in-one package for your entire IT infrastructure includes numerous solutions for your Cisco network monitoring.
Can be deployed on-premise or SaaS.
Specialized solutions for monitoring various Cisco environments.
Easy migration from other tools.
It's simple to write your own plugins for Opsview or integrate open-source plugins.
Cons:
Little pricey. Licensing options can be improved.
Overview of best 10 Products
| | | | | |
| --- | --- | --- | --- | --- |
| Software | Top Features | SaaS or On-premise Deployment | Free edition availability | Best for Small or Large Enterprises |
| 1. ManageEngine OpManager | Monitors 100+ performance metrics, UCS performance monitoring, Live network maps | Offers both but best for on-premise. | Yes | Best for both small and large networks |
| 2. Site24x7 | Cisco stack switches monitoring, Support for various different Cisco devices, 10000+ default templates | Best as a SaaS solution. | No | Best for all sizes of networks. |
| 3. PRTG | Unique sensors for each metric monitoring, Special sensors to monitor Quality of Service, Watches routers, switches, and ports | Offers both SaaS and on-premise deployment options. | Yes | Best for small to mid-sized networks. |
| 4. SolarWinds Network Performance Monitor | Automatic discovery of Cisco network devices, Simple to add or remove devices, Proactive alerting system | Offers both on-premise and SaaS deployment options. | No | Suits all sizes of networks. |
| 5. Datadog | SNMP integration for automatic device discovery and collecting Meraki metrics, Collects event logs | Offers both SaaS and on-premise deployment options but best as a SaaS model. | Yes | Best for mid-sized to large networks. |
| 6. Nagios | Includes a free version, Comes with specialized built-in plugins for Cisco monitoring, UI is great in paid version | On-premise, Nagios itself doesn't come as SaaS solution but can be installed on your cloud server. | Yes | Best for mid-sized to large networks. |
| 7. Zabbix | Open-source monitoring tool, third-party solutions for additional features, Official pre-built templates | On-premise. | Yes | Suits small to mid-sized businesses. |
| 8. Logic Monitor | Out-of-the-box performance metrics monitoring, Support for various types of Cisco devices | SaaS solution. | No | Both for small and large networks. |
| 9. WhatsUp Gold | WhatsUp Gold can support VoIP on Cisco, can support Cisco devices out of the box, Configuration management to backup your Cisco configurations | On-premise. | No | Best for large enterprises. |
| 10. Opsview | Easy migration, Specialized solutions for various Cisco environments | Offers both on-premise and SaaS deployment options. | No | Both for both small and large networks. |
How to Choose the Best Cisco Network Monitoring Tool?
Choosing the best among the wide variety of Cisco network monitoring tools available in the market can be tedious. Hence, checking out the following factors in the above-mentioned 10 products will help you make the right decision in just a few minutes.
Support for multiple Cisco devices – If your organization is a big network consisting of a multitude of Cisco devices, then look for a monitoring tool that can support a variety of Cisco devices.
Interface – A user-friendly interface will make monitoring more efficient and easier. It'll help you quickly explore the entire software and all of its monitoring capabilities.
Security – Ensure that your monitoring tool supports secure communication protocols to collect metric data from the Cisco devices. Also, features like access controls, encryption, and authentication can keep your network infrastructure safe.
Capacity Planning – Historical trend analysis feature in monitoring tools helps you draw detailed insights for optimized capacity planning.
Alerting System –Your Cisco monitoring tool should have an instant and accurate alerting system.
What is Cisco Monitoring Tool?
All major businesses these days equip their hardware infrastructure with Cisco devices. Monitoring these devices is crucial to ensure your network is healthy and optimal. However, you might lack in time or resources to monitor all of them manually. So, a good Cisco networking monitoring tool can do the job for you.
A Cisco monitoring tool collects out-of-box metrics and various aspects of your Cisco network like performance, uptime, memory utilization, and traffic flow to manage, troubleshoot, and plan your Cisco infrastructure.
What can I monitor on a Cisco Router?
A Cisco router efficiently directs the data packets from the source to the desired destination via an optimal path. To do this, the device employs various components including routing tables to store next-hop routers, routing algorithms to find the best routing path, and various protocols for secured data transfers.
With Cisco network monitoring tools, you can monitor various aspects of your Cisco routers such as bandwidth allocation, traffic flow, routing protocols, memory utilization, event logs, and many other performance metrics.
What is Cisco Telemetry?
SNMP is a typical internet standard management protocol used for collecting and monitoring data of all major network devices. However, why don't you take advantage of Cisco telemetry when your infrastructure is equipped with Cisco devices?
Cisco telemetry is a specialized feature for the collection and transmission of real-time data among your Cisco network devices. This streaming telemetry relies on the push-based mechanism to continually send the collected data to monitoring systems. It is faster and more granular than SNMP.
Conclusion
While all the recommended products in this article can efficiently monitor your Cisco infrastructure, each software specializes in different functionalities and may have some limitations.
Therefore, we've curated this unbiased list to provide you with comprehensive information about Cisco monitoring software before making a purchase. The mentioned pros and cons of each product in this post will help you choose the right tool for your needs.