7 Chromium Based Browsers With Extra Features
One of the most important pieces of software you will use on your computer is going to be the web browser. There are really three main browser brand names, Microsoft's Internet Explorer/Edge, Mozilla Firefox and Google Chrome/Chromium. There's also dozens of smaller third party browsers around to try out. Although Firefox and Chromium are both open source, the majority of third party browsers are based around Chromium and the Blink engine.
Chromium is the browser project from Google that Chrome is based around. The two are very similar but Chrome is more like the public version as Chromium is never officially released as a standalone browser. Chrome has extras like a PDF reader, Flash player, auto updater and multimedia codecs. Each third party browser developer has its own ideas and either takes things out of Chromium or adds new functions and features in. There are several functions built into Chromium and Chrome already but today's internet user often needs more, which has to be taken care of with extensions.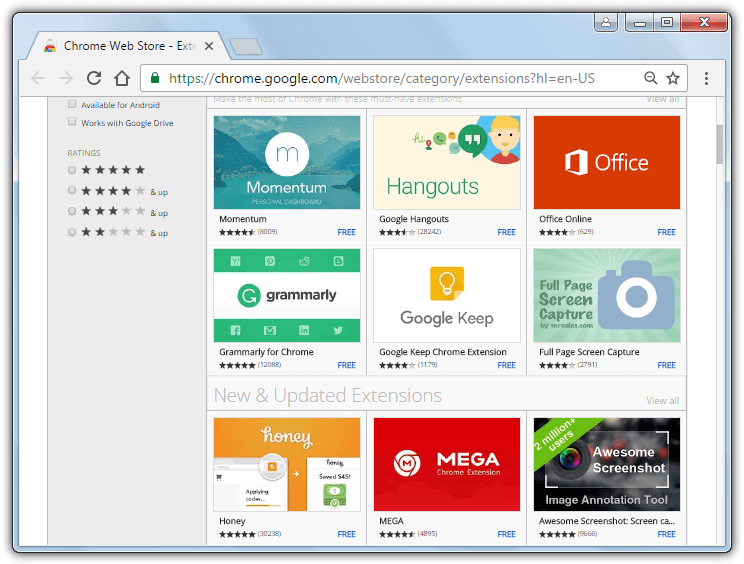 A number of third party Chromium based browsers are really pretty similar to standard and offer a few security or privacy tweaks such as removing communication with Google servers. We're more interested in looking at a browser that enhances the features and functions over and above the standard Chromium, such as built in ad blocking, mouse gestures, better tab/download/bookmark management or even something unique like a built in VPN or DNS encryption.
Here we list seven browsers based on Chromium and the Blink engine that have a bigger feature set and more options than the browser they are developed around. Importantly, the browsers can still directly or indirectly install extensions from the Chrome store, any that can't were not included.
1.
Vivaldi
Vivaldi is the newest big player in the browser market with the stable version released in April 2016. It was created by a former founder and CEO of the original Opera. Unhappy with the direction Opera took after moving from its own Presto engine to Chromium's Blink, they decided to create a new browser that reintroduces many of the features and functions removed from Opera. As a result, Vivaldi is currently popular among advanced users and geeks.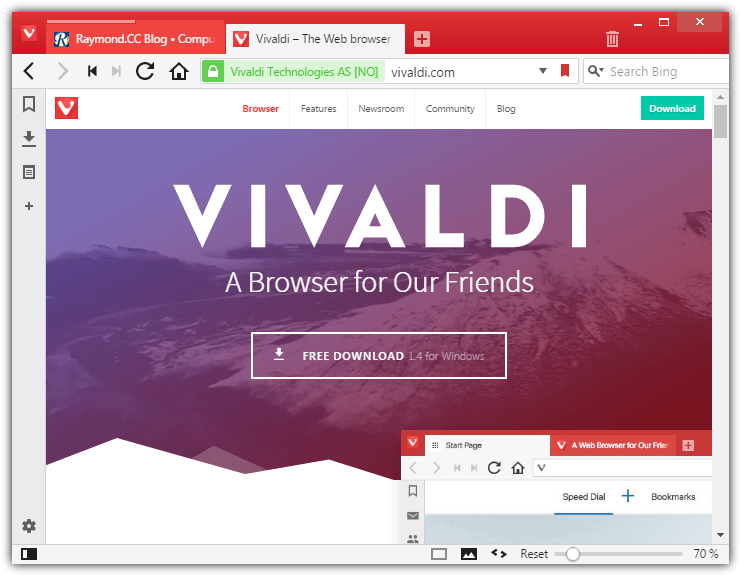 Perhaps the most striking difference Vivaldi has over other browsers is the color changing theme which alters the UI color to match the general color of the current web page. A very useful space saving feature is the tab stacking which allows you to drop one tab on top of another to group them together. What Vivaldi has in abundance is tons of options to tweak things like appearance, tabs and the address bar to your preference. As it's still pretty new, Vivaldi should improve further and pick up more options and features as time goes on.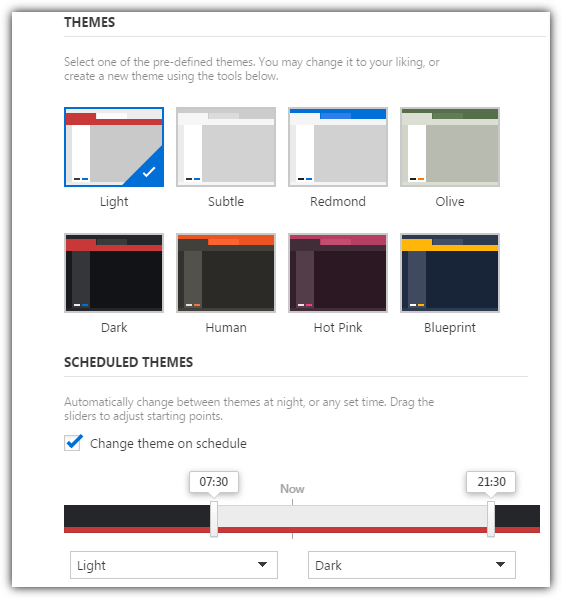 Selected Features:
Customizable Speed Dial/Start page with folder groups
Auto Color changing UI to match the website you're viewing
Custom themes with scheduling for day and night time themes
Mouse and rocker gestures
Tab stacking, tiling, cycling, hibernating and preview options
Page actions including CSS debugger, content blocker, color filters
Side Panel to view bookmarks, notes, downloads and web pages
Vivaldi button or horizontal options menu
Customize tab bar position, display, handling, cycling, stacking and pinned tabs
Custom keyboard shortcuts and quick commands
Save and load all tabs in a custom session
Reading view mode
Bookmark system with thumbnails and nickname shortcuts
Quick commands (F2) to quickly find the function or keyboard shortcut
---
2. Yandex Browser
Yandex is the Russian internet services giant with one of the biggest search engines in the world. Their Chromium based browser has been around since 2012 and within that time it's gained many users and some interesting features. The user interface is somewhat different to standard but it still looks and behaves like you're using a Chromium browser. Yandex Browser is also available for Mac OS X, iOS, Android, and Linux.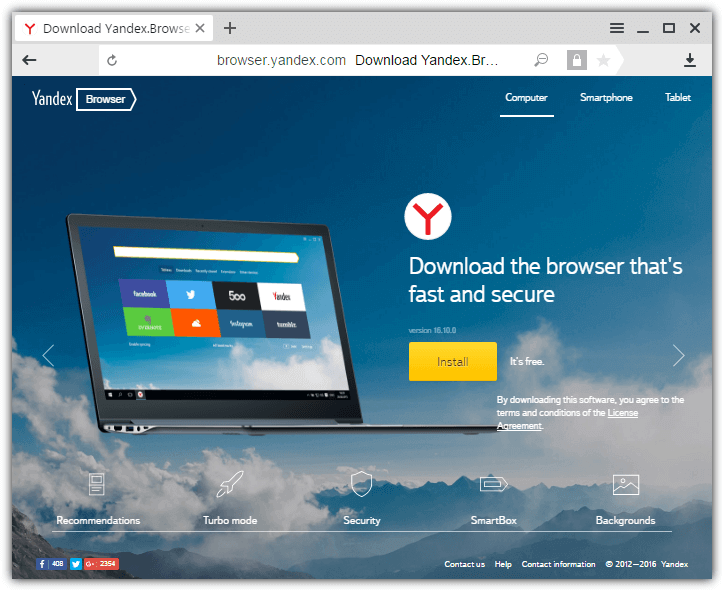 One of the most talked about and currently unique features in Yandex Browser is DNSCrypt which sends to and receives encrypted requests from a DNS server. The Tableau is a fancy name for a start or new tab page but is nicely done with a default full window animated background, optional personal news feed and a speed dial of your favorite websites. Although the website doesn't specifically say, the Protect security system supposedly scans downloaded files with Kaspersky. On install, you will be offered the choice of Google, Bing or Yandex.ru as the default search engine.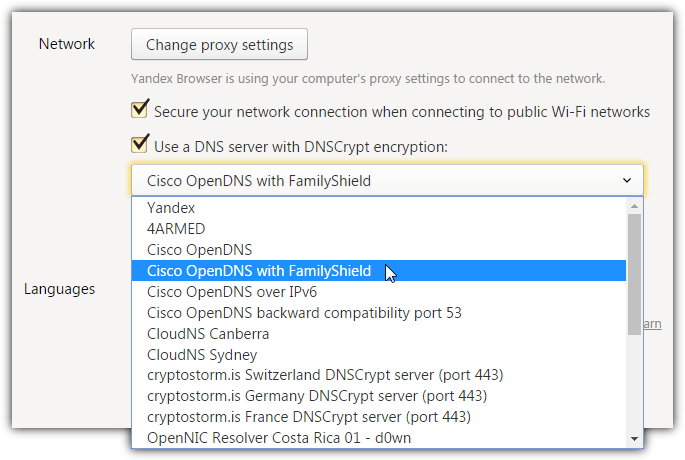 Selected Features:
Mouse and rocker gestures (not customizable)
Tab position top or bottom with colored tabs to match website theme
Disable all notifications for 3 hours
Opera based Turbo mode to compress pages and video on slow connections
Tableau URL shortcuts for Start page/new tab with Yandex Zen personalized news stories
Smart box with advanced search and share to email/Facebook/Twitter
Antishock blocks fraudulent or unpleasant ads and popups
One click extension install for Evernote, LastPass, Adguard, Lightshot, Pocket, Turn off the lights
DNSCrypt sends encrypted requests to a DNSCrypt enabled DNS server
Protected mode for banking and payment systems applies stricter security policy
Protect security system scans downloads with antivirus and secures webpages/WiFi/settings
Ebook and document viewer can read epub, fb2, doc, docx, ppt, pptx, rtf as well as pdf
---
3. Cent Browser
Cent is a Chromium based browser from a small group of developers in China which first appeared in early 2015. If you are someone who wants a more feature rich browser but likes the minimalist user interface of Chromium and Chrome, Cent maybe just what you are looking for. Unlike some other browsers here, Cent sticks more closely to the original look and feel of Chromium with most of its power coming from the array of extra options found in the Settings window.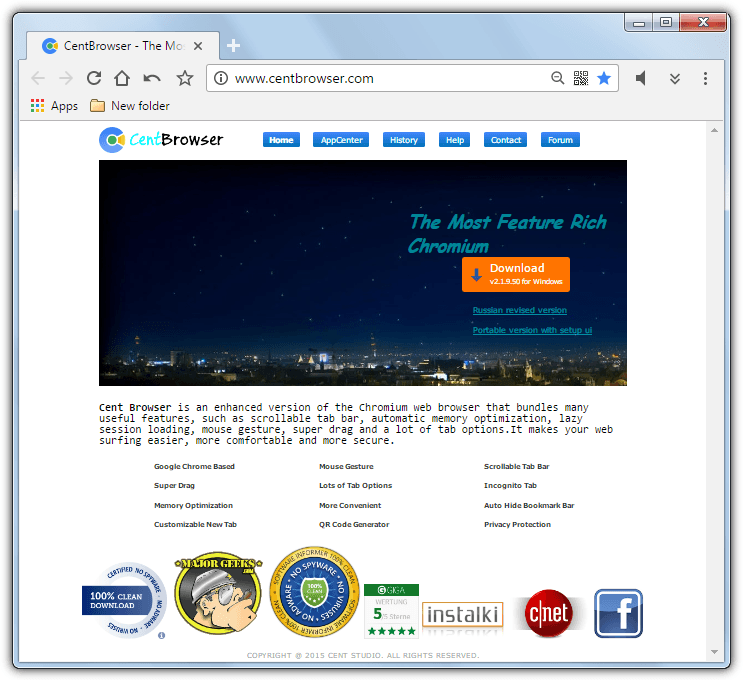 Cent is not the type of browser that is loaded with tons of big features but instead includes loads of tweaks, improvements and functions that accumulate to make a big improvement over the standard Chromium. For example, a few changes to the default new tab page, bookmark layout, toolbar buttons and how tabs look and behave make a difference. The single extension process memory saving feature could potentially reduce memory usage if you use multiple extensions. The drawback is one extension crashing will likely crash the other extensions as well.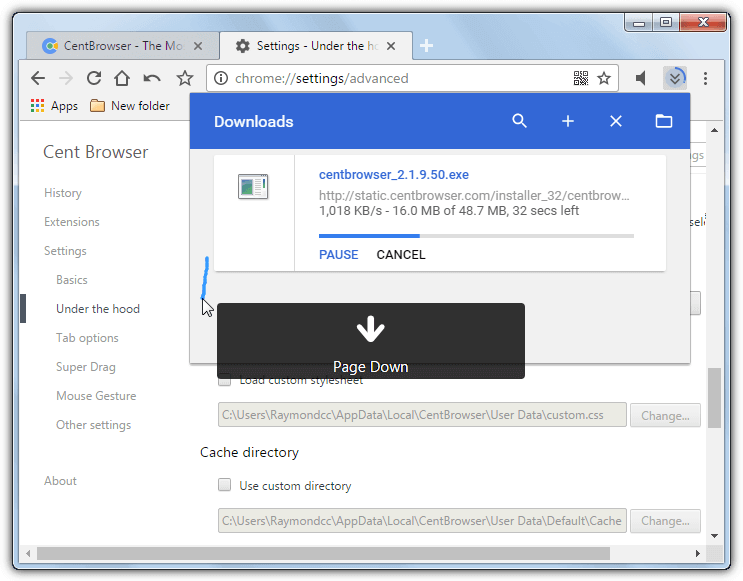 Selected Features:
Changeable tab shape and new tab button. Remove avatar button
Toolbar buttons for restore closed tabs, downloads, mute, bookmarks
Custom new tab page or edit the default Google new tab page
Scrollable tab bar with tab menu to select, close or unload tabs
Multiple open/close tab options with custom width and hover activate
Hideable bookmarks bar, multiple bookmark columns, left edge bookmarks
Custom stylesheet, cache directory and startup command line box
Built-in download manager accessible from the toolbar
Memory optimizations with auto purge and use a single extension process
Mouse gestures, rocker gestures and Super Drag
QR code generator in address bar
Custom keyboard accelerators and shortcuts including Boss key
Fast image saver, auto scroll, custom background color for all web pages
Video popup with play in window, enlarge to page, download video/audio
Official portable version
---
4. Opera
The Opera browser is now over 20 years old and in 2016 was sold to Chinese internet security company Qihoo 360. Opera is still owned and run in Norway though, which has to adhere to local and European laws regarding privacy and data. Back in 2013 Opera made a decision to discontinue its Presto engine based browser and instead go with a Blink based Chromium version. Opera has been introducing some interesting features in recent times which is helping to put it back up there as one of the most used Windows web browsers.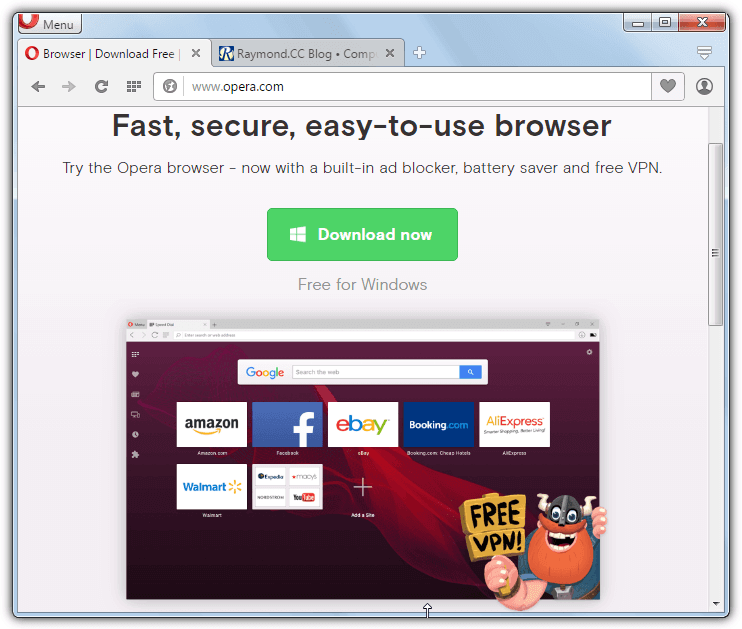 The currently most talked about feature in Opera is the new VPN which goes through Opera owned SurfEasy servers. Over 2 million users were added to Opera's user base within a week of its release. The other recent addition of an ad blocker is very useful. The Speed Dial has been present for a long time and is one of the most polished around. Opera cannot install extensions direct from the Chrome Store, only the Opera extensions site. To get around this install "Download Chrome Extension", it can't install Chrome store themes or apps but should support just about all extensions.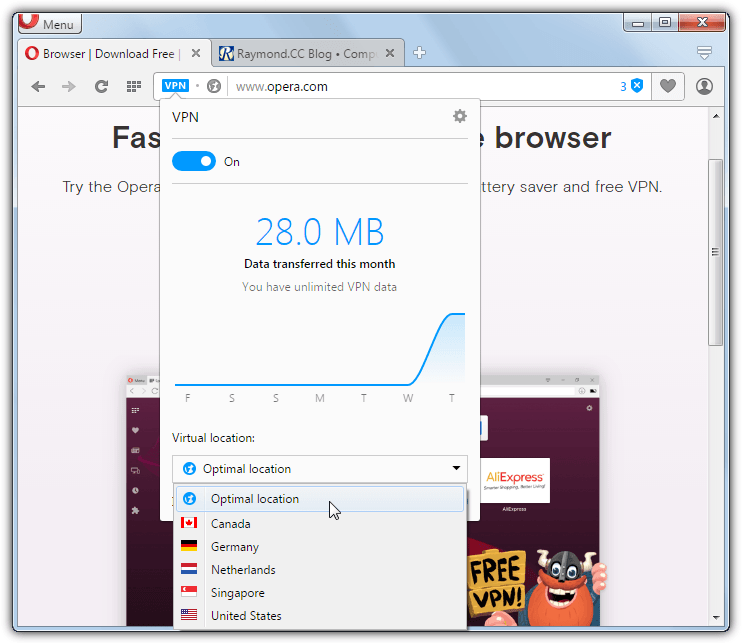 Selected Features:
Built in unlimited SurfEasy VPN with 5 global locations
Built in ad blocker with exceptions list and custom block lists
Battery saver mode to reduce battery drain while unplugged
Opera Turbo pre-compresses pages on Opera servers
Video popout enables floating video window
Customizable Speed Dial/Start page with folder grouping and news
Full window tab previews
Mouse and rocker gestures (not configurable)
Custom keyboard shortcuts
Personal news reader with RSS support
Highlight text quick menu with search and copy buttons
Enhanced Bookmarks with page previews and customizable thumbnails
Fast startup sequence loads multiple tabs quicker when starting the browser
---
5. Slimjet
The Slimjet browser is made by Flashpeak who also make the Trident engined SlimBrowser and Slimjet's predecessor, SlimBoat. Slimjet has been around since 2014 and during that time has developed into one of the most feature and function rich Chromium based browsers available. In addition to the main Windows 7 – 10 version, there's also versions for Linux and a special version for Windows XP and Vista users.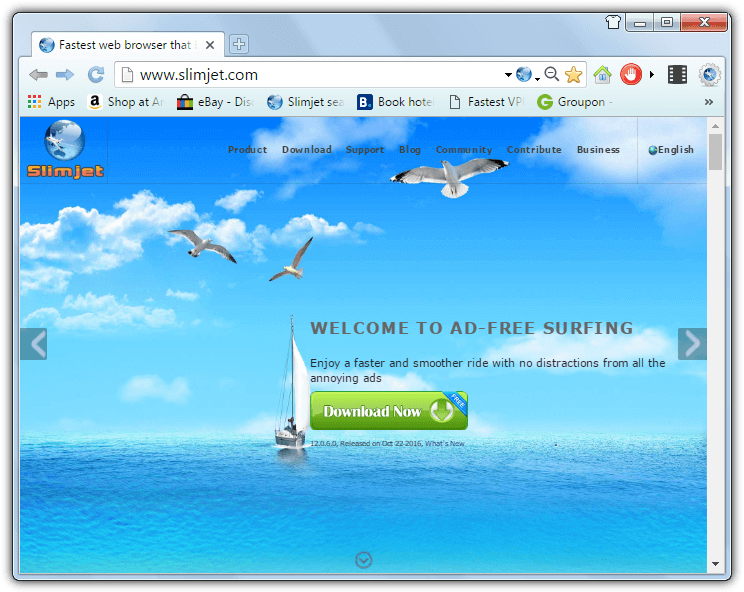 While Slimjet doesn't contain anything groundbreaking, it is stuffed full of very useful features that aren't in the standard Chrome/Chromium. All of these add up to make a browser which should have something for average and advanced users alike. The built-in ad blocker is a welcome inclusion and should have broad appeal as will the memory optimization functions, which actually do seem to work. The proxy manager is good for quickly changing between different proxy addresses and the resumable download manager is a handy addition.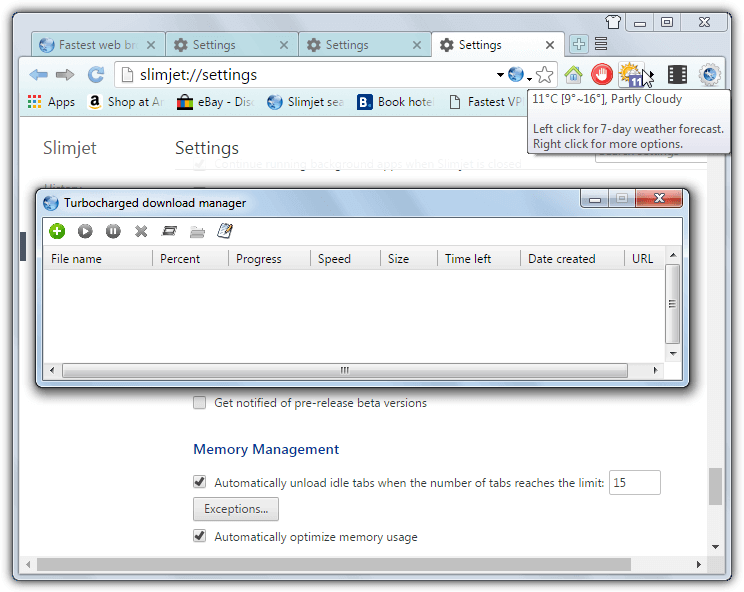 Selected Features:
Built in ad blocker with whitelisting and additional filter lists
Multiple connections download manager with resume
Video downloader with audio extraction
Screenshot capture including selected area mode
Built-in video recording of current tab via Screencastify extension
Customizable toolbar with 21 buttons and profile switch button remover
Enhanced tab options
Mouse gestures with basic super drag to search and open links
Photo shrink and upload with photo enhancer and clipboard upload
Tracking prevention with social network javascript and Google ad blocking
Custom cache directory and size
Memory management with idle tab unload and auto optimize memory
Facebook integration with one click share text/image/link
Customizable new tab/Start page with built-in weather forecast
Smart form filler with quick fill and auto fill
Url alias shortcuts
Proxy manager with quick switcher toolbar button
Save web page as PDF
Profile switch button remove, hide/auto hide bookmarks bar
Auto refresh current or all tabs at specified intervals
Tracking prevention with remove search engine indirect links and block third party content
Official portable version
---
6. UC Browser
UCWeb's browser is one of the most well known and popular on mobile platforms but they also have a Windows web browser that's been around since 2015. The UC Browser user interface is visually quite different from most other Chromium based browsers and the extra themes that can be applied are quite striking. We find the default theme is probably the best looking though. One issue with UC Browser is it's often three or four major versions behind the current Chromium which means it's also behind on security updates.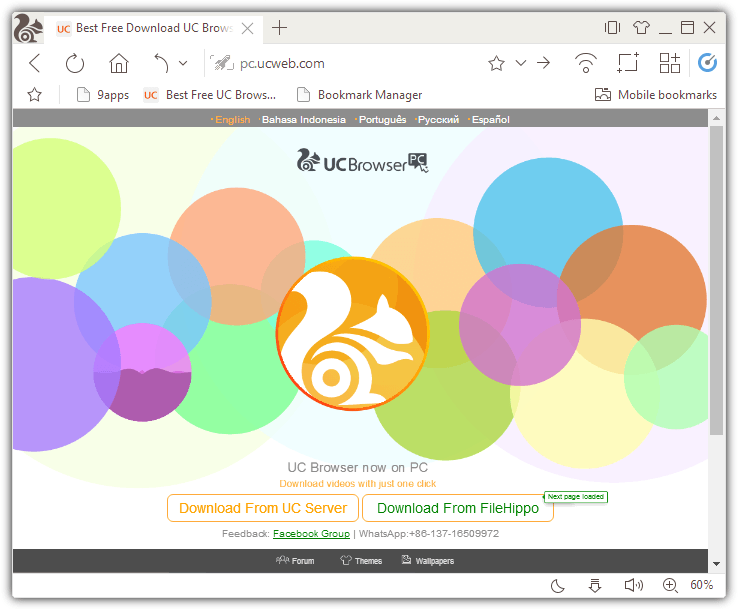 One of UC Browser's most interesting features is the free WiFi option. In reality you don't really get anything for free and the option will simply turn a wireless enabled computer into a WiFi hotspot. It's quite simple to do anyway in Windows 7 and above but the browser makes it easier to setup for non techies. Many of UC Browser's features are media related with the built-in screenshot tool, resource downloader, video popup and image previewer. The included ad blocker and download manager are something all users should find useful.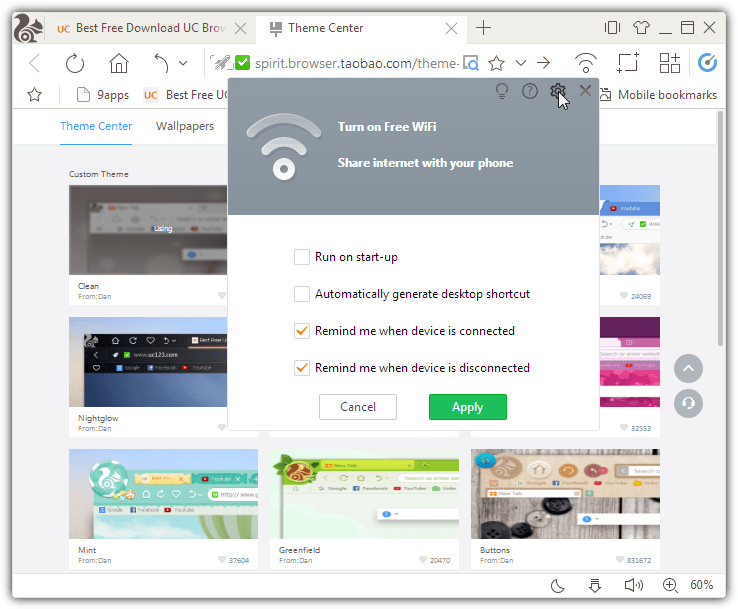 Selected Features:
Custom layout with theme support
Screenshot tool with built-in editing functions
Free WiFi quickly turns your computer into a wireless hotspot
Link preloading, next page preloading, auto page scroll
Cloud Boost compresses images before loading
Mouse gestures and Super drag
Customizable keyboard shortcuts, Boss key function
Built in ad/popup blocker with custom filter lists and exceptions
Built in resource downloader extension to grab on page images, video or audio
Online video popup to play video in pop-out window or download video/audio
Full window opened tabs viewer with thumbnails
Custom user data folder location
Customizable new tab/speed dial page with 2 different styles
Download manager with Thunder high-speed downloads
Image Previewer to see full-size images while hovering over thumbnails
Brightness adjustment with auto UI night mode
---
7. Sleipnir
Sleipnir is a browser from Japan, which is a bit of a pain on the website as most web pages redirect to Japanese pages. Luckily the browser itself is fully multi-language. Sleipnir has two different maintained versions of their Windows browser, 6 and 4. While the version 6 user interface is pretty looking but somewhat of an acquired taste, Sleipnir's version 4 is the one we are looking at because it more closely resembles a Chromium based browser. We've also read several reports of version 6 being quite sluggish to use although feature wise they are quite similar.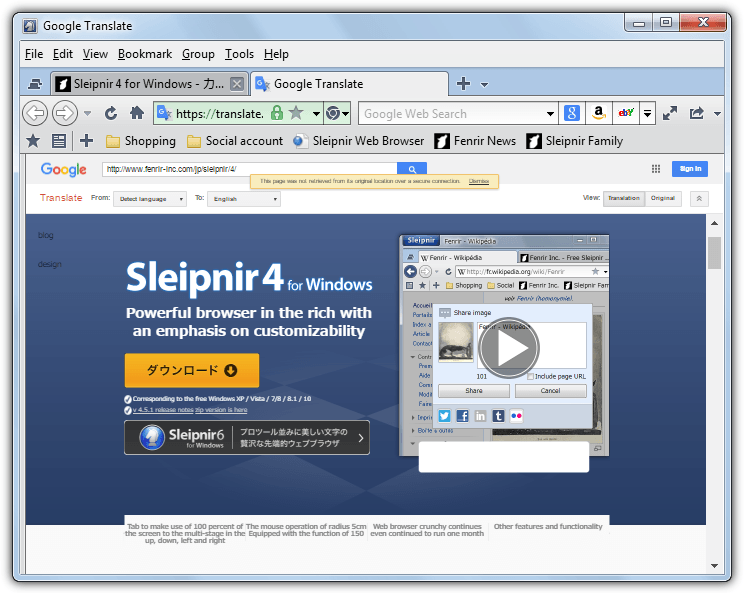 One of Sleipnir's most prominent features is tab grouping. The Groups button is to the left of the opened tabs and pressing it will open a new grouped tabs area above. The feed reader is very useful for users that need one as few other browsers include such a feature. Being able to switch between Internet Explorer and Blink rendering engines is good to expand page compatibility while extras like Supersearch, smart search bar, quick security switcher and tab preview help to enhance the browsing experience.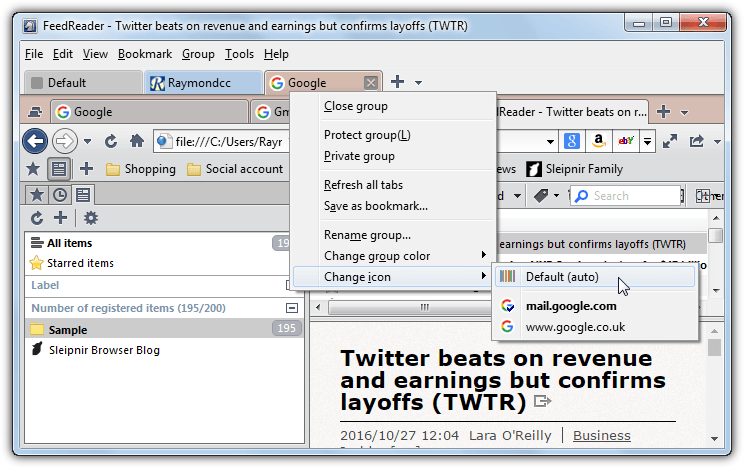 Selected Features:
Choose from 16 different user agent strings or create your own
Includes Internet Explorer Trident rendering engine with per site switching
Mouse gestures, mouse aliases and super drag extension
Customize keyboard shortcuts
SnapCrab window and desktop image snapshot tool
Quick security switcher allows default, secure or full access modes
Tab groups allows you to create separate sets of color coded tabs
Integrated Feed reader
Side panel shows bookmarks, history and feeds
Clear history, cookies, cache etc on exit
Customize user interface by editing toolbar items and buttons
Smart search bar popup on highlighting text
Auto refresh selected tabs at intervals, refresh all or stop all tabs loading
Restore data mode to restore previous bookmarks and opened tabs
Supersearch searches the web, search history, bookmarks, history, tabs and actions
Tab preview on hover with mini toolbar to bookmark, close or pin page
Open tab in SuperView which is a floating window with just the page content and no controls
Official portable version
Download Sleipnir 4 | Download Sleipnir 6
Note: There are dozens of other Chromium based browsers available and some have useful or interesting features. For instance, Brave Browser has the very good Bravery security/privacy panel and a rather unique ad payments option. Epic Browser has a built in US proxy and the Umbrella button to turn on or off ad blocking and privacy options. Unfortunately, neither support extensions. Avant Ultimate is a triple engine browser which does support Chrome extensions but they are not completely implemented because there is no toolbar with icons to control them.
Some Observations About Browser Performance
Because all these are Chromium based browsers, they should perform pretty much the same. Of course, included features might consume more or less system resources depending on what that feature is designed to do. While this is not a controlled speed or memory benchmark test, we did make a few notes about anything that stood out performance wise while testing.
The memory tweaks in Slimjet really do appear to work and it used far less memory than anything else. Conversely, Vivaldi was the biggest memory consumer by some margin. With seven tabs open it used nearly twice as much RAM as Slimjet. The other browsers were similar to each other but when you take into account some have built in features like an ad blocker, memory usage will not be as high compared to browsers that need an extension to perform the same task. If you have a computer with low memory, Slimjet as a good place to start.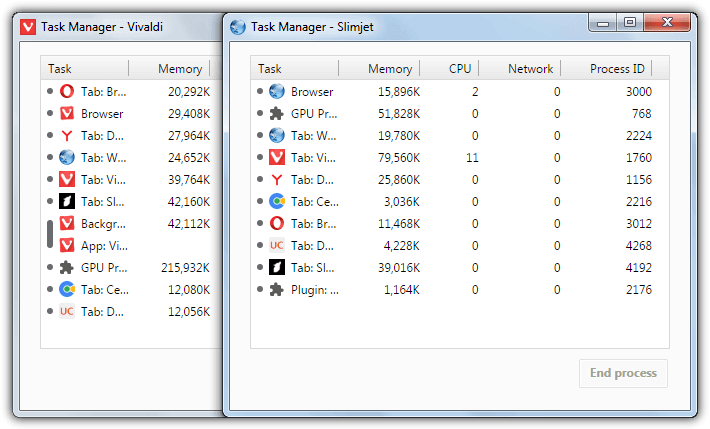 We noticed no huge differences in general page load speed (excluding ad blocker usage). Cent launched itself and loaded a predefined set of pages a bit faster than the others though. The difference wasn't massive but noticeable (2-3 seconds better than average). With a handful of extensions added Vivaldi really slowed down in launch time. In fact, with the same extensions installed Cent could launch and almost load its pages before Vivaldi even opened its window.
Chromium releases a new major version around every six weeks or so. As a consequence, the browsers based on it are being updated almost as fast with new features, functions, fixes and tweaks. Although during general testing a few browsers stood out performance wise, it really comes down to whether the browser in question has an appealing feature set that will likely decide whether it's right for you.