Windows Genuine Validation Tool & How to Use
Back in 2006 after getting upset over all the pirated copies of Windows XP being used, Microsoft decided to roll out Windows Genuine Advantage. This "critical" Windows update would be installed on your machine and then the Windows Product key being used would be checked against known blacklisted keys and whether it's been activated before. If the information in the Microsoft database doesn't match the identity of your machine, the check for a genuine Windows will fail and cause the wallpaper and background to reset every 60 minutes.
This will throw notifications on your desktop that Windows is not a genuine copy and you won't be able to get all important Windows updates because of the online WGA validation component. The Genuine Advantage components (WGA Notifications and WGA Validation) would be fine if they were 100% accurate, but of course they aren't. It's entirely possible to get a genuine failure even if your Windows is fully legitimate.
Being Windows, there are ways around this such as the
removing WGA notifications tool
after it's been installed or
bypassing the online validation component
that stops you updating. But if you feel your Windows SHOULD be passing these checks and want to try and find out a bit more about why it's failing, there is a tool to help.
The Microsoft Genuine Advantage Diagnostic Tool runs a check and gives several pieces of information about the parts of your system that affect its Genuine status and what is possibly causing it to fail. There are a few cases where it might automatically resolve any problems for you, but if not, you could get a much better idea about why the failure has occurred.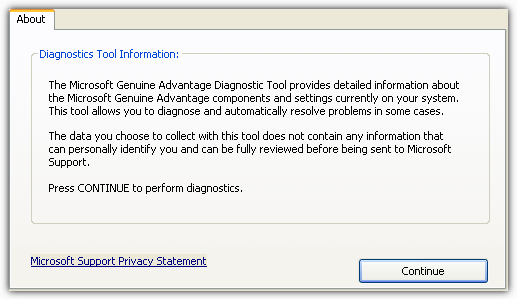 Simply download the tool and run the MGADiag.exe and click to Continue for the check results. There will be some useful information such as the Validation Status might tell you if the product key is invalid or a blacklisted corporate key. You might also get notified if the LegitCheckControl.dll file has been tampered with in which case there could be some form of crack on your Windows install which has been detected. If there is an issue the tool can fix, click the Resolve button.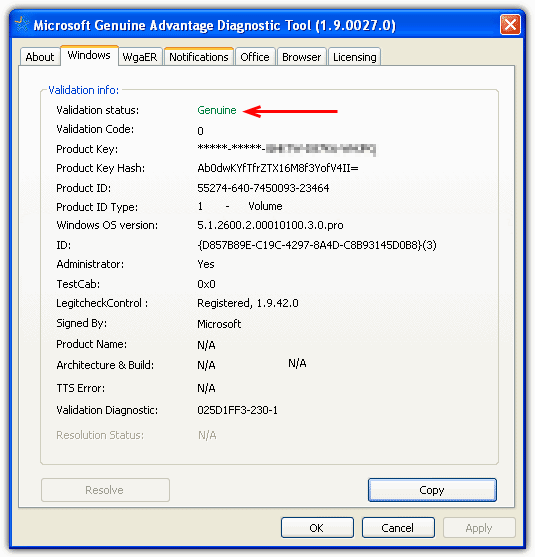 Because Office also has a similar Office Genuine Advantage (OGA) component, there is a tab to check that too. The Browser tab will gather the security settings from Internet Explorer to make sure they are correct to allow the WGA component to connect with the internet.
WGA Notification settings are checked for errors in the Notifications tab and it will tell you if the components are installed and whether they are correct and digitally signed. If you're being nagged with the black background and not genuine watermark, you can remove WGA Notifications using a small utility while you investigate the causes.
Download Microsoft Genuine Advantage Diagnostic Tool
If the diagnostic tool is showing what you believe to be the incorrect product key, or you have a known pirated key and want to legitimize Windows XP with a real key you have, there is a tool available that lets you do this. It's called the Windows Product key Update Tool from Microsoft and will let you enter another XP product key and then activate Windows online.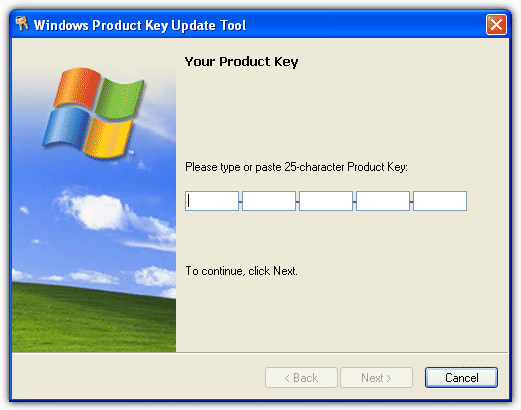 Download and run the tool and it will first check for corrupt or non standard DLL and executable files that can affect activation and ask if you want to repair any that are found. After that simply enter your product key making sure you're trying to enter the correct key for the correct version of Windows XP (Home / Pro etc.), and once accepted, it will activate your copy of Windows online making it genuine.
If you want to do a similar thing on Vista or Windows 7, visit this Microsoft webpage for updating your product key.