App Usage Tracker For Windows PC: 5 Best to Use in 2023
These days, a lot of people use their desktop computer or laptop for doing work or homework as well as using it for for entertainment. When that is the case, it doesn't take much to perhaps get distracted and browse the internet or play a game of solitaire when you should be working. One way of finding out if you are using a game, program or web browser too much is by checking how long each application has been is use.
Using a tool that shows how many minutes or hours each program you have opened has been in use will help determine if you have been spending too long doing one thing when you should be doing something else. This can also help when monitoring other users of your computer or your children's computer. Seeing how long your child has used a web browser or chat program today is less invasive than installing a keylogger application to see everything they type.
Here we list 5 free tools that can check application usage times for everything you run on your computer. Each tool was tested in Windows 7 and 10 64-bit.

1. Apps Tracker
Apps Tracker is a very clean looking program with an up to date Modern UI interface. It also has some useful features besides tracking application usage. These include tracking web browser tab usage, taking screenshots at timed intervals (10 seconds – 1 hour), password protection to stop anyone else changing the settings and app limits to warn you or shut shut down an app after it's been open longer than the specified time.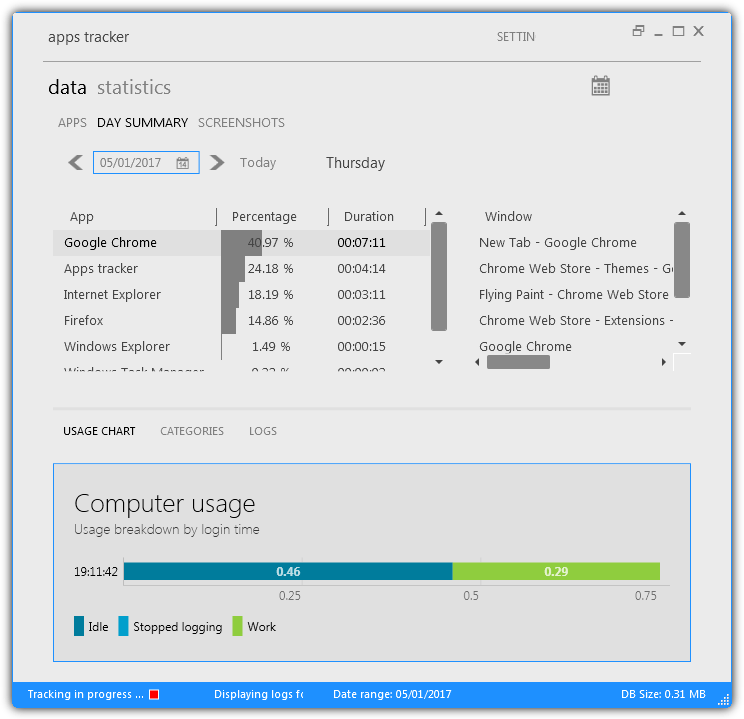 By default Apps Tracker will start monitoring straight away and will open on the apps list where you can click on individual apps to see their usage. Click the Day Summary to see everything in one list with percentages, duration and open windows/tabs all listed in the same window. In the bottom half of the window you can also select Logs which shows a list of what each logged program was doing, and when.
Apps Tracker has several graphs, bar charts and tables to show the usage of applications, many of which can be found in Statistics window. Memory usage is a bit on the high side, with about 110MB of RAM in use during testing. If you want to pause or stop tracking check the tiny red box at the bottom of the window.
---
2. Personal Activity Monitor
Personal Activity Monitor is a free and open source tool that does the simple task of measuring how much time is spent using each application you open and use. This works by recording the time spent for each program while it is focused in the foreground. The last update for Personal Activity Monitor was in 2012 and sadly it looks like development has ceased. The .NET Framework version 4 or above installation is required for Windows 7 or below users.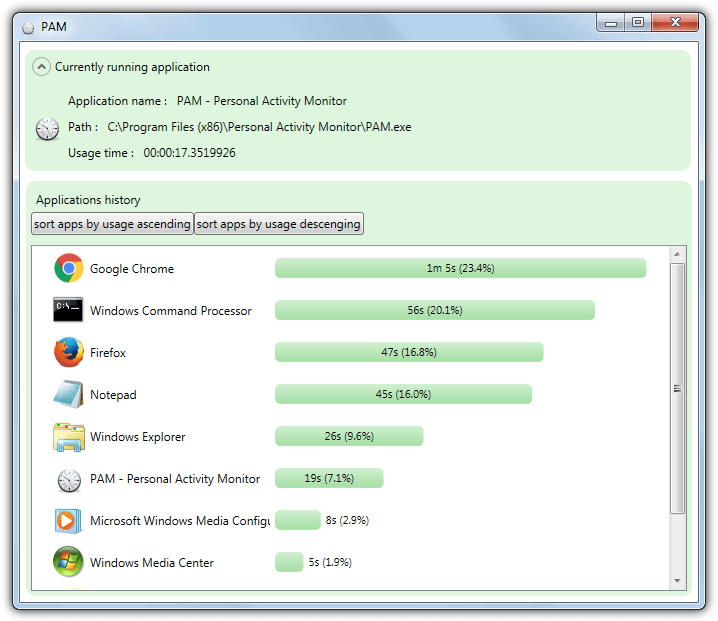 After installing and launching Personal Activity Monitor, it will begin recording straight away. Any open programs will not be listed until they are clicked on and brought into the foreground at least once. The list will grow as new programs are opened and it can be sorted by ascending or descending usage. The top section will show information for the currently focused program.
From the settings window in the tray icon, you can set the idle timeout and export data to an XML file every xx number of seconds/minutes. The program only records data for the current session so if you close it or logout of Windows, everything will start again from zero. One issue with the program is it alerts you to a new update although there isn't any new version to download.
Download Personal Activity Monitor
---
3. ProcrastiTracker
ProcrastiTracker is another program that is pretty simple to operate although the data is not quite as easy to read as Personal Activity Monitor. What you can do is apply colored tags to each running program which will split them into easy to read categories. Add Chrome or Firefox to the Surfing tag or Word/Excel to the Work tag etc.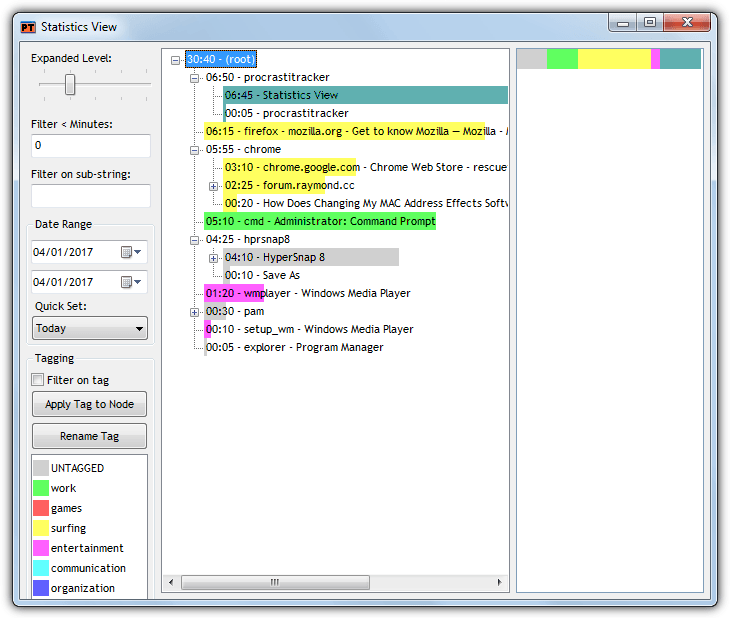 Monitoring will automatically begin after installing the program, right click the tray icon and select View Statistics to open the main window. Most of the options down the left are for filtering the list of applications, including text string, date range or a set time period. To apply a tag click the process, click on the tag and press the Apply button. Programs are split into sub groups when other windows or tabs are involved, the list can be expanded to show everything with the slider at the top.
If you want to export the data to an HTML page or export/import the ProcrastiTracker database, use the right click menu on the tray icon. Do be aware that the website and download may produce a security warning in your browser. We're not sure why as the program is open source and the downloaded installer contains no adware.
---
4. Kiwi Application Monitor
This is slightly different to those above because it's not a general application usage monitor. Instead, it watches an application process and applies specific actions based on what the process is doing. You can apply alerts when the program starts or stops, when it exceeds certain memory or CPU usage or run external programs as a trigger. There is a premium version of Kiwi Application Monitor but the free version offers enough for the purpose of application usage timing.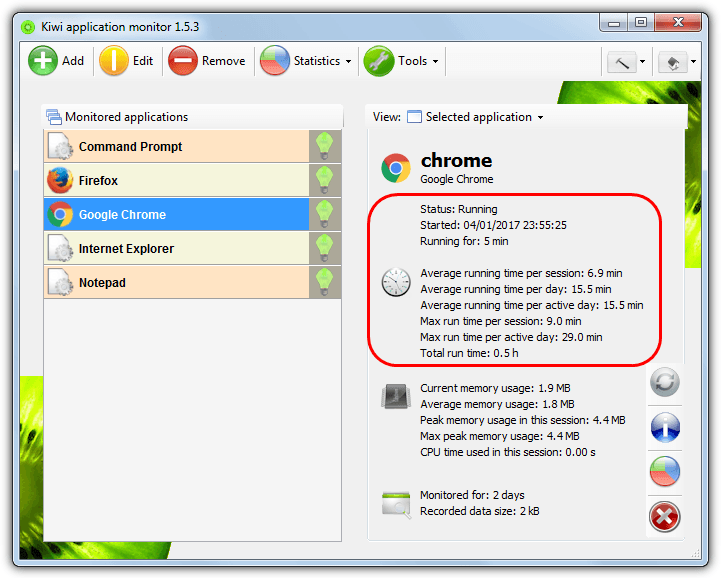 The easiest way to add a program to monitor is running it first and then going to Tools > Process Explorer. Double click the process in the list and click Add, then exit the Process Explorer. Select the program from the list of monitored applications and on the right there'll be statistics about how long the program has been running currently, per session and overall. If you want to monitor a program for a period of time simply minimize Kiwi to the system tray.
Download Kiwi Application Monitor Free
---
5. RescueTime
RescueTime is a two phase setup, firstly, create a free account and download the software. Then install the software onto the computer you want to monitor. RescueTime is a commercial product but has a free Lite version limited to three computers which will allow you to monitor activity time for applications and visited websites. In addition to Windows, RescueTime also works on Mac, Linux and Android with dedicated extensions for Chrome and Firefox to measure website activity.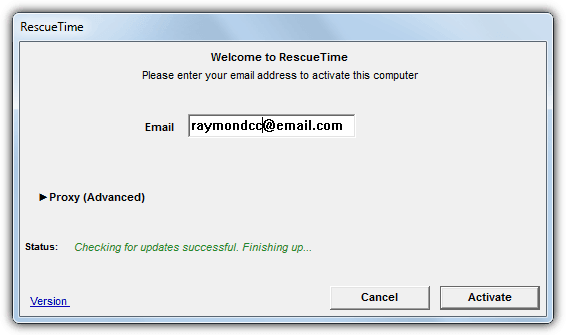 After creating an account, download and install the application onto the computer to monitor. Enter the email for the account into the box, click Activate and login via the browser to start monitoring. It could take up to 15 minutes or more for application and website usage data to start appearing in the RescueTime dashboard (right click the tray icon > go to Dashboard), until then you will see nothing. When data is available, go to the Reports menu > Applications & Websites. There you will be able to see which programs and websites have been used and how long each has been used for.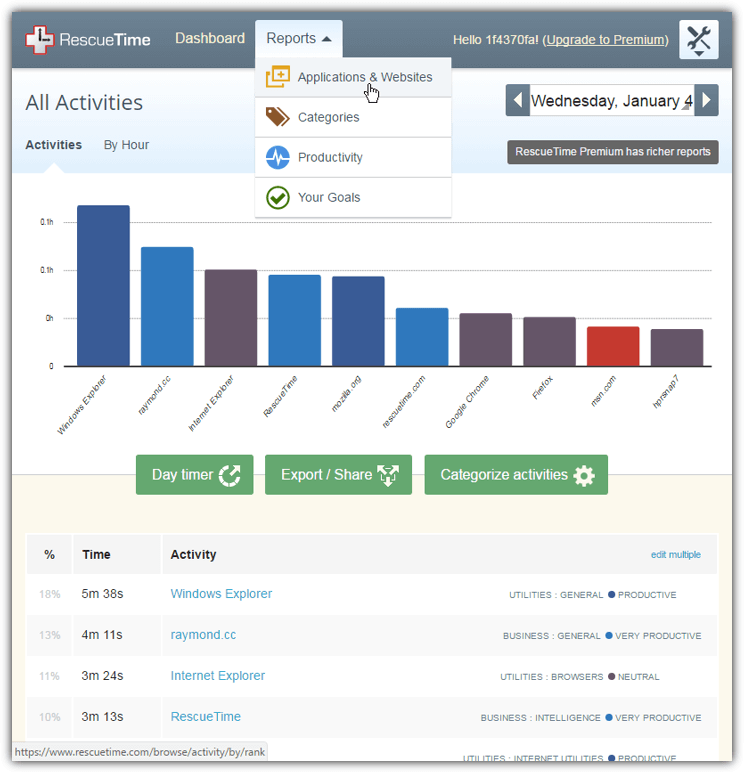 If you only want to monitor applications and not websites, click on the settings icon top right > Account Settings > Privacy. Change the option from Monitor all websites to Monitor only domains you specify. Click Save Privacy Settings at the bottom. RescueTime can also set daily goals or categorize and rank applications by productivity levels so you can see how well your time is being spent. The Lite version can keep activity records for up to 3 months.