CAPTCHA Bypass Extensions [7 Best Auto Solvers in 2023]
A CAPTCHA is a verification tool designed to prevent spam bots from accessing a website. It typically requires users to perform simple tasks like typing words or numbers in a form, doing some basic math, or solving a visual puzzle.
While CAPTCHAs serve a valuable purpose, they can also be an inconvenience to many users, particularly blind or visually impaired people. Even individuals with good vision can sometimes find certain CAPTCHAs difficult to read.
Furthermore, some CAPTCHAs can be downright annoying. For example, ReCAPTCHA sometimes requires users to solve multiple puzzles in a row, and if you enter the wrong characters or click the wrong button, you have to keep trying until you get it right.
Fortunately, there is a solution that can make dealing with CAPTCHAs a lot easier. Installing a browser extension that can solve CAPTCHAs for you can save you a lot of time and frustration. This can be particularly helpful if you need help reading CAPTCHAs, make many mistakes, or encounter them frequently.
Best Auto Solver Extensions
1. AntiCaptcha – Best captcha bypass extension overall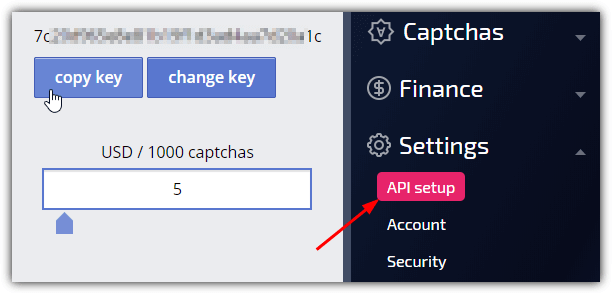 Operating system: Chrome, Firefox, and Safari
Pricing: Free
Developer: Anti-Captcha
AntiCaptcha is a paid extension for solving webpage CAPTCHAs automatically. It's available on Chrome, Firefox, and other main browsers. To use AntiCaptcha, you'll first need to signup for an AntiCaptcha account and then add some funds.
If you're a Chrome user, you can get 15 credits to try the extension by authorizing it with a Google account. Once installed, copy the key from your account (Settings > API Setup), click on the new AntiCaptcha icon in the browser toolbar, paste the key into the box, and click Save. Within a second or two, it should show your AntiCaptcha account balance.
AntiCaptcha can solve most types of CAPTCHA, including Google ReCaptcha, FunCaptcha, and Geetest. These can be solved automatically when you load a page containing one of those CAPTCHAs. The other regular types require you to right-click the answer input box and select "Find and solve CAPTCHA image for this input" or press Ctrl+Shift+6.
The average image CAPTCHA solve speed is 5-20 seconds. ReCaptcha solving sometimes takes a while, and it can be 30-60 seconds quite often.
Pros
The extension can solve many captchas automatically
Solves JavaScript CAPTCHA with an API key
Some captchas can take up to 5-20 seconds
Cons
You need to pay to use it
2. Buster — Best for solving Google CAPTCHAs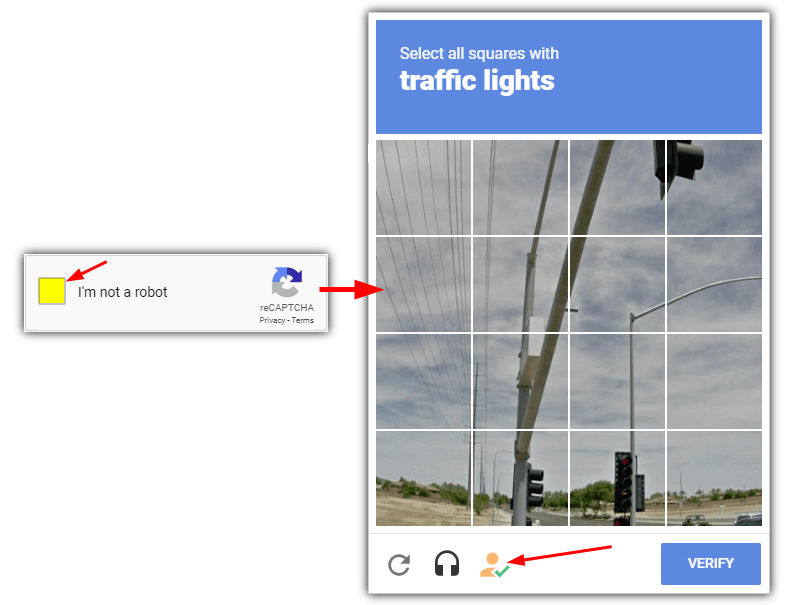 Operating System: Chrome, Opera, and Firefox
Pricing: Free
Developer: Armin. dev.
Buster is a free and open-source extension that assists users to solve captchas using speech recognition. You solve Captchas by clicking on the extension at the bottom of the reCAPTCHA widget. However, Buster doesn't guarantee that all challenges will be resolved. It only works for Google's ReCAPTCHA.
This error traces back to Firefox 65. Hence, we recommend using Firefox 64 or an earlier version to bypass this issue before it's resolved. The extension works well on Chrome.
Once you have installed the extension, it's easy to use it. It only takes a few mouse clicks to begin solving a ReCAPTCHA. Click "I'm not a robot" when you come across a ReCAPTCHA to open the challenge window. An orange and green icon will appear at the bottom. Click on it, the voice challenge window will open, and Buster will start solving the CAPTCHA.
Solving the challenge is generally swift, usually done in under 30 seconds, which is much faster than the paid AntiCaptcha. While Buster is working, an animated circular icon will appear on the window. If the tool successfully completes the ReCAPTCHA, it will show that it has solved the challenge.
If there is an error or failure, click the Try Again button to receive a new challenge. Buster solves the challenge on the first attempt in about three out of every four attempts. It usually works on the second try if it fails the first time.
Pros
Easy to use with only 2 clicks
Works well 99% of the time
Generally takes up to 30 seconds
Cons
Does not work on new captchas
Download Buster: Captcha Solver for Humans
3. Rumola – Best for taking the guesswork out of the CAPTCHA test

Operating system: Chrome
Pricing: Free
Developer: Rumola
Rumola is a Chrome extension that eliminates the guesswork from captcha tests. It reads the numbers and letters and automatically enters them in the box for you. The Rumola browser extension used to be available for Firefox, Chrome, and Safari browsers, but unfortunately, the Firefox and Safari versions have been discontinued.
Rumola works for captchas, where you have to type in the shown words, numbers, and characters or solve a math puzzle. However, it is not compatible with Google ReCAPTCHA or the type of captcha where you have to select, reorder, or rotate images.
The app has a voiceover notification for blind and virtually-impaired people. You can turn this feature on by clicking on its icon. It gives you the option to run five times for free. If you're satisfied, you can fund your account to buy credits.
Pros
The extension is free, allowing you to edit
Offers reliable customer support
It's similar to I'm Not a Robot captcha clicker
Cons
It is not compatible with Google ReCAPTCHA
4. Death by Captcha – Best for Retrieving previously solved CAPTCHAs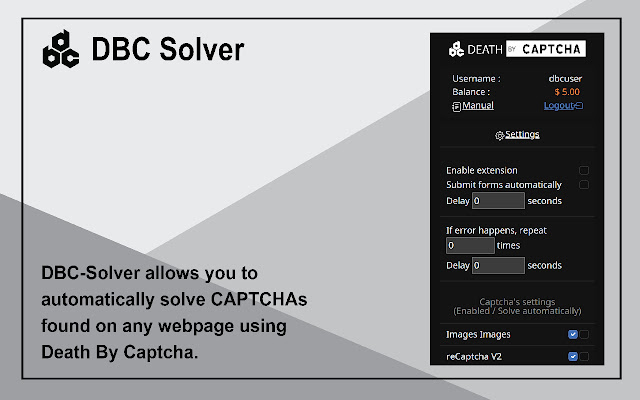 Operating system: Chrome
Pricing: Premium
Developer: Terminatorcoders
Death by Captcha (DBC) permits you to automatically solve CAPTCHAs on web pages. It saves you the frustration and time dealing with audio or image captchas.
You have to signup up and add funds to your account. You will be charged for every captcha solved based on the rate of each captcha type. If you wish to test Death by Captcha, you can get free credit to do so; just get in touch with them.
Death by Captcha supports different captcha types including GeeTest V3 & V4, hCaptcha, FunCaptcha, Images captchas (an image with symbols), and reCaptchas V2 & V2 Invisible & V3. You can also use the APIs to build your extension.
Pros
Responsive and professional customer support service
100% accuracy guaranteed
It's cost-effective
Cons
Death by Captcha doesn't support custom programming
Create a Death by Captcha account
5. 2Captcha Solver — Auto Recognition and Bypass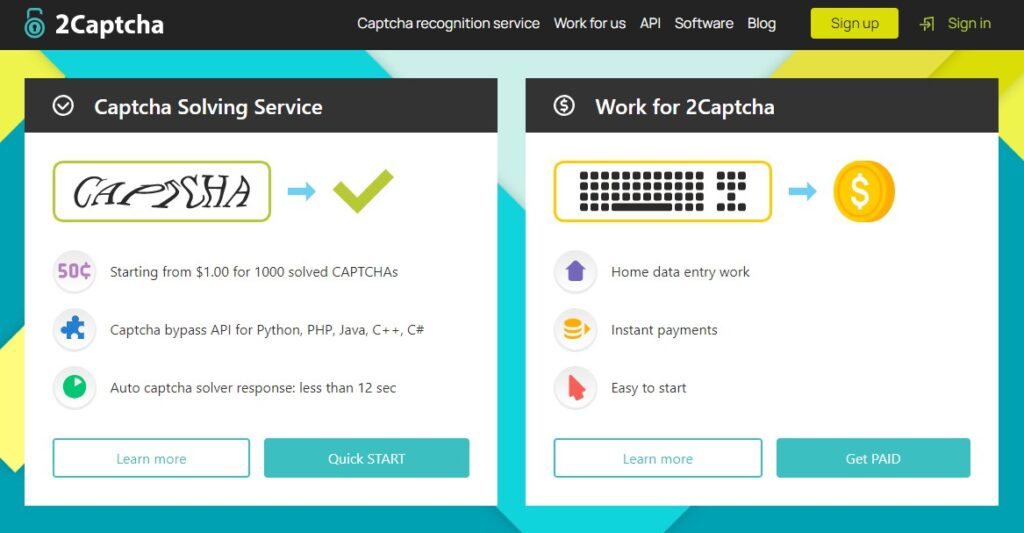 Operating system: Chrome and Firefox
Pricing: Premium
Developer: ALTWEB L.L.C-FZ
2Captcha Solver is an extension that allows you to solve captcha on webpages. It finds captchas on web pages and bypasses them automatically.
You need to signup for an account, add funds to the balance, and input an account key to the extension. With 2Captcha, you can bypass captchas, such as Amazon AWS WAF Captcha, GeeTest / V4, Capy Puzzle Captcha, any image with symbols, Yandex Smart Captcha, and Cloudflare Turnstile.
The captcha solver goes through webpages' HTML. If it finds a captcha code, it will send a request to the server for resolution. Once it's resolved, 2Captcha will place the solution inside the HTML code of the page.
Then the captcha can be used automatically when a user submits the filled form. However, it's important to keep in mind that resolved captcha solution is valid for only 120 secs. This means that you have 117-119 secs to complete the web form and submit it.
Pros
Ease of use
Affordable prices
The captcha's recognition accuracy is higher
Cons
Their support system needs a bit of work
Signup for a 2Captcha Solver account
6. Auto CAPTCHA Solver – Best for auto recognition and bypass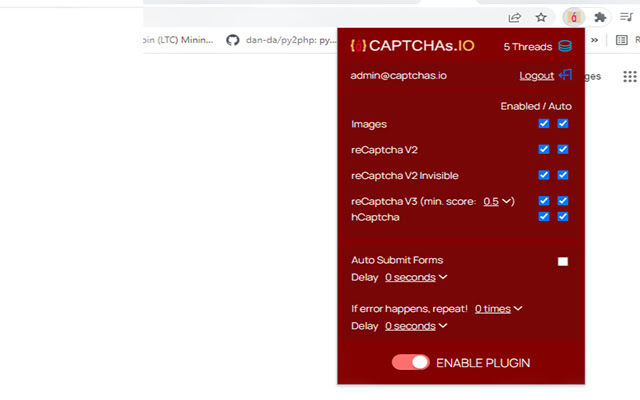 Operating system: Chrome
Pricing: Freemium
Developer: https://captchas.io/
Auto Captcha Solver is a free and easy-to-use extension that allows you to bypass bothersome CAPTCHAs quickly. It is one of the most stable and fastest captcha solver services available online.
It can solve both reCAPTCHA and normal image captchas. Once you download it, it starts operating automatically. This tool can recognize and resolve captchas on web pages automatically. Pick the right CAPTCHA image and field before refreshing the browser.
You will need to register for an account. Auto Captcha Solver offers both a free trial and a paid plan. If you wish to use the extension after installation, you can buy credits at https://captchas.io to have access to your API.
Pros
It is easy to use and understand
Automatic captcha solving
The extension comes with a free plan
Cons
It does not solve some captchas
7. ReCaptcha Solver – Best for auto-checking forms and solving Google ReCAPTCHA v2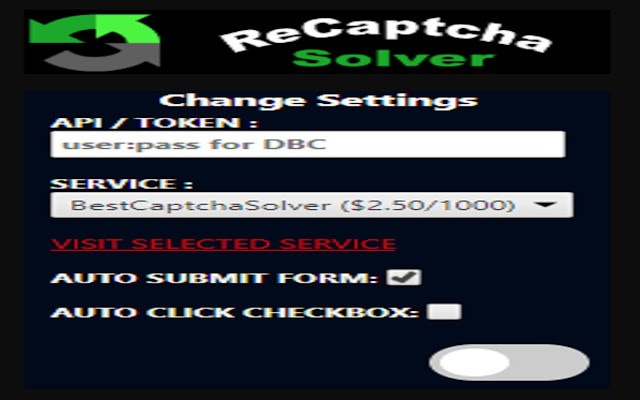 Operating System: Chrome
Pricing: Premium
Developer: nowon48
ReCaptcha Solver is a third party extension without any ties to a specific CAPTCHA solving company. It offers a number of services where you require a paid subscription. Unfortunately, it only supports Google ReCAPTCHA v2, which makes it very similar to Buster: Captcha Solver for Humans.
Before using ReCaptcha Solver, you need to have signed up and purchased credit with DeathByCaptcha, 2captcha, ImageTyperz, Anti-Captcha, BestCaptchaSolver, or EndCaptcha. Then you can select your CAPTCHA service from the drop down, enter its API key or username/password and start using the extension to solve ReCAPTCHAs.
Pros
The extension can solve Google ReCAPTCHA v2 fast
It can integrate with any of your active subscriptions
It's easy to use and understand
You can auto click the I'm not a Robot and Terms and Conditions buttons
Cons
You require a paid subscription to use the extension
How to Choose the Best CAPTCHA Bypass Extensions
When it comes to choosing the best Captcha bypass extensions there are a few critical factors to consider. Below are a few details to watch out for.
Compatibility: Ensure that the CAPTCHA bypass extension is compatible with your browser. Most CAPTCHA bypass extensions work with popular browsers such as Google Chrome, Mozilla Firefox, and Microsoft Edge.
Pricing: Some CAPTCHA bypass extensions are free, while others require a subscription or a one-time payment. Consider your budget when choosing an extension.
Security: Ensure that the extension you choose does not compromise your online security. Avoid extensions that require you to provide personal information or those that have a history of security vulnerabilities.
Effectiveness: The effectiveness of a CAPTCHA bypass extension can vary depending on the type of CAPTCHA it is designed to bypass. Check if the extension is effective in bypassing the type of CAPTCHA you are encountering.
Customer support: Look for an extension that offers customer support in case you encounter any issues while using it.
Privacy: Ensure that the extension you choose does not collect or share your personal information with third parties.
Final Thoughts
CAPTCHA bypass extensions can be useful if you encounter CAPTCHAs frequently. While these extensions are not foolproof and may only work for some types of CAPTCHA, they can be effective in many cases.
The six extensions discussed in this article offer different features and levels of effectiveness. Hence, it's worth trying a few to see which works best for your needs.
Do you have experience working with a good CAPTCHA bypass extension? What's your experience using CAPTCHA bypass extensions? Share your thoughts in the comment section below.