6 Ways to Create a Kon Boot USB from ISO [Short Tutorial]
Kon-Boot is probably the best tool to bypass Windows login restriction because it allows you to access Windows by logging in to any user account without you knowing the actual password. There is no need to crack or reset the user's password which is a great time saver and also doesn't trigger user suspicion. There are two versions of Kon-Boot which is free and paid. The free version of Kon-Boot is actually an older version that comes with an ISO image to burn to disc and IMG file for floppy. Advanced users would know that it's possible to create a bootable live USB drive from an ISO image file but unfortunately it won't work for Kon-Boot.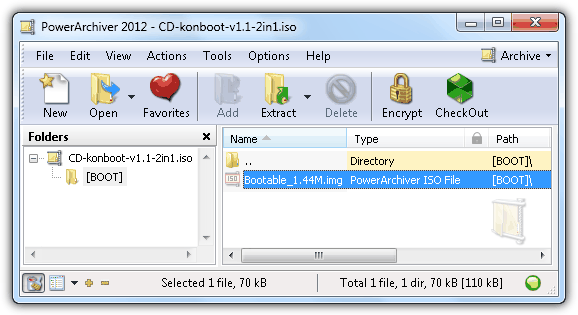 If you open the Kon-Boot ISO file with a supported archiver such as 7-Zip or PowerArchiver, you will see a [BOOT] folder with a file called Bootable_1.44M.img. This would mean that the author of Kon-Boot created a bootable CD ISO image from a bootable floppy. So in order to create a bootable Kon Boot USB, the trick is to use the floppy image instead of the ISO file. Here are 6 different ways to create a Kon Boot USB and hopefully one of the methods below will work for you.
1.
UNetbootin
There are quite a number of tools to assist in creating bootable USB drives but UNetbootin is the only one that supports floppy images rather than just ISO. First insert the USB flash drive that you want to install Kon-Boot and format it as FAT32 file system. Then download UNetbootin from the link below and run it. Select the Diskimage radio button, click the drop down menu and select Floppy.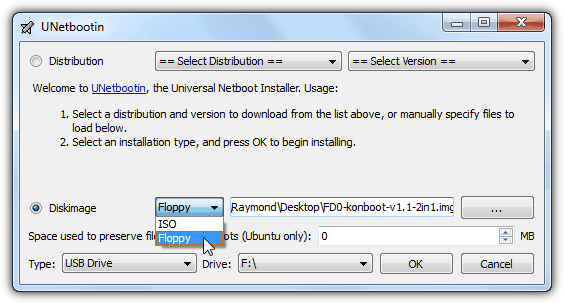 Then browse for the Kon-Boot floppy disk image which is FD0-konbootv1.1-2in1.img. Confirm the drive letter of your USB flash drive and click the OK button. Unetbootin will now start copying the files and then install a Syslinux bootloader to your USB drive. Restart your computer and boot it up with the USB flash drive. If you get it right, you should see a UNetbootin screen with 10 seconds countdown to select Default from the list.
---
2. Modified Syslinux.cfg for Unetbootin
If the first method fails, you can try downloading the modified version of syslinux.cfg and chain.c32 files and copy them to your USB drive overwriting the ones created by Unetbootin earlier. IronGeek discovered that on certain computers with multiple hard drives, Kon-Boot takes over the first hard drive when booting from USB created by Unetbootin. So he modified the syslinux configuration file to load up Kon-Boot first and then allowing you to try booting in to other hard drives.

A few selections are available for you to choose with this configuration. First you need to select the "1st Kon-Boot" option and let Kon-Boot load. After that you'll be sent back to the menu. This time select the second option and if it doesn't work, try the third, fourth and fifth etc.
Download Modified Syslinux.cfg
---
3. Universal USB Installer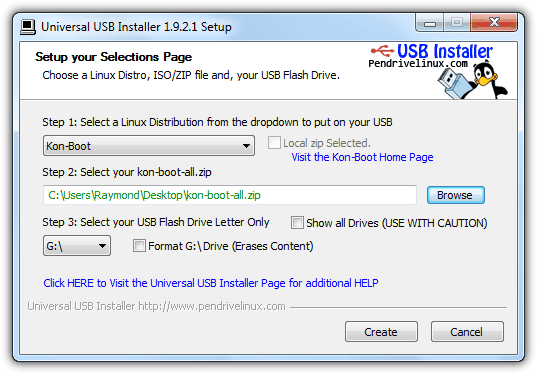 Universal USB Installer is another easy tool that can help you create a USB version of Kon-Boot without hassle in just 3 steps. Step 1 requires you to select Kon-Boot which is located right at the bottom of the list. If you haven't downloaded the free version of Kon-Boot, tick on the checkbox that says "Download the zip" and your default web browser will automatically run with the download page. Once downloaded, click on the Browse button to locate the kon-boot-all.zip file. Finally select the USB flash drive and click the Create button followed by Yes at the confirmation window.