5 Best Bulk Image Converter Online Tools & Software
You may want a bulk image converter to transform images, graphics, and photos from one format to another to make them compatible with your devices, programs, platforms, or storage devices. Common image formats include TIF, BMP, PNG, XBM, JPG, WBMP, and many more.
Using a bulk image converter, you can add a watermark to photos, change the image sizes, flip them, and change their color depth. You can also edit image properties, customize tags, and rebrand the files.
You can use typical online and offline image converters when dealing with one or two images. However, if you want to convert bulk images, you'll need a reliable batch image converter.
Best Batch Image Converters
There's a huge collection of image file format converters to choose from, but which are the most reliable? We tested different tools online and noted the best free image converter software and their pros and cons.
In the article below, you'll find the best tools to convert different file formats, whether WebP or JPG. We've shortlisted the top 5 to help you choose faster.
Best For
Top Features
1.
Wondershare UniConverter
Video conversion and multimedia task
Convert videos to a wide range of formats
Burn DVDs and CDs from a variety of sources
Trim, crop, add watermarks, subtitles, and other effects to your videos.
2.
XnConvert
Convert, resize, and edit your images
Convert your images to and from a wide range of formats
Resize your images while maintaining the aspect ratio
Add text or image watermarks to your images
3.
BatchPhoto
Batch editing and converting of photos
Editing tools, such as resizing, cropping, rotating, and flipping your images
Filters and effects that you can apply to your images
Add text or image watermarks to your images
4.
RedKetchup
Resizing multiple images simultaniously
Resize multiple images at once, saving you time and effort
Customizing your image resizing, such as adding padding
Automate the resizing process by creating presets for your image resizing
5.
AnyWebP
Converting images to the WebP format
Convert your images to and from a wide range of formats
Converting images to the WebP format
Customize your image conversion
1. Wondershare UniConverter – The Best for Converting Images Without Quality Loss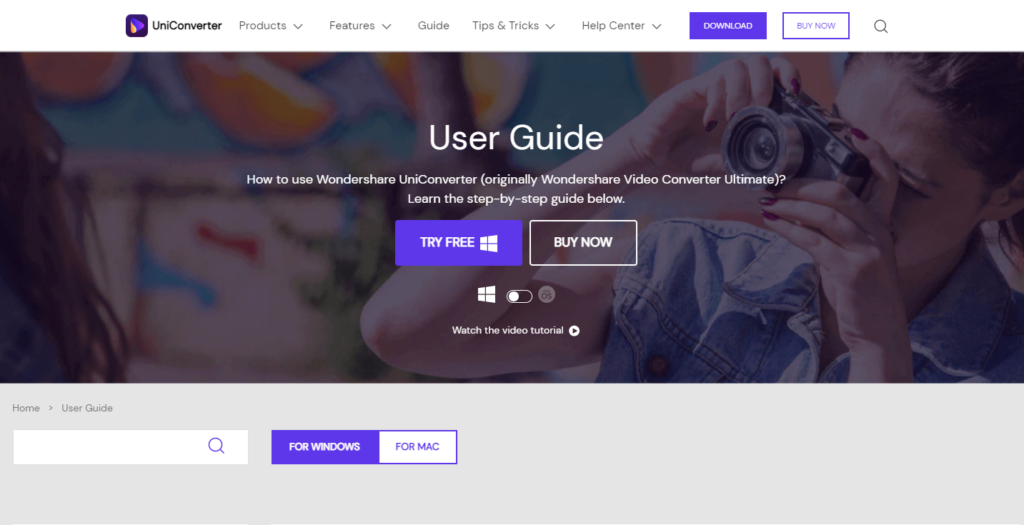 Operating system: Windows, Mac, and Linux.
Developers: Wondershare
Wondershare UniConverter is our top choice for the best desktop app for converting bulk image files. It's free and simple to use.
The software can convert images to jpg, BMP, TIFF, and PNG without compromising quality. Using the software, you can crop, add effects, remove/add watermarks, and resize images. If you need to convert audio or video without an internet connection, Wondershare UniConverter can help.
To convert bulk images, follow these simple steps:
Download, install, and launch Wondershare Image Converter on your machine
Select Image Converter from the program's tool menu.
Click the + symbol in the interface's center or the Add Files button to upload multiple pictures simultaneously.
Edit images (if needed).
Click on the corresponding symbol below the image thumbnail to crop, apply effects, or add a watermark. You can adjust individual file sizes with these symbols.
Click on the Convert All Images tab in the upper right area.
Choose the format and size of the final output.
Alter the size of all added files by using the settings icon.
Click the Convert button in the tool's lower-right corner to convert multiple images simultaneously
Select a folder on your desktop to store the output files in the File Location tab.
Wondershare Converter comes with three pricing tiers, including a quarterly Plan of $29.99/Quarter, an annual Plan is $39.99, and a perpetual plan of $55.99 to be paid once only.
The Pros
The software produces high-quality outputs.
The user UI is straightforward enough for beginners to use.
Converting pictures is quick and easy.
Cropping, effects, and watermarking can all be applied to the added images in this batch picture converter.
It is possible to adjust the file size and make all pictures the same resolution.
An intelligent cutter is a great tool for automatically splicing and cutting videos.
The Cons
Unreliable customer support.
The free edition has some restrictions.
Download Wondershare UniConverter
2. XnConvert – Best Batch Image Converter for Windows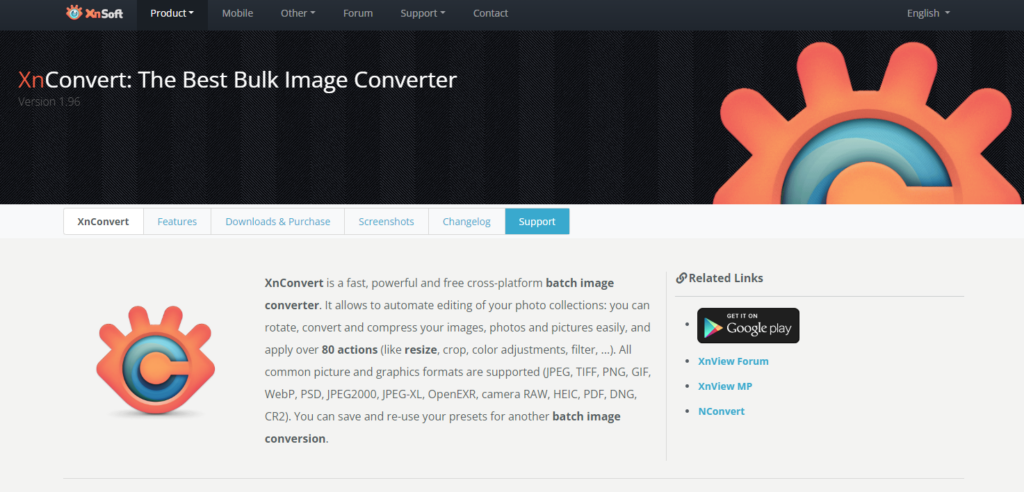 Operating system: Windows, Mac, and Linux.
Developers: XnSoft
XnConvert is a free cross-platform batch picture converter. You can use it to edit your images, quickly resizing, compressing, and converting them to different formats. You can also employ more than 80 actions on your images, including cropping, color alterations, and filtering.
It supports bulk image conversion to png and graphic formats such as TIFF, JPG, camera RAW, GIF, and JPEG2000. You can save and reapply your templates for a subsequent batch picture conversion.
XnConvert has more than 20 different translations, so most people across the globe can use it. It provides robust features in a user-friendly interface with efficient drag-and-drop tools. XnConvert supports up to 70 file formats and is compatible with over 500 file types.
Pros
XnConvert provides support for numerous formats
It is very straightforward to use
It has a good collection of tools, filters, and repercussions
It enables more than 80 actions for automated editing
It provides cross-platform compatibility
Cons
The preview area is inadequate
Customer support may take time to respond
You can use the free version of XnConvert, but if you want to upgrade, contact customer support for more pricing information.
3. BatchPhoto – Best for Organizing Repetitive Tasks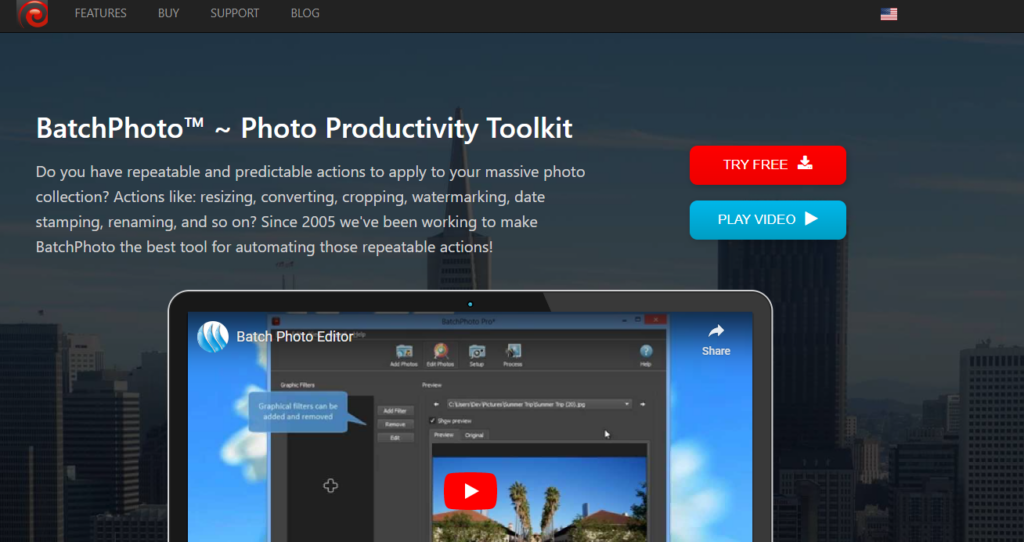 Operating system: Windows, Mac, and Linux.
Developers: Bits&Coffee™
BatchPhoto is an essential tool for editing, converting, and processing photos simultaneously. You can use it to apply regular and predictable actions on a large selection of pictures.
For example, if you have a folder with 100 photos and need to resize and convert them to a specific file format, you can apply these changes to all photos simultaneously.
Since 2005, BatchPhoto has systematized repetitive image-processing tasks. You can edit countless pictures simultaneously, and it promotes multi-core CPUs.
The software supports over 170 image formats, including jpg, TIF, and PNG. You can change photos in folders containing new or updated photos.
Follow these steps to convert bulk images using BatchPhoto:
Download, install, and open BatchPhoto on your computer.
Click Add Photos on the software to select the images to convert.
Select multiple images at once or choose an entire folder.
Move to the Edit Photos screen by clicking next.
Click Add Filter and select Format Conversion from the dropdown menu.
Choose the format you want to convert your images to.
Resize your images by selecting Resize and entering the desired dimensions.
Once you have set your conversion options, click Next to move to the Set Output screen.
Choose the folder where you want to save your converted images.
Click Process to start the conversion process.
Pros
BatchPhoto has multi-core CPU capability, allowing you to edit thousands of photos instantly
Its design allows for the easy and effective operation
It lets you apply pre-defined filters to the pictures while selecting quality
There is a file preview accessible
It enables you to add graphic effects like sepia, charcoal, and oil paint to photos in bulk.
Cons
There is little support for input formats
Being an online utility, it requires a stable internet connection
Attempt BatchPhoto for free right now, or buy immediately and save up to $20. It is priced at $29.95 for BatchPhoto Home, $49.95 for BatchPhoto Pro, and $129.95 for BatchPhoto Enterprise.
4. RedKetchup – Best Bulk Image Resizer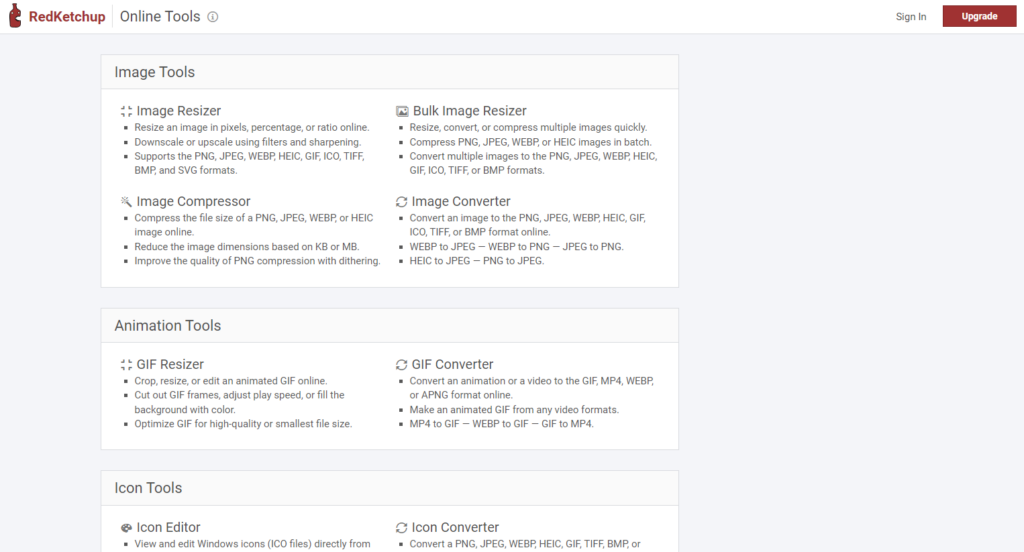 Operating system: Windows, Mac, and Linux.
Developers: RedKetchup.io
RedKetchup is a free online image processing tool that lets you easily adjust, edit, or compress bulk images. Its functionality depends on your browser's capability since images are processed using JavaScript.
To convert your files, you must upload them to the website and choose the desired output size. You might need to keep the browser tab open and active to ensure a smooth and quick process.
Set the color depth selection to 8-bit to compress PNG or BMP files and ensure consistent image quality. You can also choose settings from a predetermined project or customize every setting in the configure batch tab.
Here's the procedure you can follow while using RedKetchup:
Choose the photographs you wish to resize, edit, or compress
Drag and drop the picture files or directories
Choose a zip file that contains the photos
Copy an image to the clipboard.
The maximum storage is determined by how much system memory is available, and each copy is analyzed separately. However, downloading all of the photographs in a zip file may require three or four times as much storage capacity.
Pros
It supports most image formats
Size, backdrop, color intensity, and sharpness can all be customized
There is a choice to configure conversion settings for a preset activity
Cons
It is internet-based and thus can't function offline
The conversion speed is a bit slow and reliant on internet connectivity
RedKetchup has a free version available for those willing to try it. Contact customer support to get a custom quote for the pricing.
5. AnyWebP – Best Bulk Image Converter to WebP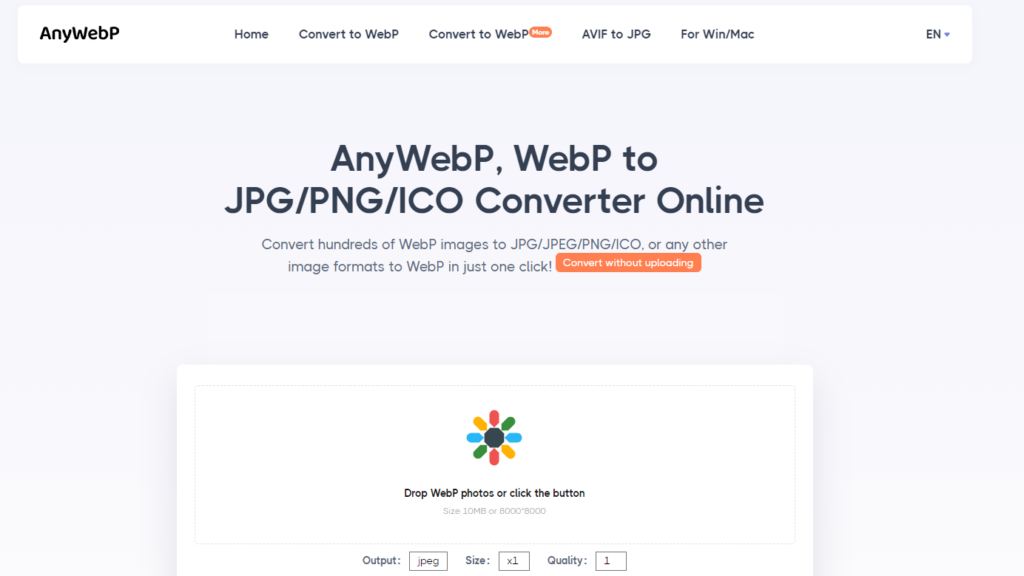 Operating system: Windows, Mac, and Linux.
Developers: AnyWebP
In 2010, Google unveiled the WebP format as a modern image format. WebP is an image encryption format like JPEG. However, WebP outperforms JPEG for the same picture quality in performance and encoding efficiency. You can reduce your website's loading time and increase user experience considerably by using WebP.
If you need to convert jpg, png, and gif photograph photos to WebP format, consider AnyWebP bulk image converter to WEBP. The tool's UI is straightforward; users can select the file size and quality.
The tool operates via the web interface and relies on server speeds to perform the conversion process. It enables you to swiftly and accurately convert photos to WebP files.
Pros
You can add both Google Drive or local files
It provides the option of picking the file size and quality.
You can convert as many photos as you want.
It has an easy-to-use interface.
Cons
It only supports conversion to WebP format
It has a 30MB maximum size restriction per image.
You can try the BulkImages to WebP Converter for free before investing in it. Contact customer support to get a custom quote regarding the software's pricing.
How can I convert bulk images?
There are various image formats, depending on your requirements. We think Wondershare UniConverter Image Converter is the best tool to convert as many images as possible without losing the picture quality. Several programs for resizing images are also available; the key is to choose the one that best suits your demands.
You can also try BatchPhoto or RedKetchup before choosing their paid versions, which have more capabilities. This way, you can determine the best software to convert bulk images and customize them to your liking.
Consider the pricing for each, keeping in mind some require downloading tools to your computer while others operate via the web.
The Verdict
You can select a batch picture conversion tool using the selections above that best suit your needs. This will ensure you meet your business expectations or share images with your peers.
What do you think about the above list? Share your comments below, or tell us about other tools we should add to the list above.