5 Tools to Bounce Spam Email Back to Sender with Non-Delivery
If you've ever posted your email address publicly in online forums or in the comment area of a blog, it is very likely to get harvested by spammers to send unsolicited emails to you. Another common way for spammers to easily and quickly create a database of email addresses is by using software to automatically generate millions of email addresses from a dictionary file and so coincidentally your username is found in their dictionary. This is why a newly registered and unused email address can still receive spam.
The currently most used method to fight spam is to block it using an anti spam system which is either pre-installed in your email server, installing as a plugin to your email client software or a standalone program on your computer. Another way to fight spammers is to bounce a non-delivery notification back to the sender which they might take you off their email address list. Here we have 5 tools which you can use to bounce email back to sender.
1.
Block Sender
Block Sender is an extension for Gmail available for Chrome and Firefox web browsers. Basically this extension allows you to easily move emails to the trash based on sender, domain, subject or a word/phrase by clicking on a "Block" button next to Delete in conversation using Gmail's filtering system.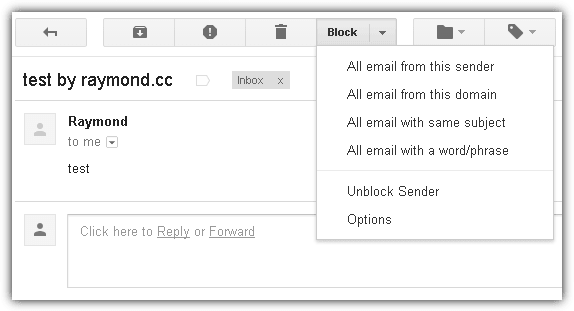 An additional feature found in Block Sender is the ability to automatically reply with a fake bounce informing the sender that the mailbox is unavailable. The bounce feature is disabled by default and can be turned on from Options by ticking the checkbox for "Send a fake bounced message after blocking".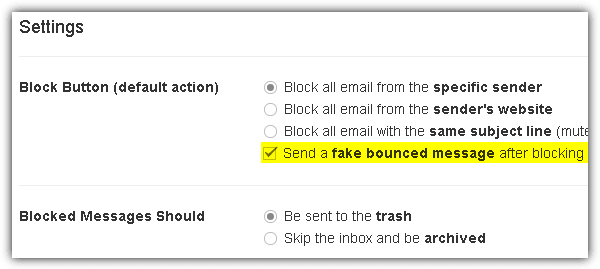 Do note that the experimental "Canned Responses" feature in Gmail Labs must be enabled for the sending of fake bounced messages to work. Block Sender has a free plan for individuals to "block a few messages". Through testing we found that the free plan is more like a trial plan with only up to 5 blocks and after that you are asked to upgrade to their monthly/yearly paid premium unlimited blocking plan. There are ways to add more free blocks by adding a review, sharing on Facebook or posting a tweet.
---
2. Spam Bully
Spam Bully is an anti spam software that works with Microsoft Outlook, Windows Live Mail, Outlook Express, Windows Mail and also has a standalone IMAP version if you do not use any of the mentioned email client software. Other than having the ability to identify which emails are good and spam using the Bayesian spam filter system, it comes with an optional feature to fight back by sending bounce messages and to punish sender by silently visiting any links found on the email body without doing anything else.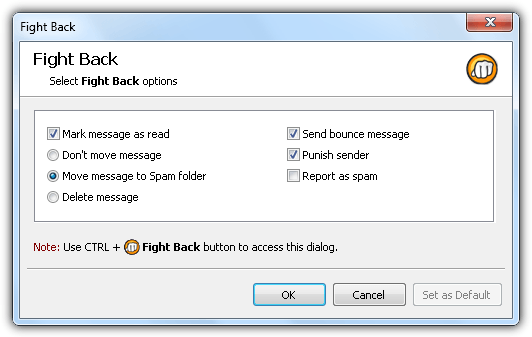 You'll need to press and hold the Control button while clicking on the Fight Back button from the menubar to bring up the options window as shown in the above screenshot or else the default option will be used to fight back. SpamBully is a shareware that cost $29.95 for a 1 year subscription.
---
3. Bounce Bully
Bounce Bully is created by the same company as Spam Bully except it is free and comes only with the "Fight back" features. It is quite troublesome to use Bounce Bully because you'll need manually to copy and paste the full email including the headers into the message box, then only click on the Bounce or Punish button. The bounce message and the number of times to punish can be changed from the Config tab.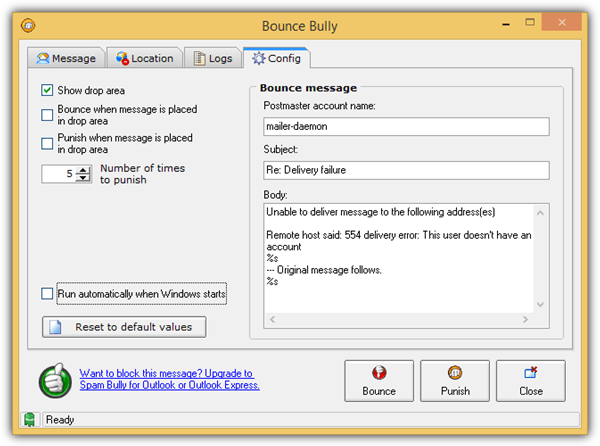 One important note on sending bounced messages using Spam Bully and Bounce Bully is they are sent using an internal SMTP engine which is why you won't find an option to configure and use a 3rd party SMTP server. If your Internet Service Provider blocks port 25, then bouncing messages to the sender will not work.
---
4. MailWasher
MailWasher is a very popular standalone spam blocking tool that has been around for more than 10 years and is still in active development. It is free and most importantly very effective in detecting spam using multiple methods such as whitelist/blacklist, filters, external spam database checking, and Bayesian statistical technique. You can also take revenge on spammers by bouncing it back to them.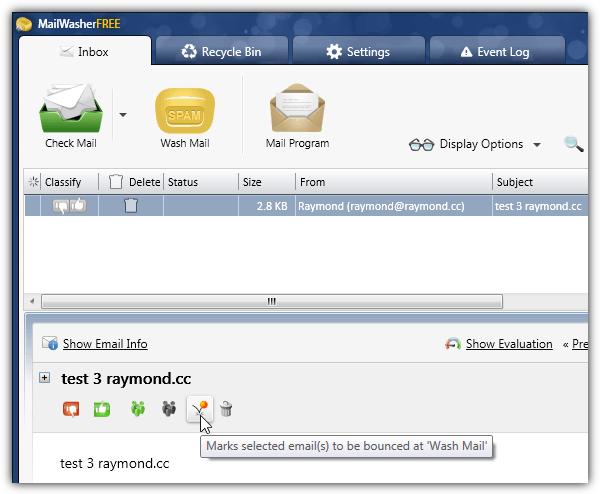 To bounce a detected spam email, simply right click on it and select "Mark for bounce" or alternatively click on the bounce icon as shown at the screenshot above. When you've finished reviewing the emails, click on the "Wash Mail" button to remove the spam from your email server and send fake bounced emails to the ones that marked for bounce. Works on popular webmail such as Gmail, Outlook.com, Yahoo and etc.
---
5. IncrediMail
IncrediMail is an email client software that is well known for its flashy animations which looked great when it was new but definitely a bit outdated today especially when it is ran on Windows 8.1. It used to be shareware, turned into freeware and is now bundled with a ton of adware and even an experienced computer user would have to be extra careful during installation or else they'd end up with adware that is difficult to remove.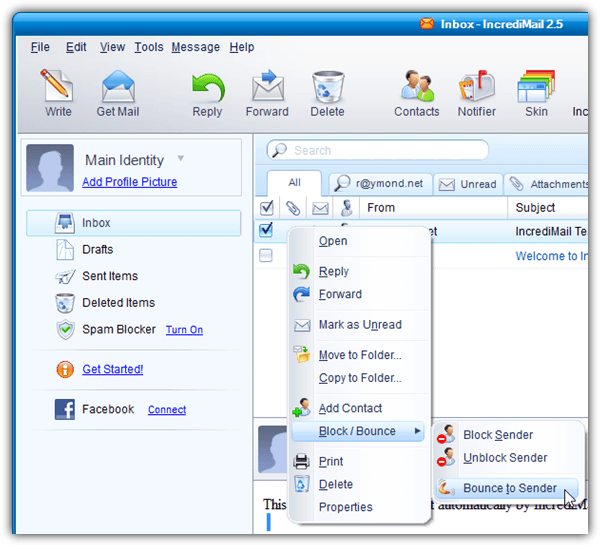 Bouncing back to sender is really easy with IncrediMail because this feature is integrated into the software. Just right click on the email, go to "Block / Bounce" and select "Bounce to Sender". Confirm the action and a fake non-delivery email will be automatically created and placed in outbox queued for sending.
Final Notes: Bouncing spam may or may not get your email address off of a spammer's list. Depending on the sender, some of them don't care about the validity of the email addresses in their list and all they want to do is just send out mass emails blindly. There are some that ignore the bounce because they rely on an email address checker that is able to verify whether your email address exists.