10 Free Porn Blocker Software: Best Picks in 2023
A computer with an Internet connection is able to expose your children to everything, both good and bad, that is on the world wide web unless you have some kind of parental control software installed to automatically filter out bad or questionable websites such as pornography, violence, gambling and etc.
Most of the time, software that can block porn uses two methods to detect bad websites: keywords and a blocklist. Most of the time, the keywords don't really need to be updated other than periodically adding new keywords.
As for a blocklist, it requires constant maintenance, which is why some popular parental control software, such as NetNanny and CyberPatrol, are subscription-based and not a one-time payment for a lifetime license.
These dangerous websites not only pollute young minds, but they are also a common source for malware spreading. Browsing through free porn sites may get you infected by rogueware that tries to trick you into thinking that your computer is infected, so you'll buy their fake antivirus software to remove them or ransomware that locks up your computer and only will unlock upon payment. To automatically block pornography websites, here are 10 free tools.
If you want to try and block porn and other questionable content at a lower level, blocking via DNS is another option.
Best anti-porn software for PC
1. Norton Family – best porn blocker software overall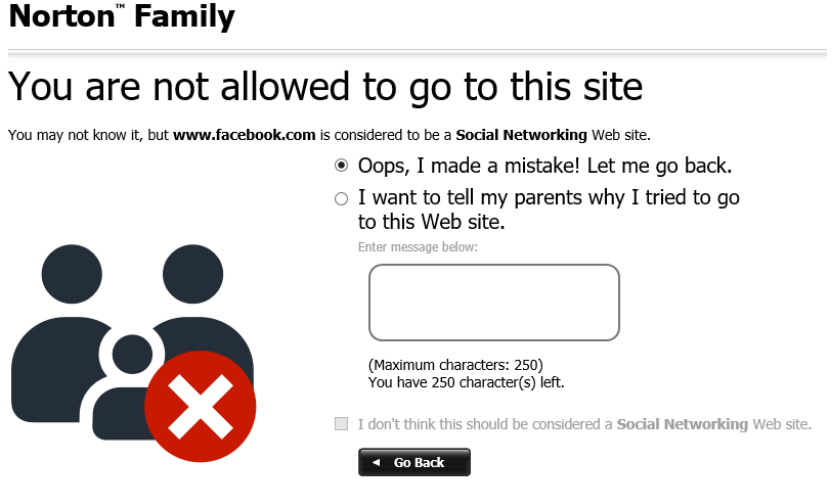 Operating System: Windows, Mac, Android, iOS, iPadOS.
Pricing: Free
Developer: Norton
Norton Family is a powerful ad blocker that gives you control over your internet experience.
This application uses a combination of different methods to block pornographic sites. With Norton, there are no limits to the number of devices you can monitor. Because it has a user-friendly interface, users can easily configure and navigate the dashboard.
For example, it has a database of porn websites it blocks by default. The company updates this database regularly to offer well-round protection. Secondly, the application uses a web filtering technology that flags inappropriate content, even though it is not in the database. Furthermore, you can also create your own custom rules and receive alerts when those sites pop up.
Additionally, it provides support for restricting app use and limiting screen time. This software is especially useful to parents because it allows them to track their kids' activity across different devices.
2. Qustodio– advanced content filtering with comprehensive monitoring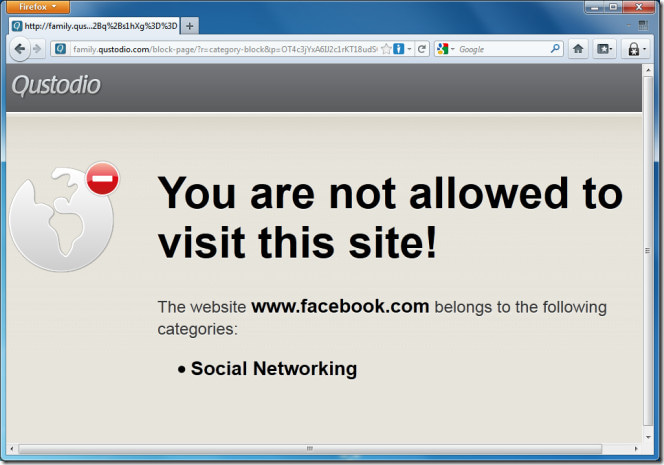 Operating System: Windows, Mac, Android, iOS, Chromebook, iPadOS, Kindle.
Pricing: Paid
Developer: Qustodio LLC
Qustodio is a simple ad-block software that prevents access to pornographic sites. The application has an intuitive user interface that makes it easy to control the types of sites your network has access to. To prevent inappropriate content from popping on your screen, you can use the category feature to block pornographic sites or use the category monitoring feature to receive alerts.
For added protection, Qustodio also uses a dynamic internet filter to flag sites containing pornographic materials, even when they aren't explicitly labeled as such.
3. Canopy – best parental control app with anti-tampering features
<Image>
Operating System: Windows, Mac, Android, iOS, Chromebook.
Pricing: Paid; free trial available
Developer: NetSpark
Canopy is a highly-rated parental control software that lets parents create a safer and healthier digital environment by controlling exposure to mature content on the internet.
The tool scans websites in real-time, blocking and filtering adult and pornographic content instantly. Canopy filters out pornographic content without blocking the entire website. The tool also offers filters to block suggestive content that blocks content containing partial nudity.
To run Canopy, parents need to install the app on both their and their children's devices. Once set up, you can monitor their online activity and block specific content like porn.
Canopy comes with anti-tampering features. Children cannot change the settings or remove Canopy from their devices without parental permission. Suggestive content detection also works when children take a suggestive picture – the tool will ask if they want to delete the photo or send a copy to parents for approval.
4. Bark – intelligent content monitoring with real-time alerts
<Image>
Operating System: Windows, Mac, Android, iOS.
Pricing: Free; Paid plans also available
Developer: Bark
Bark is an all-in-one online safety app that gives parents the ability to manage every aspect of their kids' digital worlds.
Essentially a monitoring tool, Bark works by monitoring apps and websites for signs of threats like porn, cyberbullying, online predators, malicious websites, violence, depression, etc. When Bark detects issues, it sends parents a notification in real-time, allowing them to talk to their children about healthy internet behavior.
Apart from blocking sexual content online, Bark also allows parents to create custom daily screen time schedules, set location alerts, set up geofencing, etc. It monitors over 30 apps and social media platforms for signs of online threats and blocks them instantly to prevent exposure to your children.
5. FamiSafe Porn Blocker – reliable website blocking and app control
<IMAGE>
Operating System: Windows, Mac, Android, iOS, Chromebook, Kindle Fire.
Pricing: Freemium
Developer: Wondershare
FamiSafe is one of the best adult website blocker software developed by WonderShare, which is known for developing several other utilities.
This software is designed to identify porn content from different apps and websites, preventing your kids from viewing it online. With its comprehensive website filtering, activity monitoring, screen time management, and location tracking features, FamiSafe offers a holistic approach to safeguarding children's online experiences.
FamiSafe offers a host of other features to enhance digital supervision. Its real-time activity monitoring allows parents to keep a watchful eye on their children's online behavior, providing insights into the apps they use, websites they visit, and search queries they make.
With Family Locator, Screen Time Monitor, Online Safety, and App Usage Monitor & Blocker, FamiSafe helps you create a safer digital environment for your family.
Download FamiSafe Porn Blocker
6. Kidslox – porn blocking and comprehensive app management
<Image>
Operating System: Android, iOS, iPadOS.
Pricing: Paid
Developer: Ekreative
Kidslox is a reliable content monitoring and blocking software for mobile devices that allows parents to create a safer digital environment for their kids.
The advanced porn-blocking feature of Kidslox effectively filters and blocks access to adult websites and explicit content, thereby preventing exposure to harmful materials. It fosters a healthier and safer browsing experience for the family by helping kids avoid unsuitable websites.
Kidslox offers many robust features, which include responsible screen time management and enhanced digital supervision. Parents can control and limit specific app usage on their children's devices. You can also establish screen time schedules, enforce bedtime limits, and remotely lock devices when necessary, encouraging a healthy relationship with technology.
7. Adguard – powerful ad blocking and malicious website filtering
<Image>
Operating System: Windows, Mac, Android, iOS, Browser extensions.
Pricing: Free; Paid plans also available
Developer: AdGuard
AdGuard is one of the most advanced and versatile adult content-filtering software that offers users a wide range of use cases.
At its core, AdGuard is an effective tool for blocking intrusive ads. It uses a series of sophisticated filters and algorithms to eliminate annoying ads that disrupt the browsing experience. It also acts as a reliable website filtering software, filtering out malicious websites and protecting users from phishing attempts, malware, and other online threats.
The user-friendly tool offers comprehensive filtering settings, enabling users to block specific types of content, create whitelists for trusted websites, and even customize filters based on individual requirements.
8. Kurupira WebFilter – web filtering with time restrictions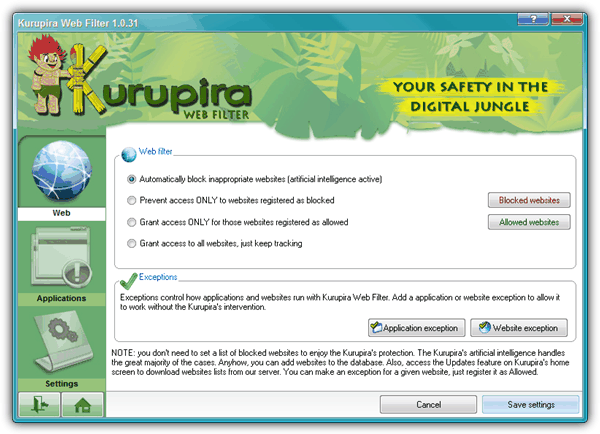 Operating System: Windows.
Pricing: Free
Developer: Kurupira Project
Kurupira WebFilter is a free anti-porn software that comes with a good amount of features that make it very configurable.
Other than just blocking bad websites and applications, it can also block instant messengers such as Google Talk, Windows Live Messenger, and social networking websites such as Facebook, Twitter, etc. It can also automatically take screenshots in intervals and set time limits. If you go to Settings, you can find email notification options where you can be notified when a website or application has been blocked.
One of the features that we really liked is the application exception, where Kurupira WebFilter will ignore an application added to the list. Normally anti-pornography software only has an on or off switch where you either turn it on or completely off. You can probably use a portable version of Firefox so it does not intervene with the settings.
Take note during installation, where an option will be selected by default to change your web browser's homepage to Kurupira's. Kurupira WebFilter does have some tampering system where the filtering system will still continue to function even after terminating the process, password protection, and enabling the stealth mode to hide the tray icon. The only drawback is the software can be easily uninstalled without any restrictions, which makes it very easy to bypass.
9. OurPact – website blocking and flexible screen time management
<Image>
Operating System: Windows, Mac, Android, iOS.
Pricing: Freemium; free trial available
Developer: OurPact
OurPact is one of the most comprehensive parental control applications that help parents protect their kids from various online threats.
By utilizing advanced filtering technologies, OurPact effectively blocks access to adult websites, preventing exposure to explicit material. The tool can be used to block apps, websites, and texts on up to 20 devices at once. You can foster a safer and more productive digital experience for children by preventing the use of addictive apps.
Being a parental control software, OurPact has several features allowing parents to control digital exposure. You can customize screen times and set daily limits on device usage. The tool can also be used to locate family members, set geofences, and receive instant alerts for pre-defined thresholds.
10. Net Nanny – trusted website filtering and content detection
<Image>
Operating System: Windows, Mac, Android, iOS, ChromeOS, Kindle Fire.
Pricing: Freemium; Paid plans also available
Developer: SafeToNet
Net Nanny is a highly-rated internet filter that is an invaluable tool for parents concerned about their children's online safety.
This tool's robust website filtering feature allows users to block access to specific websites or categories of websites. It offers pre-defined filtering categories, such as adult content, gambling, or social media, and users can also manually add websites to the blocked or allowed list.
Using modern content detection technology, Net Nanny tracks explicit content in real-time every time you either visit a link or search for a keyword in your browser. Moreover, Net Nanny allows time management features, allowing parents to set time limits on how long their children can access the internet.
Net Nanny also includes social media monitoring features that provide insights into a child's social media interactions and help detect potential risks or inappropriate behavior.
Overview of best free porn blocker software
| Software | Top Features | Category blocking | Website blocking | Additional content filtering | Screen time management |
| --- | --- | --- | --- | --- | --- |
| Norton Family | Web filtering, Time management | Yes | Yes | Yes | Yes |
| Qustodio | Content filtering, Monitoring | Yes | Yes | Yes | Yes |
| Canopy | Real-time content monitoring, anti-tampering features | Yes | Yes | Yes | Yes |
| Bark | Content monitoring, Alerts | Yes | Yes | Yes | Yes |
| FamiSafe Porn Blocker | Website blocking, App control | Yes | Yes | Yes | Yes |
| Kidslox | Porn blocking, App management | Yes | Yes | Yes | Yes |
| AdGuard | Ad blocking, Malicious website filtering | Yes | Yes | No | No |
| Kurupira WebFilter | Web filtering, Time restrictions | Yes | Yes | No | Yes |
| OurPact | Website blocking, Screen time management | Yes | Yes | No | Yes |
| Net Nanny | Website filtering, Content detection | Yes | Yes | No | No |
How to choose the best porn blocker software?
Choosing a porn blocker for Windows requires careful consideration of several factors as it involves your children's online safety. These are some of the most important features you should consider when choosing the best porn blocker software.
Evaluate filtering capabilities – Look for features like website blocking, content filtering, keyword blocking, and category-based filtering. Ensure the software provides accurate and up-to-date filtering to block explicit content effectively.
Platform support – Some porn blocker software are specific to specific operating systems. You should look for software that runs on the devices you and your children use to access the internet. For maximum safety, consider using a tool that works on all devices.
Additional Features – While your main priority is blocking porn, you should look for additional features that will help you foster healthy digital habits. These include screen time management, app blocking, social media monitoring, and remote device management.
Privacy and Security – Before installing the software, make sure that it prioritizes user privacy and data security. Look for providers that adhere to industry-standard security practices and have clear privacy policies.
Final Thoughts
In today's digital age, ensuring children's online safety has become increasingly important. Porn-blocking software solutions can completely block adult and malicious content on your children's devices, thereby creating a healthier digital environment for your family.
Note that we tested Norton Family by Symantec, and it is very unstable because we couldn't save the settings, and it constantly prompts us to log in even though we are very sure that we entered the correct parent's login credentials. We also omitted AOL Parental Controls because it asks for a credit card to verify that we are over the age of 18.