7 Best RMM Software & Tools [2023 Ranked & Reviewed]
Remote Monitoring Management (RMM), widely known as Remote IT Management, is a crucial software designed and developed to assist Managed Service Providers (MSPs) and IT professionals remotely. For instance, SAP monitoring tools are a crucial component of IT management that MSPs use to monitor SAP systems.
With nearly two-thirds (67%) of employees opting for remote jobs, RMM software is universally implemented by organizations as it is extremely beneficial in managing a large fleet of devices through a single dashboard, yet ensuring enhanced security by providing powerful security features such as antivirus.
Moreover, there are numerous other challenging problems encountered by MSPs as part of their tasks which can be resolved efficiently using accurate RMM software.
This article aims to provide you with a valuable list of the best RMM Software and tools through which you can skyrocket your business.
Best RMM Tools
| | | |
| --- | --- | --- |
| Software | Best For | Top Features |
| 1. ManageEngine's RMM Central | Comprehensive IT Devices Monitoring | Server monitoring, Alerting, WLC monitoring, Storage, CPU and memory monitoring, Fault Management, Software Deployment, Remote desktop sharing |
| 2. NinjaRMM | RMM Software for Small and Mid-Scale Businesses | One-click device actions, Endpoint task automation, Unlimited scalability, Auto-remediation |
| 3. Atera | All-in-One RMM Software Specially Designed for IT Professionals | Patch management, Ticketing, Network Discovery, Antivirus, and Malware protection |
| 4. SuperOps.ai | PSA-RMM Software for Modern MSP Needs | Intelligent alerting, Automation, Proactively fixing and managing assets |
| 5. ITarian | Remotely Manage your Business through One Platform | Ticketing system, Mobile device management, Endpoint security |
| 6. Kaseya VSA | RMM Tool to Remove Network Inefficiency | Automate tasks, Manage user permissions, Custom dashboards |
| 7. Auvik | Scalable MSP Network Monitoring Tool | Easily detects and resolves issues quickly, Monitor the complete network health, Simplify troubleshooting |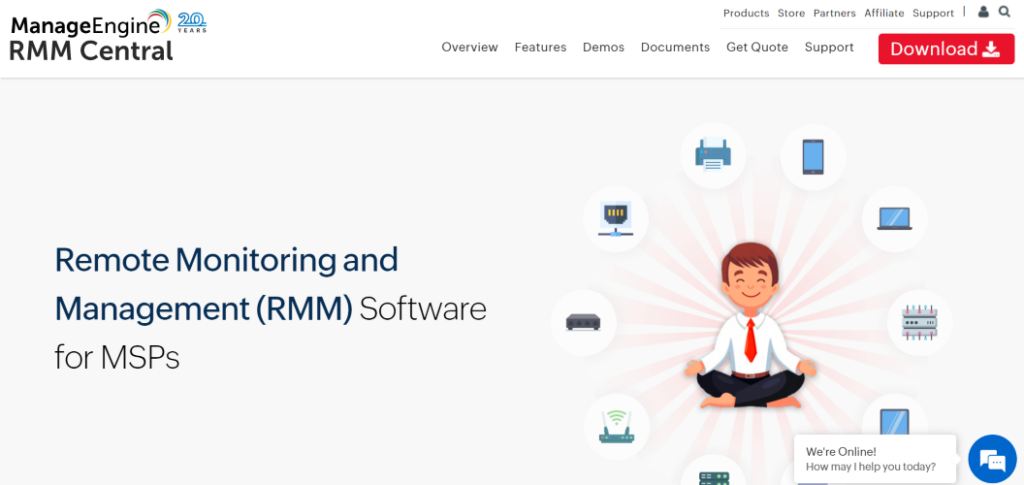 Operating System: Windows
Pricing: 30-day free trial, Piad
Developer: ManageEngine
Automate your IT management in 4 simple steps with ManageEngine RMM Central. Begins with the automatic discovery of connected IT assets, streamlines the management of applications running on different endpoints, then monitors the key metrics of your devices' performance, and finally secures your entire IT infrastructure with role-based access and customized security policies.
Whether it's physical or virtual machines, endpoints, or network devices, the tool provides you with an opportunity to monitor all of them from a central location.
RMM Central is highly recommended for MSPs to provide outstanding customer support while simplifying the management of all odd and contemporary devices.
Pros:
Automatic discovery of your devices and servers connected to the network.
Ensures the safety of your organization against security threats by creating custom reports for each client.
RMM central provides real-time alerts and notifications so you can quickly resolve the issue before it surge.
Patches and updates can easily be deployed using this RMM software's Patch management.
Fix issues concerning network traffic, applications, bandwidth, and other complicated problems.
Cons:
As the tool is primarily designed for on-premise installation, it possesses limited cloud capabilities.
Download ManageEngine RMM Central
2. NinjaRMM – Best RMM Software for Small and Mid-Scale Businesses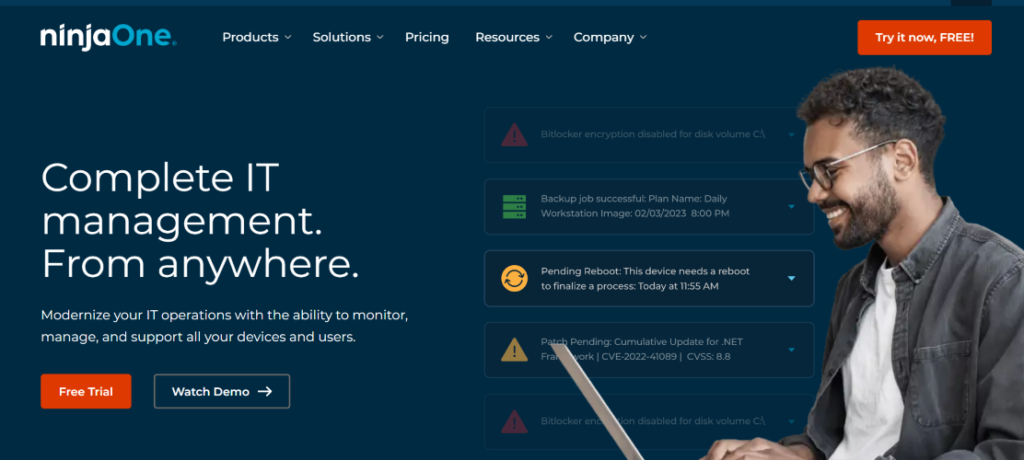 Operating System: Windows, macOS, Linux
Pricing: Paid
Developer: NinjaOne
NinjaOne formerly known as Ninja RMM is the top-rated RMM tool over the years. Its main objective is to take your business to extreme heights by providing modern remote IT management solutions.
The tool's real-time monitoring and alerting give you rapid visibility into device performance and health, allowing you to discover and manage problems before they annoy your users or interrupt your operations.
NinjaRMM's one-click remote management and automation of tasks through scripts minimizes the time MSPs spend babysitting their devices, allowing them to focus on the performance, health, and availability of their IT infrastructure.
Pros:
Allows IT professionals to remotely administer and manage IT assets.
Offers real-time monitoring by generating alerts when issues are detected.
Protects against security threats by including in-built antivirus and antimalware functionality.
Creates custom scripts that streamline the management process.
Ensures your devices are up to date with the latest security models.
Cons:
Constantly triggers alerts for minor software changes or updates in the network.
Customizations in ticketing systems could be improved.
3. Atera – All-in-One RMM Software Specially Designed for IT Professionals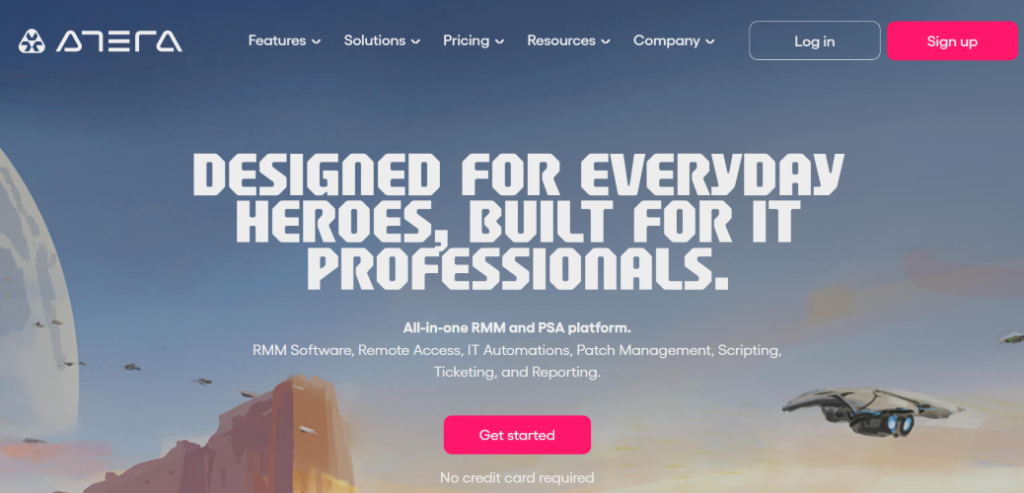 Operating System: Windows, macOS, Linux
Pricing: 30-day free trial, Paid
Developer: Atera
Atera RMM software offers complete remote monitoring and management solution that puts you in control of your IT environment.
It's jam-packed with strong features that can simplify IT management, making it the preferred choice for MSPs worldwide.
The patch management module in Atera RMM enables IT managers to schedule and distribute fixes for a wide range of software applications and operating systems, including Windows, macOS, and third-party applications such as Adobe, Java, and others.
Its effective ticketing module supports seamless communication, ensuring responsibility throughout the ticket lifecycle.
This tool offers network discovery which is capable of expertly tracking the connected devices allowing IT teams to gain extensive visibility into their network infrastructure. Atera's antivirus and malware protection ensures that systems are proactively protected against known and emerging threats with real-time scanning, automatic updates, and threat detection capabilities.
Pros:
Reduces the need for multiple tools by providing a comprehensive all-in-one solution.
Offers a consolidated dashboard, allowing MSPs to manage numerous clients from a single interface.
This cloud-based tool can be accessed from any location via a stable internet connection.
Its built-in automation capability enables IT service providers to automate normal processes.
Detailed reports regarding the client's environment can be generated that facilitate tracking performance to enhance IT management processes.
Cons:
On a screen less than 10.1 inches, the mobile app is not-user friendly
Although it possesses advanced technological features, the user interface lacks speed.
4. SuperOps.ai – Best PSA-RMM Software for Modern MSP Needs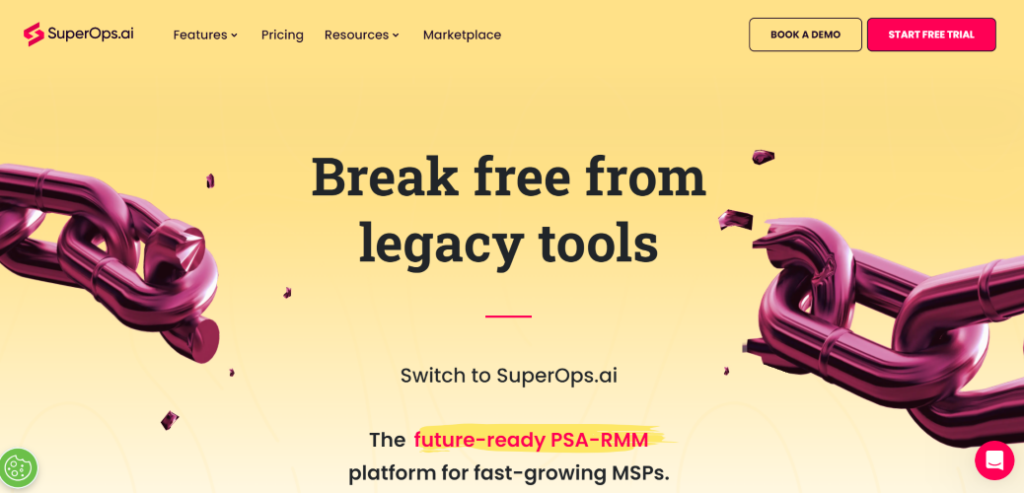 Operating System: Windows, macOS
Pricing: 21-day free trial, Paid
Developer: SuperOps.ai Inc.
SuperOps is a modern, influential cloud-primarily based RMM software program, completely designed and advanced for MSPs to effectively monitor purchaser endpoint networks. It is best suited for compact IT teams.
SuperOps.ai includes everything you need to manage your client's asset network in one place. In a greater context, it includes tightly integrated Professional Services Automation (PSA).
It maintains a plethora of user-friendly features to assist technicians in being as productive as possible, including remote desktop administration, community scripts for powerful automation, patch management to keep endpoints up to date, system tray icons for easier access, and much more. It's also in collaboration with Webroot, Acronis, Azure, Bitdefender, and much more.
Pros:
Offers an instinctive, simple, and reliable interface
Provides a tightly-knit Splashtop integration, with a free Splashtop subscription
A contemporary, native iOS and Android mobile app
SuperOps offers free onboarding, implementation, and readily available customer support system
Tracks performance data of assets, antivirus health, alerts, and more through granular reporting
Cons:
The pricing of this tool is quite expensive with a cost of $79 per technician
5. ITarian – Remotely Manage your Business through One Platform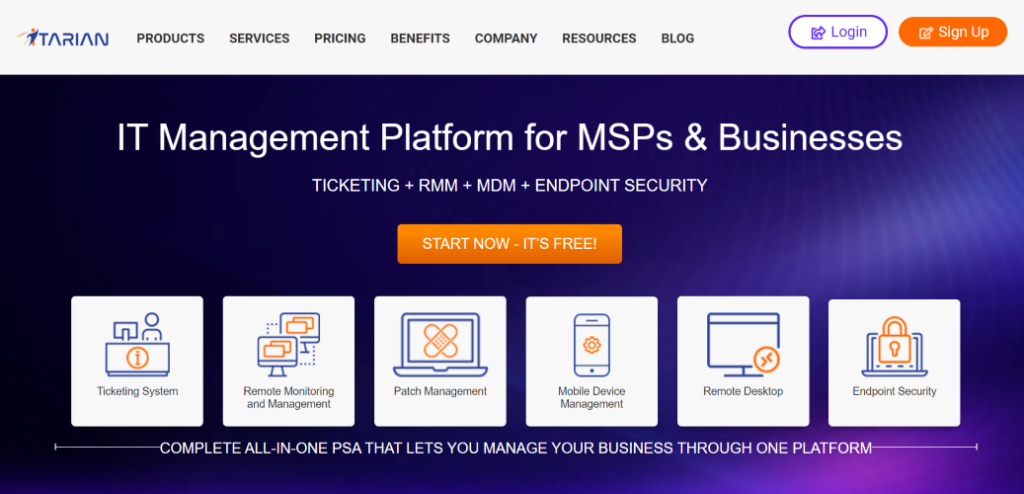 Operating System: Windows, Linux, iOS, Android
Pricing: 30-day free trial, Paid
Developer: ITarian
If you wish to manage your IT team remotely, then ITarian is a considerable choice as it gives you the leverage to control the linked devices through a single console. This scalable RMM software aspires to provide a wide range of safe and secure remote functionalities to organizations.
The software includes a monitoring tool that supports all network devices that operate on Windows or Mac computers.
ITarian allows you to resolve issues remotely, by offering a service desk that makes ticket handling easier and faster. Furthermore, the patch management feature can be used to quickly apply fixes and upgrades to all devices in your network.
Moreover, tight security protocols enable you to operate a flawless IT environment without jeopardizing your company's security.
Pros:
Allows you to control multiple devices through a single console
Gives you the leverage to control up to 50 devices for free
Scans regularly to prevent serious threats
Patch management
Troubleshoots IT issues quickly and remotely
Cons:
The procedure scripts are written and run in an outdated Python 2.7 engine
6. Kaseya VSA – Best RMM Tool to Remove Network Inefficiency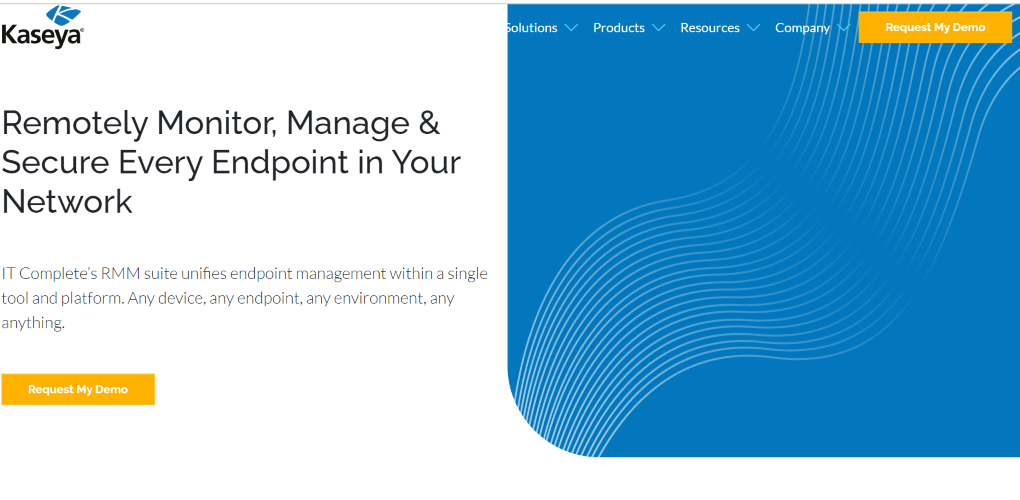 Operating System: Windows
Pricing: Paid
Developer: Kaseya
Kaseya VSA has approximately 100,000 users that count on it for their business needs. This tool provides a wide range of productive functionality to its users that helps in removing inefficiency.
This RMM software also includes a mobile app that you can use to manage IT ticket services. The overall monitoring experience can be tailored to the users' preferences. Custom dashboards and reports enable you to keep track of any change in your surroundings.
Kaseya RMM is designed for managed service providers (MSPs), although it can also be used by in-house IT departments. Kaseya BMS is a product offered by the Kaseya cloud platform that complements the VSA service.
Pros:
Offers a simple and adaptable interface
Excels at monitoring overall device health and resource utilization.
Offers automated software deployments that can help to accelerate the process of adding new machines to the client's network
Provides a strong customer support system
Allows MSPs to detect and resolve the problem before it becomes crucial.
Cons:
It provides a very short free trial
Patch handling can be perplexing
7. Auvik – Best and Scalable MSP Network Monitoring Tool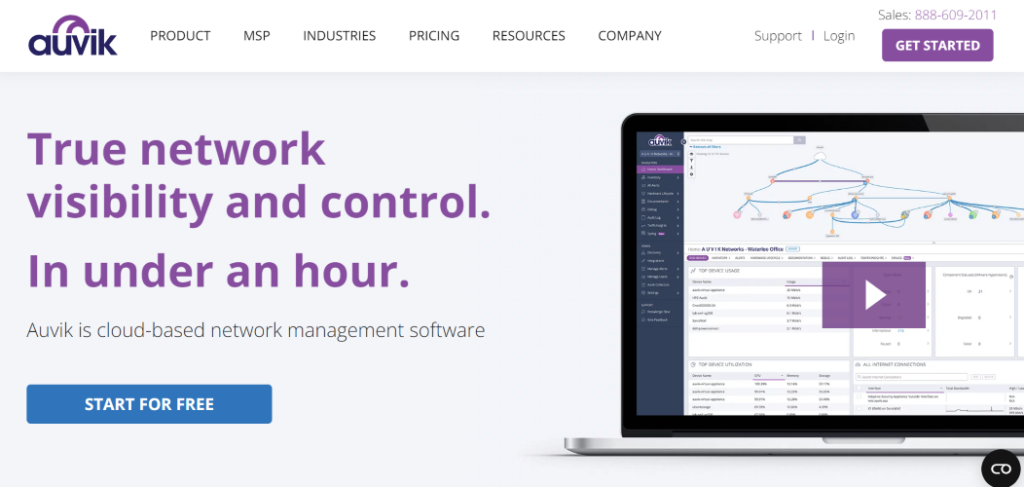 Operating System: Windows, macOS
Pricing: Paid
Developer: Auvik
As businesses move to the cloud, the demand for monitoring software that can seamlessly adapt to any scale is growing. Auvik is a cloud-based RMM software that uses Artificial Intelligence to remotely manage and monitor your business. This tool delivers complete access to your company's IT infrastructure via an easy-to-use interface.
The tool immediately spots the network issues and responds to them in real-time. Moreover, configuration backup and recovery are efficient with snapshots of historical logs and preserved custom configurations.
Pros:
Helps you to automate the IT management of your business
Auvik allows you to take a complete view and action on network health
Provides SSO authentication for uncomplicated user management
Gives automatic backup and ease of remote
Offers excellent technical support
Cons:
The mapping of complex multi-site interconnection should be improved
Free trial is just for 14 days
What is an RMM Software?
Remote Monitoring and Management software are tools that are engineered to equip IT service providers with the capability to remotely access client computers or monitor routers, allowing them to efficiently monitor the entire infrastructure.
Many managed service companies employ remote monitoring software to ensure that the systems they maintain are still functioning properly, like in the case of NOC monitoring.
When evaluating or executing an outsourcing model with an MSP, this tool can provide network managers with greater peace of mind.
Does Microsoft have an RMM?
Yes, In 2020 Microsoft launched Microsoft 365 Lighthouse, an RMM software dedicated to delivering managed services at scale to small and medium-sized customers.
This tool aims to help you save operational costs by allowing you to onboard, monitor, and manage your Microsoft 365 clients from a single location.
Furthermore, you can drive higher levels of standardization, automation, and auditing in your client interactions.
Why Use an RMM Tool?
Professionally managing the performance and health of your devices is crucial to deliver premium and exceptional IT services but it's challenging to monitor a wide range of metrics of all the connected devices manually.
What if you have software that helps you monitor your clients' endpoints, networks, and computers with a few mouse clicks? Yes, RMM software simplifies your client's network management by automating various monitoring tasks.
With RMM software, business activity monitoring gets easier and business owners now have more time to focus on other value-added activities such as developing new products or delivering better customer service.
What is the difference between RMM and MDM?
Remote Monitoring and Management(RMM) software allows MSPs to remotely monitor customers' workstations, FTP servers, or endpoints while Mobile Device Management(MDM) is specially designed to ensure that mobile devices are safe and secure to access enterprise data. That is, MDM software is specialized in device management and RMM software is a more comprehensive tool that includes network monitoring.
RMM offers you clearer and more detailed logs of various performance and health metrics for your systems compared to MDM. However, RMM lacks the stringent security measures that MDM provides for enterprise and employee mobile devices when interacting with your applications.
If you are looking for a solution that's packed with the benefits of both RMM and MDM, then you can leverage the tools under UEM category.
Conclusion
Although there is plenty of paid and free RMM software in the market which aspires to deliver a wide range of functionalities, it is essential to recognize your requirements and choose the best tool that fulfills your purpose.
In this article, we have provided you with a trending list of the best RMM tools with a clear picture of their features along with the pros and cons.