10 Best Hotel CRM Software (2023 Ranked & Reviewed)
Guest experience is of the utmost importance in the hospitality industry. Hoteliers must provide their guests with a personalized experience while keeping track of their preferences to ensure that their guests turn into repeat customers, with an average occupancy rate of 64%, a lot of hotels must rely on CRM software.
A hotel CRM system makes building deeper relations with customers easy by helping hotels keep track of everything important. These platforms go a step further by enabling successful hotel marketing, helping hotels achieve profitable operations through targeted sales and marketing campaigns.
Here, let's take a look at the best CRM software available for the hospitality industry. Check how these software fares when compared based on top features and pricing to make an informed purchase decision.
Best CRM software for hotels
1. Salesforce: Best CRM software for hotels overall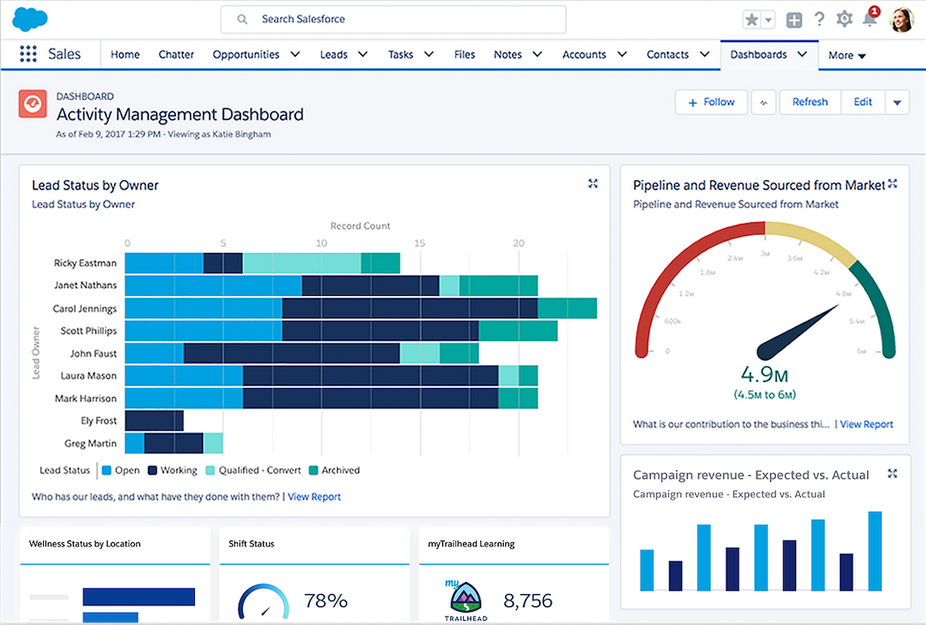 Operating System: Windows, Mac, Android, iOS.
Pricing: Paid
Developer: Salesforce
Salesforce is a comprehensive CRM solution with robust sales and marketing automation tools for streamlining business operations. The platform is industry-agnostic and fits right into the hospitality industry, allowing hoteliers to track and manage their entire guest journey.
With Salesforce, you get a unified view of your business operations. It integrates seamlessly with over 1000 third-party software, including property management systems and revenue management tools. You can check inventory to ensure you aren't overbooked and monitor revenue from each booking in one place.
Salesforce also offers advanced analytics and reporting tools to track guest behavior and store interactions and preferences, allowing hotels to offer a personalized experience. You can use the data to run targeted marketing campaigns across channels to boost upsell and rebookings.
The platform also offers customizable mobile apps for your staff to access guest data and manage operations on the go.
Pros
Comprehensive customer data management features
Powerful marketing automation features
Seamless integrations with other hotel systems
AI-powered analytics with predictive insights
Robust security features
Cons
Too many plans make selecting the one you need difficult
Setting up requires technical expertise
2. Freshsales: Best for sales management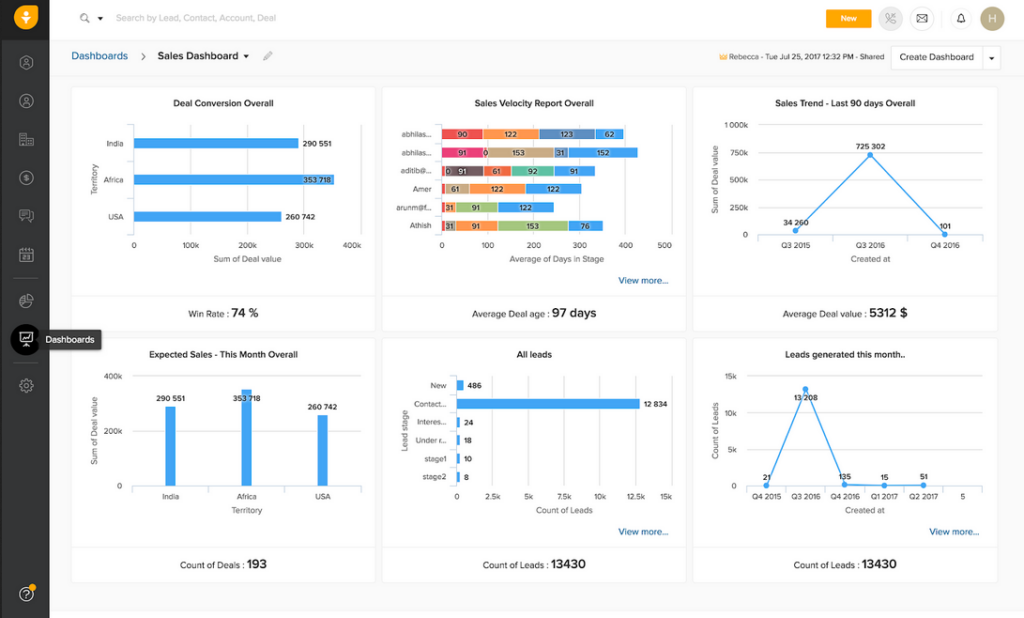 Operating System: Windows, Mac, Android, iOS.
Pricing: Paid
Developer: Freshworks Inc
While not specific to the hospitality industry, Freshsales is one of the top picks for CRM systems across industries due to its features and scalability. It offers a wide range of tools and integrations that help businesses streamline operations and boost revenues.
One feature that sets Freshsales apart from its competitors is the AI-based lead scoring system, which sorts incoming leads based on conversion probability. By tracking sales activities and monitoring reports on sales performance, you can streamline the sales process and improve conversions.
Freshsales also has one of the most intuitive user interfaces on this list, making it easy for sales teams of all sizes to adopt. With its comprehensive set of integrations, you can visualize the entire sales pipeline and improve guest communication through personalization.
Pros
Intuitive interface for easy adoption
AI-powered lead scoring and segmentation
Comprehensive customer data management
Advanced reporting and analytics features
Customizable sales pipeline and automation workflows
Cons
Limited project management tools
Too many features can be overwhelming for small businesses
3. Revinate: Best for guest data management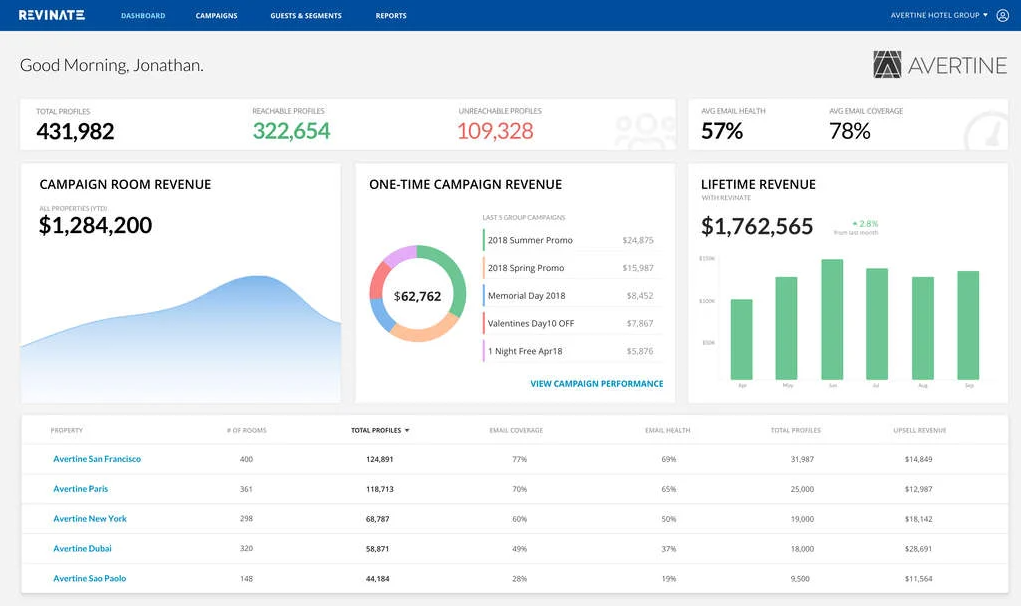 Operating System: Windows, Mac, Android, iOS.
Pricing: Paid; Custom
Developer: Revinate
Revinate is a powerful guest data management system designed specifically for the hospitality industry.
The platform offers rich guest profiles with the ability to collect and analyze data from various sources. You can store information like booking methods, details of the stay, preferences, feedback, and sentiment on review sites and social media, make sure to check our article on best CRMs for social media that will allow you to manage multiple channels. By collecting in-depth information, you better understand your guests' needs, preferences, and behavior.
Revinate really shines if you want to manage multiple hotels in different locations. The marketing module allows you to create and manage campaigns for all hotels with unified branding. You can also track and compare booking rates and customer data between different branches.
Pros
Comprehensive guest profile management
Automated marketing campaigns
Multi-channel communication capabilities
Reputation management
API integration
Cons
Limited lead scoring features
Lack of dedicated modules to handle customer inquiries
4. Oracle NetSuite CRM: Best for hotel operations management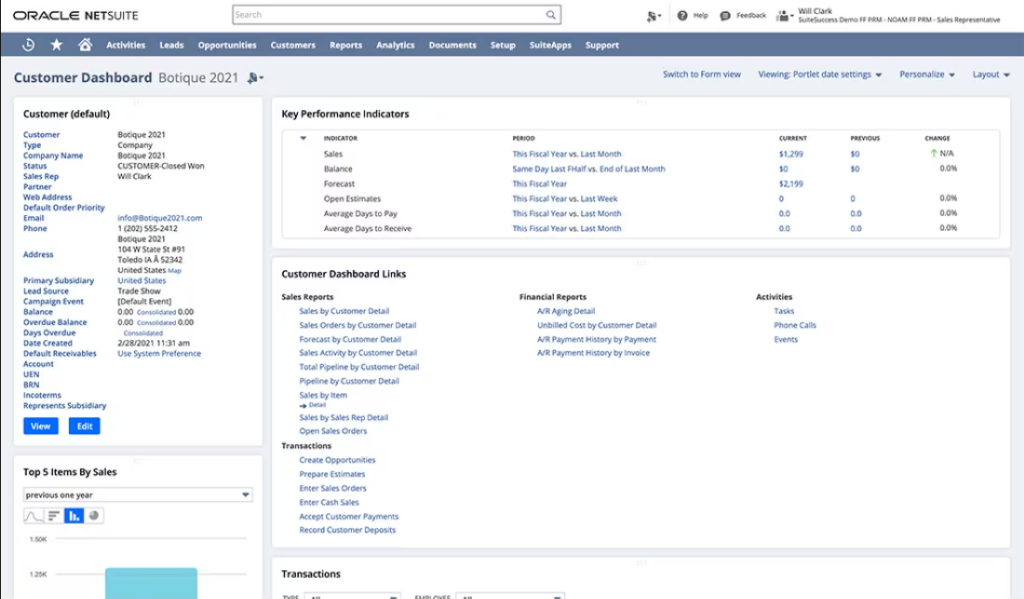 Operating System: Windows, Mac, Android, iOS.
Pricing: Paid; Custom
Developer: Oracle Corporation
Part of the larger NetSuite SaaS product family, NetSuite CRM is a proprietary customer relationship management system for the hospitality and restaurant industries.
The platform integrates seamlessly with other NetSuite products, allowing hoteliers to manage everything from inventory and accounting to marketing from one window. You get the complete customer journey overview from lead generation to after-stay support.
It also brings hospitality-specific features, like guest management, reservation and inventory management, and marketing automations. With advanced reporting and analytics, you can track the progress of your marketing campaigns across key performance indicators and make data-driven decisions.
Pros
Robust sales and marketing automation tools
Multi-channel communication
Comprehensive customer data management
Customizable dashboards and workflows
Scalable and flexible for hotels of all sizes
Cons
Heavy duty platform mainly suited for enterprises
Advanced reporting can be complicated for new users
5. Guestfolio: Best for personalized guest management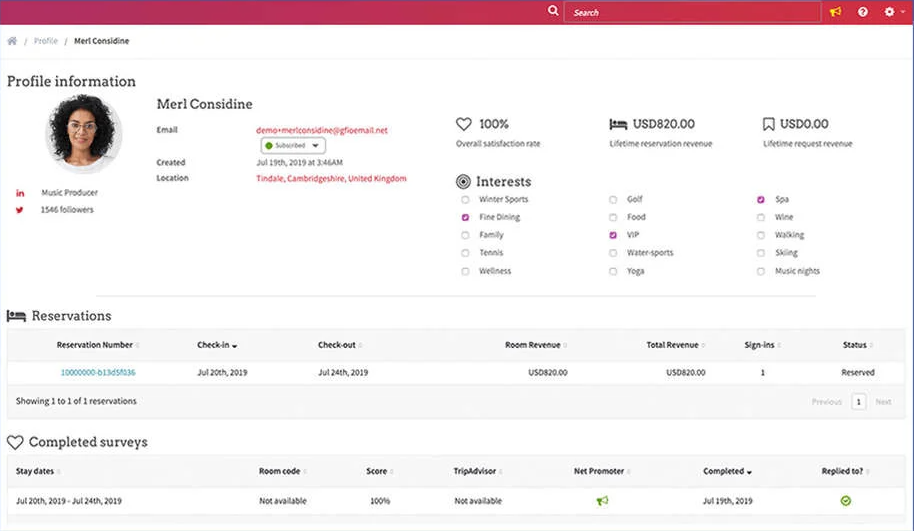 Operating System: Windows, Mac, Android, iOS.
Pricing: Paid; Custom
Developer: Cendyn
Guestfolio is an advanced guest experience management platform specializing in B&B, boutique, and independent hotels.
The platform specializes in personalizing guest interactions through customized guest profiles. You can automate pre- and post-stay communications, thereby creating a more intimate and tailored experience for your guests.
Guestfolio also has advanced email automation tools for maintaining brand awareness and customer loyalty. There is a trip planner feature that helps concierges showcase hotel highlights and suggest local activities. By gathering data on guest preferences and behavior, hotels can tailor their services and offers to meet their needs, resulting in a more satisfying stay.
Pros
Personalized guest experience management
Integration with third-party review platforms
Advanced reporting and analytics features
Customizable surveys
Email templates and automation workflows
Cons
Some features come with a learning curve
Glitchy marketing tools
6. For-sight: Best for revenue management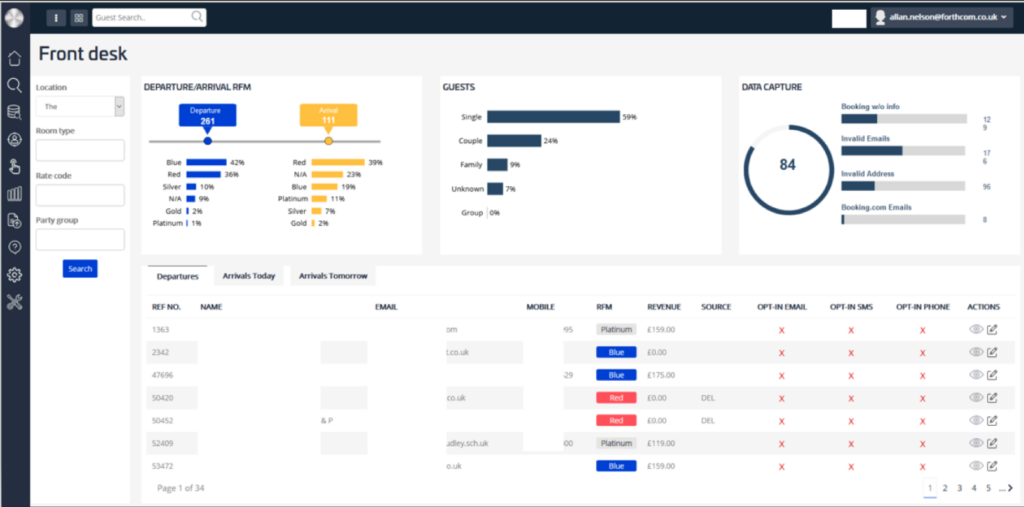 Operating System: Windows, Mac, Android, iOS.
Pricing: Paid; Custom
Developer: For-Sight Software Limited
For-sight is a leading revenue management system with built-in CRM capabilities designed for the hospitality industry.
The data-driven marketing CRM system helps businesses uncover deep customer insights to boost upselling and improve customer experiences. For-sight is primarily popular for its forecasting and optimization capabilities, allowing hotels to discover market trends, customer demand, and competitor rates.
Adopting For-sight into the tech stack can help hospitality businesses increase revenue, maximize occupancy, and improve profitability. It offers omnichannel marketing capabilities that leverage guest segmentation to distribute marketing messages and track them with analytical reporting.
For-sight also offers an intuitive user interface that makes it easy to use for hotel staff of all levels.
Pros
Comprehensive guest data management
Advanced reporting and analytics
Dynamic forecasting and optimization
Integration with other hotel systems
Customizable dashboards
Cons
Lacks tools to handle customer support issues
Email campaign builder is rigid and difficult to use
7. Profitroom: Best for direct bookings management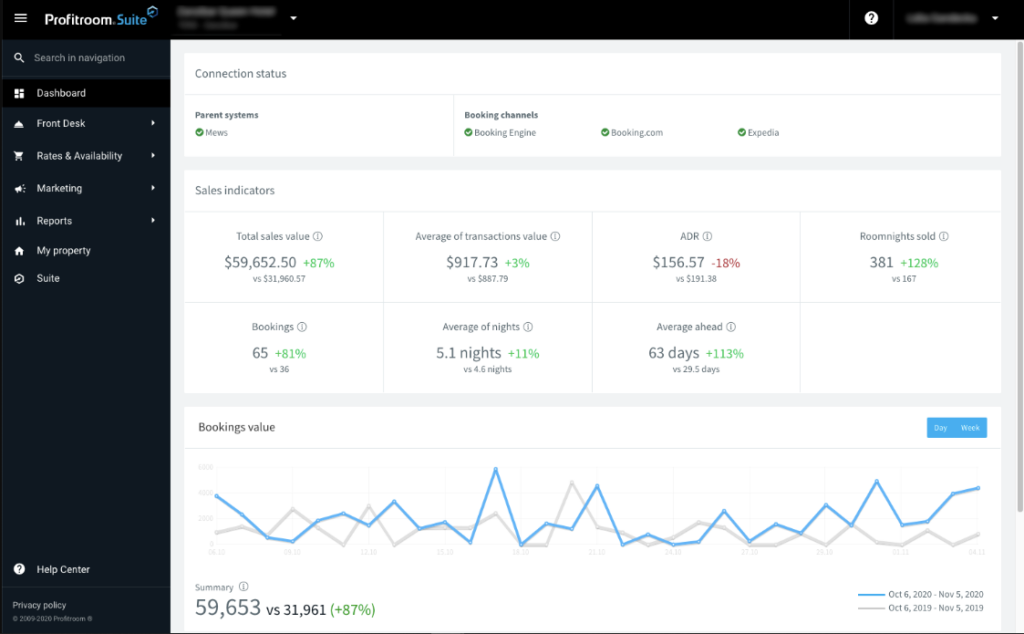 Operating System: Windows, Mac, Android, iOS.
Pricing: Paid
Developer: Profitroom
Profitroom is an advanced marketing automation system with unique CRM functionalities that enables access to powerful data-driven insights to drive revenue, grow guest engagement, and nurture long-term relations.
A unique feature of Profitroom is the direct booking and distribution management platform, which allows hotels to manage multiple distribution channels from a single dashboard. This allows hoteliers to optimize the distribution strategy, thereby reducing commission costs and other expenses.
Profitroom also brings advanced analytics and reporting capabilities. Hotels can collect and track important details like occupancy rates, guest behavior, and revenue. The platform also brings several marketing tools to help hotels improve their online presence.
Pros
Direct booking engine
Payment gateway integrations
Multi-lingual and multi-currency support
Integrations with reporting platforms
Comprehensive reporting and analytics tools
Cons
Limited integrations
Some features come with a steep learning curve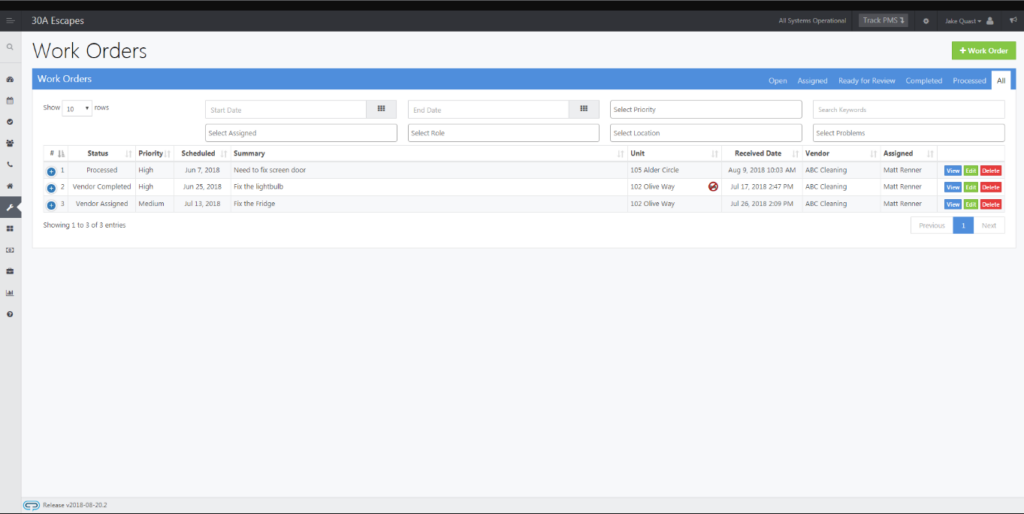 Operating System: Windows, Mac, Android, iOS.
Pricing: Paid; Custom
Developer: Travelnet Solutions
TRACK Hospitality CRM is a popular omnichannel cloud communication platform for hospitality businesses.
The CRM software is a part of Travelnet's stack of hotel and hospitality apps, which also includes Pulse, a secure messaging platform, and Cloud Connect, a hosted PBX solution. TRACK's omnichannel communication tool helps hotel businesses work with marketers to identify qualified leads and convert them to paying customers.
The platform captures data from multiple touchpoints, including websites, mobile apps, and emails. You can create customized guest profiles, track guest interactions, and automate marketing campaigns. With TRACK Hospitability Hub, you can manage guest preferences, automate upselling and cross-selling, and track customer loyalty.
Pros
Powerful lead and opportunity management tools
Dynamic pricing and revenue optimization
Comprehensive guest profiles
Personalized guest communication
Automated marketing campaigns
Cons
Campaign builder lacks integrations to Google and Facebook
Outdated design for mobile apps
9. TravelClick GMS: Best for distribution and marketing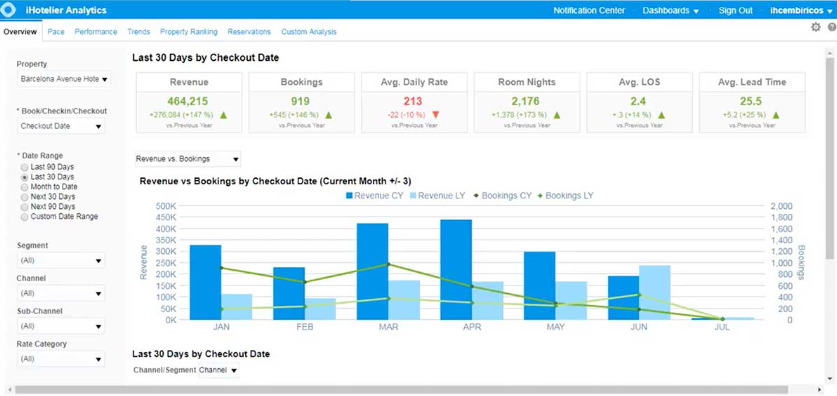 Operating System: Windows, Mac, Android, iOS.
Pricing: Paid
Developer: Amadeus Hospitality
TravelClick is a powerful guest management solutions (GMS) platform offering a range of features to help hospitality businesses manage their operations and enhance the guest experience.
TravelClick fits into the platform's suite of solutions, which includes Business Intelligence, Channel Management, and a Central Reservation System (CRS). The platform allows hotels to manage guest profiles, track reservations, and automate marketing campaigns, all from a single platform.
The platform also brings real-time data and analytics into key performance metrics, allowing hoteliers to track the success rates of marketing campaigns instantaneously. TravelClick also brings multi-channel communication via SMS, WeChat, and Facebook Messenger.
Pros
Comprehensive guest data management
Channel management tools
Comprehensive reporting and analytics
Marketing automation tools
Integration with CRS, PMS, and revenue management systems
Cons
Outdated user interface
Limited email marketing features
10. SuiteCRM: Best free, open-source CRM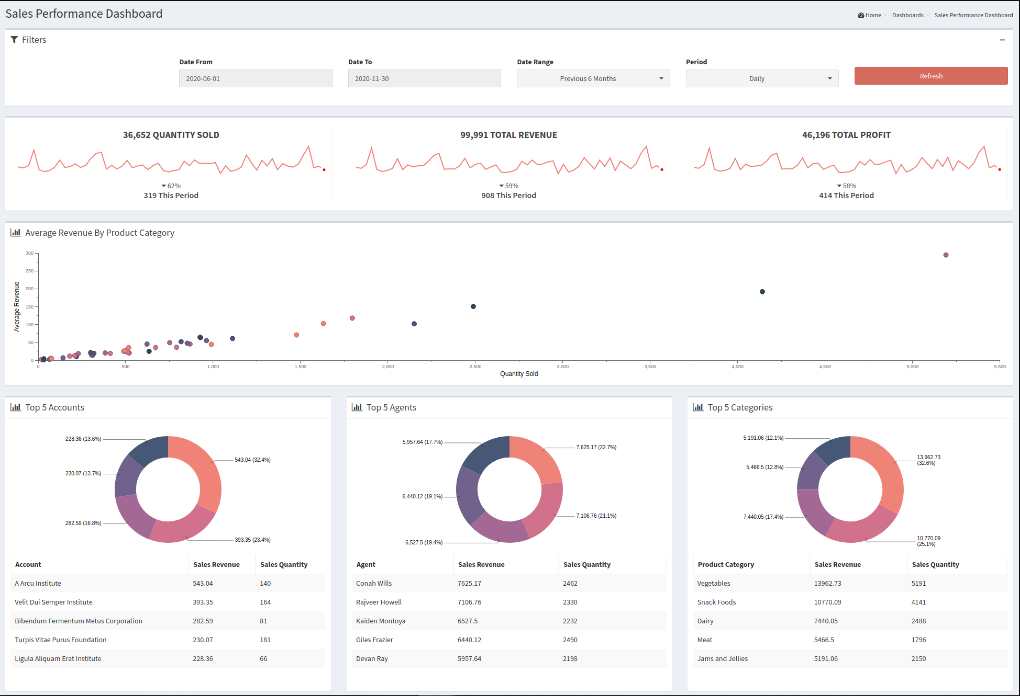 Operating System: Windows, Mac, Android, iOS.
Pricing: Free
Developer: SalesAgility
If you are looking for cost-effective solutions, SuiteCRM is the hotel CRM system you need to check.
SuiteCRM is popular for its flexibility and customizability, allowing hotels to tailor the system to their specific needs. Adopting the platform into the hotel tech stack allows hoteliers to manage guest data, automate marketing campaigns, and track customer interactions effectively.
SuiteCRM also offers seamless integration with other systems, such as PMS and revenue management tools, providing a unified view of guest data and operations. It is an open-source solution with no licensing fees, making it a great option for small and medium-sized hospitality businesses.
Pros
Free and open-source
Flexible and customizable
Intuitive user interface
Robust integrations
Comprehensive guest data management
Cons
Add-ons are very expensive
UI and UX cannot be customized without touching the core code
Overview of best CRM for the hospitality industry
Software
Top Features
Free trial
Customer segmentation
Marketing automations
Salesforce
Comprehensive customer data management tools
Powerful analytics and reporting
Scalable and customizable
14 day free trial
Yes
Email campaigns, lead nurturing, and social media management
FreshSales
AI-powered lead scoring
Built-in communication tools
Reporting and analytics
21-day free trial
Yes
AI-powered lead scoring and prioritization
Revinate
Automated marketing campaigns
Reputation management
Guest communication tools
Free demo, no free trial
Yes
Email marketing campaigns, guest surveys, and reputation management
Oracle NetSuite CRM
Unified view of customer data
Sales and opportunity forecasting
Customer support tools
No
Basic
Lead and opportunity management tools, email campaigns, and customer service automation
Guestfolio
Automated guest communication tools
Personalized marketing campaigns
Analytics and reporting
Free demo
Yes
Email campaigns, guest communication, and analytics
For-sight
Dynamic pricing
Revenue optimization
PMS and CRS integrations
No
Yes
Dynamic pricing and revenue optimization tools, email campaigns, and customer engagement tools
Profitroom
Direct booking engine
Payment gateway integrations
Email marketing tools
No
Yes
Automated email marketing campaigns
TRACK Hospitality CRM
Lead and opportunity management tools
Detailed booking and stay history
Integration with PMS, POS, and revenue management tools
No
Yes
Limited
TravelClick GMS
Personalized guest communication
CRS, PMS, revenue management integrations
Channel management tools
No
Basic
Guest communication and channel management tools
SuiteCRM
Zero licensing fee
Flexible and customizable
Robust integrations
Free
Yes
Yes
How to choose the best hotel CRM software?
Hotels have unique requirements that they must attend to during and after their guests' stay. A traditional CRM combines sales, marketing, and service, but hotels need operations management features, too, to ensure that their business runs smoothly throughout.
Here are some key factors to consider when choosing the best hotel CRM system for your operations.
Hospitality-specific features: Look for a hotel CRM software that offers the features you need to streamline operations and manage your hotel operations effectively. These include booking management, guest management, inventory control, and marketing automation.
Scalability: As your hotel business grows, you need your CRM software to grow with your company. CRM systems for hotels should be scalable, i.e., they should be able to accommodate the changing needs of your business without switching to another platform.
User-friendliness: With hundreds of tasks to attend to daily, you do not want your staff stuck learning the ins and outs of a new software longer than it needs to be. The hospitality CRM you choose should be user-friendly with an intuitive user interface.
Integrations: Hotel CRMs should work closely with operation management tools and property management systems. Everything produces data, and the CRM system you select should collate all the data so that you can easily analyze them and make data-driven decisions.
What are the three essential components of hotel CRM?
The scope of a hotel CRM system goes beyond the features offered by a traditional CRM system. The three essential components of a hotel CRM are as follows.
Guest data management: In addition to sales, marketing, and service, hotel CRMs are adept at managing critical information of your guests. This includes collecting, storing, and analyzing data like demographics, preferences, and behavior. With this data, you can create personalized experiences and targeted marketing campaigns to improve guest satisfaction and loyalty.
Bookings management: Hotel CRM systems are also adept at managing bookings through property management systems, ensuring they have the right room inventory available at the right time, optimizing their pricing and revenue, and reducing the risk of overbookings and lost revenue.
Marketing automation: Consistently generating revenue depends on how effectively you market your hotel business. CRM systems for hotels automate marketing campaigns based on guest data, including welcome emails, promotional offers, and post-stay surveys. You can save time and resources by automating marketing efforts while providing a consistent and personalized guest experience.
Final Thoughts
Guest experience is undoubtedly the most important thing modern businesses must master. CRM software for hotels has thereby become a mainstay, going beyond automation and customer service to offer an end-to-end solution for the entire operation. Here are the top picks for the best CRM systems in the hospitality industry. Make sure that you go through the entire list to select a system that fits the exact needs of your business.