10 Best Email Monitoring Tools & Software in 2023
Sending emails and getting leads is very effective digital marketing. But keeping track of interaction takes a lot of work. So, you can utilize email monitoring tools to enhance your leads, understand your audience's interaction, or track email status.
It's crucial to track whether emails are sent to the inbox or marked as spam mail. Also, whether or not the emails are delivered and opened by the receivers should be checked to get the maximum leads.
All service providers require an email monitoring system: online entrepreneurs, marketers, recruiters, sales professionals, customer support executives, and small to big enterprise owners.
Best Email Monitoring Tools
1. PRTG – Best Email Monitoring Tool Overall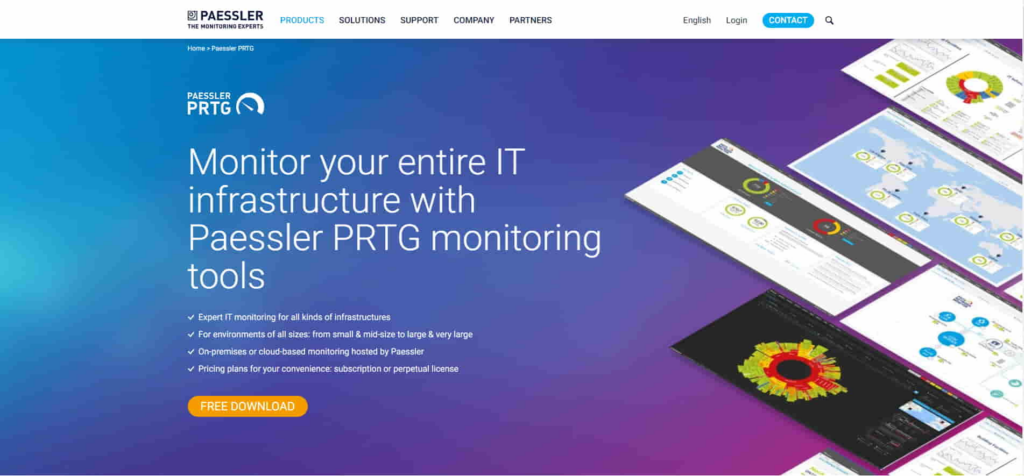 Operating System: Windows, Mac, iOS, and Android
Pricing: Free trial, Premium
Developer: Paessler AG
Do you work for an IT infrastructure? PRTG is an all-in-one monitoring tool for small, mid, large, and very large size businesses. Besides being an all-rounder monitoring tool, PRTG has all the potential mail monitoring features.
It comes with versatile sensors to perform specific tasks. For example, you must set up the IMAP sensor to monitor the email server. It will provide you with notifications of delivery time, delay time, server downtime as well as the failure of delivery.
PRTG will also detect initial issues to solve at the early stage before they get unfavorable. You can enjoy insights on usage, email behavior, trending data, performance, and the health of the email server.
Pros:
Allows customized alerts through email, text, or other social media.
Offers real-time reporting and analytics.
Intuitive interface.
It comes with scalability to grow from small to big.
Users can create their customer sensors using the command line tool.
Cons:
Firewall configuration is complex.
Costlier than its competitors.
2. Trustifi – Best Email Monitoring Tool for Digital Marketing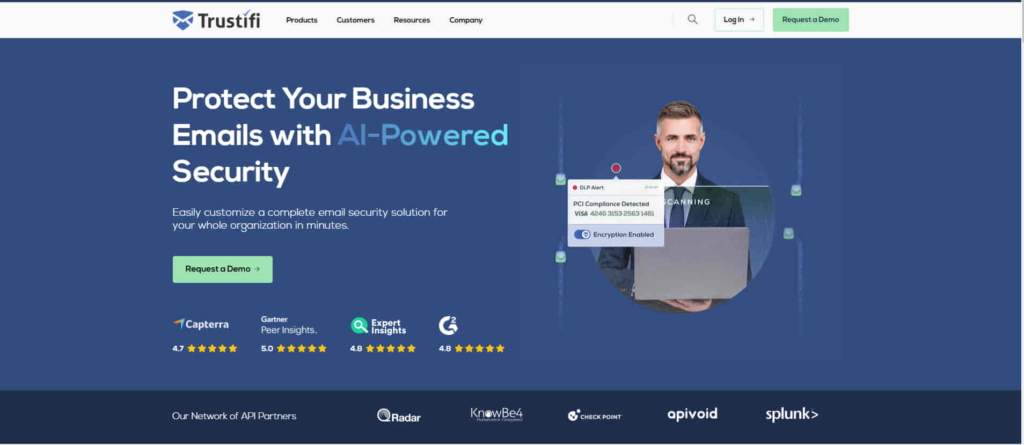 Operating System: Windows, Mac, iOS, Android, and Linux
Pricing: Premium
Developer: Trustifi Corporation
Are you looking for the best email monitoring tool for digital marketers? Trustifi is our first pick for its AI-powered security. It comes with advanced threat protection technology and hides your IP address from the client. As a result, you will get complete protection from ransomware, malware, and phishing attack.
Also, sending and receiving mail follows end-to-end encryption. If you don't want your data and information never to get malfunctioned by third parties, Trustifi email security is the only solution. It always allows users to send encrypted emails securely.
It has the most promising Email Recall feature, making customer satisfaction more reliable. This feature lets the sender edit the mail even after sending it. So, users can edit mail after any accidental sending case or update with additional info if necessary.
Trsutifi's account compromise detection is the key to monitoring users' behavior. This feature lets you find unusual, inactive, or compromised email accounts.
Pros:
Offers both inbound and outbound security.
Data loss prevention flexibility offers secured data transfer between agents and clients.
Able to integrate with Gmail, Gsuite, and Microsoft Office 365 is available.
Allows easy and flexible deployment.
Can scan full URLs and files to avoid any sophisticated attack.
Cons:
No free trial is available.
Customer support is a bit slower sometimes.
3. Teramind – Best for All Sizes Business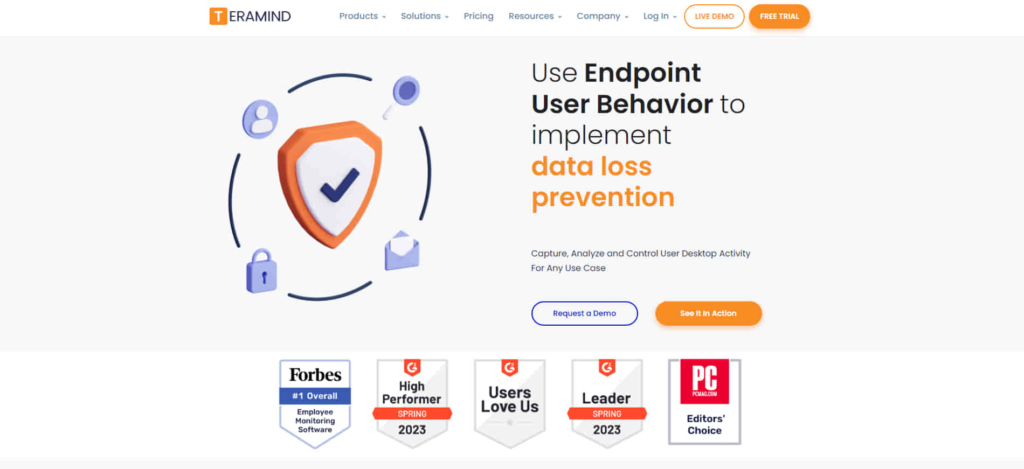 Operating System: Windows, macOS.
Pricing: Premium
Developer: Teramind Inc.
Do you need a business management tool for email monitoring features? Termaind aims to have all the necessary features for monitoring, security management, and team maintenance.
It can track all the email activities of users. Teramind can detect if your emails are opened, read, deleted, or forwarded. This software can also monitor sent and received emails on company devices.
It comes with unique features, such as keylogging to monitor all the texts users are typing on their keyboard, screen capturing to monitor what users are doing on their monitor, and OCR technology to scan all the attachments for security risks.
Pros:
Its file tracking feature keeps the users away from all the potential security risks.
Able to monitor employees' spending time on their devices.
Comes with available tools to prevent data loss.
Provides reports and alerts when necessary.
User-friendly interface
Cons:
Costlier for small sizes businesses.
It may give wrong alerts and notifications sometimes.
4. Intradyn – Best Email Archiving & Monitoring Software
Operating System: Windows, Mac, Android, iOS
Pricing: Premium
Developer: Intradyn
Do you need a solution to be deployed on all of your devices, virtual machines, and cloud-based platforms? Intradyn can install on dedicated hardware for deploying its email archiving and eDiscovery features.
You can monitor all of your emails in one place, having Intradyn. Besides monitoring, it keeps incoming and outgoing secure, safe, and easy to reach.
It provides automated archiving for sending and receiving emails, documents, etc. Also, it allows its users to find various data, including information on the sender, receiver, subject, keywords, and data range, using filtering.
Pros:
Offers role-based access.
Fastest access to email data.
HIPAA, FINRA, and SEC regulations are supported.
Offers scalable deployment.
Provides data compression and deduplication.
Cons:
Not ideal for a smaller business comparing the high price.
Setup and configuration need IT expertise help.
5. Right Inbox – Best Browser Extension for Mail Monitoring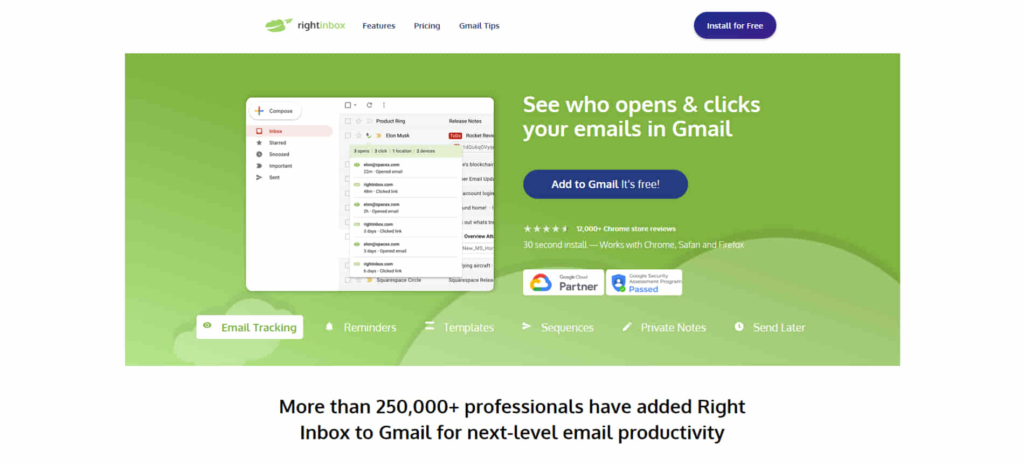 Operating System: Windows, Mac, and Linux
Pricing: Freemium, Premium
Developer: SalesHandy Inc.
Do you only use Gmail to promote and handle your businesses? Right Inbox is a Chrome extension. Only Gmail users can enjoy it. The extension is compatible with Google Chrome and Mozilla Firefox.
Right Inbox is a popular mail-tracking tool among professionals in sales, recruitment, marketing, IT, or e-Commerce businesses. You can enjoy scheduled mail, faster replies, tracking mail, and adding reminders.
With the right setting and integration with CRM for business development, you can improve productivity and ensure better workflow management.
Pros:
Users can create their mail templates and save them.
Offers own customized email signature.
The recurring email solution helps to avoid sending repetitive mail.
Exclusive scheduling feature.
Easy to install and set up.
Cons:
Only a browser extension is available.
Limited features are available in the free version.
6. MailTag – Best for Generating Sales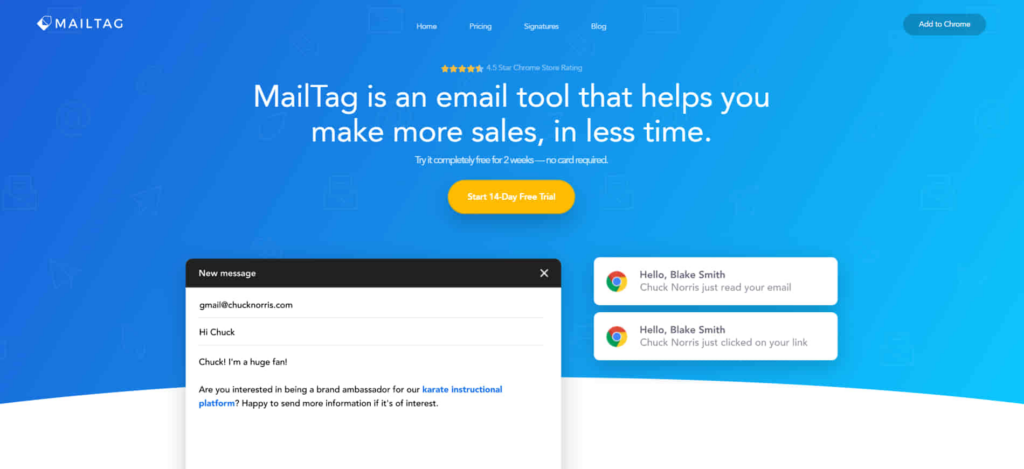 Operating System: Windows, macOS, Linux
Pricing: Free, Premium
Developer: MailTag.io Inc.
MailTag is another mail monitoring extension in our top list. Its automation feature maximizes workflow productivity for all sizes of businesses. You can enjoy unlimited email scheduling. MailTag also offers email reminders and an email tracking feature to get better reach, clicks, and sales.
It keeps the users updated with every detail. However, this tool notifies users when the scheduled emails are delivered and opened. It allows users to choose the right time to deliver scheduled mail to increase the success rate of opening mail.
Professional marketers also prefer MailTag due to its impressive integration flexibility. This tool can integrate with professional CRMs, including HubSpot, Salesforce, and more.
Pros:
Provides custom email templates to save time.
Comes with team and task management collaboration tools.
Able to integrate with Asana, Trello, and more.
Offers real-time analytical insights.
Affordable pricing options.
Cons:
No dedicated app for mobile or desktop users.
Some users are concerned about their privacy violations.
7. EmailAnalytics – Best for Improving Response Time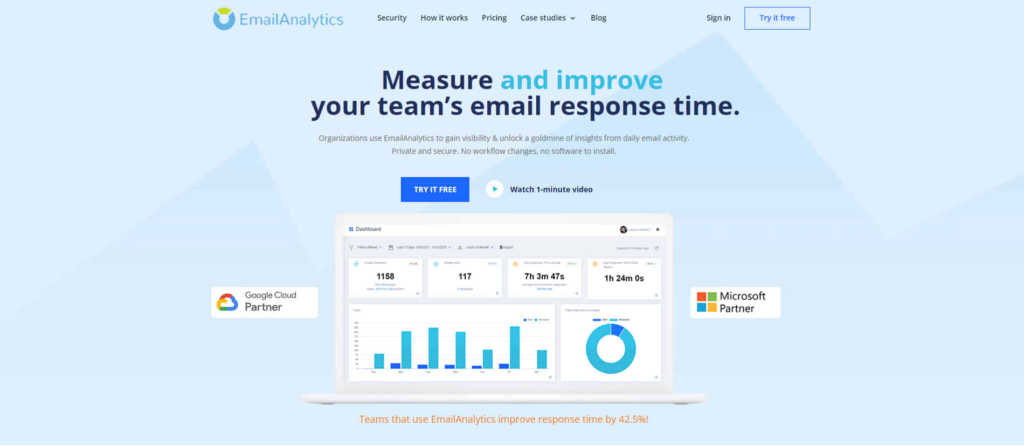 Operating System: Mac & Windows
Pricing: Premium
Developer: EmailAnalytics Inc.
If your organization has many employees and customers, EmailAnalytics is an excellent mail monitoring software to manage your whole team's mail collaboration from one location.
You can view the number of mail sent and received by your team members from the dashboard. If you want to find out who's the dedicated teammate, you can also find out. In the "Top Interactions" section, you can monitor who's the most active working member, who's interacting the most with clients, and who's responding to mail taking how much longer time.
Do you want to track which day generates the maximum email open rate? This monitoring service provides analytical reports for each day of the week. So, you can detect the day you get more interaction and plan for the next campaigns.
Pros:
Offers data visualization and analysis reports.
Provides enhanced productivity of team members.
Able to integrate with third-party tools, including Slack and Zaiper.
Comes with email scheduling features.
Intuitive interface.
Cons:
Only available for Outlook, Gmail, and G Suite users.
8. Mailtrack.io – Best for Securing Data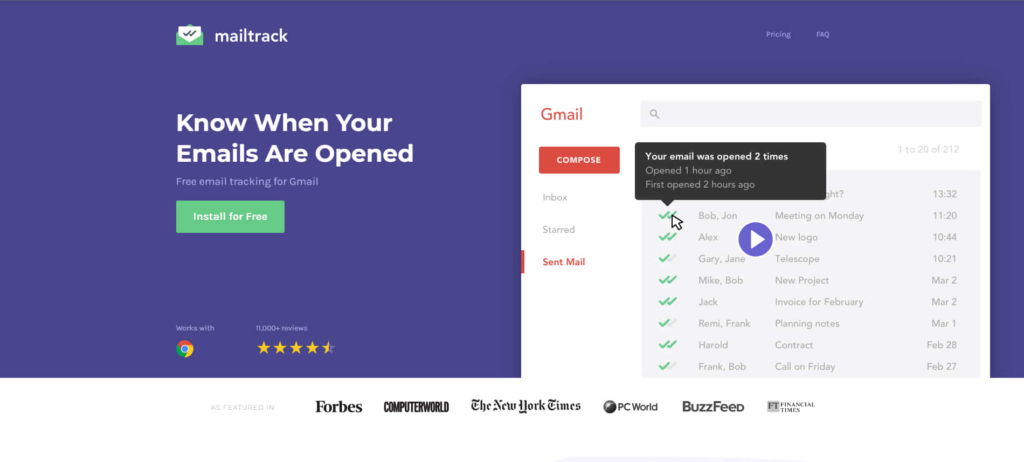 Operating System: Windows
Pricing: Free, Premium
Developer: Mailtrack.io
Want to enjoy unlimited mail tracking with all the necessary features? Mailtrack has all the essential features to enjoy at no price. You can enjoy all unlimited tracking with daily reports and email alerts in the free package.
Marketers prefer Mailtrack for its striking email activity feature. It shows the users if recipients have opened the mail, how many times, and when they have read it.
Mailtrack shows real-time desktop notifications so users can instantly track all the updates. Else, its operation procedure is very lightweight, fastest, and accessible.
Pros:
Offers integration with Gmail.
The team collaboration feature is available.
Its app is only 1.2 MB
Affordable option.
Supports multiple languages.
Cons:
Advanced features are not available in the free version.
9. HubSpot – Best Free Mail Monitoring Software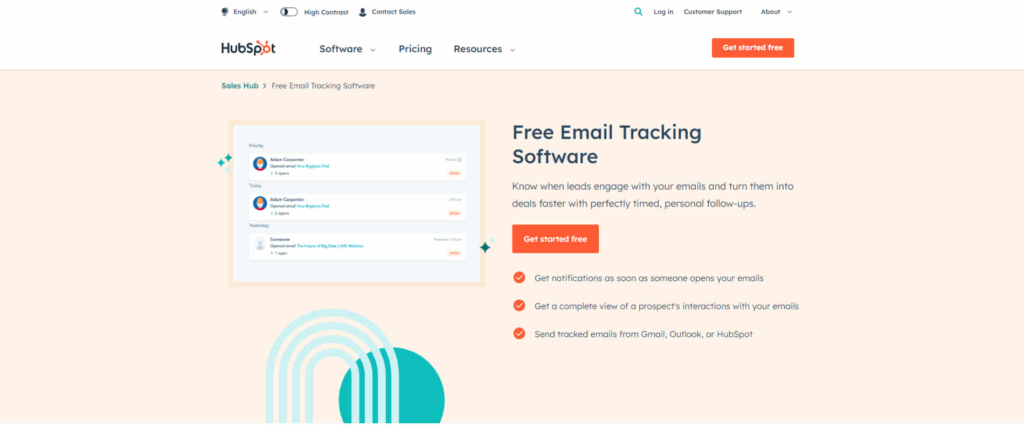 Operating System: Windows, Mac,
Pricing: Free
Developer: HubSpot Inc.
If your agency or company needs to use multiple mailing platforms such as Gmail and Outlook, HubSpot is the reliable mail monitoring software. It allows integration with Google Workspace and Office 365 too.
Want to generate the highest number of sales leads? Whenever your customers click on links you've attached in the mail, HubSpot sends you an instant notification.
This software also keeps records of all the contacts, including the links, documents, images, and others. And you will also be able to view any of the lead's history if you want.
Pros:
Provides real-time notifications.
Features meeting scheduler.
Easy to set up.
Superior customer support.
Able to track customer behavior and activities.
Cons:
Limited template customization is available.
10. SalesHandy – Best for Cold Email Automation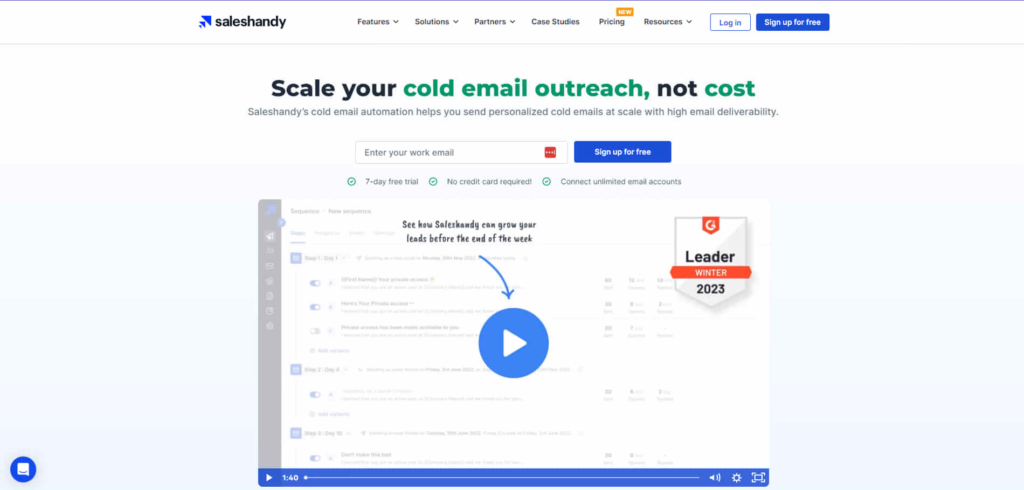 Operating System: Windows, Mac, and Linux
Pricing: Premium
Developer: SalesHandy Inc.
Are you seeking a solution to manage cold email lead generation from a single location? SalesHandy offers automated email marketing to follow up daily, weekly, or monthly. You can increase your sales because of the higher conversion.
It allows sending personalized mail from multiple accounts in bulk. Users can track if the mail is delivered or opened.
You can perform A/B testing to understand which mail type works most for your business. It provides more than 26 templates for every genre of customer.
Pros:
It gives alerts if someone downloads documents.
Provides performance visualization through reports and analytics.
Scheduling works perfectly.
Offers integration with multiple CRMs.
Cons:
Pricier than its competitors.
The interface is complex to navigate.
Overview of Best Mail Monitoring Tools
How to Choose the Best Mail Marketing Tools?
The correct email marketing tool can make 90% of your task more accessible and automated. There are many features to look for when choosing an email marketing tool. Mail management tool has no alternative from achieving targeted conversions to communicating with clients and customers in the fastest way.
Marketing Automation: Marketers must prefer mail management tools that will allow them to automatically enjoy marketing processes in various channels. It's a must-to-go feature to look into any email monitoring software.
Reporting & Analytics: Want to plan something different and unique for your business? Being a highly professional marketer, you can enjoy an insightful dashboard. It gives you the freedom to analyze the CTO rates and leads engagement.
Template Variations: Drag-and-drop template builder feature offers very customizable branded mail for the customers to get impressed at one mail away.
Drip Campaigns: The most promising feature is sending automated emails to promote and recommend customer services at scheduled intervals. So, the drip campaign is a feature to look into in any marketing tool.
A/B Testing: Want to know which marketing method is working better for you? A/B testing features of marketing tools disclose what emails give you the maximum reach and reactions.
HTML Editing: To be able to edit HTML gives the flexibility to design a very customized email to impress the clients at one glance.
Signup Forms: A signup form will multiply your success rate with more leads and new contacts.
Integration: Integrating with various platforms, apps, and services can expand the possibility of growing your customer satisfaction.
Support: Go for 24/7 support while checking out multiple mail marketing tools. The provider must have an available support representative whenever you face fundamental or advanced-level technical issues.
How Email Monitoring Tools Work?
Email marketing tools are trendy among digital entrepreneurs, marketers, and service providers who must send and receive bulk mail daily. Email monitoring tools work in a straightforward mechanism if we try to explain-
Email monitoring tools detect SMTP capacity when emails are sent from the sender. So, users never have to face overloading issues to send many emails at once.
The mail delivery agents handle the flow of mail size and send all the mail fluently.
The monitoring tool also allows receivers to get the mail without delay.
Final Words:
There are various mail server monitoring tools. But each of them is unique with different and unique features. We've provided the best mail monitoring tools to increase leads and customer satisfaction. So, choose the one which can guarantee you to fulfill all the mail handling responsibilities as a marketer from our selected options.
Do you have more queries or suggestions? Please write us in the comment section.