7 Best CRM Software for Restaurants [2023 Reviewed]
In the age of the internet, building strong customer relationships has become key to the success of restaurants and food chains globally.
By strengthening customer relations, you will turn your customers into loyal ones, which can contribute significantly to your restaurant revenues.
That said, managing customers for restaurants can quickly become overwhelming when there are hundreds of customers and thousands of pending tasks. This is where customer relationship management (CRM) software comes into play.
A CRM tool helps restaurant owners and managers keep a centralized database of their customers. This data can be used to run sales and marketing campaigns across channels and develop loyalty programs.
Here, we take a look at the best restaurant CRM software available in the market right now. Check out how these tools fare when price and top features are compared.
Best CRM for restaurants
1. Salesforce: Best restaurant CRM software overall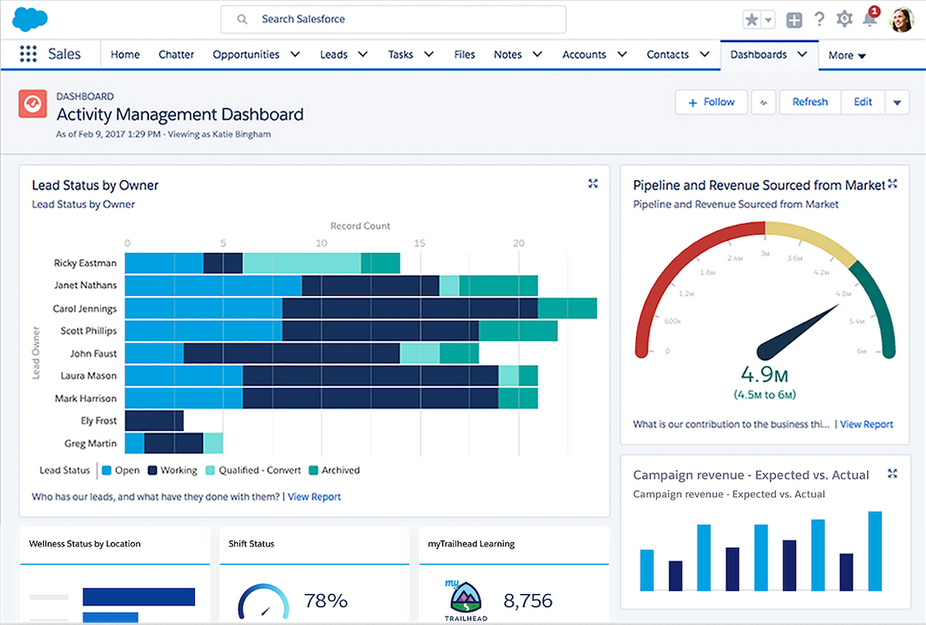 Operating System: Windows, Mac, Android, iOS.
Pricing: Paid
Developer: Salesforce, Inc.
While Salesforce is primarily known as a sales and marketing CRM, the platform can be customized to meet the needs of any industry, including the F&B industry.
Salesforce is designed to improve business relations through sales and marketing automations. The cloud-based CRM system can be used to store critical customer data like names, contact details, preferences, allergies, etc. Your sales team will benefit greatly from features like extensive customization and integration options available in the platform.
The platform offers a ton of products that work seamlessly with the CRM, like the Marketing Cloud that automates your customer journey and emails marketing campaigns. The reporting features make it easy to track important metrics and improve business performance.
Pros
Robust sales automations throughout the customer journey
Advanced marketing automation with email and SMS campaigns
Insights and analytics on guest behavior
POS, accounting, and revenue management
Advanced customer support
Cons
Higher pricing with yearly commitments
Requires technical expertise to set up and manage
2. Monday CRM: Best for task management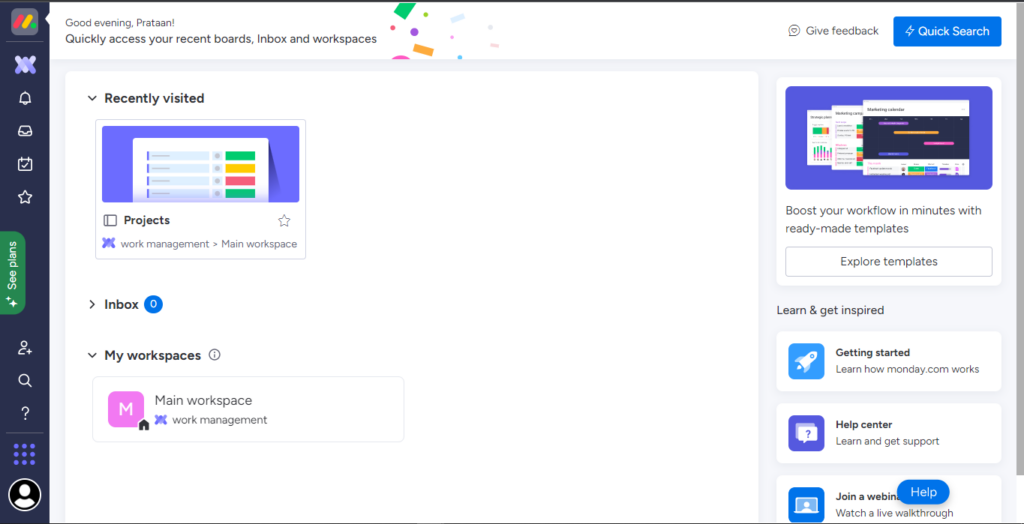 Operating System: Windows, Mac, Android, iOS.
Pricing: Paid
Developer: Monday.com
If your business needs a platform to manage team tasks more than customers, Monday CRM is the tool you need to check.
It is one of the best project management CRMs available in the market and brings a ton of features to streamline business operations and boost productivity. The platform is completely customizable, and you can get started with readymade templates for various workspaces.
The CRM platform is also exceptional for tracking customer data and managing the entire sales cycle for your restaurant business. It brings several marketing automation tools to eliminate repetitive tasks, allowing you to set up integrations with automated actions for your sales pipeline.
Pros
User-friendly, customizable task management system
Team collaboration tools and workflow automation
Integrates with other restaurant systems like email and marketing tools
Insights and analytics on task completion and team productivity
Efficient mobile apps for on-the-go management
Cons
Limited customer data management and guest communication
Marketing automation features limited through integrations
3. Eat App: Best for centralised management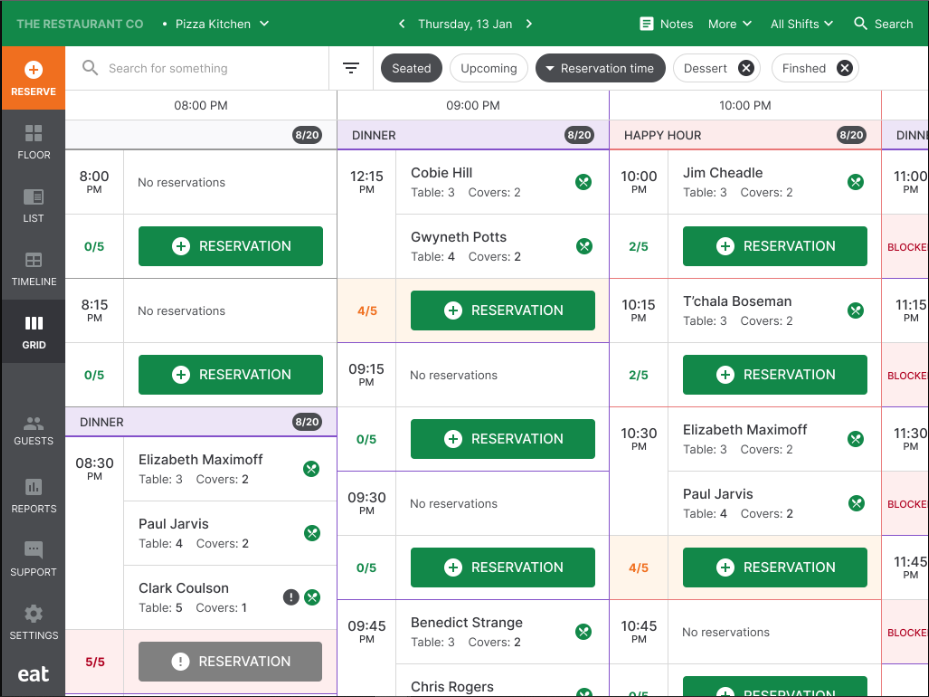 Operating System: Windows, Mac, Android, iOS.
Pricing: Paid
Developer: Eat App
Eat App is an all-in-one reservation management system with impressive CRM capabilities. It offers a robust online reservation engine, guest profile database, shift capacity calculator, email and SMS marketing, and reporting and analytics.
The system provides a centralized database for restaurants to collect and manage guest data for one or all units in a food chain. Eat App's CRM goes a step further and provides guest segmentation capabilities, allowing restaurants to sort guests based on their preferences, allergies, regular orders, etc.
Restaurants can collect detailed information from their clients, including birthdays, anniversaries, special requests, food preferences, allergies, seating preferences, etc. Sales and marketing teams can then use this data to run specific email and SMS campaigns to streamline the whole process.
Eat App also offers an automated survey system that restaurants can use to collect feedback within 24 hours of reservation. You can use this feedback to understand the highs and lows of your operations and fix issues accordingly.
Pros
Real-time reservation management
Customizable online booking widget
Personalized guest profiles with order history and preferences
Insights and analytics on reservations and guest behavior
Robust integration with third-party systems
Cons
Limited marketing automation features
Expensive compared to other reservation management tools
4. Toast POS: Best for operations management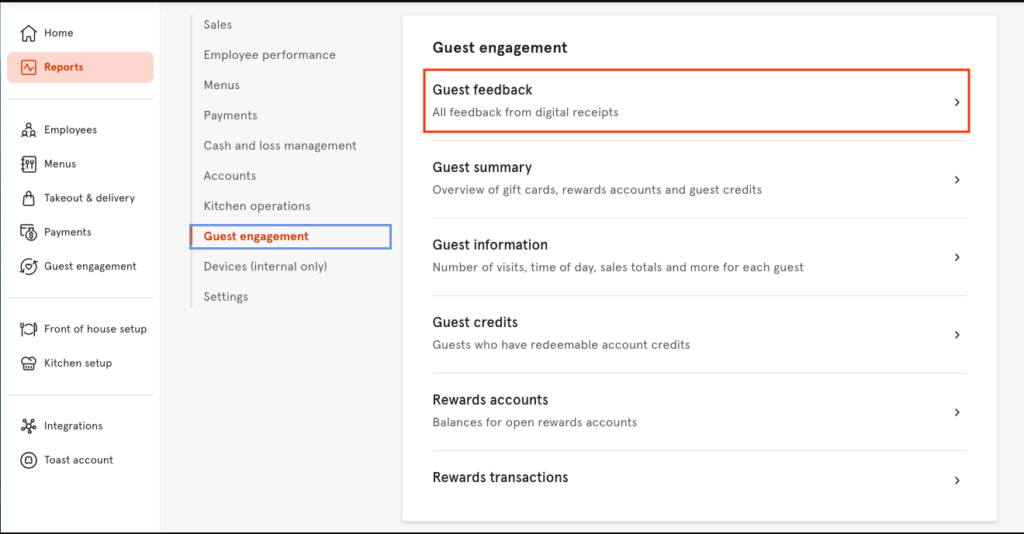 Operating System: Windows, Mac, Android, iOS.
Pricing: Paid
Developer: Toast, Inc.
Toast POS is one of the most popular restaurant POS and management systems with a built-in CRM tool.
The platform focuses mainly on email marketing and offers restaurants various tools to collect basic customer information like name and contact information. You can then use this data to build an extensive email list and reach more potential customers.
Toast CRM is also exceptionally good at marketing automation. You can create segmented email lists based on numerous factors and send custom messages to different lists. The platform also allows A/B testing and analytical insights to improve the efficiency of your marketing strategies.
Pros
User-friendly, cloud-based POS system with built-in payment processing
Inventory management tools and real-time reporting
Accounting and loyalty programs
Online ordering and delivery management
Customer data and insights through the CRM
Cons
Expensive to scale
Limited support for enterprise-level businesses
5. SevenRooms: Best for guest management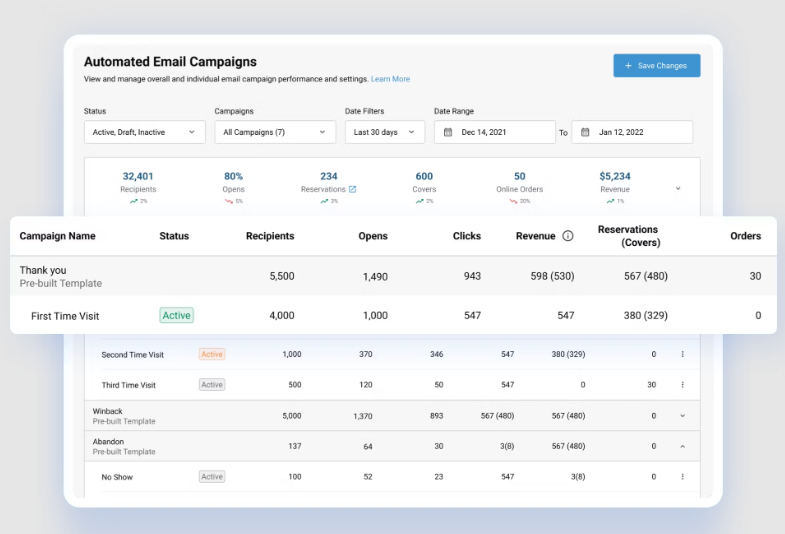 Operating System: Windows, Mac, Android, iOS.
Pricing: Paid; Custom
Developer: SevenRooms
SevenRooms is a premium guest experience platform used by several popular restaurants, hotels, breweries, and membership clubs that helps you streamline operations and make data-driven decisions.
The platform is designed to help you deliver exceptional customer experience every time. It brings several advanced CRM features, which include advanced reservation and waitlist management, personalized guest profiles, and predictive analytics.
SevenRooms also offers marketing automation tools like email marketing and loyalty programs to boost the success rates of your campaigns. It integrates with over 100 third-party software systems, including Toast, InfoGenesis, Stripe, Micros, and TripAdvisor.
Pros
Advanced reservation and waitlist management
Automatic confirmation and table assignment
Predictive analysis based on history and preferences
Marketing automation tools and loyalty programs
Accounting and POS integrations
Cons
Limited support for small businesses
Expensive
6. UpServe: Best for analytics and reporting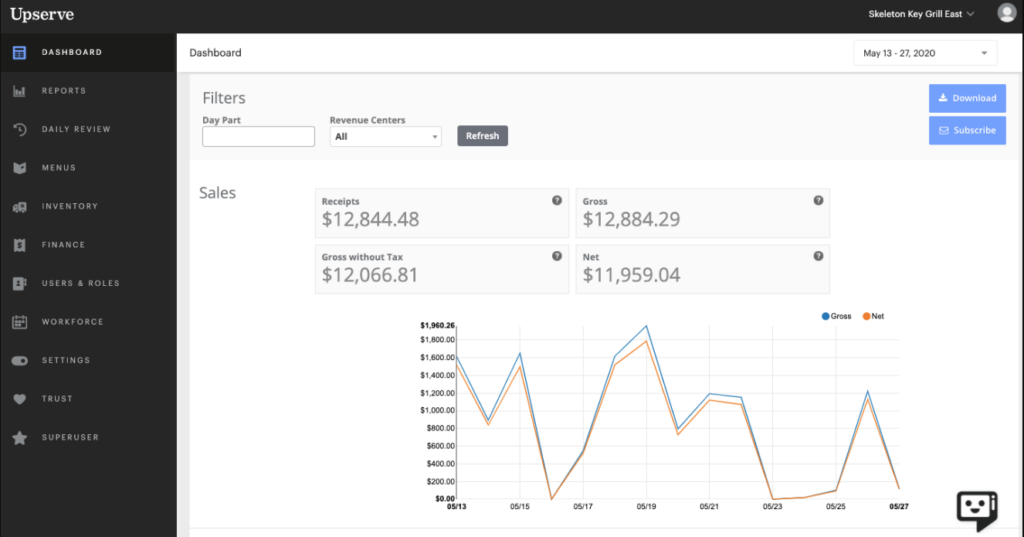 Operating System: Windows, Mac, Android, iOS.
Pricing: Paid
Developer: Lightspeed Commerce
UpServe is another popular restaurant CRM system designed to streamline restaurant operations and boost revenue.
The platform is a cloud-based POS system with advanced CRM capabilities. It handles several restaurant operations like online and offline ordering, contactless payments, sales analytics, automatic inventory management, etc.
UpServe also offers a centralized review system for reputation management that combines restaurant reviews from various platforms like TripAdvisor, Yelp, and Google.
Analytics and reporting are where UpServe shines. You can track sales, menu items, and staff performance, helping you identify areas for improvement and make data-driven decisions. UpServe also offers marketing automation tools like email campaigns and loyalty programs to keep your customers coming back.
Pros
Analytics and insights on sales, menu items, and staff performance
Real-time reporting and mobile app access
POS and inventory management integrations
Robust marketing automation tools
Personalized guest profiles with advanced analytics
Cons
Limited reservation management and guest communication
Expensive to scale
7. OpenTable: Best for managing reservations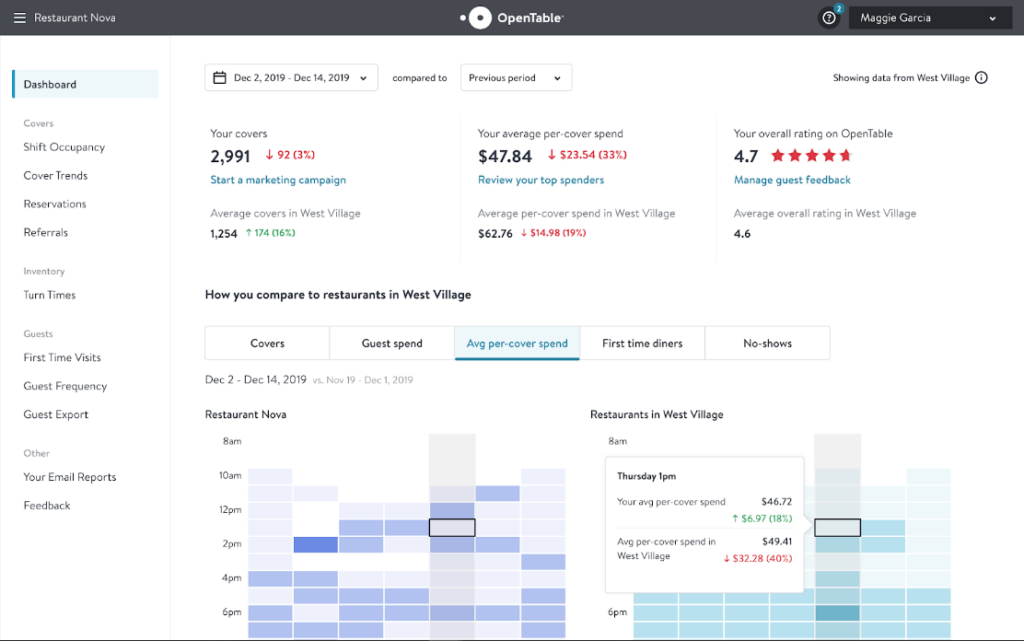 Operating System: Windows, Mac, Android, iOS.
Pricing: Paid
Developer: Booking Holdings Inc.
OpenTable is another popular restaurant POS system with built-in CRM capabilities focusing on building strong customer relationships.
The platform brings a centralized database for recording and tracking important customer information like name, contact details, and important dates. You can use the database to create segmented lists and run specific email campaigns to track the ROI and revenue from each one. Moreover, the platform automatically tags frequent guests based on their preferences to help you serve your customers better.
OpenTable is also great at tracking your team's performance. It provides crucial insights on the performance of your servers across critical data points like guest feedback, ratings, etc., allowing you to monitor and manage your employees.
Pros
Automatic table confirmation and table assignment
Insights and analytics on reservations and guest behavior
POS and accounting feature
Robust mobile apps
Guest history and preferences for reservation management
Cons
Limited marketing automation
Expensive compared to other tools on the market
Overview of best CRM software for restaurants
Software
Top Features
Customer segmentation
Marketing automation
POS integration
Table management
Salesforce
Customizable CRM system
Advanced marketing automation tools
Insights and analytics
Yes
Yes
No
No
Monday CRM
Customizable workflows and automation tools
Guest segmentation and communication tools
Reporting and analytics
Yes
Yes
No
No
Eat App
Virtual waitlist with estimated wait times
Table mapping, booking confirmations, and guest communication tools
Advanced analytics and insights
Yes
Yes
Yes
Yes
Toast POS
Order management, payment processing, and inventory management
Mobile ordering and payment options for customers
Insights on sales, labor costs, and menu performance
No
No
Yes
No
SevenRooms
Advanced guest profiling
Predictive analytics and insights
Marketing automation tools
Yes
Yes
Yes
Yes
UpServe
Real-time reporting and analytics tools
Robust integrations
Email campaigns and loyalty programs
Yes
Yes
Yes
Yes
OpenTable
Reservation management system
Table management tools
Guest data management system
No
No
No
Yes
How to choose the best restaurant CRM software?
Choosing the right CRM software for your restaurant business can be overwhelming without proper guidance. Here are some of the top features you need to consider when selecting the best restaurant CRM software for your business.
Features: While several CRM software are available in the market, you must look for a tool that offers features specific to the restaurant industry. Ensure that the tool you select offers table management, POS, online ordering, customer feedback, and marketing automation.
User-friendliness: You do not want your restaurant staff stuck learning the ins and outs of new, complicated software. The CRM tool should be easy to navigate with an intuitive interface.
Integrations: It is highly likely that you are already using a few tools, like a reservation system, online ordering, etc. Your preferred CRM tool should integrate with these tools seamlessly.
Customization: CRM software should allow for decent customization so that you can modify your customer profiles and marketing campaigns to suit the exact needs of your business.
Customer support: Since you will most likely be using an unfamiliar software interface, the CRM provider should offer prompt customer support through various communication channels to solve anything that goes wrong.
How do restaurants use CRM?
A restaurant CRM system is like a giant database containing information about your customers. You can manage critical guest data and run personalized marketing and sales campaigns to build brand loyalty.
CRM systems for restaurants include a variety of features, the most important ones being the following.
Collect and store important guest information, including their contact details, birthdays and anniversaries, allergies, food preferences, dietary restrictions, and more.
Track how often customers repeat visits to your restaurant. Some CRMs also offer item-level visibility into customer visits, allowing you to track previous orders.
Consolidate disparate systems by sharing guest data across the POS, online ordering, and reservation systems to improve data tracking and accuracy.
Collect customer reviews and feedback on what works with your restaurant and what can be improved.
Send personalized messages, offers, birthday and anniversary wishes, loyalty bonuses, etc., to customers regularly.
Monitor marketing campaign performance metrics, including action items.
Final Thoughts
A restaurant CRM software can significantly improve how customers interact with your brand. You can track booking patterns, visit history, dining preferences, and food allergies, among other important information, providing your customers with a more personalized experience. You can also check the best CRM tools for event management if you plan on organizing custom events. Make sure that you go through the entire list above to find CRM software for restaurants that will match your exact needs.