15 Fastest ZIP & RAR Extractor Software We Tested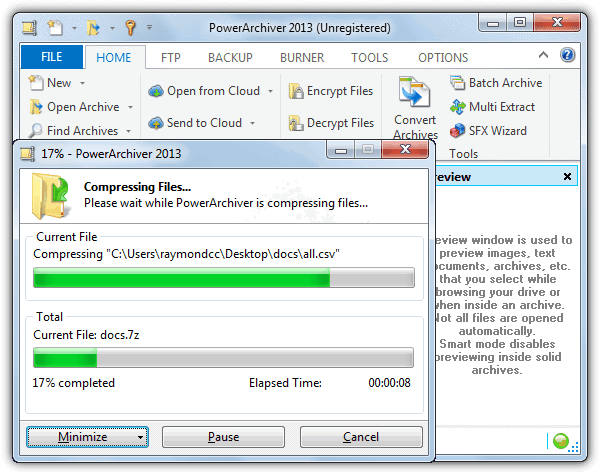 We have talked about PowerArchiver before on Raymond.cc, and it's a fully featured archiver with many extra features added on. Apart from support for creating popular archives like CAB, ZIP, ZIPX and 7z, it can also open and extract a large number of formats and only really the rarest formats might be missing. Other features include cloud integration with Azure, S3, Dropbox, Google Drive, SkyDrive and Box, a fully featured FTP client, built in CD/DVD/BDR burner, virtual drive mounter, automated backup, batch archive creation and full encryption options.
Version tested: 14.02.03
Omni.ja Support: Yes
Price: $22.95 – $39.95
Max Compression used: 7z Ultra LZMA
---
13. UltimateZip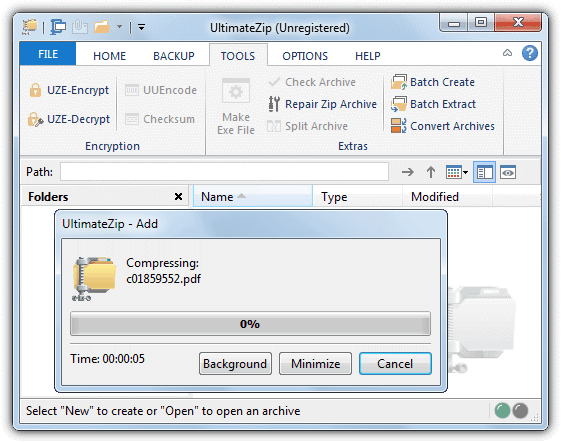 UltimateZip is another program that tries to offer more features over and above the simple function of archiving and extracting. This includes burning the archive straight to CD/DVD, uploading directly to FTP servers and creating backup jobs to archive and backup files and folders in a few clicks. 9 archive formats are supported to create including 7z, ZIPX and CAB, several more like RAR, ZOO, ACE and ARC can be opened and extracted. Batch options allow you to create or extract several archives at once.
Version tested: 7.0
Omni.ja Support: No
Price: $19.95
Max Compression used: 7z Ultra LZMA2
---
14. WinArchiver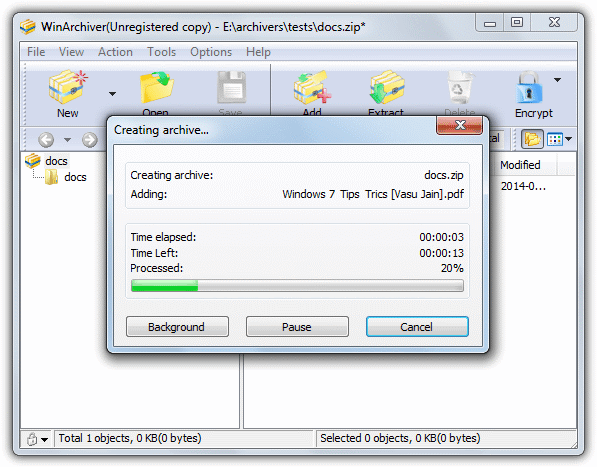 WinArchiver tries its best to be more than just another archiver by offering useful features taken from another one of its programs, the excellent PowerISO. It can create a disc image from optical media and also do the reverse and write disc images out to disc. WinArchiver can also take disc image files and mount them to a virtual drive so you can use mounted images instead of real media. 5 different archive formats can be created and around a further 50 types of archive can be decompressed. Be aware adware is offered during install.
Version tested: 3.4
Omni.ja Support: No
Price: $29.95
Max Compression used: 7z Best (Slowest)
---
15. WinRAR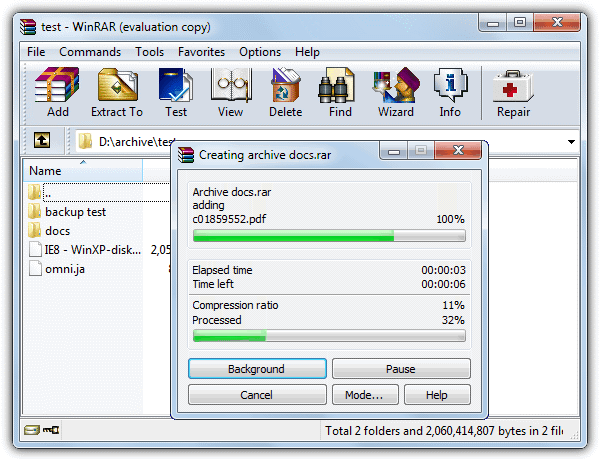 A program which can UnRAR is essential if you download a lot because many online files are packed using WinRAR. This is probably the most popular shareware archiving program around, it's fast, simple to use and RAR compression is better than ZIP and some other formats. Recovery records also help with corrupt archives. The new RAR5 format introduced in WinRAR 5.0 improves many areas of the RAR format, including decompression speed, security and larger dictionaries for 64-bit versions to help improve the compression ratio a bit further.
Version tested: 5.01 (64-bit)
Omni.ja Support: Yes
Price: €29.95
Max Compression used: RAR5 Best
---
Some archivers you may know of were not tested for various reasons.
ZipGenius has never been updated to fix a known issue which renders the right click context menu useless and in many cases crashes Explorer.
IZArc has gained a bad reputation of being bundled with adware and also appears to offer some you cannot opt out of. FuzeZip and jZip are other archiving tools with issues relating to adware.
Development seems to have stopped for StuffIt, KGB Archiver and TUGZip, none have been updated since 2009 or earlier. WinUHA has not been updated since 2005, UHARC not since 2007.
The Test and Results
Each test was run on an Intel Core Quad Q6600 CPU @ 2.4GHz with 4GB of DDR2 RAM. The operating system is Windows 7 64-bit and 64-bit archiver versions were used if available for download, some others install and run 64-bit versions automatically. The extraction tests were run from one HDD to another.
Tests Performed:
Archive test #1: 20,196 files with an overall size of 2.54GB. It's a complete mixture of file types and they range in size from a few bytes up to 100MB.
Archive test #2: A 1.91GB single VMDK virtual image from Microsoft of Windows XP.
Archive test #3: 129 documents totalling 200MB. These are PDF, XLS(X), CSV, DOC(X), TXT and RTF files.
Unarchive test #1: Decompress all the files from Archive test #1.
Unarchive test #2: Decompress the VMDK file from Archive test #2.
All 5 tests were run once for ZIP compression and once for Max compression.
The compression level in the ZIP test was simply set to the highest available in each archiver. Things like dictionary and word size were left at defaults as it would take huge amounts of time to test every single setting. The compression method was Deflate, this is the standard method for ZIP and the most compatible. Deflate64 and other methods are not universally compatible, Windows XP's built in ZIP being one example which won't recognize non Deflate ZIPs.
For the Maximum compression tests each archiver was set to the best compression format it had to offer, and then setting its level to maximum, the method was changed if we believed if would improve performance. Extra settings like dictionary or word size were left alone.
Archiver Notes:
7-Zip has an issue with the ZIP level set to Ultra and the standard method of Deflate. After 15 minutes, longer tests were still under 30% complete. For the test we had to use a compression level of Normal to finish in a reasonable time. Most archivers using 7-Zip libraries to compress ZIP files have the same problem, including Hamster, WinArchiver, PeaZip and KuaiZip.
UltimateZip has a similar issue to 7-Zip compressing ZIP files at the highest setting. We used Normal compression here as well. It also failed using 7z Ultra LZMA2 in Max Compression test #1, for that one test we had to use Maximum.
FreeArc is unable to create ZIP files so was excluded from the ZIP test. The Arc Ultra setting wasn't used as it produced the same file sizes as Maximum but took considerably longer.
ALZip's Max Compression test #1 using EGG was abandoned after 60 minutes as it said completion time was over 5 hours! Other EGG settings produced worse than ZIP compression so were not tested.
PKZIP's best format is ZIP and was left out of the Max Compression tests. Using ZIP/LZMA is possible which is basically ZIPX, but times were totally unrealistic.
PowerArchiver have acknowledged the program crashes if they allow 7z LZMA2 compression to use more than 1 CPU core, so LZMA was used for the Max compression tests.
Hamster Free Zip automatically skips and doesn't archive files with the hidden or system attribute set and also icon shortcuts. Be careful as there is no option to enable them to be compressed and you are not warned they are excluded.
Windows 7's built in ZIP was included as a reference.
The results table for the ZIP compression test is below, green is the best score, yellow is second, red is last and orange next to last. All timings are in seconds (secs) and file sizes are either Gigabytes (GB) or Megabytes (MB). Note, not all colors are used in every column. The (x64) shows we used a 64-bit version if one was available.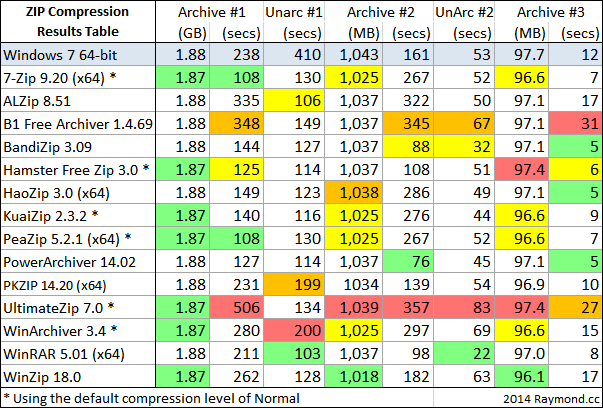 Winners – WinRAR won 2 timed extract tests, PowerArchiver won 2 timed compress tests while 7-Zip won the other using Normal compression. Bandizip is also worth a mention with an equal win and couple of seconds. WinZip impressively got the outright smallest file size in 2 tests and didn't suffer too much with extra compression time.
Losers – UltimateZip produced truly awful performance in both speed and output file size and was last in 5 of 8 tests, and that was on Normal setting. B1 Free was also very slow with 1 last and 3 second lasts.
The results for the maximum compression test are below, color codes are the same.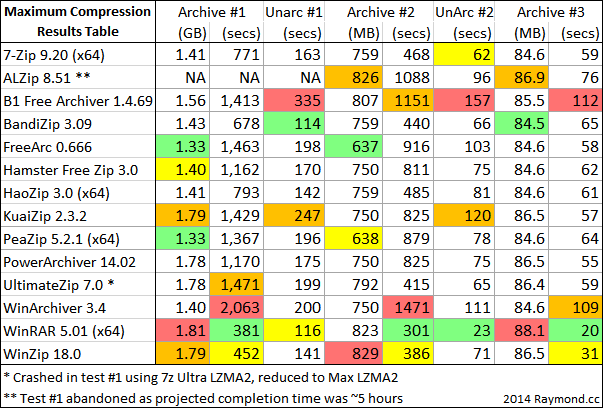 Winners – ARC has the best compression ratio with both FreeArc and PeaZip winning the bigger tests, it takes almost twice as long to compress though than a good 7z compressor. Bandizip also produced some good scores like the ZIP test. WinRAR won pretty much all the speed tests with WinZip not far behind, but this comes at a heavy price (see Losers).
Losers – WinRAR and WinZip were fast because their compression formats (RAR5 and ZIPX) don't compress anywhere near as well as the other formats tested, so score badly in output file size. WinArchiver 7z compression was terrible, being 10 minutes slower than anything else in one test and 5 minutes slower in another, certainly not worth the tiny gain in file size. B1's own format also proved to be painfully slow while producing OK file sizes. KuaiZip was quite a slow tool to extract.
Thoughts and Summary
The ZIP compression test shows all archivers are very close on output file size due to the Deflate method, the big difference is the time taken meaning faster programs are better choices. PowerArchiver and WinRAR were the fastest shareware tools and fastest overall to (de)compress. For free tools, BandiZip and HaoZip were quite fast, 7-Zip and Hamster Free were also good considering their compression levels had to be dropped. WinZip's slightly smaller archives are nice if you value the extra few Megabytes saved.
The maximum compression test varies as different programs used the best format they have available. FreeArc and PeaZip both produced the smallest file sizes using ARC but you pay with a vastly increased compression time. RAR5 (WinRAR) and ZIPX (WinZip) simply can't match other formats for compression but are quicker. 7-Zip, HaoZip and BandiZip produced small file sizes compared to others using 7z and were fast, thanks in part to LZMA2.
We ran a few small scale tests to see how a 32-bit archiver compares against its own 64-bit version, such as WinRAR or 7-Zip. There was little to no difference in speed or file size for the ZIP tests while max compression tests differed slightly. A smaller dictionary size was needed in 7-Zip to get memory usage for compressing under 2GB, this increases speed and the archive size slightly. WinRAR's default maximum setting didn't cause an issue and produced similar results.
All in all, if you compress often using ZIP, PowerArchiver is the fastest option available. If you prefer overall speed above more compression, WinRAR or WinZip are fair choices. The archivers that offer a good blend of performance and a high compression ratio are free programs, 7-Zip, HaoZip and BandiZip (and PeaZip). Obviously this test is not designed to find the "best" overall archiver as that depends on what you want most; speed, compression, encryption, ease of use, extra features etc. What it does show is the best compression or speed a program is likely to offer with a couple of mouse clicks.