Best Antivirus for Torrent Safety Check [Out of 15 Tested]
As an internet user, you must know the importance of antivirus software. You are prone to a security threat when you visit a seemingly secure site or open an email attachment. This threat becomes more pronounced while downloading torrent files.
Despite taking all the preventive security measures, your system remains vulnerable to malicious activities. We've decided to nail down the best antivirus torrent software to circumvent this problem.
Do I need antivirus while I torrent?
Absolutely yes. Torrent repositories contain malicious files. Millions of users use popular torrent clients for downloading. Let's say you want to download torrent files. You'll add those files to the torrent client and then start downloading. Since torrents are downloaded in packets, malware will probably be the first file you download. Consequently, you'll end up becoming a malware distributor. Using reliable software is the only way to protect yourself from such attacks.
What are the best antiviruses for torrenting?

Software

Best For

Top Features

TotalAV

Safe and secure web browsing.

Protect up to 3 devices simultaneously with its easy-to-use app, compatible with Windows, Mac, Android, and iOS.

Check downloads and executable files for viruses and threats.

Monitor the users' personal email addresses and issue notifications if the data is compromised.

Bitdefender Internet Security

Proactive response against security threats without compromising the system's resources.

Unmatched threat detection to keep all the threats away from the users.

Secure VPN to ensure online privacy.

Privacy firewall to filter network traffic.

Vipre

Real-time threat detection and response.

Equipped with innovative security solutions.

Real-time global threat intelligence to help the users understand where perpetrators are coming from.

Real-time threat intelligence to strengthen cyber defense.

Ability to scan sensitive documents.

Panda

Real-time protection against viruses and up-to-the-minute updates.

Real-time protection of Mac and Android devices.Wi-Fi protection to stop perpetrators from infiltrating the users' devices.

Scanning of external devices for virus prevention.

Ability to generate a strong and unique password.

Norton

Spyware, Ransomware, and malware protection.

Ability to protect your device from advanced emerging and existing online threats and safeguard your sensitive financial information.

Equipped with smart firewalls to monitor communications between your computer and other computers and prevent unauthorized traffic from infecting your device.

Enable users to browse safely and anonymously with a no-log Virtual Private Network (nVPN).
Total AV – Best antivirus torrent software for real-time protection from threats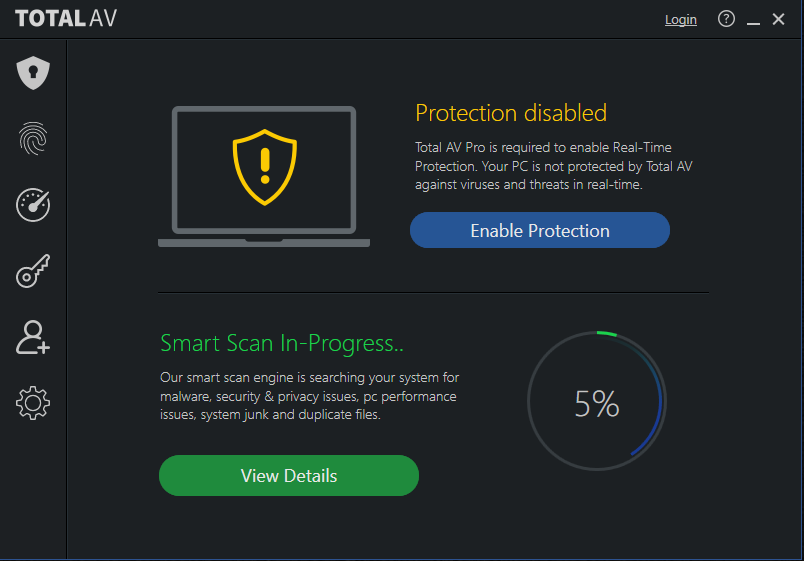 Supported OS: Windows, Mac, Android, and iOS.
Developer: Total AV
License: Free (trial version)
Available for: Opera, Microsoft Edge, and Opera
Total AV is an award-winning antivirus and security software with malware detection tools. It is trusted by 30 million users worldwide, who choose it to protect their devices from harmful viruses. Its intuitive user interfaces best suit beginners and advanced users. Besides, it offers a bunch of excellent features with a top-tier subscription, like phishing scam protection, password vault, device protection, safe browsing VPN, and PUA protection.
Pros
WebShiled prevents users from visiting phishing and spoofed websites.
Eliminate annoying ads that clog the screen.
Flawlessly remove all the browser tracking cookies.
Allow users to schedule scans.
Offers password vault to store all the login credentials and passwords of different devices in-built into the browser extension of Total AV.
Excellent customer support.
Cons
The browser extension is not user-friendly.
Safe search is not reliable.
Bitdefender Internet Security – highly-rated antivirus software to protect the system against infections.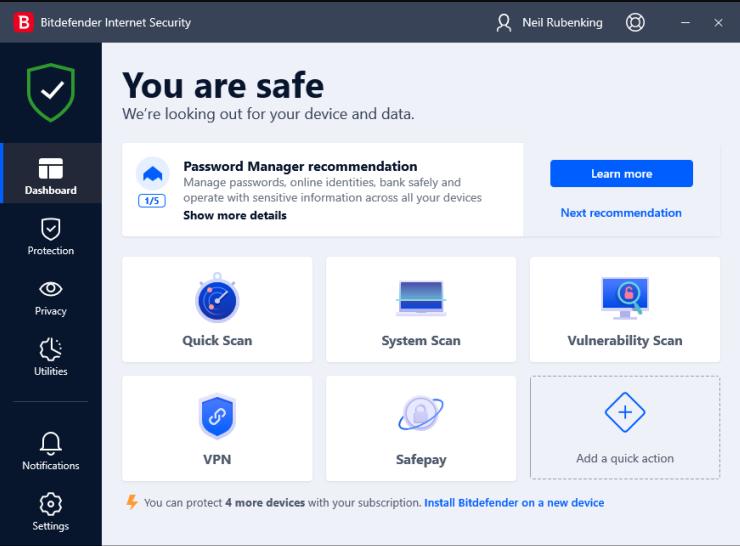 Supported OS: Windows, Mac, Android, and iOS.
File size: 2 GB
RAM required: 2GB
License: Free (trial version)
Developer: Bitdefender
Despite the minimalistic design, Bitdefender is the leading antivirus torrent software to protect your device against all potential security threats. The company that owns this product is the leader in this industry, which indicates every tool is diligently designed. Upon the initial setup, you can instruct the software how you want to be protected; the rest of the task will be completed by the software.
Pros
Equipped with the most innovative technology to detect, prevent, and eliminate worldwide cyber threats.
Leveraging the latest cyber threat intelligence technology, it can analyze suspicious network-level activities and block malware and brute-force attacks.
Unleash behavioral detection techniques to monitor active apps.
Its multi-layered approach against ransomware protects documents, pictures, videos, and music against various ransomware attacks.
Scan security loopholes and vulnerabilities with just one click.
Cons
Vipre – the latest and fast malware analysis tool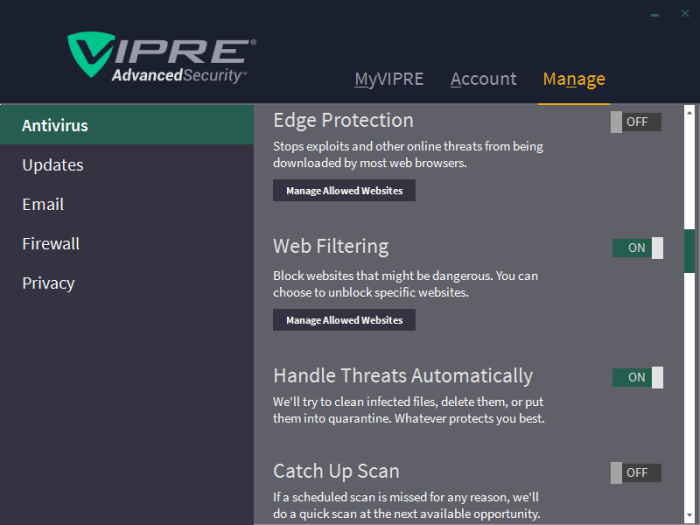 Supported OS: Windows, Mac, Android, and iOS.
Developer: ThreatTrack, Inc.
License: Free (trial version)
Vipre is the leading antivirus application trusted by over 50,000 customers worldwide. Some of its popular clients are NYSE, Deloitte, and Epson. The software offers protection against malware and viruses with a bunch of great features.
Pros
Equipped with malware, spyware, and ransomware detection and removal tool.
30-day money-back guarantee.
Automatic updates.
Unlimited VPN to encrypt website traffic.
A firewall inhibits unauthorized network connections.
Protection against scam email exploits.
Browsing track cleaner removes web browsing history.
Cons
High resource utilization during the scanning.
No dedicated app for iOS.
Panda – Advanced antivirus software for all devices plus VPN for online security.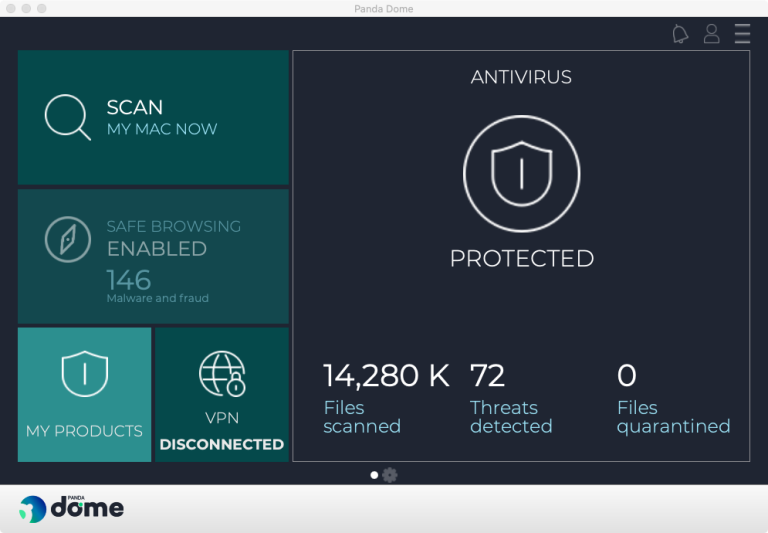 Supported OS: Windows, Mac, Android, and iOS.
Developer: AnyTech365.
License: Free (trial version).
Panda is an exceptional antivirus torrent software. It offers excellent malware protection with additional features like VPN premium and Parental Control. On top of that, it increases your computer startup speed by regularly cleaning your Windows Operating System.
Pros
The technical support team is available 24 hours a day and 365 days a year.
Its update manager automatically updates your operating system.
VPN premium lets the users conceal their identity while torrenting.
All work is done via the cloud. Therefore, users don't have to install files on their devices and perform regular updates.
With the Parental Control solution, user can stop their children from spending too much time on specific apps and mobile devices.
Deletes all unnecessary files that slow down the computer's performance.
Identity protection for safe online browsing and shopping.
Cons
Relatively more expensive than its competitors.
Some features rely on the system specification.
Norton – The best all-in-one antivirus product
Supported OS: Windows, Mac, Android, and iOS.
License: Commercial Proprietary Software
Developer: NortonLifeLock Inc.
Norton is a well-known antivirus software trusted by millions of customers worldwide. It features an excellent malware detection rate, real-time threat prevention, and many other fantastic tools. It provides robust online security and prevents devices from cyber threats. Indeed, there are cheaper alternatives to Norton, but none can provide this level of protection specifically while downloading torrent files.
Pros
Store essential files and backups in a cloud-based backup as a precautionary measure against data loss.
Helps the users block unauthorized access to the WebCam.
Support up to 5 devices.
Password manager helps users to set and store unique and complex passwords.
100% protection against all viruses.
Parental control feature helps the children to explore, learn, and enjoy connection more safely from their tablets or PCs.
Money-back guarantee.
Cons
Some features require users to install other apps.
No trial version.
Conclusion
We strongly believe that this article will assist the readers in finding appropriate antivirus software. Although all the antiviruses mentioned above can detect and remove malware from downloaded files, you should still adopt precautionary measures while downloading torrents.