Backup and Restore Activation Files for Windows 7, Vista and Office 2010
Sometimes when your Windows installation starts to get a bit slow or unstable, you might be thinking about wiping it off and putting a nice, clean, new install back on. Many of you will have taken image backups of your own system but personally speaking, if it's been at least a few months since the last install, I prefer to start afresh. Many users also like to wipe and reinstall even a new system when it comes preloaded with the manufacturer's bloated software and third party trials of Office and a security suite etc. Quite often, when dealing with someone else's computer and all they have to fall back on is an old system recovery image created by the OEM, a reinstall is really the only logical option.
The problem when you reinstall is having to reactivate the operating system. This obviously means entering your 25 digit product key and then activating online. Or if you're unlucky and Microsoft thinks you have done this one too many times for its liking, you may have to reach for the phone and go through the extra activation steps on there. What I see happening quite often these days as well, is on laptops and netbooks the product key is getting rubbed off the COA sticker because it is made from paper and doesn't have the clear plastic coating to protect it like the old days. This could stop the ordinary user from using their own key to reinstall. Using something like Produkey in this scenario to get the key from the current installation would simply show the OEM's generic key which cannot simply be entered on reinstall unless you know the steps to reactivate with an OEM license.
A simple solution to get round the need to activate when you reinstall Windows is backing up the required activation files and information from the old install, and then restoring it when the new install is complete. No reaching for a magnifying glass to read the key, no need for internet access, and no need for the phone to be nearby.
Advanced Tokens Manager is a free and portable utility to backup and restore the activation information for any version of Windows Vista, 7 and Server 2008/2011 with a couple of clicks. It also supports Office 2010 activation backup and restore, not any previous versions like 2007/2003 though. What it does is back up the product key and a file called tokens.dat that holds the activation information for Windows and also Office 2010. A similar thing has been achieved over the years by backing up the WPA.dbl file in XP.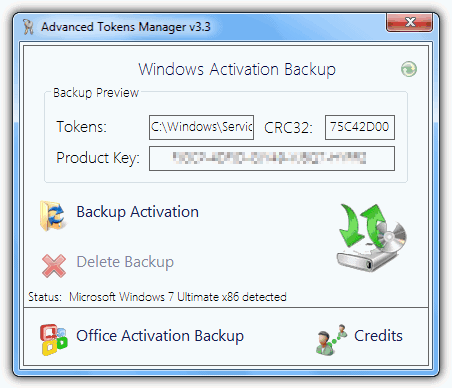 A couple of things you can't do with this method of backing up the activation is trying to restore onto a different PC or hardware. There is a hardware ID stored in the tokens file that will not allow it. Also, you cannot restore to a different version of Windows from which you backed up from. For example; if the backup is from Win 7 Home Premium, it has to be restored on to Win 7 Home Premium. It should however, work if you want to switch between 32bit and 64bit versions. Download, extract the zip and right click to 'Run as Administrator'.
Advanced Tokens Manager is very easy to use, simply click Backup Activation to backup the Tokens.dat on the Windows install you're going to remove. A folder called Windows Activation Backup will be created in the same folder as the program with the tokens.dat and an ini file with a few bits of information like product key, Windows version, tokens file CRC etc. Keep this folder safe as without it, you cannot restore any saved activations. If you want to backup Office 2010, click the button at the bottom and click the backup button again.
Then reinstall your version of Windows, look at a previous article for Official Windows 7 ISO's if you need them. Don't choose to enter a product key or activate during the reinstall. When at the desktop, run Advanced Tokens Manager and there should be the button to restore in place of backup.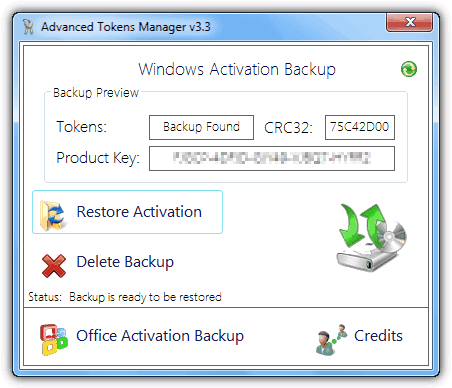 Click Restore Activation to begin the process of restoring the tokens.dat and inserting the product key. After a few minutes the success window should appear. Now go and check by right clicking on Computer >> Properties and checking the activation status. If it says not activated, you may need to reboot.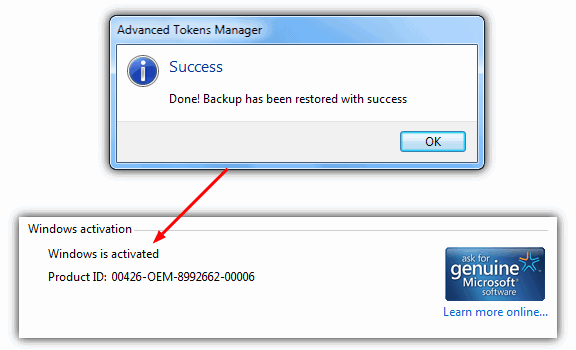 An easy to use and effective tool that saves you the hassle of entering product keys or having to phone Microsoft just to reactivate your product. If you have an OEM manufacturer PC, another tool called ABR (Activation Backup and Restore) is able to backup your activation files. The article was written for Vista but works in Windows 7 as well.
Compatible with Windows Vista, 7, Server 2008 / 2011 and Office 2010 and requires .NET Framework 3.5