5 Ways to Automatically Check File Sharing Link Status
Although free file hosting websites like Hotfile, FileSonic and Megaupload get shut down from time to time, new ones will continue to surface replacing the dead ones because it is a very lucrative business with revenues generated from advertisements and paid premium membership access. A lot of files can be found hosted on these file hosting websites but the biggest problem is your computer can easily get infected by adware or spyware if you're being tricked into clicking on a fake download button which is actually an image from the advertisement spot.
There are some free file web hosts that do not instantly tell you that the file is not available when you visit the download page if the file has been removed. Letitbit.net is a good example where you'll need to solve a CAPTCHA, wait for a (fake) file search and then it reports that the file is not found. Turbobit.net does pretty much the same thing by faking a file search when the file is actually no longer available to download.
Another common annoyance with the download links are they don't usually last very long. The uploaded file will be removed upon receiving a DMCA complaint or when it has stopped receiving downloads for a period of time. To prevent wasting your time when visiting bad download links, here are a couple of ways to quickly check if the links are available or offline.
1.
JDownloader
JDownloader is one of the best if not the best software that can handle file web hosting links really well, from checking the availability of the download links in the clipboard to automatically download and extract the multi part archive. By default the clipboard monitoring feature is enabled and any links that are recognized by JDownloader will be automatically checked. The link availability will be shown at the status column as online or offline. If you need to check all the links that are embedded on a webpage, you will need to manually add the link of the webpage by clicking the Add URL(s) button found in the Linkgrabber tab.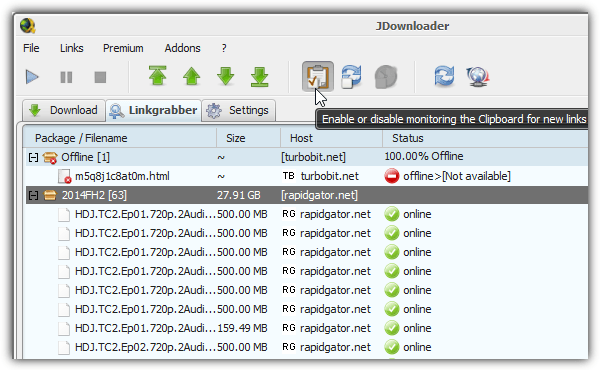 JDownloader requires Java to run and if you don't have it installed on your computer, JDownloader installer is able to automatically download and silently perform the installation. Next, make sure that JDownloader is running and then the clipboard icon is enabled (ticked). Whenever you copy download links to the clipboard, they are checked in the Linkgrabber tab.
---
2. UrlChecker
UrlChecker is a web based link checker that can tell you the status of the download links. It claims to support more than 500 file hosters including some of the popular ones today such as RapidGator, Uploaded.net, Uploadable.ch, Turbobit.net, FreakShare, etc. Other than supporting download links, encrypted links such as LinkBucks, AdFly, TinyURL can be instantly decoded at UrlChecker. Another handy feature found in UrlChecker is the ability to check all links found on a webpage.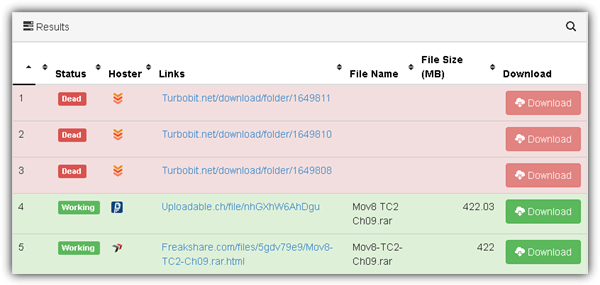 UrlChecker addons are available for the Firefox and Chrome web browsers that adds 2 more options which are checking of individual or all links on a webpage through the right click context menu. Although the download links are checked on UrlChecker's website, the extensions do save you the trouble of manually copying the links and pasting them to UrlChecker. API and addons for websites such as forum scripts are also available.
---
3. W.A.R. Links Checker Customized
If you prefer to instantly know the status of the download links on the web page itself without keeping a third party program such as JDownloader running in background, or checking the links on a new tab, then W.A.R. Links Checker Customized version might be your choice. W.A.R. Links Checker Customized is a userscript that runs on Greasemonkey for Firefox or Tampermonkey for Chrome. Once the script is running, you can identify the status of the download links through the colored cat paw icons.

For Firefox, install Greasemonkey, Tampermonkey for Chrome, and Violent monkey for Opera. After installing the necessary extension to support userscript, your final step is to download the W.A.R. Links Checker Customized from the link below and add it to the extension.
Download W.A.R. Links Checker Customized
---
4. Protect URL
Protect URL is an online service that aims to protect the original download links by grouping multiple links into a single link. This will effectively stop the direct download links from being publicly exposed to the Internet which can be easily detected and reported for take down. It also comes with other features such as the very fast and efficient real time link checker to determine the status of the file.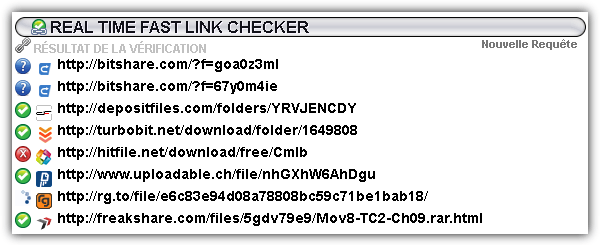 The official Protect URL webpage claims that they are able to support more than 192 servers for checking broken links but we've experienced a few bad checks which is no status for Bitshare, wrong Hitfile status and they've yet to support rg.to which is a URL shorterner for Rapidgator.
---
5. Link Checker
Vinaget is an open source script that can generate premium links and also check for broken links. There are a couple of sites that uses Vinaget script but we only recommend this one because the website is clean from pop under advertisements and is constantly updated to work with the supported file hosts.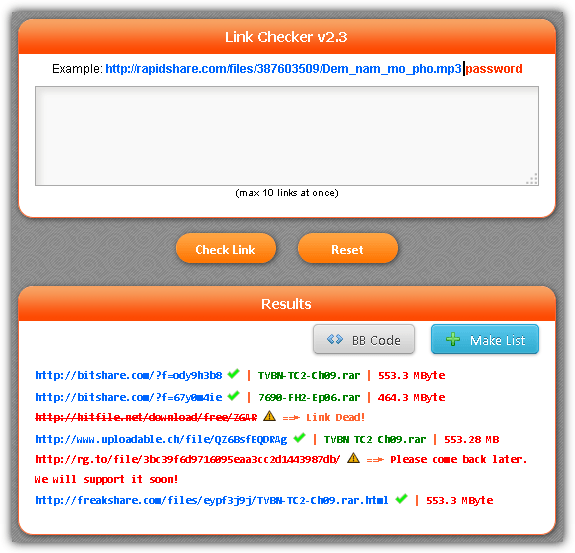 All you need to do is paste up to 10 links with an optional password and click the "Check Link" button. The links are then being checked instantly showing you the status of the file with the file size. The BBCode button allows you to conveniently copy and paste it to a forum, and the Make List button shows only the working download links.