Software Update Checker Tools: 4 Best to Use in 2023
Whether it's freeware, commercial software, shareware or Windows itself, keeping your installed software up to date is a good idea. New versions often bring security updates, bug fixes, enhancements and new features. Checking for updated software yourself is not very appealing especially if you have a lot of programs installed. Some might have an automatic update function somewhere inside the settings, but many do not.
Using a program to check as many of these software titles as possible for you, and telling you if updates are available or not, could be a potential time saver.
Here are 4 different tools that can help tell you if your current software is out of date.
1.
FileHippo Update Checker
File Hippo is a well established website and they also have a tool called Update Checker which scans the software you have installed and checks the result against the latest versions listed on their website. You can then simply download and install which software you want from their servers which are a clean and trusted source.
The program couldn't be any easier to use, simply run the executable and it will pop up a small progress window which only takes a few seconds. On completion Update Checker will open a webpage in your browser showing the results of what it's found. A list of programs will be displayed that show you what version of the software you currently have installed and what newer version has been found that can be downloaded.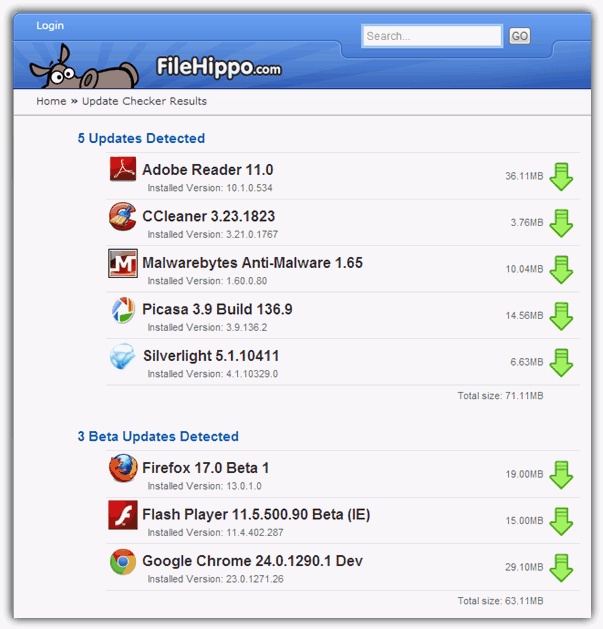 Simply click the green button to download the newer file. On the right of the webpage are some filter buttons to show or hide beta versions and the installed path of the software. There is a settings window accessible form the progress screen where you can add custom software locations if they're not in the default install path and choose a custom browser to open the page in.
FileHippo Update Checker works on Windows 98 or above but requires Microsoft .NET Framework 2.0 to be installed on anything older than Vista. An installer version is available if you want to keep Update Checker on your machine.
Download FileHippo.com Update Checker
---
2. Software Updates Monitor (SUMO)
SUMO is a program which shows a lot of promise because it can detect a vast array of software titles and also gives options of including specific executable files or folders in non standard locations. Multiple locations are scanned to detect any software such as the Program Files folder, Windows folder and the registry.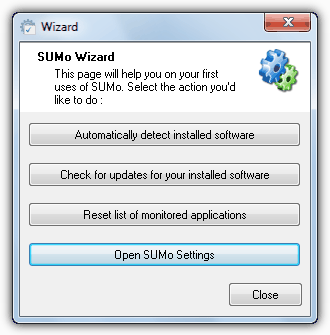 When you run the program it will pop up a small wizard window where you need to click to detect your installed software, and then check it for updates. After that the wizard can be closed and you will see all the detected applications and the icons to show whether each one has major, minor or no update available. Entries can be excluded from scans or removed altogether, or new ones added via the File menu.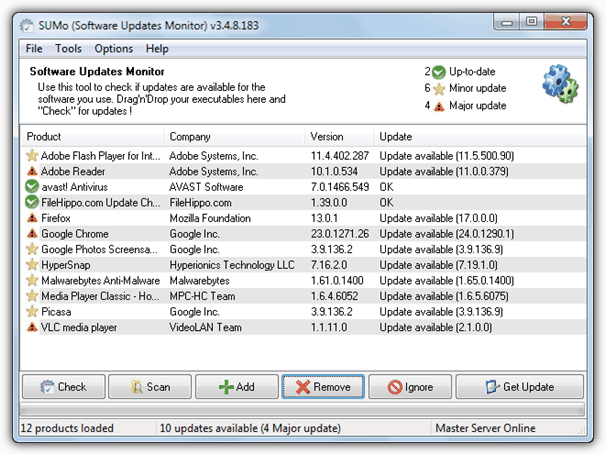 Sadly, although SUMO offers what appears to be the facility to get the updates of the software for you, it actually doesn't which is quite disappointing. When you double click on a program or hit the Get Update button, all that happens is you're sent to a webpage full of ads which lists the recent versions of the software. The download link takes you further down the same page and only offers a search for the software at Google or a few download portal sites such as Softpedia or FileHippo. It's far easier to just go to to the official website using the "Web" button if there is one near the top of the page.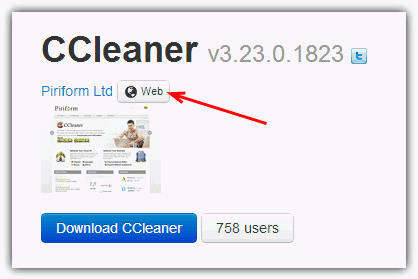 SUMO is a great tool for notifying you if one of your programs is out of date, but the part where it offers you the chance to get the update is next to useless. Also, you have to be very careful to download the correct zip or 7zip portable files, or the lite installer version as the normal installer and "nork" versions contain adware/spyware. SUMO works on Windows XP and above.
---
3. Software-UpToDate
Software-UpToDate by Bernd Ott is a simple update checking program that does what it claims to do and nothing more. The database of recognized software is large and kept updated and appears to be quite accurate, matching SUMO pretty much in all the software it tried to detect.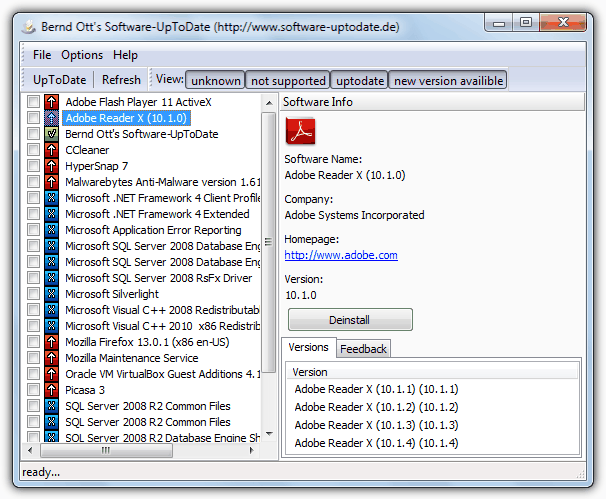 After installation all you have to do is select if you want the program to check for beta versions, a scheduled check and whether to use SSL for the connection. Then when the main window has loaded click the UpToDate button and your software will be checked for any updated versions. The red arrowed icons are the programs that have an updated version available and the right side will give details about the current version, with a list of all the known versions that are newer than the one you have installed.
The tick boxes will hide any software and turn it into unknown which can then be hidden using the filter buttons. Like SUMO, Software-UpToDate doesn't offer direct downloads or a links to a download page, a homepage url is about the best you will get. This does mean you have to do a little bit of manual work to get the latest files to install the updated versions.
Software-UpToDate works on Windows XP and above.
---
4. Software Informer
This is an interesting utility because if you want it to, Software Informer can sit in your system tray and notify you when a software program becomes out of date. It also makes use of the Software Informer community giving you quick access to information like user contributed ratings, comments or questions about any one of your installed applications.
After install the program will run an initial scan to determine what you have installed and then tell you if anything is out of date. Any entries in pink are identified as outdated and clicking on a program will show the information about comments, users etc, and also a useful menu where you can include or exclude various notifications. In addition to software, the program is also able to inform you about possible driver updates available from the Drivers tab.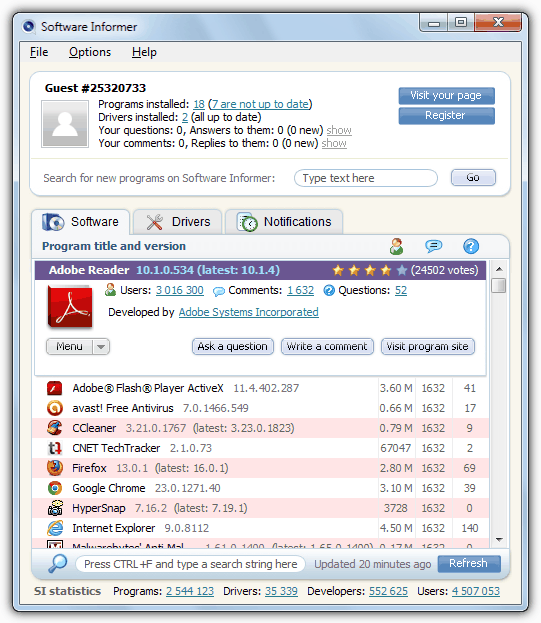 If you open a webpage from startup or click the "xx are not up to date" link at the top of the interface you will be taken to a guest account webpage at Software Informer. The program falls in between FileHippo's tool and SUMO because some links will be available to click and download an update, others require several clicks through ad filled pages after which you might only end up at the developers main webpage.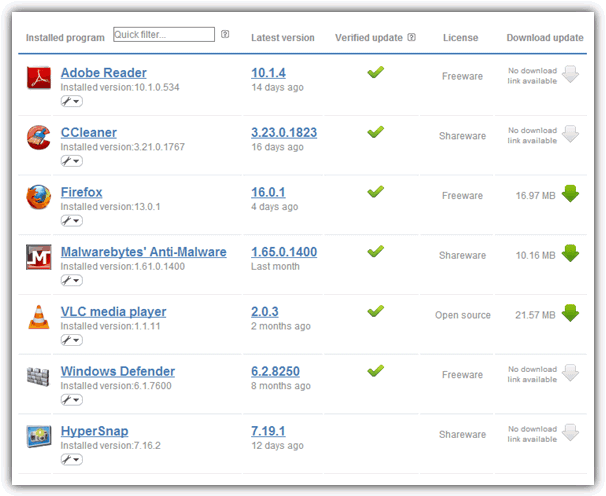 Because the Software Informer website doesn't seem to be quite as quick at updating as FileHippo, it's results aren't as accurate as Update Checker and the other programs mentioned here. There's is though a handy software launcher window that can be setup to be launched when you right click on the start button. Compatible with Windows XP, Vista and 7.
Important Note: Do be aware there are a lot of these updater programs around the internet but many of them have been abandoned or are badly outdated. Out of date software could pose a security risk and software wrongly telling you an old version of a program is up to date could make your system more vulnerable.
We were especially disappointed with the free version of UpdateStar because it only notifies you of major revision number updates. For example, it told us Malwarebytes Antimalware v1.33 from 2009 was up to date because it's still on version 1.xx today. This restriction could be potentially very dangerous.