Adult Blocker Tools: 10 Best for Website & Content Blocking
It's not easy to keep kids away from social media or the internet right now. But as a parent, you must ensure your children's safety as they surf the web. Luckily, installing an adult blocker on your child's devices is one of the ways to go about this.
With the aid of these tools, you can restrict your kid's internet usage by blocking certain adult websites and content, including porn.
To help parents with this problem, we have come up with a list of the best adult blocker tools to keep your kids away from explicit content.
Best Adult Blocker Tools
Software
Best for
Top Features
Bark
Monitoring your child's complete online activity
Allows you to monitor 30+ social media platforms
Sends in alerts during any case of cyberbullying or suicidal thinking
Qustodio
Supervising all your kid's activities in real-time
Track calls and SMS for your kid's Android and iOS devices
Block apps, set limits to screen time, and filter websites from a single dashboard
Norton Family Parental Control
Keeping an eye through the automatic filtering options
Built-in content filtering feature as per kid's age
No cap on the number of devices you can monitor
Cold Turkey
Maintaining multiple block lists of websites
Can help you block chat websites, social media websites, and other non-children websites
Before the scheduled time is over, even the admin cannot unblock the blocked websites
FamiSafe Porn Blocker App
Remotely monitoring your kid's activities
Location tracking and geo-fencing
Blocking and filtering inappropriate content or websites
OurPact Porn Blocking App
Filtering out web content easily based on your child's age
Automatic web content filtering feature
Supports monitoring up to 20 devices
Kurupira Web Filter
Getting in-depth usage reports
Uses advanced AI-powered capability for blocking out inappropriate content
Automatically block all apps with forbidden words
BlockSmart
Blocking adult content in all formats on the internet
Even after restricting your kid, you can get access to any blocked website through credentials
A simple content blocker with 3-step installation process
BlockerX
Keeping your child away from adult words and phrases
Being a simple Chrome extension makes it easy-to-use
Allows you to block specific web pages and an entire category of websites too
Any Weblock
Blocking the entire domain and sub-domain for any website
Allows you to block a list of websites directly through an excel sheet
The tool is password protected to avoid access
1. Bark – Excellent Choice for Parental Adult Blocker with a one-stop shop for all monitoring activities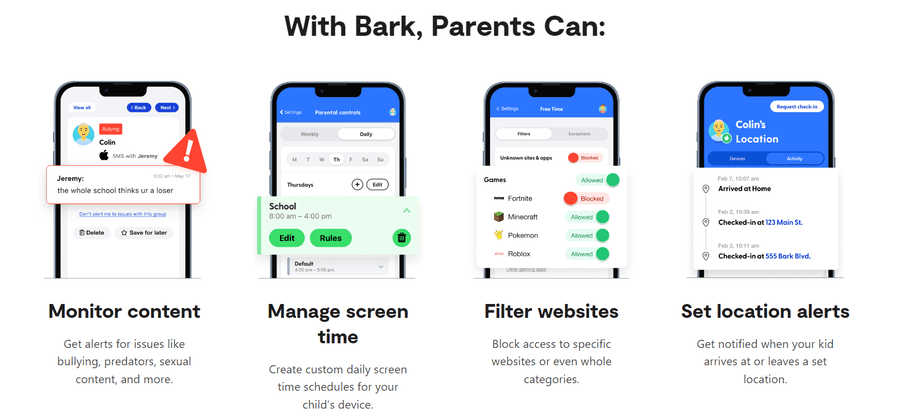 Operating System: Android and iOS
Pricing: Paid
Bark is here to solve all your safety concerns and keep your child safe in the online world. It allows you to monitor emails, text messages, and 30+ social media apps to see that your child isn't poking the wrong bushes.
Bark provides a slew of features like monitoring content, managing screen time, filtering websites, and also setting location alerts. You can directly block specific websites or the entire category of adult websites through the filters.
On top of that, Bark allows you to get detailed insights on your child's activity along with expert recommendations from child psychologists.
This tool also provides you with instant alerts for issues like online predators, cyberbullying, suicidal ideation, and more.
Pros
Filter websites and applications with a few clicks
Access to monitoring 30+ social media apps and websites
Alerts you with any issues around cyberbullying or suicidal ideation
Cons
It might slow down your apps as well as your devices.
2. Qustodio – Best Parental Adult Blocker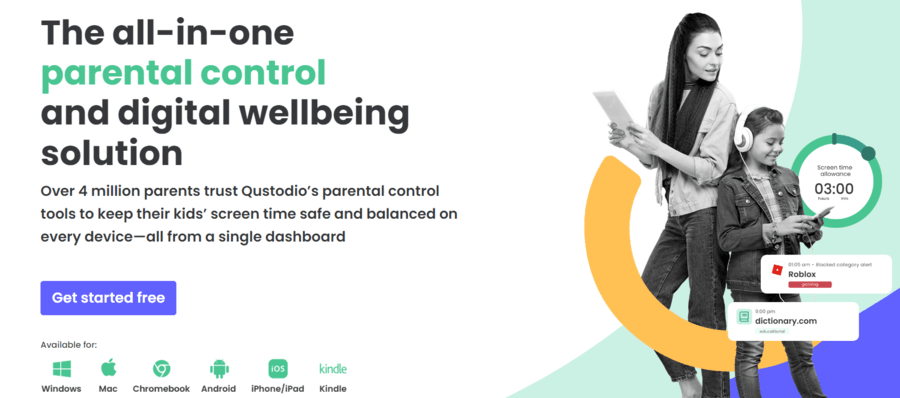 Operating System: Windows, Mac, iOS, Android, and Chrome
Pricing: Freemium
Qustodio helps you keep your child safe in the online world. You can supervise your child's online activity to the best of your ability by filtering websites, blocking inappropriate apps and websites, setting time limits, and more.
Qustodio also allows you to monitor your kid's device usage activity in real-time by accessing browsing history, social media usage, screen time, and location.
One feature that helps this app stand out is the ability to track calls and SMS for Android and iOS devices. This, alongside its user-centric interface, sets it apart from its competitors.
Pros
Track calls and SMS for iOS and Android devices
Supervise all your kid's activities in real-time
Cross-platform compatibility
Cons
Evading web filters is easy with VPN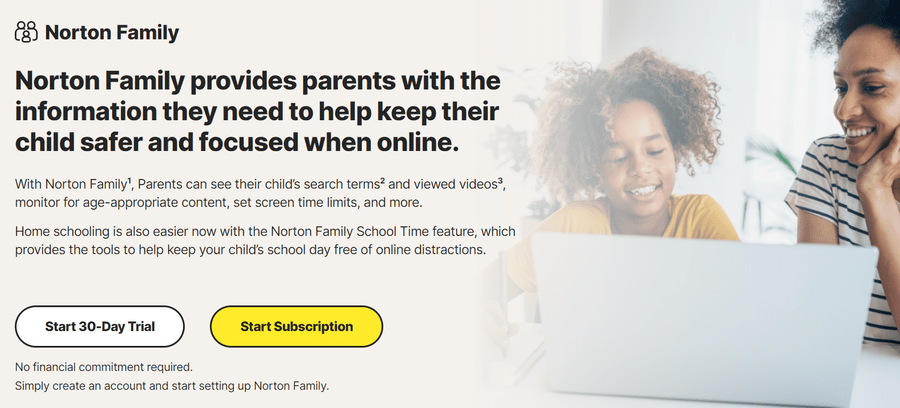 Operating System: Android and iOS
Pricing: Freemium
Norton Family Parental Control is arguably one of the most advanced adult content blocker. It even comes with with a content filtering feature that allows you to set restrictions depending on your kid's age.
Norton Family Parental Control helps you keep an eye on your child's web searches, social media activities, and also browsing history. Besides the automatic filtering options, you can also create manual filters to block certain websites and apps.
Another excellent feature is that you can even track your kid's live location when they are using it on their Android and iOS devices.
Pros
Comes with a comprehensive web dashboard
No cap on the number of devices you can monitor
Excellent geofencing capabilities
Cons
Unable to block individual apps and games on PCs
Browser extensions are easy to disable
4. Cold Turkey – Best Adult Blocker Tool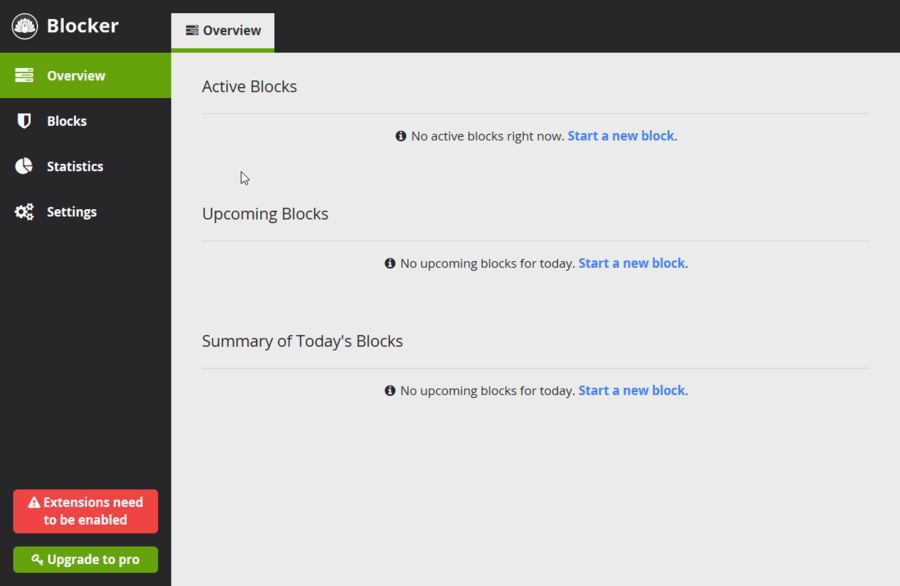 Operating System: Windows and Mac
Pricing: Freemium
Cold Turkey is an effective adult content & website blocker for Windows. If you want to keep your kid away from viewing inappropriate content, then this is a tool worth exploring.
Cold Turkey allows you to block adult content by locking it behind a password. On top of that, you can also set a schedule for every website block list.
Firstly, the tool installs an extension on all your browsers. Then, you simply have to add the websites that you wish to block to the list.
What's more, it comes with a predefined list of common adult websites. This enables parents to block pornographic content easily. You can also use Cold Turkey to block chat websites, social media websites, and more.
With the paid version, you have access to different features like block scheduling, break timer, and several other advanced features.
Pros
Impossible to stop once you lock it
Block porn websites directly through the built-in list
One-time purchase to use all the advanced features for a lifetime
Browser extensions are compatible with all the popular browsers
Cons
The Freemium edition is still lacking some useful features.
5. FamiSafe App – Best Parental Adult Blocker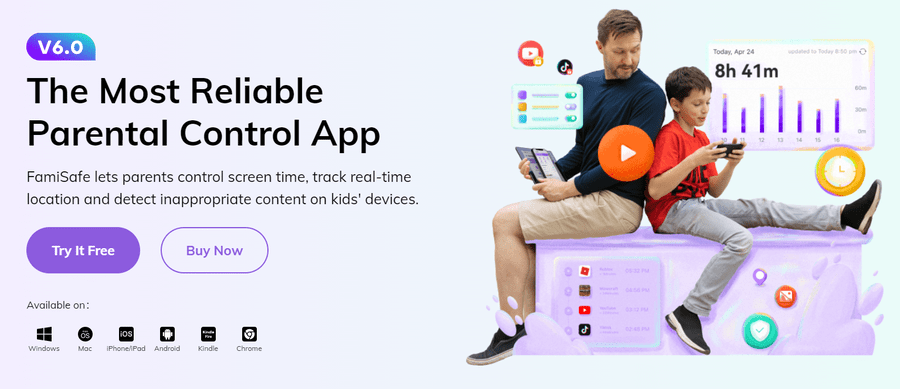 Operating System: Windows, Mac, Chrome, iOS, and Android
Pricing: Paid
FamiSafe is one of the most reliable and trustworthy parental control apps on the market. Parents can easily manage everything from screen time to filtering inappropriate content for their kids. The best part? You can do it remotely.
FamiSafe allows you to track your kid's browser history, block adult websites, track location, filter out web content, and more. Also, you can easily find inappropriate photos or texts on your kid's phone through this app.
This is a paid app, and you will have to subscribe to any plan to access any of the features. Due to its slew of features and availability on multiple platforms, many users consider it to be worth the financial commitment.
Pros
Includes the feature of geofencing
Remotely control your child's device
Screen time monitoring also lets you know about every app's usage on your kid's phone.
Cons
FamiSafe gets deleted in some devices even without a passcode but only sends an alert
6. OurPact – Best Pornography Blocker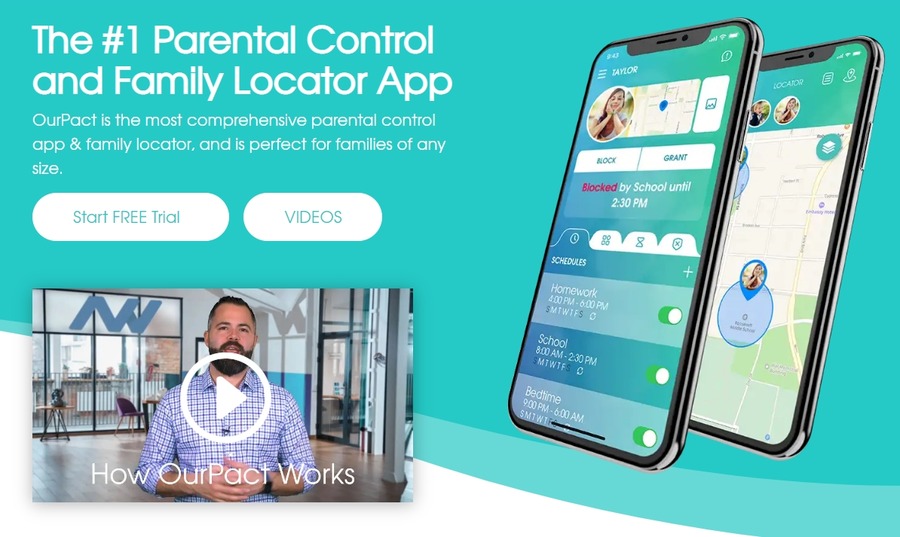 Operating System: Android and iOS
Pricing: Freemium
OurPact is a stellar app for blocking porno content on your kid's phone. In addition, it also allows you to monitor your kid's activity on the phone remotely.
An automatic content filtering feature in OurPact helps it cut out all the adult content and block it. With this app, you can even set forth screen times and restrictions on using any particular app.
OurPact allows you to begin with the free version that lets you manage a single device with minimal features. Later on, you can go with any paid plan for unlimited scheduling and blocking, along with the ability to manage up to 10 devices.
Pros
Easy-to-use interface
Automatic content filtering tool for efficiency
Restrict app usage and screen time remotely through the app
Cons
Relatively expensive plans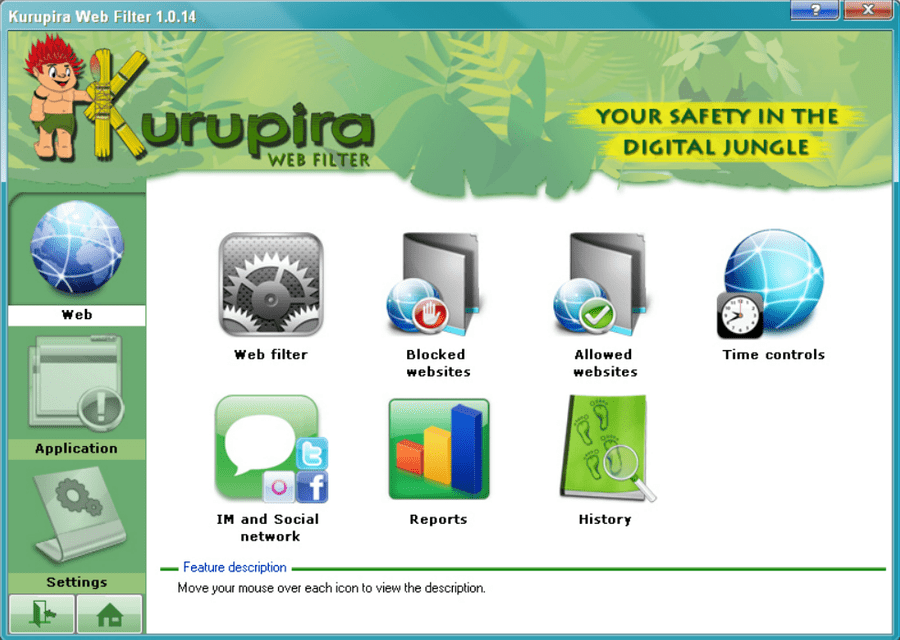 Operating System: Windows
Pricing: Free
Kurupira Web Filter is one of the best free adult content blockers for Windows systems. As expected, it prevents kids from accessing porn websites or even social media websites, as the case may be.
In addition, this web filter also allows you to block apps that might contain vulgar texts. Thus, providing an extra layer of protection for your kids.
The web section also has an option to block inappropriate websites if you don't want to enter them manually. Also, you can use the time control feature to restrict children from using the internet over a specified time limit.
Pros
Automatic email feature to send an email whenever it blocks any inappropriate website or application
Time control feature to minimize screen time
Admins can view complete user activity records
Cons
No online remote reporting feature
8. BlockSmart – Excellent Explicit Content Blocker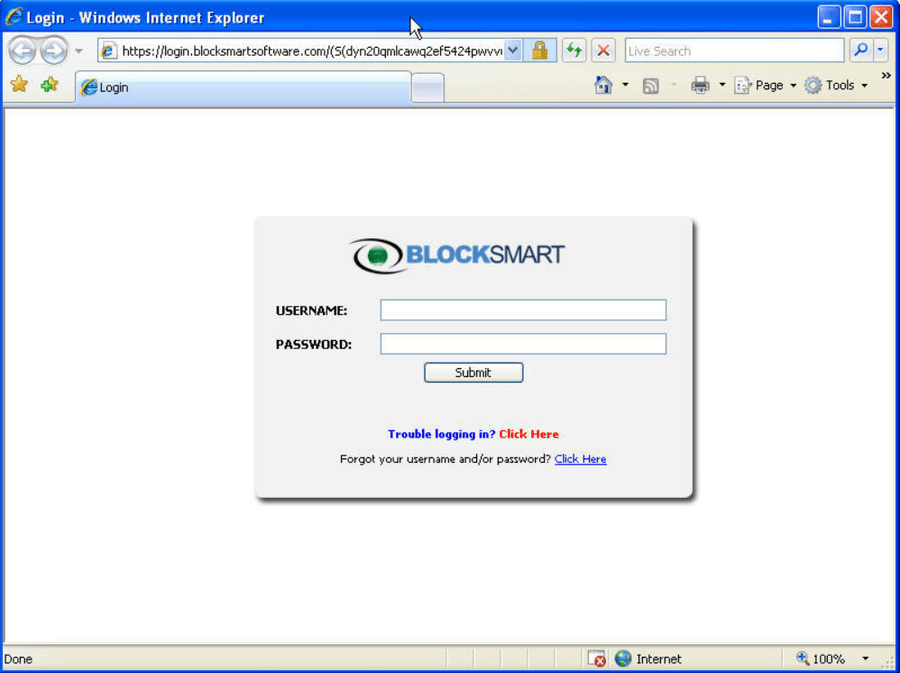 Operating System: Internet Explorer Browser
Pricing: Free
BlockSmart is another free porn blocker for your Windows systems. But it comes with 1 feature that sets it apart from all the others out there.
When you try to visit any blocked website, it will ask for a username and password. So, you can prevent your kids from accessing websites you have blocked, but you can easily enter the credentials to access them.
This tool can easily block the entirety of adult sites. So, you can expect all adult content like nudity, texts, pornography, or inappropriate images to be blocked.
Pros
Free to use
Restrict your child, but you can access the sites with credentials
Block any adult content or website
Cons
Only works on the Internet Explorer web browser
9. BlockerX – Best Adult Blocker for Chrome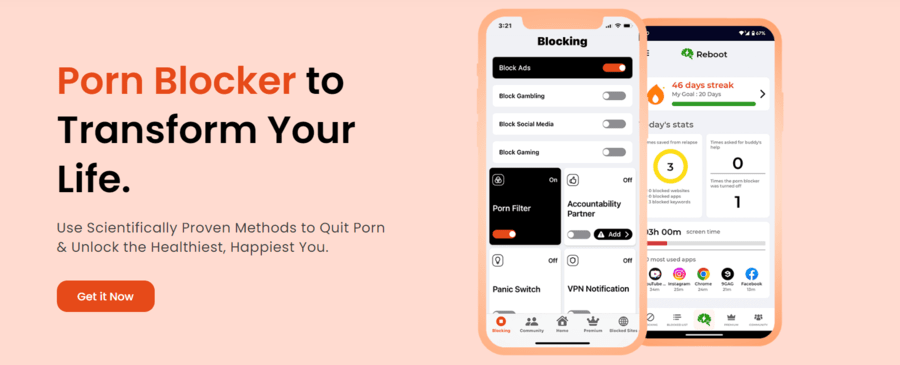 Operating System: Google Chrome
Pricing: Free
BlockerX is a useful Google Chrome extension to help keep your kids away from adult content. It's pretty easy to set up as you only need to add the extension to your browser and restrict the usage of certain websites.
BlockerX allows you to block porn sites through its domain name as well as with keywords. When you visit the 'Websites' tab, you can directly enter the URL of the websites you wish to restrict your kid from.
Similarly, you can enter the 'Keywords' tab and enter certain words or phrases you intend to keep your kids away from. BlockerX will block the sites containing those words or phrases.
Pros
Simple Chrome extension to use
Allows you to block specific web pages
Keeps your child away from certain keywords too
Cons
Easily detectable to anyone using the browser
10. Any Weblock – Excellent Free Adult Content Blocker for Windows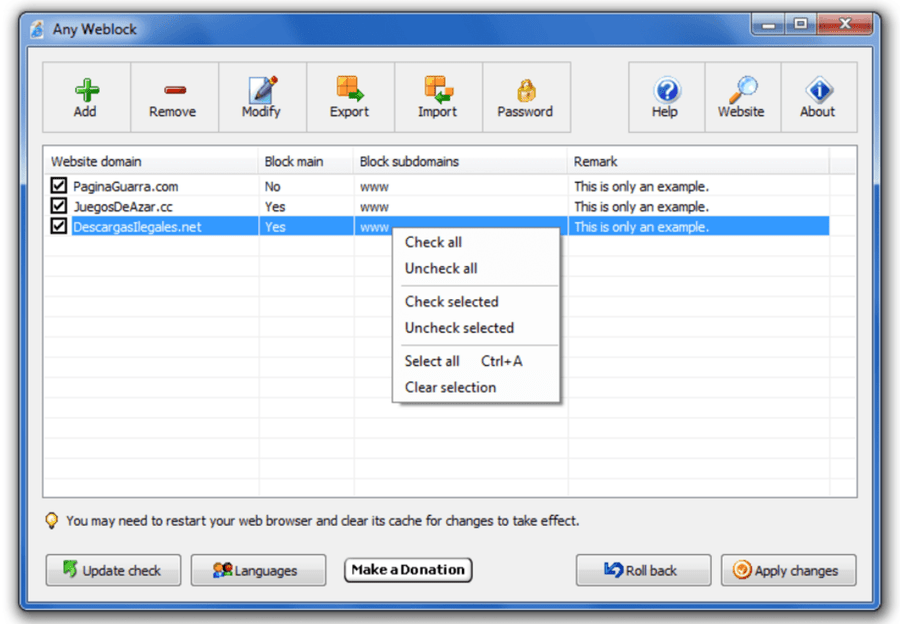 Operating system: Windows
Pricing: Free
Any Weblock is a free adult blocker for Windows PCs. The best thing about this tool is that it not only blocks the main domain but also blocks the sub-domains of any website.
You can either manually add all the domains you wish to block or directly add an excel sheet to make changes in one go. It is a free and powerful adult blocker that prevents blocked websites from opening in any web browser, including Microsoft Edge, Google Chrome, and Mozilla Firefox.
What's more, your kid won't be able to easily uninstall the software because it is password protected.
Pros
Block domains as well as sub-domains of any website
Directly block websites by adding an excel sheet of all websites
Blocked websites can't be used in any browser like Google Chrome, Firefox, or Microsoft Edge
The tool is password protected to avoid unauthorized access
Cons
Works only for Windows PCs
How to block adult websites on Chrome?
SafeSearch can be your savior for filtering out adult websites and content on Google Chrome. All explicit content, including pornography, gore, or violence, will be filtered out with the help of SafeSearch.
You can turn on SafeSearch for your own Google account in 2 easy steps.
Visit SafeSearch Settings.
Turn the 'SafeSearch' setting ON or OFF in the tab.
Note that this feature will help you block explicit content through Google search results, but it won't work if you visit any adult website directly.
How to block adult websites on your phone?
To block adult websites on your phone, there are a couple of methods worth exploring. This includes utilizing Google SafeSearch, installing a parental control software, and enabling web filters.
Final Thoughts
After reading the entire article, it would be pretty easy for you to choose the best tool for protecting your kid from explicit content online. Even though there's a lot of sensitive and explicit content online, you can safeguard your child with the help of these tools.
Choosing the right adult blocker can be tricky. Luckily, you can compare every tool's pros and cons and decide which one suits your unique needs and budget. Remember, there's a tool available for every platform to completely look after your children's online activity and safeguard them.