6 Free Subtitle Sync Software to Adjust SRT Time [2023 List]
When you're looking for subtitles for an AVI or DivX video file, you'll find so many different releases with varying lengths, frame rates, or encoding/decoding methods. This can make it hard to choose the most fitting subtitles.
If you find a subtitle file, it doesn't appear right, coming in too early, too late, or drifting gradually out of sync throughout the video. Free tools like SubDownloader, SubiT, and Sublite can help you search for subtitle files for your movie.
However, these rely on other people to upload and add the records first. Otherwise, it'll say that it cannot find the correct subtitle for the movie. There are times we are not able to find the correct subtitle file that syncs with a movie file from subtitle websites or even using the software.
When this happens, there are two options. The first one is to wait for a few days and hopes someone will upload the correct file. The second is to download the subtitle that is out of sync and synchronize the subtitles with your movie yourself.
The latter isn't as difficult as it sounds, and we have tools to easily adjust the SRT or SUB subtitle file to synchronize better with the movie file.
1. Wondershare UniConverter – Best Subtitle Sync Software to Adjust SRT Time overall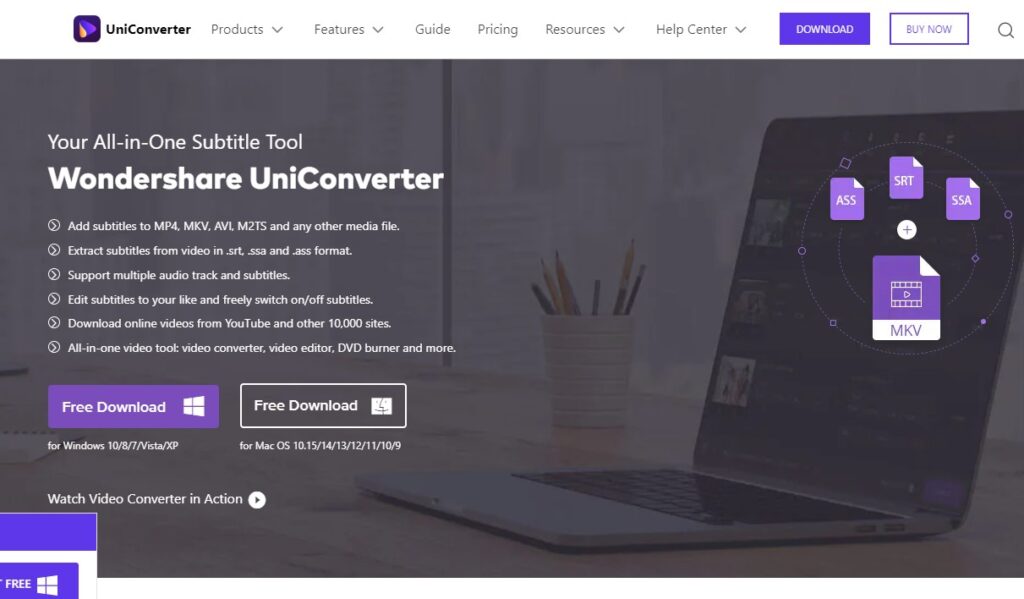 Operating System: Windows and Mac
Pricing: Freemium
Developer: Wondershare
Wondershare UniConverter is a great tool for batch converting, compressing, and editing videos. It allows you to effortlessly convert files into sharable media you can play on your phone. 
You can use the software to adjust or sync video subtitle delay, add them to MP4s, extract subtitles from a video, edit them to your liking, and switch them on or off.
Using Wondershare UniConverter, you can edit the subtitles and video hand-in-hand. Correct inconsistencies individually and modify the size, color, and other attributes. When you're done, export the video with properly synced subtitles.
Pros
Download videos online from YouTube and other sites
Edit, convert, burn, compress, and perform other tasks on videos
Edit multiple audio and subtitle tracks on a video
Extract subtitles files from a video as SRT, SSA, and ASS files
Cons
The free version has limited features
Download Wondershare UniConverter
2. PotPlayer – Advanced media player with premium features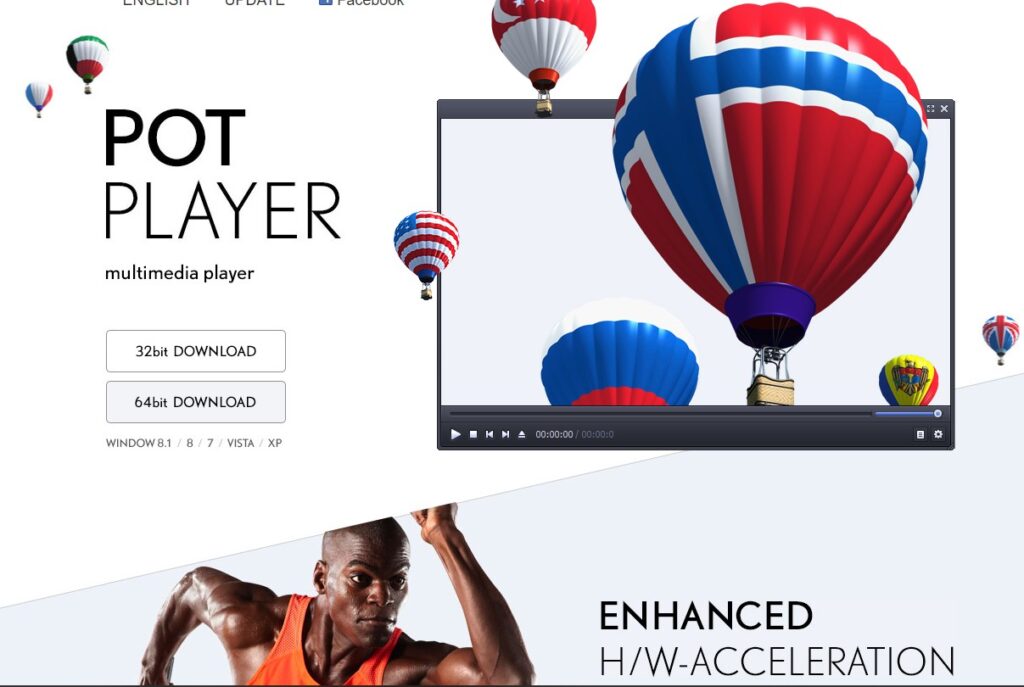 Operating System: Windows
Pricing: Free
Developer: Daum Communications
PotPlayer is a multimedia player with enhanced H/w acceleration, immense viewing experience with 3D, and various subtitle formats. It competes with other video players with advanced features like screen recorders and 3D support. 
You can use PotPlayer to sync subtitles on your video. It offers more options to edit and resync your videos compared to tools like VLC media player. To start, place the movie file and subtitle in the same folder with similar names, and PotPlayer will load them automatically.
Alternatively, you can load it to your video manually. When the subtitle goes out of sync, pause the movie, and navigate to scene > Subtitles > Browse/Edit/Sync Subtitles to fix the subtitle delay,
Pros
PotPlayer supports various kinds of 3D glasses
Sync and edit different types of subtitle files
Supports open codecs so viewers can add different codecs they require
Bookmark your favorite scene or chapter in a video
Cons
The software may include bundled software and advertisements during installation
3. Sublight – Best for downloading subtitles in multiple languages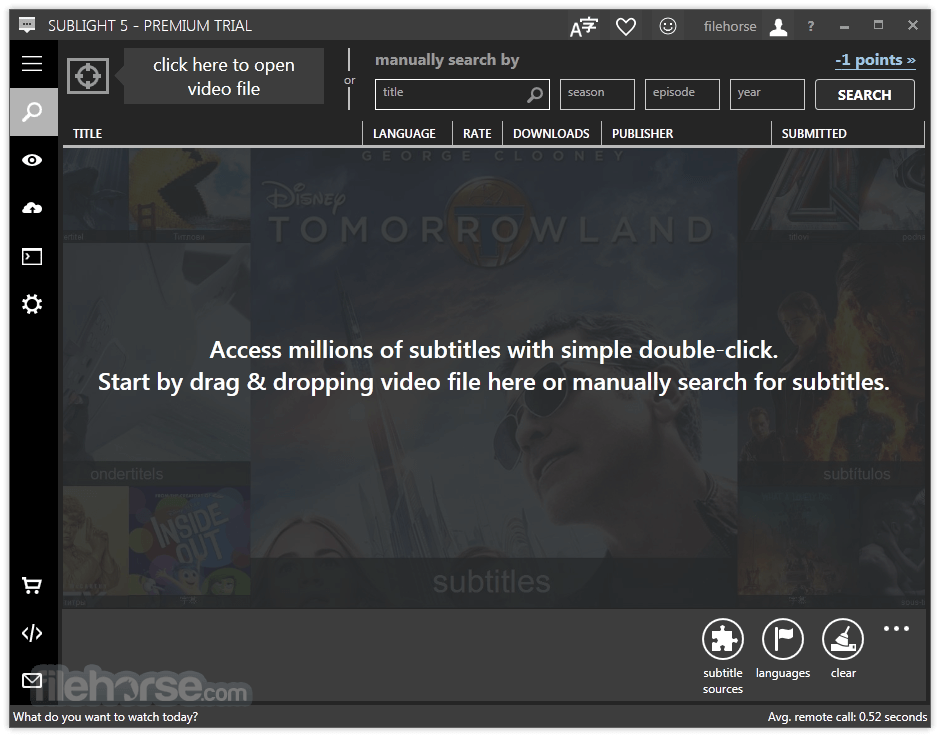 Operating System: Windows
Pricing: Free
Developer: Sublight Labs / Sublight
Sublight is a simple, but efficient tool to view your videos with subtitles in different languages. It helps you search and download subtitles for movies and TV shows on the internet. 
You have access to millions of results in 46 languages, eliminating the need to search different websites for the right subtitle file. Integrate it to Windows File Explorer to access subtitles by right-clicking on a video file.
To sync subtitles, select a movie you want to find subtitles for and drag it to the top left corner. Sublight will scan your movie and suggest subtitle options on its database. Choose the subtitle that's tagged as synchronized.
Pros
Access millions of subtitle files in different languages
Search for subtitles from your Windows File Explorer
Synchronize subtitles to download the most suitable
Scan your video to find the most suitable subtitles
Cons
Not many non-English subtitles as advertised
4. Easy Subtitles Synchronizer – Best for synchronizing, correcting, and fixing subtitles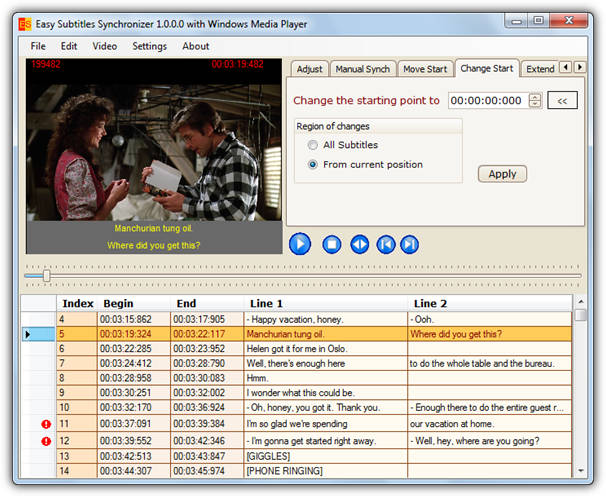 Operating System: Windows
Pricing: Free
Developer: Madalina Boboc
Easy Subtitles Synchronizer is a much more advanced utility containing several options to repair, synchronize and adjust your subtitle files. It allows you to insert and edit individual lines of subtitle text. 
You can load subtitles on a video file and check it against the video. Go to File -> Open Subtitle File to load an SRT or SUB file for editing load the video if it has a matching name excluding an extension. You can also load it manually.
The software helps you to adjust several timing options from the tabs. These include the first and last subtitles, manual synchronization of specific subtitles, and moving or changing the starting point.
Extend the full duration and manually or automatically set the frames-per-second for the file. It also has 10 fixes that can be applied to common issues.
Pros
Great tool for editing subtitles
Download subtitles from the internet
Synchronize, fix, and correct subtitles
Create your subtitles from scratch
Cons
The software is a little tricky
Download Easy Subtitles Synchronizer
5. Subtitle Workshop – Great for creating, editing, and converting subtitle files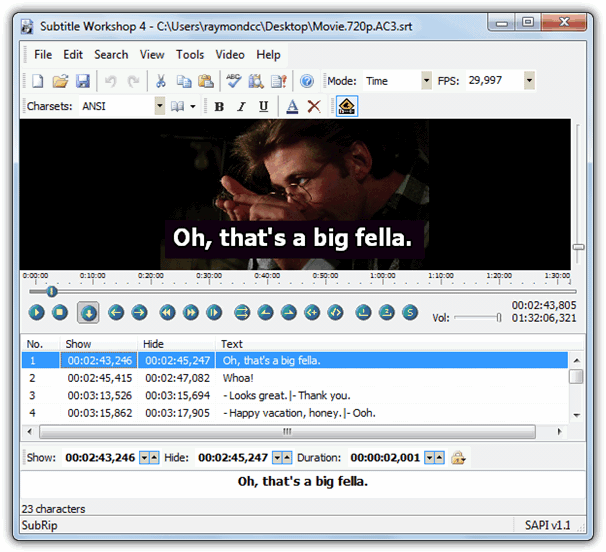 Operating System: Windows
Pricing: Free
Developer: Andrey Spiridonov
Subtitle Workshop is a valuable tool that supports many subtitle file types. You can load, edit, and save around 30 different formats. The tool comes with many powerful options such as spell-checking and translating text and a search section that sends queries to opensubtitles.org.
There are several options to adjust and synchronize the subtitles found in the Edit -> Timings menu. However, most users only require the simple menu option to shift the subtitles forward or backward in time by 100 milliseconds.
You can also set duration limits, adjust on-screen display times, insert positive or negative delay times, and adjust the time between the first and last spoken lines. Apply all of those settings to all or just selected subtitles. If you're not sure, open the video in a window for a visual inspection.
Pros
The software can convert, create, edit, open, and save over 60 subtitle formats
It comes with a vast array of customization tools
Time and manipulate text with smart line adjusting, spell check, and FPS conversion
Display and manipulate timing pauses and enhance multi-level redo and undo
Cons
The program may have a timing problem, and it's not designed for beginners
6. Subtitle Edit – Open source editor for subtitles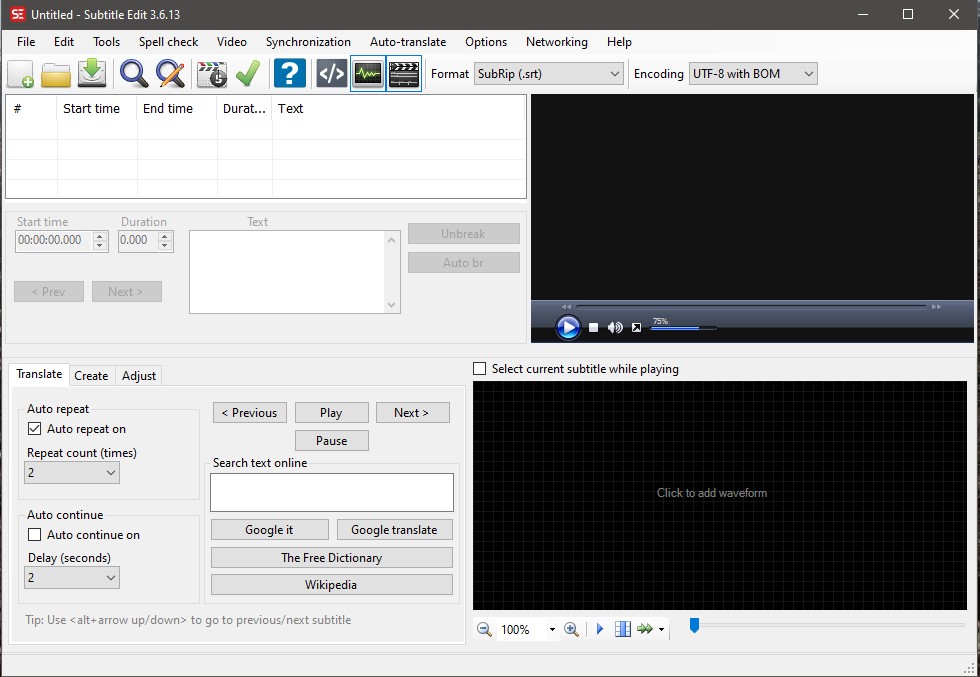 Operating System: Windows
Pricing: Free
Developer: Nikse
Subtitle Edit is a free and open-source tool for creating, editing, and synchronizing subtitles for videos. You can easily edit a subtitle in different ways if it's out of sync with the video. 
Top features of the software include the ability to create adjust, sync, and translate subtitle lines, audio visualizer control, visually sync a subtitle, and convert audio to text with tools like Whisper and Vosk.
You can also rip subtitles from a DVD, open subtitles inside MP4 and MV4 files, read and write UTF-8 files and their Unicode files, and merge or slit subtitles.
Pros
Adjust, sync, or translate subtitles
Speech recognition audio-to-text tools
Visually adjust a subtitle track
Cool audio visualizer control in waveform or spectogram
Cons
It's only ideal for small projects
7. SRT Time Shift – Best for shifting the timecodes of your subtitles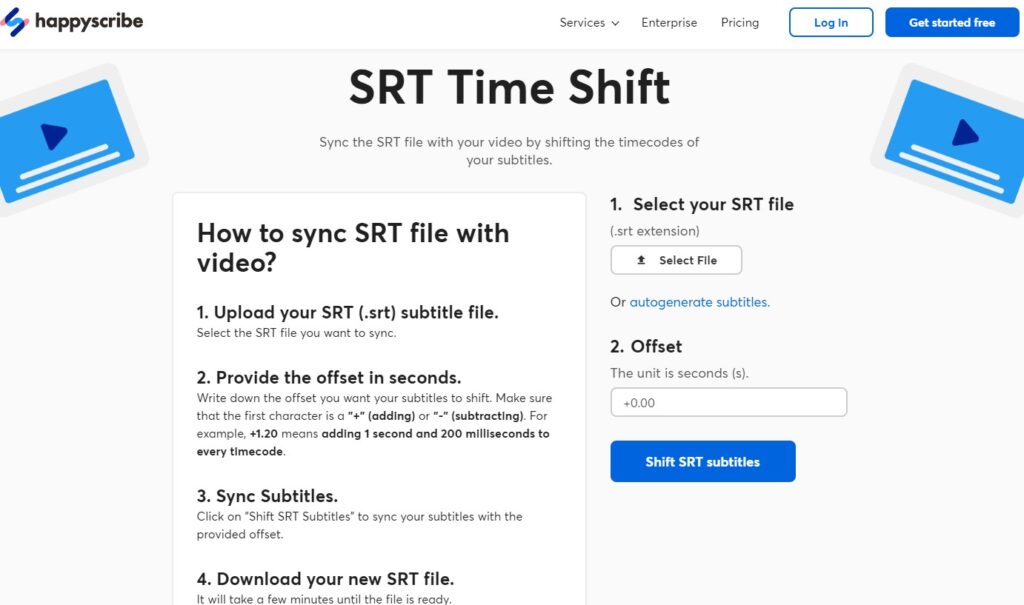 Operating System: Web Bases
Pricing: Free
Developer: Happy Scribe Ltd
SRT Time Shift is an online tool to sync your SRT file by shifting the time codes of your subtitles. You can use it to sync movies that are not aligned with subtitles. However, the tool only supports shifting time in seconds or milliseconds. 
To determine the offset, you put a "+" or "-" sign before the number. For milliseconds, add decimal points while whole numbers are in seconds. For instance, 200 milliseconds is +0.2 seconds. You can also convert your file to UTF-8 to find out if the offset is a result of incorrect file encoding.
Pros
Upload an SRT file to the website for syncing
Provide offset in seconds or milliseconds
Download SRT files in the right encoding and format
You don't need to install any software on your PC
Cons
The application is only limited to syncing SRT files
8. Subtitle Tools – Online tool for permanently shifting subtitle files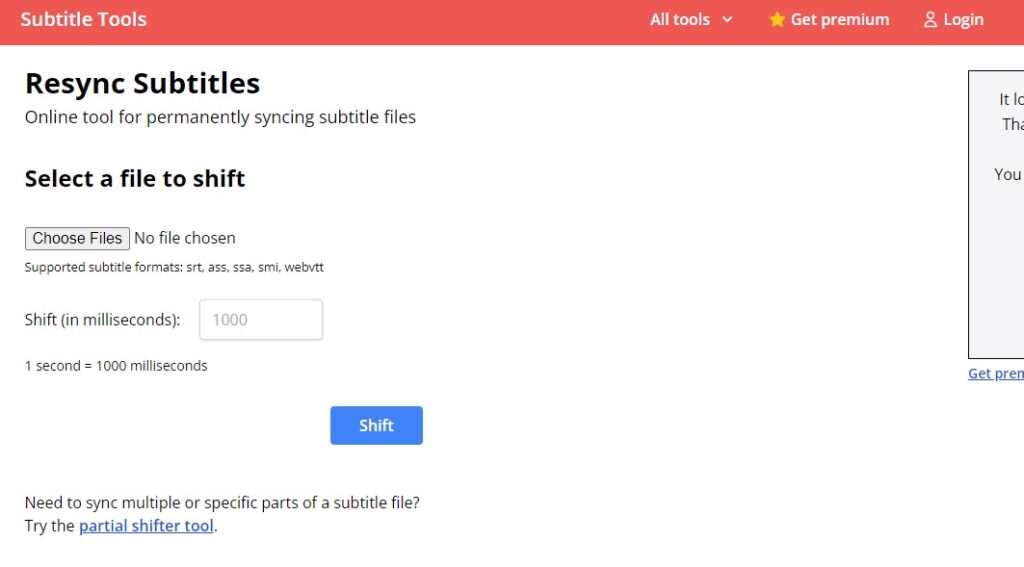 Operating System: Web Based
Pricing: Freemium
Developer: Subtitle Tools
Subtitle Tools is an online tool for syncing your subtitle files. It supports STR, SSA, ASS, SMI, and WebVTT. You shift the subtitle timing by keying in the milliseconds. For instance, if you want to shift by three seconds, key in 3000 milliseconds. 
However, the tool will sync all dialogues inside a subtitle file. So, the tool will only work if the subtitle files are off by the same duration throughout the whole video.
The company offers an alternative called Partial Subtitle Sync Shifter. In this tool, you enter the time when the subtitle is off and the duration of the delay. This allows you to shift subtitles with different durations without affecting other parts.
Pros
You only need to upload your file and enter the duration span
Shift multiple or specific parts of a subtitle file
Produce a permanently shifted subtitle
Shift subtitles with uniform delay and those that are out of sync
Cons
You cannot visually edit the subtitle
9. SubMagic – Great tool for synchronizing subtitles in a movie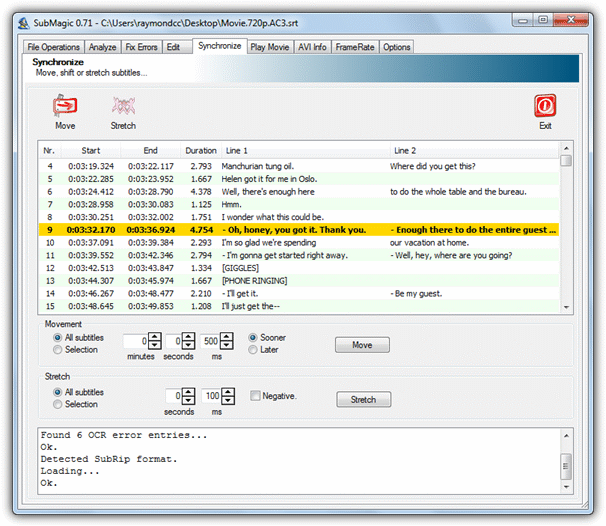 Operating System: Windows
Pricing: Premium
Developer: Submagic
SubMagic is a powerful and easy-to-understand subtitle analyzing, editing, and synchronizing tool. The program shows the video file while you manually add, delete, or edit each subtitle. The Analyze tab can check and give information about potential errors, and the Fix Errors tab can apply around 25 different fixes to make the subtitle file more compliant.
SubMagic supports SRT, SSA, SUB, SMI, and TXT files. It has a couple of tabs to change sync settings. These include framerate, which allows you to switch from NTSC2PAL or PAL2NTSC to match the output video, and the Synchronize tab, which has options to move a selection or all subtitles backward or forwards and stretch or shrink the timing of the whole file or a selection.
Simply enter the seconds and milliseconds and press the button. You can then go to the Movie tab and check to see if it's correct when overlaid onto the video.
Pros
Generate subtitles with Emojis
Edit videos easier with AI
Descriptions and hashtags are generated by AI
Cons
It requires you to share the app to get one video edit
10. Jubler Subtitle Editor – Best tool for synchronizing the time of a subtitle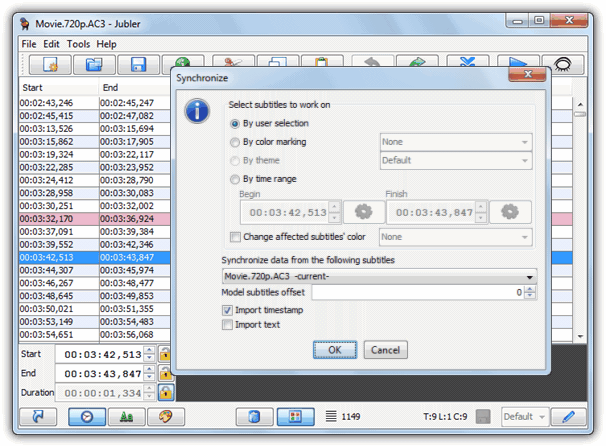 Operating System: Windows
Pricing: Free
Developer: Jubler
A requirement for Jubler to function is the Java Runtime Environment as it's a Java-based program, which will require downloading during the setup if you don't already have it.
The program can display a video preview of the subtitles overlaid onto it, but you need to have the open-source MPlayer on your system to do so. Jubler also has a spell checker and translate option.
There are several options in the Tools menu to adjust the timings of the subtitles. Synchronize is able to change the index offset.
Shift time will move the selection forwards or backward in time. Recode time allows the changing of the default subtitle framerate, while Time fix can adjust the on-screen time of each piece of subtitle text. Each option can be applied by time range, user selection, or by marked colors.
Pros
Synchronize the time of a subtitle
Enter the time difference between the video and the subtitle
Small freeware of about 77kb
Great for removing commercial breaks in videos
Cons
Features a non-impressive interface
Download Jubler Subtitle Editor
When looking for subtitles for a movie, you might never think to edit available SRTs to match your video framerate; it might seem so tiring.
However, with these tools, you can sync subtitles easily with your movie. You can also create subtitles for your personal videos to upload on streaming sites.
What do you think about the above-mentioned tools? Which tool did you find most exciting? Share your thoughts in the comment section below.