7 Best Ad Blocking DNS in 2023 [Free & Paid]
When you're roaming online, you must use ad blockers or privacy extensions to keep those annoying ads away. Ad blocking DNS is necessary to stop those pop-ups in your browser.
Currently, cybercriminals are even using pop-ups, ads, phishing sites, and malicious domains to target people on the internet. Luckily, you can rely on the right ad-blocking DNS as they will help you prevent those pop-up ads and eliminate the malicious ones that can harm you.
With plenty of tools available in the market, choosing the right DNS service becomes difficult. The most important thing to search for is that the tool shouldn't collect your data.
To come to aid, we have listed the best ad-blocking DNS for keeping your data safe and preventing those annoying ads from coming up.
Best Ad Blocking DNS
Software
Best for
Top Features
AdGuard DNS
Blocking ads, trackers, and malicious domains
Easily control request stats and manage website traffic for every device
Default filters for blocking ads and trackers
NextDNS
Customizing your security settings as per your preference
Make unlimited configurations for your DNS settings
Prevent advertisers from tracking your online activity by blocking DNS requests
ReThinkDNS
Experiencing blazing-fast speed with personalized security
Different blocklists to directly avoid certain websites or malware
No account or registration required
Cloudflare
Automatically filtering out malicious domains
Allows you to directly block malicious domains from its blocklist
Provides the users with privacy-friendly public DNS service
Quad9
High-performance public DNS resolvers
No logging of the personal data of any user
Allows you to use the DNS server without threat blocking too
Mullvad DNS
Enhanced privacy with excellent speed availability
Includes certain reputed ad-blocking lists
Filters every domain that might contain ads
Control D
High-level customizations and filtering options
Allows you to take complete control of the DNS server with personalized configurations
Supports the addition of third-party blocklists too
1. AdGuard DNS – Best Ad Blocking DNS Overall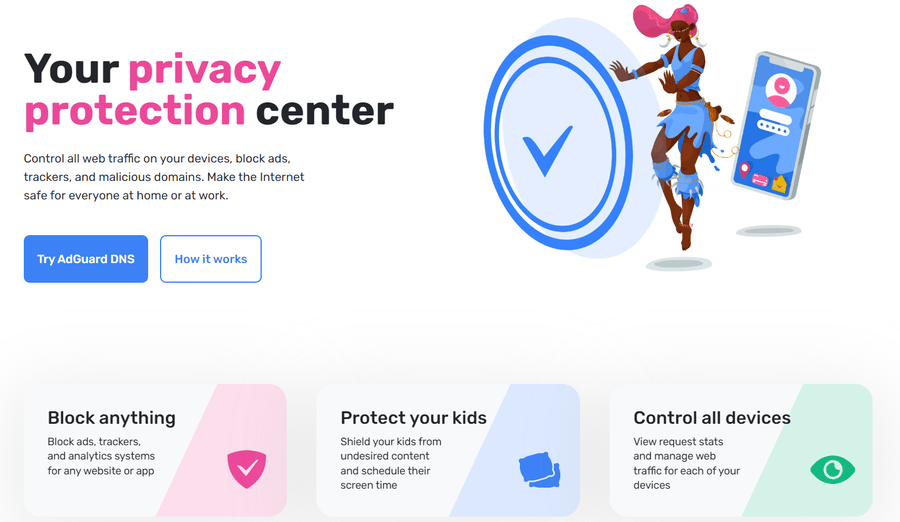 AdGuard DNS works as your privacy protection center by controlling all the web traffic on your devices, blocking unnecessary ads, and preventing malicious domains. So, you can expect your internet usage to be safe with it.
Your service runs smoothly when you've connected your devices with AdGuard DNS. Now, when you enter any URL to visit, the device will ask AdGuard for the IP address. It will be blocked if the received IP address is connected to any malicious domain, phishing website, or advertisement.
The dashboard view of AdGuard DNS will provide you with all the insights to make it easy for you to block all unwanted sites. AdGuard private DNS proves to be a perfect method for blocking internet ads without installing any new applications.
On top of ad blocking, some other useful features include parental control, customized filtering, and enhanced statistics. AdGuard DNS Android and AdGuard DNS iOS add up to your safety of devices.
Pros
Comes with an easy-to-use UI
Highly focused on the privacy of users
Powerful filters for eliminating ads and malicious domains
Parental control features for keeping your child safe in the online world
Cons
Falsely blocks certain pop-up windows
Takes up immense processing power
2. NextDNS – Firewall for the Modern Internet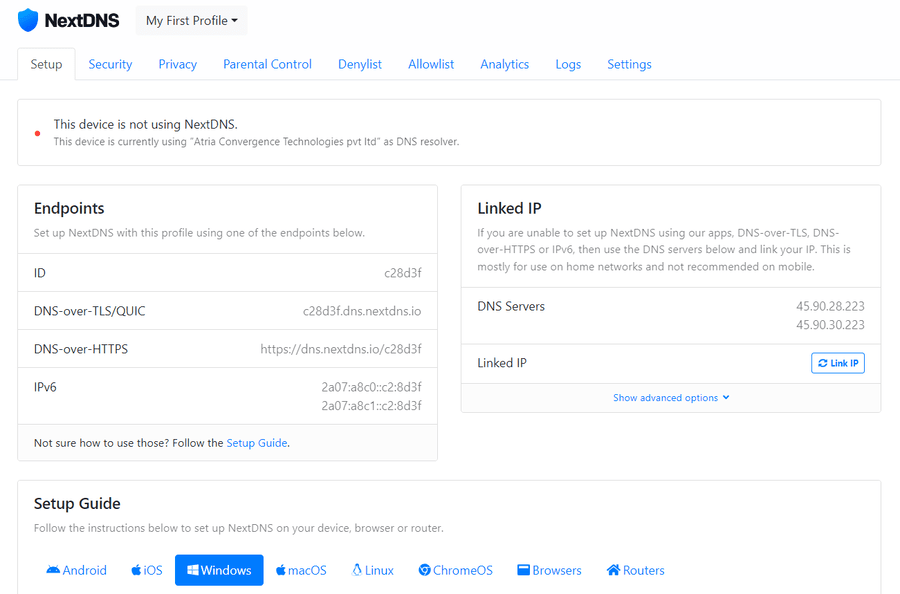 NextDNS works like a wall between you and cyberattacks in the online world. It protects you from every security threat and malicious website, blocks ads, and also provides kids with a safe internet environment.
The best thing about this DNS is that it is supported on a majority of platforms. On top of that, there is no impact on CPU memory or battery life because everything takes place at the DNS level.
The real-time logs and in-depth reports allow you to view every action on each device easily. Analyzing your security and privacy status becomes extremely easy with the help of in-depth insights from NextDNS.
Pros
Protection against phishing attacks and malware
Block ads and trackers in apps with a few clicks
Plenty of parental control features for filtering content for your kid
Easy to customize all your protection settings
Cons
Limited protection on your mobile devices
3. ReThink DNS – Experience blazing-fast speed with security from ads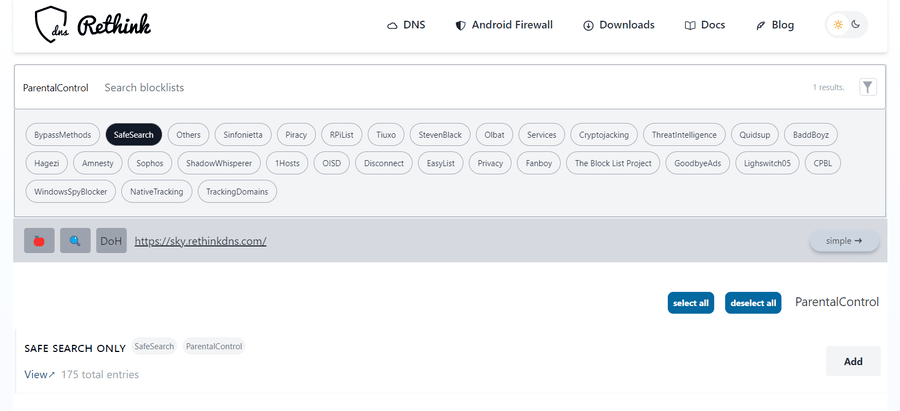 ReThink DNS has servers in 300+ locations to help you experience blazing-fast speed. It makes it possible for you to block ads, spyware, malware, and trackers for all the apps on your device.
Your Internet Service Provider (ISP) translates the website you enter to an IP address. ReThink DNS will act as this translation layer to keep your devices and the entire network from ads and security threats.
You can directly access ReThink DNS without any requirement of fees or registration. On top of that, there are plenty of blocklists for you to choose from in order to block certain websites, apps, ads, malware lists, and more.
Pros
Plenty of blocklists, from parental control to common ads and malware lists
Available for free without any registration or account requirement
User-friendly interface with personalized DNS options
Cons
Extremely high battery consumption
4. Cloudflare – Best for filtering malicious domains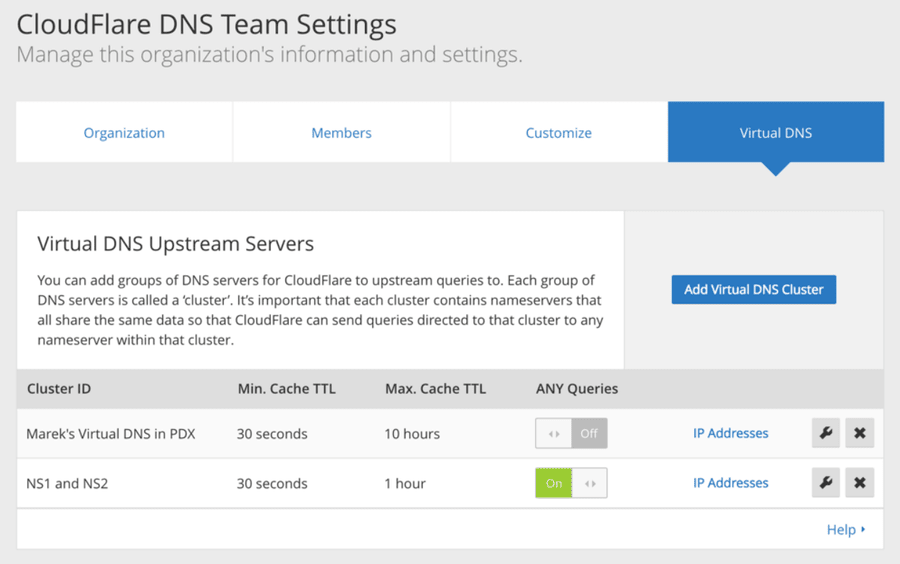 Cloudflare is a trusted partner of Mozilla for delivering the DNS-over-HTTPS feature. There is a public DNS service also provided by Cloudflare at 1.1.1.1. You can expect it to give you decent privacy.
The resolver of Cloudflare automatically filters out all malicious domains. As there is a complete list of spammy and malicious domains already present with them, the server will never process a request that matches that particular domain from the list.
They claim to never collect data and also dispose of all the collected data within 25 hours from their in-house infrastructure. So, you can expect a top-notch service experience with no ads or malicious domains through the use of Cloudflare DNS.
Pros
Easily block out malicious domains automatically
Does not collect any data
Cloudflare 1.1.1.1 also provides a privacy-friendly public DNS service
Cons
Cloudflare can slow down the page loading speed
5. Quad9 – Best Free DNS Resolver for Threat Blocking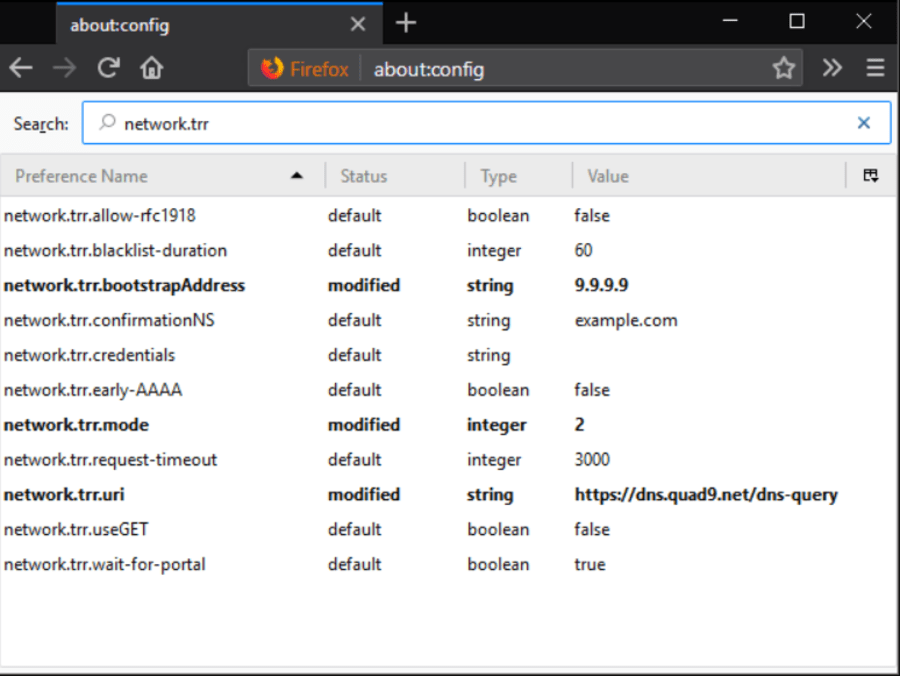 Quad9 has a huge infrastructure spread around the world in 90 different nations. If you are utilizing their servers, no amount of your data is logged or recorded. Moreover, Quad9 is a non-profit organization for which no account creation is required, and anyone can access the DNS servers from any place.
When using Quad9's DNS resolvers, you can expect threat blocking for every server with automatic denial to malicious domains. So, your devices stay secure from any threats or harmful connections.
The best part about Quad9 is that its malicious domains list is constantly updated to provide better security against the latest security threats on the internet.
Pros
Comparatively easy to setup
Enhances web security
Helps you to avoid becoming a victim of malicious domains
Cons
No availability of manual filtering
6. Mullvad DNS – Best DNS Sever Choice for Enhanced Privacy and Safety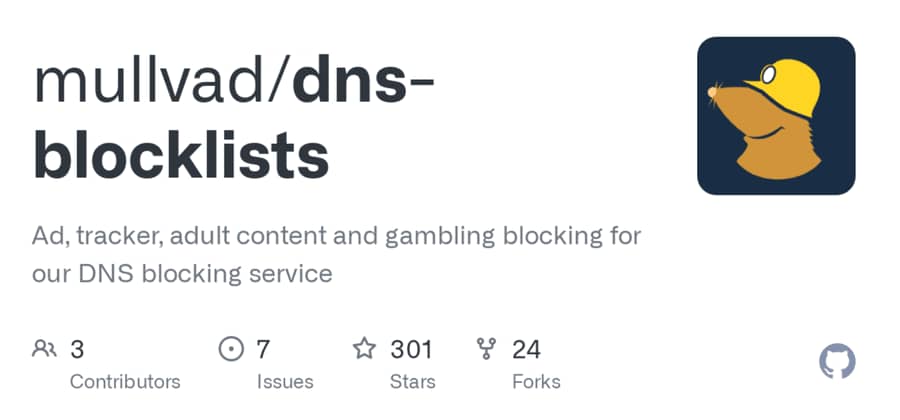 Mullvad has built a strong business with the belief to focus on user privacy in the online world. They also started to provide DNS servers for public use by the end of 2021. Another excellent thing is that you can avail of the DNS service for free, without any requirement for account creation.
As per the strict privacy policy of Mullvad's public DNS, no logs are kept. You can use the public DNS in two different ways – with or without the ad-blocking lists. The AdBlock DNS list of Mullvad consists of some reputed lists like AdGuard DNS and EasyList.
On top of that, you can also provide adblock DNS list suggestions on the Mullvad GitHub repository. The ad-blocking DNS server will filter all the domains that might contain ads.
Pros
Excellent speed availability across a majority of servers
Strict no-logging policy saves user data
Includes reputed ad-blocking lists
Cons
No custom DNS capabilities
7. Control D – Perfect Ad Blocking DNS for high-level customizations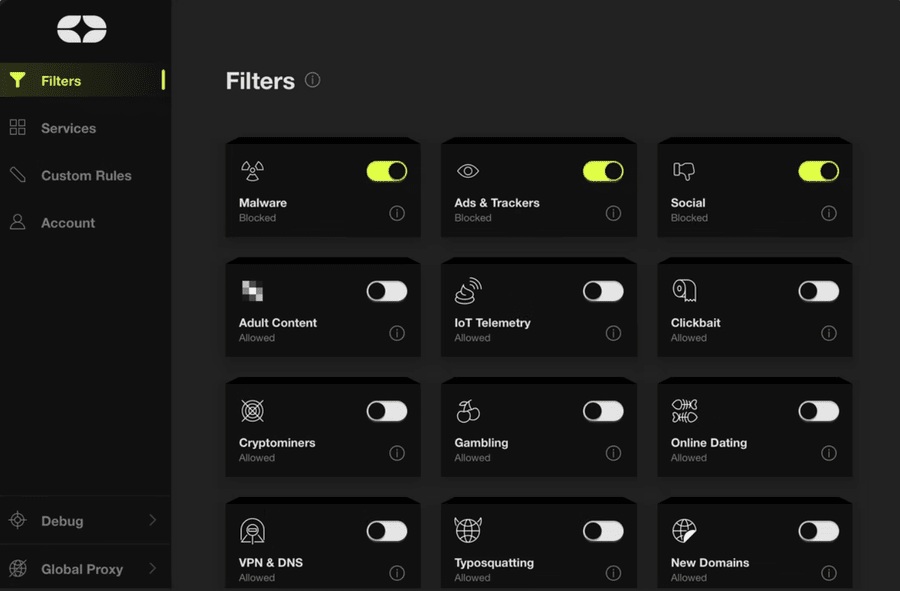 Suppose you want more control over your internet usage. In that case, you should definitely try out Control D. The best thing about this DNS service provider is the high level of customization options it provides to every user with the free tier as well as the premium tier.
The custom configuration comes with plenty of filters, including ads & trackers, adult content, drugs, gambling, malware, phishing, and so many more of them. On top of that, Control D also allows you to create your custom configuration by selecting any number of filters you require and building your own setup.
Control D has another feature of default location that allows you to redirect every activity through a proxy location. So, whenever there is a request to this DNS, it will appear that your location is in a different country.
Pros
Next-level customized configuration options
No logs of DNS queries are maintained
Supports third-party blocklists too
Cons
No reports are available for which block lists are being used or which ones are updated.
Is ad-blocking DNS safe?
If you are using a trusted and reliable DNS service provider, then you can surely use ad-blocking DNS with complete safety. The best thing about using them is that you will see no ads while surfing online. But you need to understand that they are not a replacement for your anti-malware software, even if they are blocking malicious domains.
Is there a free DNS for no ads?
Yes, you can use AdGuard DNS, which is a free, privacy-oriented DNS server for ad blocking. AdGuard DNS block YouTube ads and other malicious domains as well, along with resolving all the DNS requests. Using this free DNS makes it easy to block ads, trackers, and several common malicious domains too.
Does Cloudflare 1.1.1.1 block ads?
Yes, Cloudflare 1.1.1.1 can block ads. It is a public DNS resolver that offers an accurate and private way of browsing. On top of that, it also works effectively for blocking ads, malware, and trackers. Being a public DNS service, it provides decent privacy and also filters malicious domains.
Does Google Public DNS block ads?
Google Public DNS is only a DNS resolver and a caching server. So, it doesn't block any ads or filter any malicious content. If you are using Google Public DNS, then there is a high chance that it will resolve certain domains that might be a huge threat to Google's users.
Can I block ads on my router?
Yes, you can directly set up a router-level DNS for blocking ads, as every router has a built-in setting for this purpose. So, you can expect ad-free browsing for every device in your home network in different mobile apps and games as well.
Final Thoughts
After reading the entire article, it might be easy for you to understand the importance of DNS for every internet-enabled device. So, you have to safeguard every DNS query with the help of the DNS resolvers mentioned in this list.
It often happens that your ISP DNS resolver is not capable enough to filter out malicious domains and is also slower. This is why it's better to choose a DNS service provider from this list to get trusted services for every device in your home network.