Kaspersky Antivirus 2013 Activation Code & Guide
Regular readers to Raymond.cc will no doubt remember a version of Kaspersky Internet Security that came from the German PC magazine Computer BILD. It was called Kaspersky Security Suite CBE and was free to its subscribers, needing re-activating with a new key every three months. This was one of the first sites to find workarounds to get the program to work for non German speaking users and also those outside of Germany itself.
Kaspersky's relationship with Computer Bild has now come to an end, and the new replacement is Norton Internet Security CBE. This is currently harder to find a work around for because you need a key from the magazine itself and it isn't a generic key. If you prefer Kaspersky products over Symantec this isn't great news for you. However, we have an alternative for CBE users and also a great way for users of free antivirus packages or users without antivirus software at all to get hold of a quality paid antivirus product for free.
Kaspersky have a partnership with hardware manufacturer ASUS and provides its Anti-Virus 2013 free for 1 year to owners of the high end Asus ROG (Republic of Gamers) range of motherboards. Although not the Internet Security package with Firewall etc, this version does have other crucial advantages over the CBE edition. Firstly it's available outside of Germany so you don't need to edit the languages, English is default. Secondly, Kaspersky Antivirus 2013 ROG edition is available worldwide so there's no need to use VPN's and proxies from your country to try and activate it!
If you do not own an ASUS ROG motherboard, attempting to install Kaspersky Anti-Virus 2013 using their setup installer will fail with the error message "Error has Occurred. Application was not installed. Digital signature of installation files is missing". After a bit of time and research we've come up with a way to install and activate the ROG edition using the standard antivirus package for ALL users, not just those who have Asus ROG motherboards. This isn't done using cracks or keygenerators, just common sense and logic. Here's the steps how to do it.
1. First off, if you don't already have it, you will need to
download and install the 7-Zip
archiver (version 9.20 or higher is required). Also, an important note, if you've had a Kaspersky product installed on your computer before (Antivirus, Internet Security, PURE or CBE), it's highly advisable to download and run the
Kaspersky Products Remover
(KavRemover) to completely clear your machine of any residual files or registry entries that could interfere with the ROG install.
2. Go to the Asus Kaspersky page and download the KAV13014190_ROG.zip file.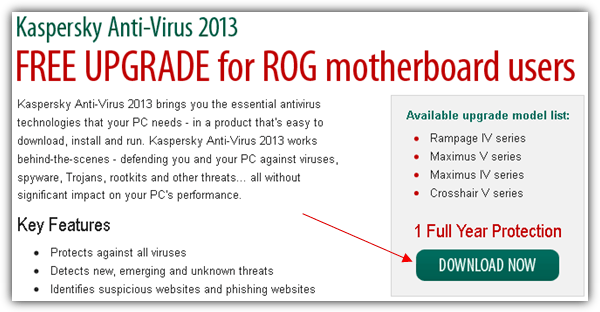 3. Once downloaded, right click on the zip file and "Extract Here…" to produce a setup executable. Then right click again and extract the setup installer file contents to a folder.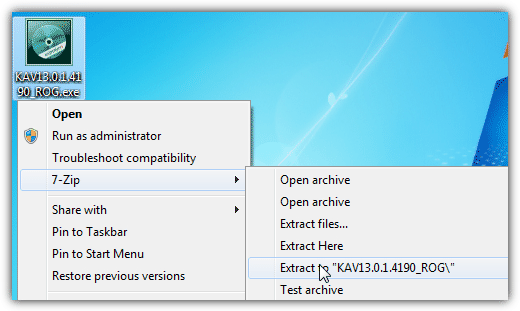 4. Go into the folder you extracted, right click on the kavkis.msi and choose to "Extract Here…". This will extract a single cbi.dll file which is the activation file for Kaspersky Antivirus. Right Click and Copy or Cut the cbi.dll file.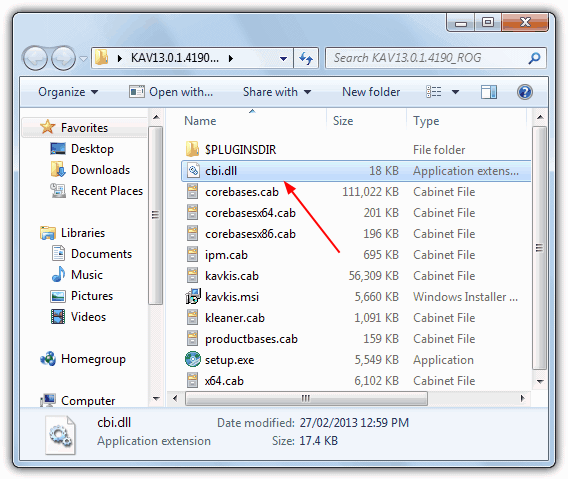 5. You need to manually create the Kaspersky Anti-Virus directory structure and paste the cbi.dll into it. Go to C:\Program Files\ and create a folder "Kaspersky Lab". Go into that folder and create another folder called "Kaspersky Anti-Virus 2013", the structure will look like this for 32-bit users:
C:\Program Files\Kaspersky Lab\Kaspersky Anti-Virus 2013
or the following for 64-bit users:
C:\Program Files (x86)\Kaspersky Lab\Kaspersky Anti-Virus 2013
Paste the cbi.dll into the Kaspersky Anti-Virus 2013 folder.
6. Now you need to create another directory structure, go to C:\ProgramData and create the folders "Kaspersky Lab", then "AVP13" inside that, and "Data" inside that to produce the following structure for Windows Vista, 7 and 8. The ProgramData folder is hidden by default so if you can't see it in the root of C, type C:\ProgramData into the Search box on the Start menu or configure Windows to show hidden files and folders from Folder Options found in Control Panel.
C:\ProgramData\Kaspersky Lab\AVP13\Data
For Windows XP the Kaspersky Lab folder is in Documents and Settings:
C:\Documents and Settings\All Users\Application Data\Kaspersky Lab\AVP13\Data
7. Go back to the KAV ROG folder from step 3 and double click to open the kavkis.cab file (not the msi from earlier). Inside you will find the Kaspersky license file with a name of _1AA7CD13.key. Right click and copy it, then paste the key file into the Data folder created from step 6.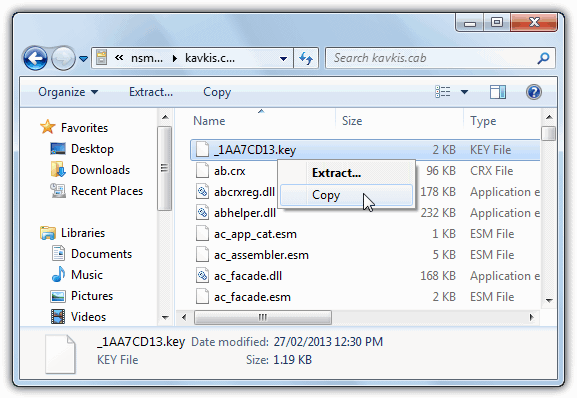 8. Now the Asus ROG license files are in place, it's time to download the Kaspersky Anti-Virus 2013 setup installer from the Kaspersky website. You MUST download the update installer which the link points to and not the trial installer or it won't work and you will only get 30 days. Then simply install the package as usual, it probably makes no difference whether you choose to participate in the Kaspersky Security Network (KSN). For reference, the tested installer was kav13.0.1.4190abcdefEN_4395 but should work fine on newer 2013 versions when they're released.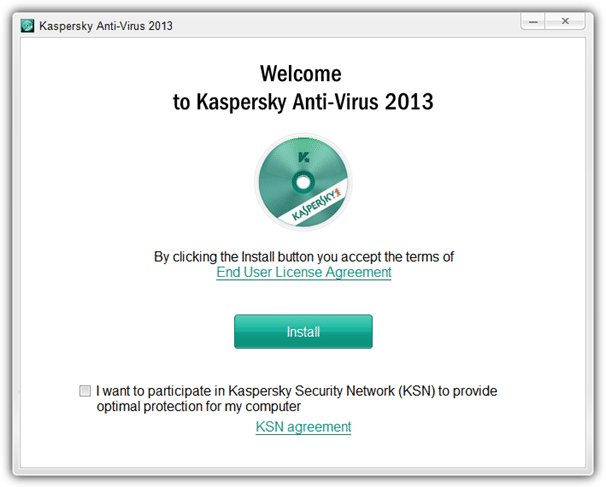 Once the Kaspersky Anti-Virus 2013 program has installed, that's it, you don't have to do anything else because the program installs and activates itself automatically using the key from the ROG installer. Just make sure you have internet access during the process. If you look at the licensing details when the main interface pops up, you will see the activation has been applied and you have 365 days left!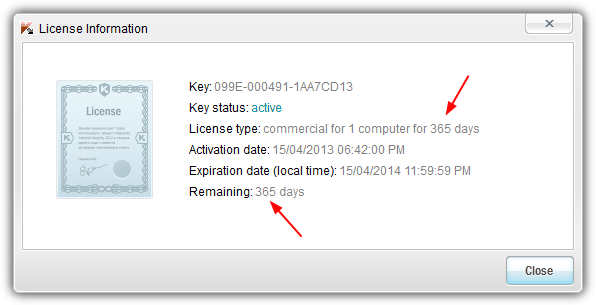 Upon further inspection of the license file itself, we have also discovered that it doesn't actually expire until the 31st of December 2015. This doesn't mean that the key lasts until 2015 if you activate it now, but rather that you can activate this version of Kaspersky Anti-Virus 2013 anytime between now and then to get a full 365 days of usage. The results of the Kaspersky Lab Key Viewer are below.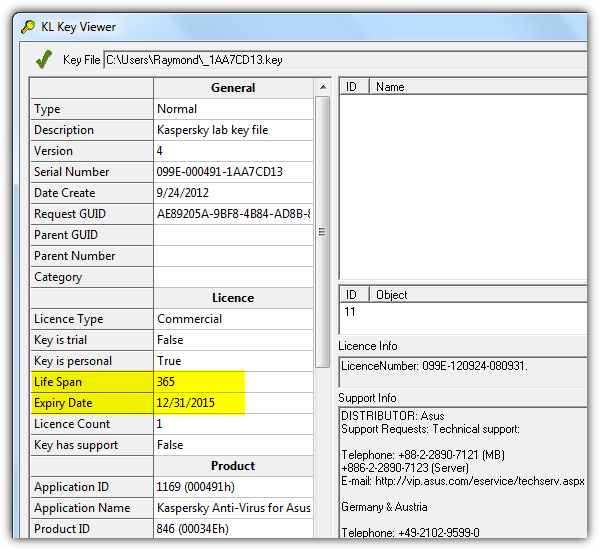 Installing and activating Kaspersky Antivirus 2013 ROG Edition has been confirmed working on Windows XP, Vista, 7 and 8 and there's no need to use proxy or VPN services which was the main stumbling block for users to get the CBE versions to work properly.
Just so you can see how quickly these steps can be followed and how easy the whole process is, we've made a small video to show you.
IMPORTANT NOTE: Since this article was posted, we have had several people report and ask us why their version of Kaspersky ROG has been blocked. Do be aware that as the program states, it's licensed for 1 computer for 1 year. Although we're not 100% sure of the methods it uses, this version of Kaspersky behaves much like any other Kaspersky product and will detect a problem if more than one machine from the same location is trying to use the same product key, possibly by checking the IP address used.

To help avoid your antivirus having its key blocked, we'd advise you NOT to use it on more than one computer from the same location. At best you could try to reboot your router or change IP address before running any other computers so it doesn't see several Kaspersky ROG instances installed from the same IP.
---
Getting Another Year of Protection if Your License is Expiring
Since we posted this article just over a year ago, it has now reached the point where users who followed this guide not long after release will be having their Kaspersky Antivirus reaching the end of the 1 year license. After this point you will normally have to purchase a full license or uninstall Kaspersky because the program remembers what license you used previously and won't accept the same license entered again.
After some research we have found a method which works to give you another year's worth of protection in addition to what you've already had. Follow the guide below, it is assumed you still have the antivirus installed.
1. Open Kaspersky Antivirus, click Settings -> Advanced -> Self-Defense, untick "Enable Self-Defense" and click OK.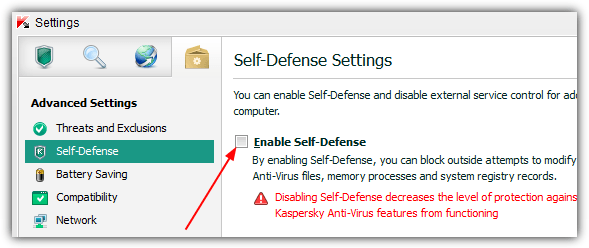 2. Right click on the Kaspersky Antivirus tray icon -> Exit.
3. Follow steps 2, 3 and 7 from the main guide above to get the _1AA7CD13.key file from kavkis.cab. Copy the key file into the following folder.
C:\ProgramData\Kaspersky Lab\AVP13\Data
For Windows XP:
C:\Documents and Settings\All Users\Application Data\Kaspersky Lab\AVP13\Data
4. Download the Zip file below, extract the archive and execute the batch file making sure to "run as administrator". This erases the current license completely so it can be reinstalled. The batch will automatically reboot the system so make sure you have saved any work beforehand. Do note the script can trigger an alert in antivirus software because of what it does.
Download ROG_License_Reset.zip
5. After the system has rebooted open Kaspersky Antivirus and you should find it has now given you a completely new 365 day license. Self Defense should have been automatically enabled again.

We haven't been able to test this method on an actual expiring license but it works every time to reset 360 days left back to 365 days, it should give the same result however many days are remaining. You can also get the full year again even if only 6 or 9 months of the current license have been used, simply follow the same procedure.
If Kaspersky Antivirus has been uninstalled because the license already expired, run the batch file from step 4 and then follow the main guide to reinstall.