10 Free Ways to Access Pandora Radio Outside of USA
There are many ways to listen to music for free on the Internet and one such site is YouTube where you can find virtually any type of music. However, the quality may not be up to standard and you may sometimes find fake music that simply plays an advertisement or a spam message. Searching for and downloading an MP3 is another popular method but the user is required to have some knowledge on how to search for the MP3 and using the appropriate tools to download the file making sure not to get infected by unwanted or malicious software.
An appropriate and safer place to legally listen to music online is via Pandora Radio. They do not have the biggest user base even though their music catalog is over a million songs, competitors like Spotify have over 20 million songs. Unfortunately only users from the United States, New Zealand and Australia can access Pandora's website while other users are redirected to a restricted web page in order to comply with the requirements of DMCA.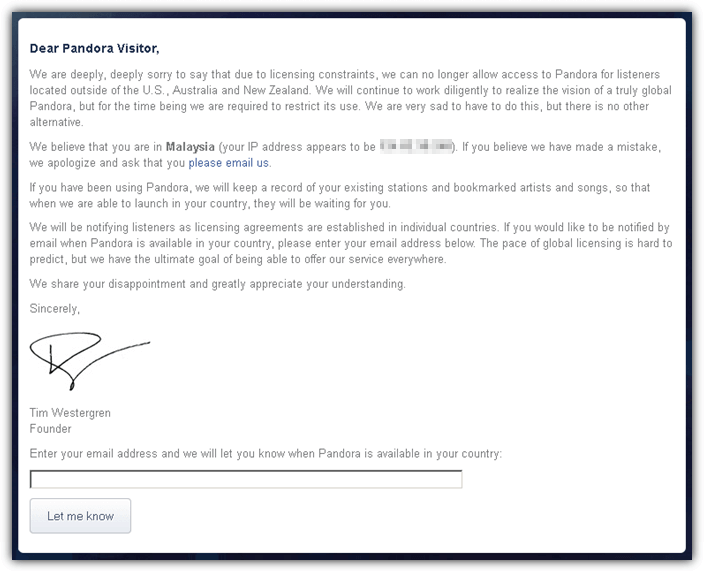 The music streamed by Pandora is using the standard HTTP port 80 which makes it very easy to bypass. All you need is an open web proxy that is located in the US, NZ, or AU but we do not recommend using this method because they are usually slow, unstable, and may log your usage.
Here we have 10 better ways to access the restricted Panda Radio.
Use Browser Based VPN to Access Pandora
Although there are many VPN companies that offers 1-2 weeks of free trial for their VPN services, we prefer the browser based VPN addon because they are easier to install without requiring any knowledge in the complicated configuration that involves PPTP, OpenVPN and etc.
1. ZenMate
ZenMate is a popular browser based VPN that acts as a proxy between you and the website so that the website recognizes your location based on the VPN server that you are connected to. The free version of ZenMate has 4 locations which are Romania, Germany, Hong Kong and the United States. From what we've tested, ZenMate connects us to their Romanian servers by default and you can easily change to the United States by clicking the ZenMate icon, go to Change location and click the "Change" button beside United States.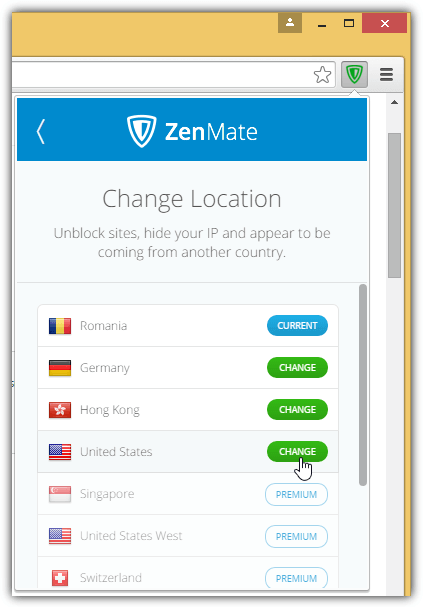 Do take note that you will be visiting other websites using ZenMate's IP address for the specific browser with ZenMate installed and enabled. This may trigger a warning for websites like online banking, Facebook, Google and etc as a security measure to protect your account from being illegally accessed by another user from another location.
The ZenMate extension is available on Firefox, Chrome, Opera and even for mobile devices that run on iOS or Android.
---
2. Browsec
Browsec is an alternative to ZenMate if for some reason you cannot get ZenMate to work. It comes with a free edition that allows unlimited data usage on their regular servers while paid users get to connect to turbo speed premium servers. Browsec has four locations which are Singapore, Netherlands, United Kingdom and United States. To access Pandora, simply change your Browsec location to United States by clicking on the Browsec icon.
Browsec can be installed in Firefox, Chrome and iOS. You can also find a portable version of Firefox bundled with the Browsec extension at their download page. This is very useful so that you can run a dedicated Firefox browser just for Pandora while using another instance with your original IP address.
---
3. Hola
Hola is a much smarter browser extension that only visits restricted website using their VPN servers. This does not cause any inconvenience that requires to verify your online account when you suddenly appear logged in from a different country. To access the restricted pandora.com using Hola, click on the Hola icon, move your mouse cursor over to the "Top popular sites" which will turn into an editable box, type pandora.com and press Enter key. Hola will intelligently browse Pandora from United States.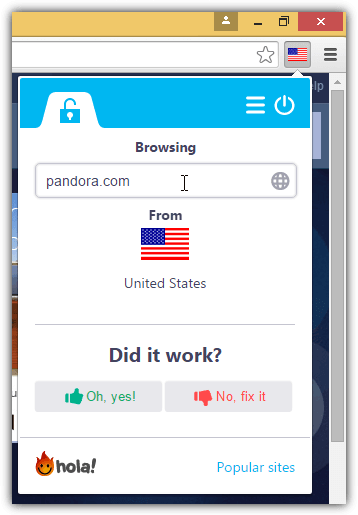 Our only gripe on Hola is the top popular sites that are displayed by default show a lot of pornographic websites. Hola is compatible with browsers such as Chrome, Firefox, Internet Explorer and also Android, iOS, Windows, and Mac OS X operating systems.
---
4. DotVPN
Not only does DotVPN have the ability to change your IP address, it also comes with a lot of features such as a bandwidth saver, adblock, tracking protection, block analytics and firewall. Before you can start using DotVPN after installation, you will need to create a free account from the extension and the best part is it immediately works without the need to validate your email address. There is also quite a huge list of servers that you can connect to which are Canada, Germany, France, Japan, Netherlands, Singapore, Spain, Sweden, Switzerland, Russia, United Kingdom and United States.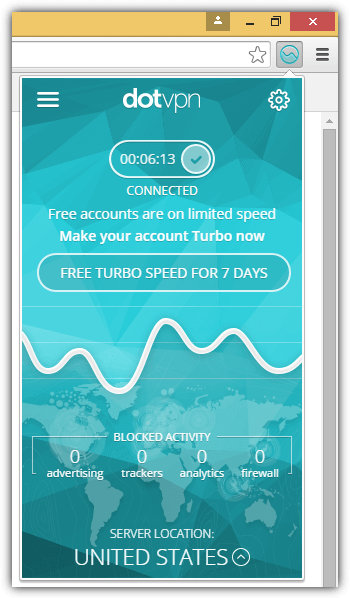 Do take note that DotVPN is only available for Chrome browsers.
---
5. Betternet
Betternet is the most simple extension if compared to the 4 above. It changes your IP to an American IP based in New York and there is nothing else to do after installing the Betternet extension apart from manually clicking a button to connect to Betternet's servers. You won't find an option to change the location of the proxy server nor filtering or whitelisting.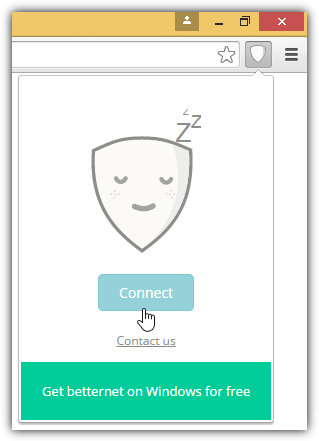 Betternet can be installed in Firefox and Chrome browsers, iOS, Android and Windows operating system.
---
6. friGate
friGate is an extension for Chrome, Firefox, and Opera that allows access to Pandora but it isn't the best in terms of reliability and performance. For example, we could only use UK or NL proxies in the Firefox version of friGate which cannot be used to access Pandora. Only the "Extension Proxy-Chrome" seems to work without Pandora restricting our access.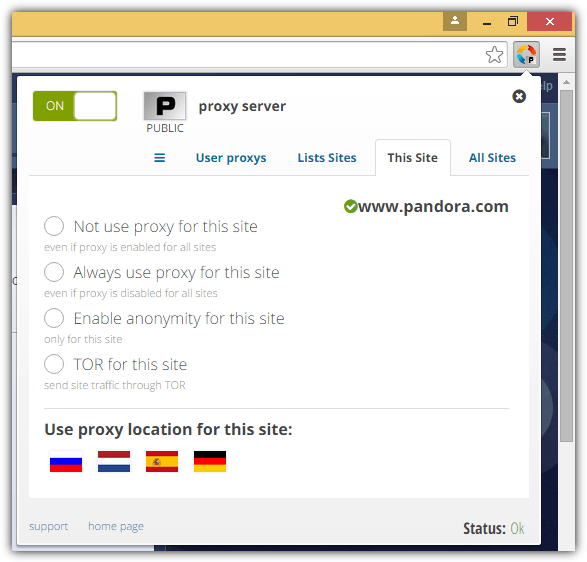 friGate "Extension Proxy-Chrome" works out of the box without any configuration. Although their proxy servers are in Russia, Netherlands, Spain and Germany and not in the United States, it does work on Pandora because their proxy is anonymous and the real location cannot be determined.
Use SmartDNS to Access Pandora
Smart DNS also works as a middleman in between Pandora and the visitor but instead of rerouting all traffic like a VPN does, Smart DNS intelligently reroutes only a very small required portion of traffic to the server. This will effectively maintain the user's Internet speed without causing additional delay. There are quite a few Smart DNS services that requires a paid subscription, but we found 2 that are free to use.
7. TVUnblock
TVUnblock is able to offer a Smart DNS service for free by showing limited advertising on their website and also accepting donations. It is quite surprising that a free Smart DNS service provider goes all the way in providing as many as 8 servers from different locations to offer better performance to users around the world. All you need to do is visit the TVUnblock website and it will automatically suggest the Smart DNS server closest to you.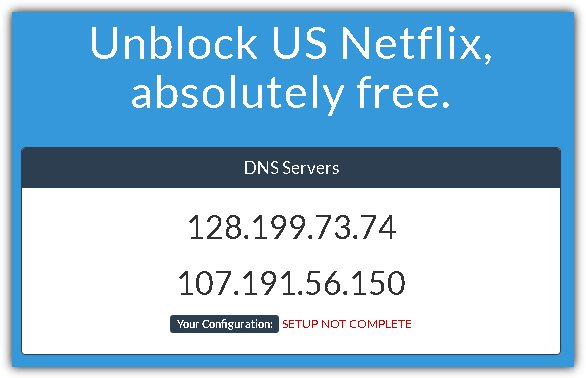 It is best to configure the DNS servers directly to your computer or device because it has a higher priority which will overwrite the DNS settings on the router. For example, if you've configured TVUnblock DNS settings on your router and your computer's DNS is set to other DNS such as Google Public DNS, or the ones assigned by your ISP, then it is the DNS setting on your computer will take effect rather than the one that is configured in your router.
---
8. ProxyDNS
ProxyDNS is a paid Smart DNS service that comes with 30 days money back guarantee which means you'll have to pay upfront. However, their website did mention that you can test their Smart DNS service for free without time limits on Pandora and Grooveshark. To access Pandora with ProxyDNS, all you need to do is visit the ProxyDNS setup guide web page and configure it to use their DNS servers without the need to create any accounts. The ProxyDNS servers are as follows:
Preferred DNS server: 74.207.242.213
Alternate DNS server: 50.116.28.138
After setting your preferred and alternate DNS server to ProxyDNS, you can jump straight to Pandora's website using any web browser without being restricted.
---
9. Tunlr
Tunlr was one of the first to offer a Smart DNS service and for free too! There was news of Tunlr closing down from some other websites but we were able to sign up for a free Beta account and used it to stream Pandora without problems. You will need to enter your email address, verify it, and you will be presented with 3 options on where you want to set up Tunlr. After you've finished configuring Tunlr as your DNS server, visit their Services page to verify if you've set it up correctly.

Although there are no official announcements from Tunlr on where their company is heading, there might be a chance that their service will be turned into a paid subscription in order to continue running their Smart DNS service. Do sign up for the free beta when you still have the chance.
---
10. Portaller
Portaller is another free Smart DNS service that allows you to access Pandora without being in the United States. All that is required to do is simply changing your DNS server setting to Portaller's IP address and it will work immediately. The following primary and secondary Portaller DNS server IP addresses are:
Preferred: 107.170.15.247
Alternate: 77.88.8.8
Not only is Portaller free, they've also released the whole website source code and hosted it on GitHub so anyone with a server in the US, Australia or New Zealand can create their own personal Smart DNS server.