Torrent Tracker Checker for Private Signups: 5 Best to Use
Most of you know, and many of you have used Bittorrent to download files from the internet. Whether it's for legal content or not, there's no doubt that even today, it's still a hugely popular way to get your movies, music or disc images. Although there are thousands of torrent sites around that you can freely browse and download the .torrent files from, some of the tracker sites that have the the best or most stable torrents are private sites that require registration or an invite for you to become a member.
Not only are private tracker sites very sought after, it can sometimes be incredibly hard to come by an opening where you can sign up, because most of the time they only allow a certain number of users and registrations to new users are closed. Keeping an eye on all of these sites will quickly consume a lot of your time trying to catch the right time when you can sign up.
Luckily there are a couple of way to do this, either by using a Windows tool to check from your desktop or through an online website database. Here we have a selection of 2 utilities and 3 websites for you to check for private tracker openings.
1. Tracker Checker
This tool will sit in your tray and automatically scans for private site openings periodically, by default every 60 seconds. When there's an opening, a popup will appear informing you that it should be possible for you to sign up.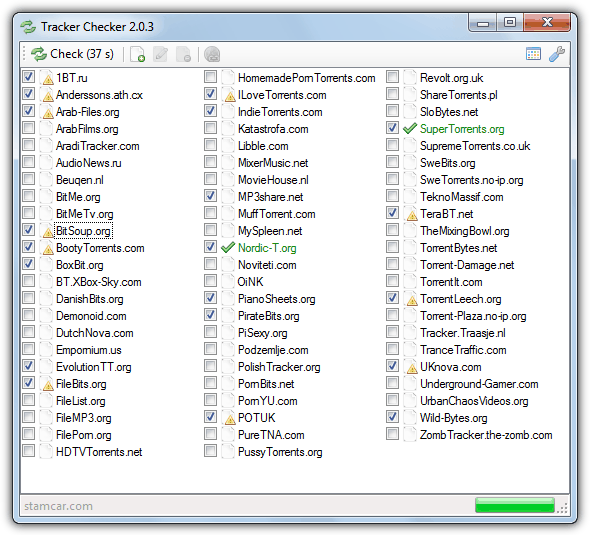 Unfortunately, the program is a bit old dating back to 2007 and as a consequence the list of trackers is a bit out of date with many long since closed down. There is however, a simple way around this which is the ability for you to add in your own sites to monitor or edit any of those in the current list. After installing the program, it will sit in your tray monitoring nothing until you double click on the icon to bring up the main window.
Tick the boxes next to the sites you want to monitor and then either press the Check button or wait for the next auto check shown on the button in brackets. This can be changed from the default by using the wrench icon to the right. Any sites that appear to have an opening for signing up will show in green with a tick, still closed ones will be a triangle, neither probably means there is a problem accessing the page or site.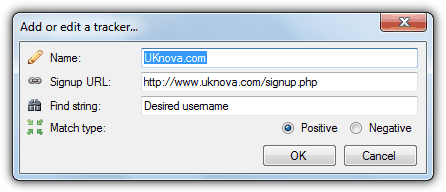 Sites can be added, removed or edited and the way in which the the tracker site is checked simply comes down to the text content on the signup webpage. For example, the site above "UKNova" usually has on its signup page "No room for new signups right now…" when signups are closed, but when open, will ask for a username and password etc. If Tracker Checker sees the string "desired username", it will assume you can create an account and give the site a green tick. Then you can click on the go to website button to have a look for yourself.
Although Tracker Checker comes as a setup installer, it can be used as a portable tool by extracting it with an archiver such as 7-Zip. Tested and works fine on Windows 7.
---
2. Torrents Open Registrations Checker
This tool requires the .NET Framework version 2 so XP users will need to have it installed. It works in a similar way to Tracker Checker and also suffers slightly with the outdated trackers problem being from 2009, although there is a sizable list of 182 entries available. Torrents Open Registrations Checker is a more advanced program all round though ranging from the auto check timer which can be in seconds, minutes or even hours, to the editing of the webpage text to search for with AND / OR conditional statements.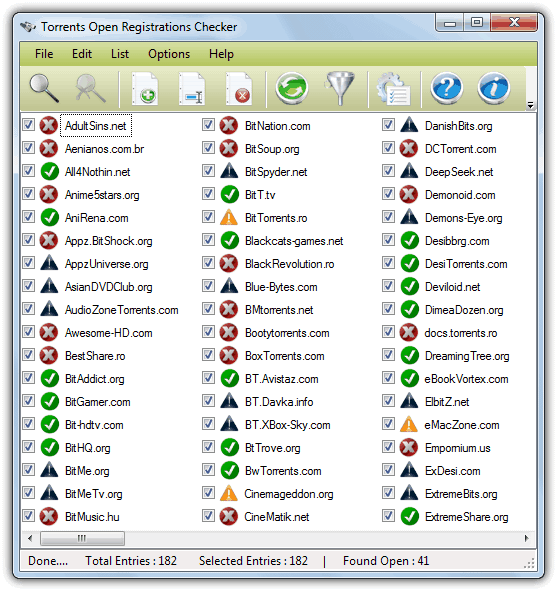 The main interface definitely makes it easier for you to work out what is happening with each tracker site thanks to the icons displayed; green is registration possibly open, blue triangle is closed, orange triangle is a timeout and red is a not found dead link. The good thing here is you can easily select just the ones you want or all trackers in the list by using the Edit menu -> Select All option to get a general look at what may be open to new users. A quick check at the time of writing shows a possible 78 from the whole 182 timed out or were probably dead.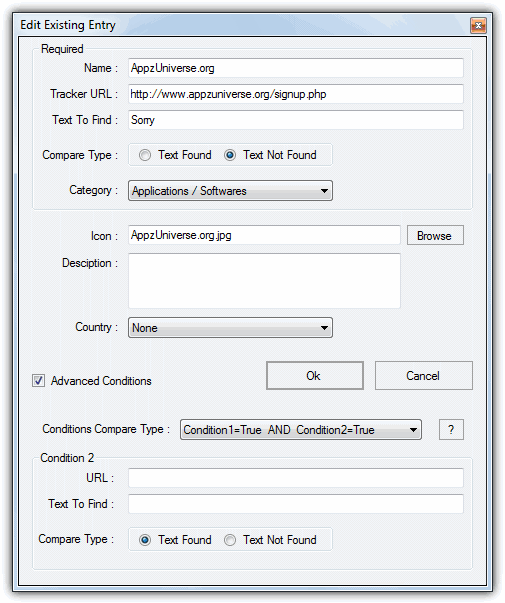 Open Registrations Checker has options to add, remove or edit the list, and for basic usage is easy to configure with the signup page URL and a string to match / not match against required. You can go further though and supply a category, icon and description as well as clicking the Advanced Conditions box to allow a conditional statement with a second URL and text string to compare against the first one. If you're lucky enough to find an updated list it can be imported, or you can export your own to friends via the File menu. Works on Windows XP and above.
Download Torrents Open Registrations Checker
---
3. Bittorrent TRackers Automatic Checking System
Also known as BTRACS, this is a website which periodically checks private torrent tracker sites for openings, allowing you to sign up during the small time window it may remain open. The website's page auto refreshes every 10 minutes to try and keep the list as updated as possible, and if a new signup has been found, a small green thumbs up icon will show beside the tracker site. If you want to be active and know of a private tracker site that's currently open, you can also submit it for validation.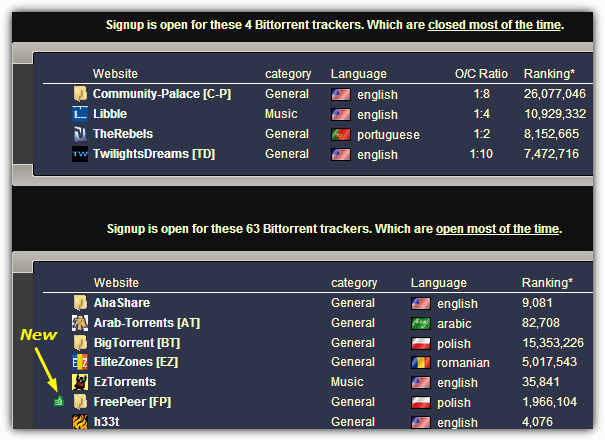 The main BTRACS window is split into 2 sections, 1 for tracker sites where registration is open most of the time, and another for those where it's usually difficult to get new registrations and they're closed most of the time. Currently, there are around 600 bittorrent trackers in the BTRACS database and obviously the numbers of open or closed tracker sites will vary day by day, today there are 4 hard to sign up for trackers open to new registrations.
---
4. OpenTrackers
OpenTrackers.net is another website that actively monitors several private tracker sites for openings, currently around 190 are in the database. Although OpenTrackers doesn't automatically refresh its page like BTRACS, you can click the Refresh link on any site you're interested in to get a live status update. Recent changes can also be viewed by looking at the News feed on the right of the window.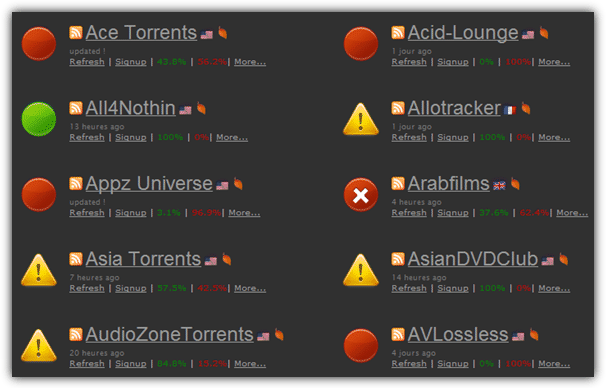 With OpenTrackers it's very easy to spot which trackers are open or not by the big icons next to each site, the green is open for registration, red is closed and the yellow exclamation or red cross means unable to access the site for information. Click on the small brown leaf icon to get a review of the tracker from OpenTrackers parent website torrent-invites.com, and the More… link will give statistics about how many times it's been checked and what the results were in terms of percentages.
---
5. Tscan
Tscan.mg is a slightly more generic tracker website which lists all different kinds of trackers in several different categories. It can be filtered though to show only private tracker sites so you can see who is accepting new registrations.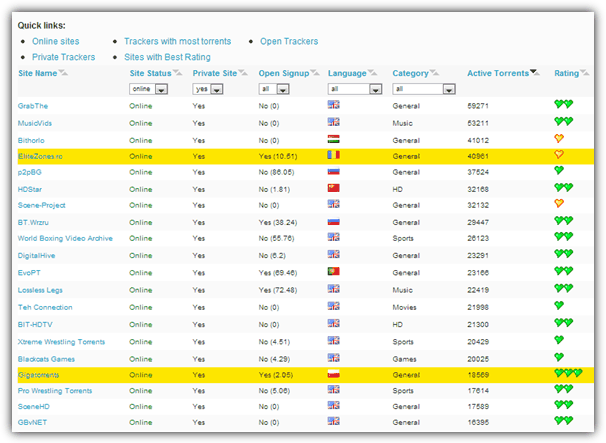 Simply set your filter criteria such as whether the tracker is online, whether it's private and if signups are open, and you should get a good idea about who is worth checking out further. Clicking on any tracker link will open a new page where you can get more information about the site, the link to any registration page and if anybody has left any comments or ratings.