Portable CD & DVD Burner Software: 10 Best We Tested
Over the years whenever someone wanted to write a CD or DVD disc the name Nero wasn't very far away. It used to and still does come with a reduced function express version in many hardware burner packages, but over the years it's grown in price and added functions that most people don't really want. The last 3 or 4 major releases have become quite bloated and so many things get installed in the background it becomes quite resource hungry to go with it, which isn't great if you just want to burn a few data or audio CD's.
You don't need several hundred Megabytes of program to enable you to perform any disc burning task which is why a lot of users are not overly fond of many of these all-in-one suites because they are completely unnecessary for the most part. One of the most resource friendly ways of burning a disc is to do it with a piece of portable burning software, they don't install hundreds of Megabytes of files, background monitors and a ton of registry entries, just a program that loads when you need it.
Here's a selection of 10 free and portable disc burning programs that can handle a large range of different tasks. This means they can all go onto a USB flash drive or be used as your main burning program if you don't like installing too much software. If you just want a portable program to burn disc images such as ISO's, we have a another article dedicated to that.
1.
PowerLaser Express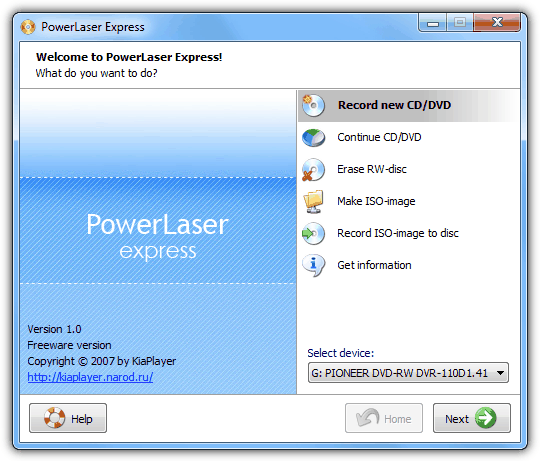 This program is a single executable and can create date CD's and DVD's, continue a multi session disc and also create and write ISO images. It's not loaded with features but has enough to do the basics, and is pretty easy to use with a wizard like series of steps to gather the data to be burned and then written out. There's also a simple tick box to load an IMG file and create a bootable data disc. You are not able to verify a recorded disc for a successful burn though.
The website is in Russian and there is no help file in the portable version but you really shouldn't need one as it's all laid out nicely and pretty self explanatory.
---
2. CDRTFE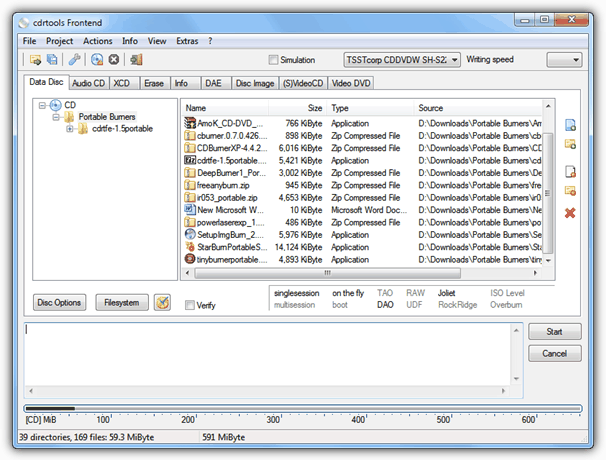 CDRTools Front End as the name might suggest, is a GUI for a number of well known command line tools such as mkisofs, cdda2wav and VCDImager. It can create and write out pretty much anything including BD discs, audio CD's, VCD and DVD video discs and also creating and burning of ISO images. Add to that a function to rip music to MP3 or FLAC and the ability to write disc images or audio discs to multiple writers at once, and it looks like CDRTFE could very well handle the majority of your recording needs. Although it isn't horribly difficult to use, CDRTFE is not the most novice friendly interface because of the extras and more advanced options available.
Works on Windows 9x and above.
---
3. Amok CD/DVD Burning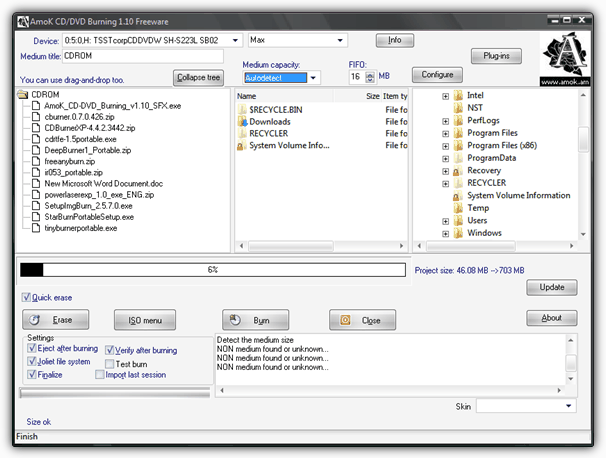 Amok is a plain and simple data CD and DVD creation and burning tool (not BD discs) by default although you can actually expand the functions available by the use of plugins. These include audio and video disc burning, create an ISO image from a DVD video folder and burning BIN/CUE and NRG image files. It's not the prettiest or most functional interface around but most of the options you need to create a data disc, erase a disc or quickly burn as ISO image can be found. There's a also an option to configure a virus scan after the burn is complete.
Amok CD/DVD Burning works on Windows 9x and above.
---
4. CDBurnerXP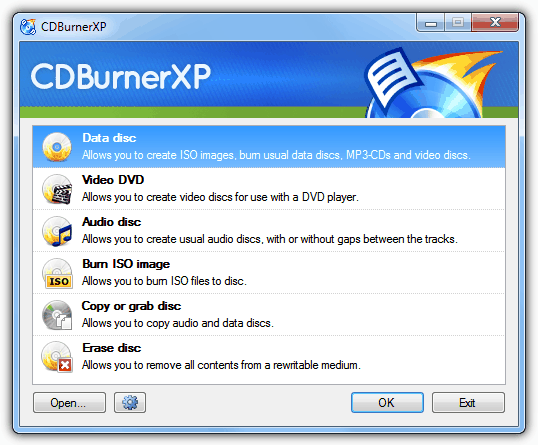 CDBurnerXP has been a very popular burning software over the years and is almost the complete portable burning package with just about everything you need included. Apart from the fact it has full support for data disc, audio CD and DVD video creation and burning, you can also perform disc to disc or disc to ISO copies, and there's a useful ISO image creator, converter and writer. Some extra features not found in other portable burning tools are data spanning across several discs and a cover printing tool with which also has Lightscribe support.
An added bonus of using the portable version is you're not offered the adware found in the installer version. Click on "More download options" on the webpage to access the portable version. Works on Windows 2000 and above.
---
5. DeepBurner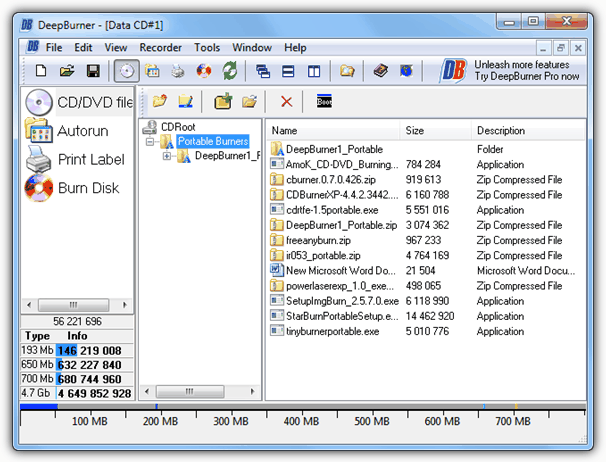 Although DeepBurner boasts some useful features such as a built in disc label and cover printer, audio CD writing and an autorun creator for your discs, it hasn't been updated since 2008 and some of the more recent functions such as recording Blu-ray or video discs are sadly missing from the free version. It does have enough burning functions for most user though, and making bootable media, support for multiple simultaneous recorders and the option to save or burn ISO images might be everything you need.
DeepBurner is compatible with Windows XP, Vista and 7.
---
6. Free AnyBurn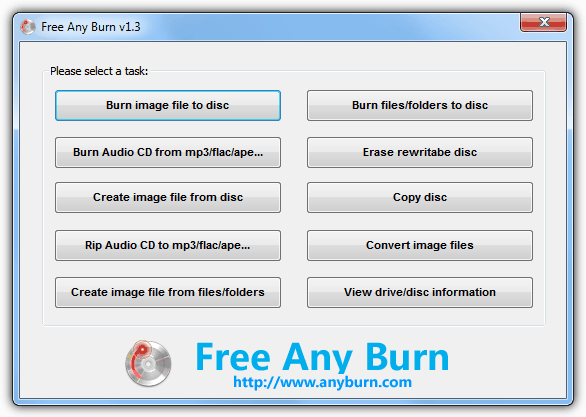 While Free AnyBurn isn't bulging with loads of great features like a disc label creator or DVD video burning, it's easy to use, is well laid out and does enough to meet all the basic needs for data and audio disc recording and disc to disc copying. Add in support for ripping audio CD's to MP3 or FLAC etc, creating, converting and burning of image files, and BDR writing, it makes for a useful program that covers the common areas when it comes to writing your media.
Free AnyBurn also has an adware free installer version and both that and the portable version work on Windows 98 and newer.
---
7. InfraRecorder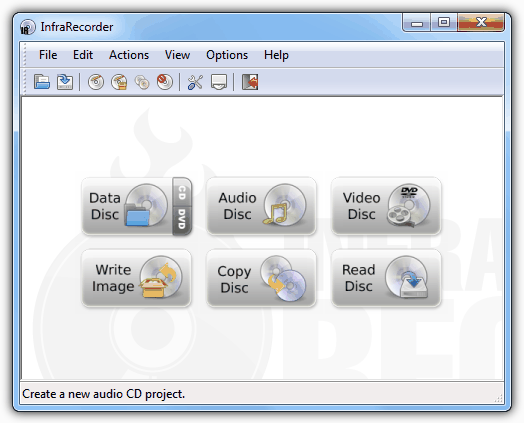 InfraRecorder is quite similar to Free AnyBurn in many ways because it doesn't try to do too much and concentrates on being simple to navigate around and easy to use. The functions you might expect to see are available including data disc, audio disc, DVD video disc, read an image or write one to CD, rip audio tracks to file and also a disc to disc copier. Writing to Blu-ray discs is not supported which is a shame.
InfraRecorder is open source software and works on Windows 2000 and above, there are separate 32-bit and 64-bit portable versions available.
---
8. StarBurn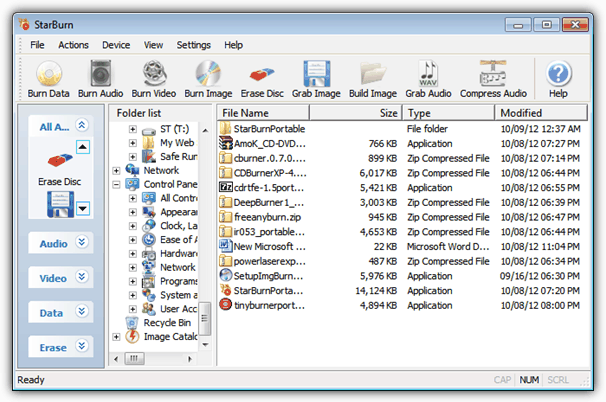 There's quite a lot of burning functions available in StarBurn, probably enough for most people including ripping and burning audio including a basic audio format converter, VCD, SVCD and DVD video burning, write data discs and ISO images to most media including HD-DVD and BDR, There is an added advantage to installing the setup version of StarBurn though which is it includes a virtual CD/DVD emulator so you can mount and use your ISO images. StarBurn also has a paid version but only is really useful if you want burning over a network or product support.
Compatible with Windows XP sP2 and above.
---
9. Tiny Burner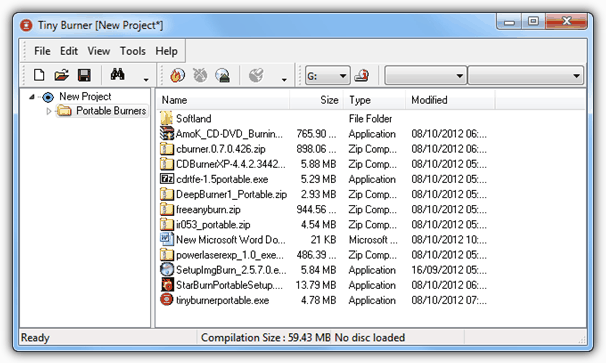 Unfortunately this software starts off at a disadvantage because when you try to run the executable it will only let you extract the files to a USB hard drive or pen stick, although you can bypass this by extracting it with an archiver like 7-zip. Once this is done you can put the files where you like. It's almost exclusively a data disc writing software and doesn't handle the burning of audio or video media, but you can create and write an ISO image file. A handy little feature is a drop target which stays on top and you can drop file onto it for them to be added to the project.
Tiny Burner works on Windows 2000 and above.
---
10. ImgBurn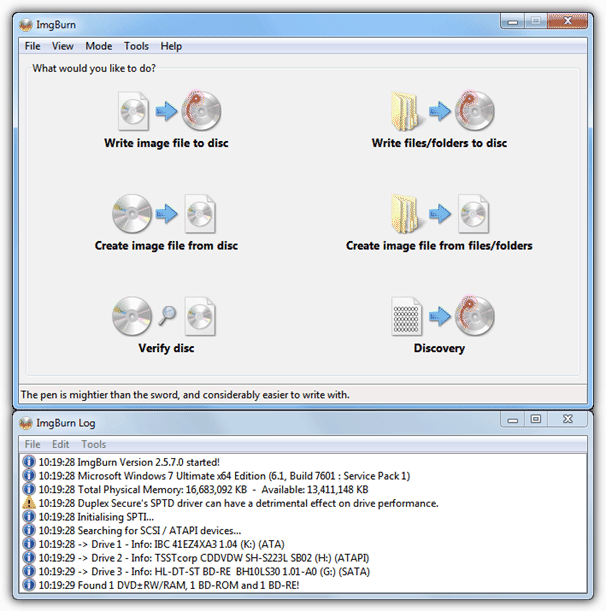 Probably the most complete image burning tool around, but ImgBurn can also handle the writing of many other disc formats such recording several audio formats to make a music CD, support for creating DVD and Blu-ray video discs, and of course just about any type of data disc you can think of. While the amount of control and options you have for the burning of your discs is massive, that does also mean the novice or casual user might want to use something more basic first and look at ImgBurn down the line.
ImgBurn doesn't have a portable version by default but can easily be made into one. Download the setup file and then extract the the exe with 7-zip or similar. Then download this ini file which tells ImgBurn to store all associated files in the local folder. After that simply launch the executable. The program works on Windows 95 and above.
CBurner was tested and is currently still in alpha stage and sadly it shows. It refused to write an audio CD which crashed the program, and the data disc creation also appeared very buggy crashing a few times as well. If you still want to have a look at it anyway, you can visit the CBurner website.
If you're not worried about the fact it doesn't include DVD video burning, we think Free AnyBurn is a great little tool for the average user, being easy to operate while having enough features for the majority of us. For extra functions like DVD video recording and something that's possibly unique to portable free burning software, a cover printer with Lightscribe support, CDBurnerXP has pretty much everything covered. Though for the power user and someone who likes a great deal of control over their burning projects, ImgBurn is very hard to beat.