10 Free Stream Torrent Online Players [Best for 2023]
BitTorrent has been around for so many years and it's still widely being used today. You can find a lot of things including the latest movies and TV series to download on a popular Torrent tracker websites like "The Pirate Bay" which the authorities can't seem to permanently shut down. Downloading files using BitTorrent is usually done with client software such as uTorrent, Vuze, qBitTorrent or Tixati.
While cloud torrent services are used to store large files, every torrent client has its own distinct advantages and one very useful feature that is not commonly found is the ability to "stream" which is to start the playback without waiting for the whole file to complete downloading. Just like viewing online videos on YouTube, you get to start watching right away and that saves you a lot of time.
If you'd like to stream a video or movie file from a torrent without waiting for it to download first, here we have best torrent online players that allow you to do that for free.


1. WebTorrent Desktop
WebTorrent has fast become one of the best ways to stream torrents and especially videos online. Because it uses WebRTC to exchange data, you will connect with other WebTorrent enabled torrent services or clients and not standard Bittorrent. WebTorrent should still provide good video streaming.
WebTorrent Desktop is an open source torrent client and is dedicated to streaming video and audio. A big advantage of this program is it accepts connections from both WebTorrent and BitTorrent which means you should be able to stream at the best possible speeds. WebTorrent Desktop is available for Windows, Mac and Linux.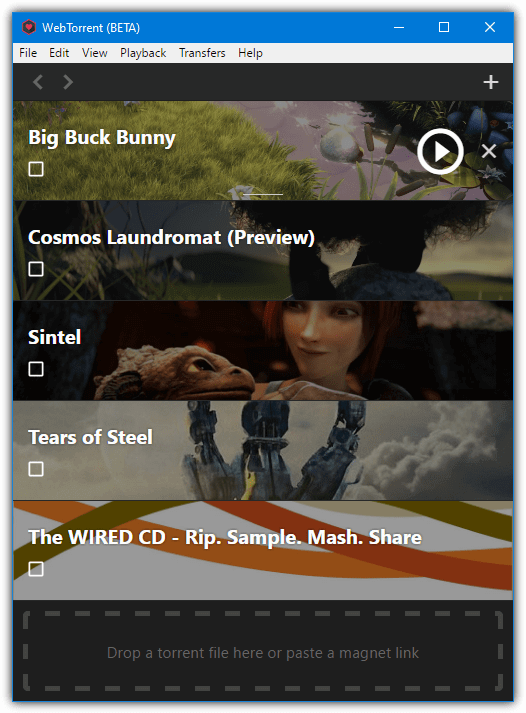 After launching WebTorrent Desktop all you have to do is drop a torrent file onto the window, press Ctrl+V or go to Edit > "Paste Torrent Address" to add a magnet link. Some free videos are already in the main window for you to test. Press the Play button to open the video window and wait for the video to start. A red bar at the bottom will show the buffer status. If the torrent has multiple video files you can click on it and select to play a specific video.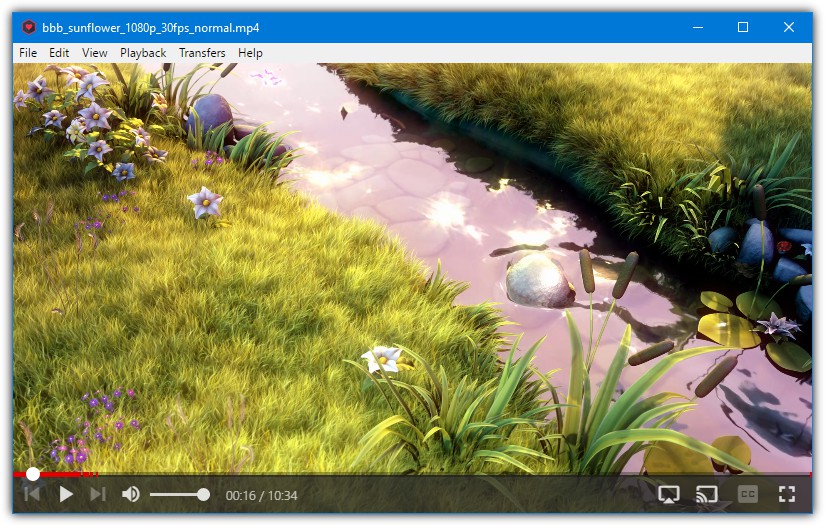 WebTorrent Desktop won't directly play all content (such as H265) and if it tries to stream an unsupported video you will be given the option to use an external player. VLC is the default option but something else can be chosen in preferences. Popular players like MPC-HC/BE and Daum PotPlayer will also work. Streaming to AirPlay, Chromecast and DLNA is also supported.
Download WebTorrent Desktop | WebTorrent Desktop Portable
---
2. Soda Player
Soda Player is a torrent video streaming player that claims to be able to handle all video formats, including the likes of H265 and DTS. Theoretically, you shouldn't find a video it can't play. It also has a built in proxy to help with privacy and ISP torrent throttling. This feature is free at the time of writing but is planned to be a paid option going forward.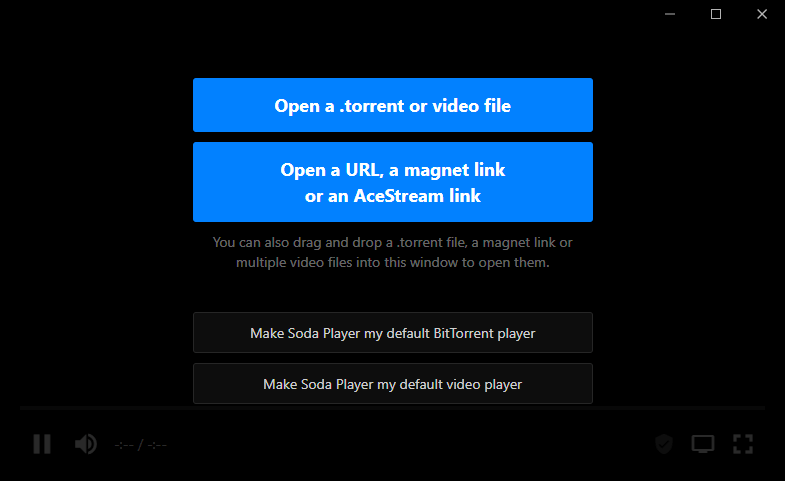 On launch, Soda Player will accept dropping a torrent file or magnet link onto the window, browsing for a torrent file manually or pasting in a magnet/torrent URL. If there's a link in the clipboard it will be automatically added. The video will start once enough of it has been downloaded, a marker on the play progress line will show how much has been buffered.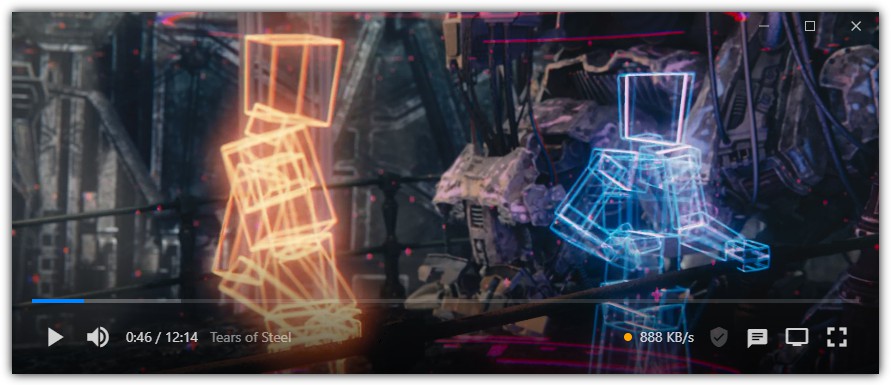 In addition to playing subtitles that are already included with the torrent or video file, Soda Player can automatically download extra subtitles from Opensubtitles.org. There's support for multiple audio streams as well as the ability to cast the video to Chromecast or Apple TV.
An alternative player we tried was Powder Player. It works and looks good but it did seem to stop and buffer the same torrents far more than Soda Player did. There are settings to control things like buffer length but it didn't help. It may work better for you and is worth keeping in mind as a streaming player.
---
3. Instant.io / Magnet Player
These two websites are grouped together because they both stream video online from a webpage using WebTorrent instead of BitTorrent. They are very easy to use and require no external tools, however, there are a few drawbacks as opposed to using the WebTorrent Desktop client.
The online services that use WebTorrent do not have the ability to accept both WebTorrent and BitTorrent connections like the desktop client, which potentially means fewer available peers. All you have to do is paste a magnet link/info hash into the box or add a .torrent file, a video window will open on the page and begin playing once enough data has been buffered.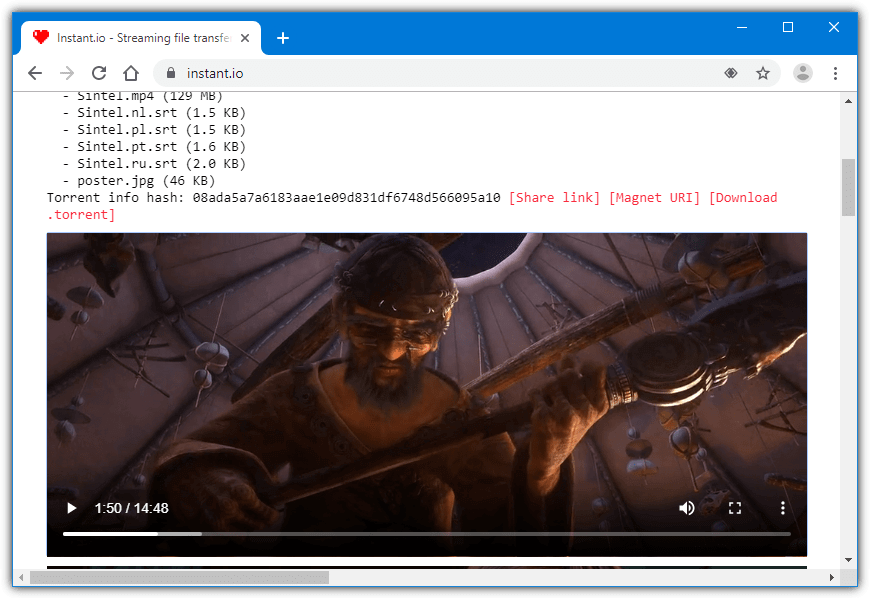 Instant.io and Magnet Player cannot play formats like MKV, AVI or H265 and if you try to play a video with an unsupported format, nothing will happen. They're fine with H264, AAC and MP4 though so something like YIFY (YTS.am) releases should play quite well.
Visit Instant.io | Magnet Player
---
4. Webtor
Webtor is different from the online WebTorrent services above because it uses standard BitTorrent. It also has an advantage in what can be played and what can't. In addition to H264 and MP4, major formats like MKV and AVI are supported along with the increasingly popular H265. If the video format in the torrent is not natively supported by your browser it will be automatically transcoded for playback.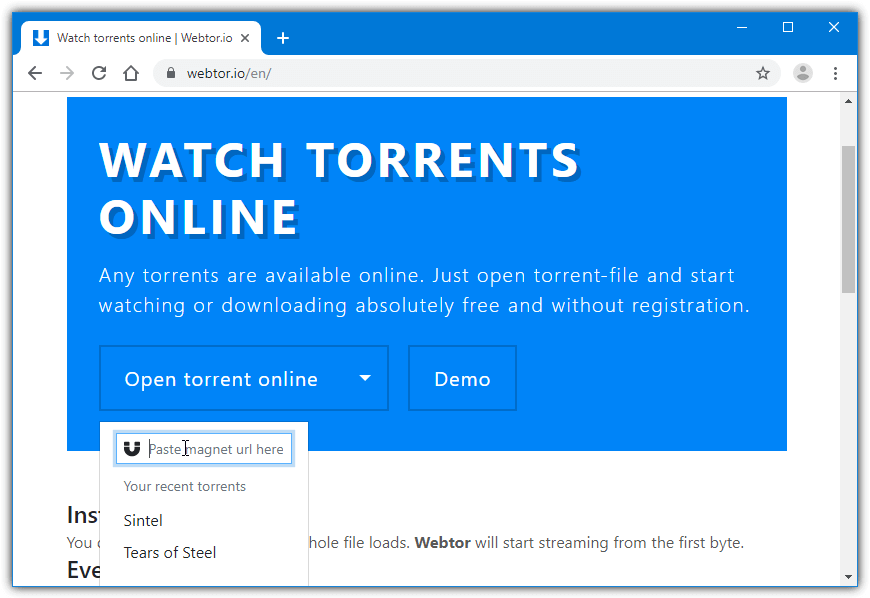 All you have to do is click "Open torrent online" to browse for a torrent file or click the arrow and paste a magnet link into the box. Once the torrent has been parsed, hover over the video file and press the play button. Pressing the download button instead will start the file downloading in your browser like a normal file. After a short wait, it will begin playing.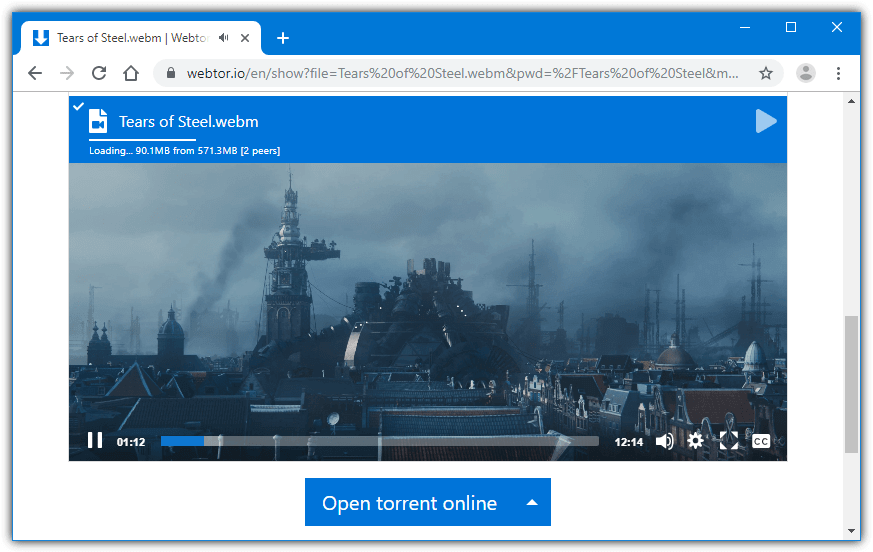 There are some very useful features available in the web player options menu (cog wheel) such as allowing you to select audio and subtitle streams, although we couldn't get that to work. The copy stream URL button can be used to copy and then paste the link into video playing software like MPC-HC, PotPlayer or VLC. There's also a Cast button to send the stream to a Chromecast device.
A Webtor Chrome extension is available that will open a clicked torrent/magnet link directly in Webtor.
---
5. qBitTorrent
Some standard torrent clients have the ability to download torrent videos in such a way that they can be played while being downloaded. The required feature is being able to download torrent data in sequential order. Some clients can do this like Tixati and uTorrent, but the tool we will look at here is qBitTorrent.
Apart from the sequential download option, qBitTorrent has an option to download the start and end pieces of the file first (to help with compatibility) and also to launch the video in an external player from its UI. All you have to do is add a torrent to qBitTorrent in the normal way and check the "Download in sequential order" and "Download first and last pieces first" boxes before starting the torrent.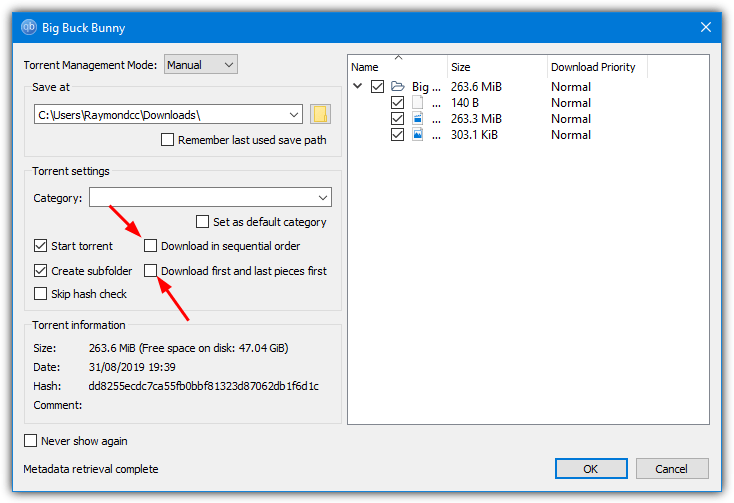 You can also select those options later by right clicking on the torrent in the list. Watch the progress bar of the torrent and when a sizeable continuous chunk of the start has been downloaded (10%+), right click and select Preview File. This will launch the video in the system default video player. Make sure there are no gaps in the first block of the video in the progress bar or it won't play properly because there's missing data.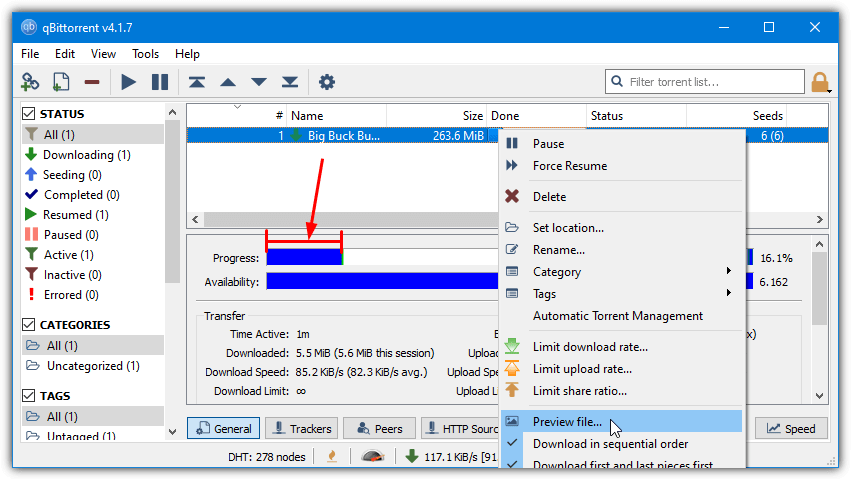 Another way of launching the video which will work on qBitTorrent, uTorrent, Tixati and other compatible torrent clients is to simply open the downloading video file in your favorite video player.