10 Free ISO Software to Mount Virtual Drives [2023 List]
Storing an ISO file on your hard drive or USB flash drive means you can access all your backups in one location. Even Microsoft utilizes ISO image files on their Windows installation devices.
You can create an ISO image file using a DVD ripper; you only need a ROM drive and an optical disc. Once you have the file, burn it to a CD or DVD to create a copy of the original disc.
You can write the file to a USB flash drive to install Windows or Linux faster. Alternatively, use a program to make the ISO image behave like a real disc, then install, read, or play the disc contents like it was physically inserted into your computer.
Windows 10 has a built-in ISO mounting tool, but you may need comprehensive tools for more performance. Here's a list of top virtual drive emulators to mount ISO images.
Best Free Software to Mount Virtual Drives
1. Daemon Tools Lite – Best free software to mount virtual drives overall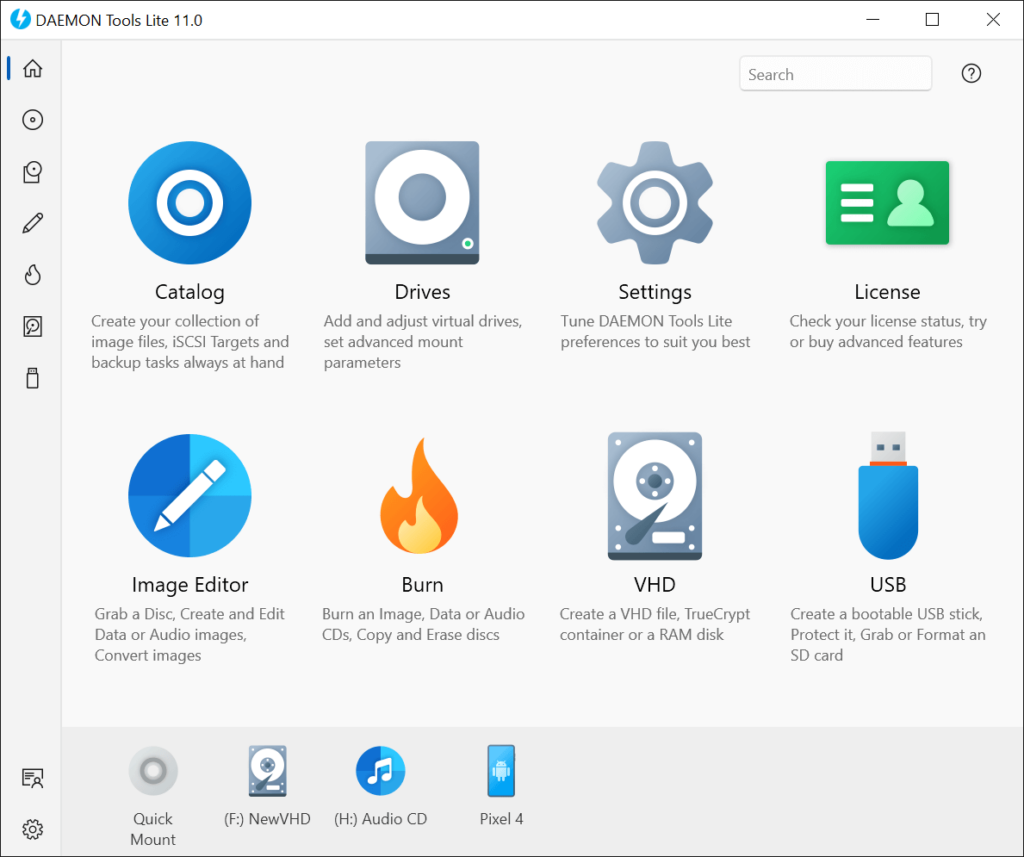 Operating System: Windows, Android, iOS
Pricing: Freemium
Developer: Disc Soft FZE LLC
Daemon Tools Lite is a renowned app for mounting and creating disc images. It includes most must-have disc imaging tools for emulating discs, 4 DT, SCSI, and HDD drives.
Long-time PC users might remember Daemon Tools used to be the go-to software for mounting protected disc images. It's still a great alternative for creating and mounting disc images for free.
We're unsure if the Mountspace statistics function is still used, but it's worth disabling usage statistics during installation. Select "Free License" during installation, or you'll get a trial of the paid version.
Daemon Tools is still a capable virtual disc program. The number of supported image formats to mount ISOs is around 20, and you can also create an image from a physical CD, DVD, or Blu-Ray disc.
Click on the virtual drive disc tray icon to add a virtual drive. Choose the type of virtual drive and DVD region, then press Add Drive on the bottom right.
Pros
Daemon Tools Lite is lightweight and easy to use
Features ISO burning, disc mounting, and creating bootable USB drives
You can customize burning configurations and mounting discs
Install and update the software without running Ads
Cons
The software has a steeper learning curve
2. Virtual CloneDrive – Best for managing virtual drives from the context menu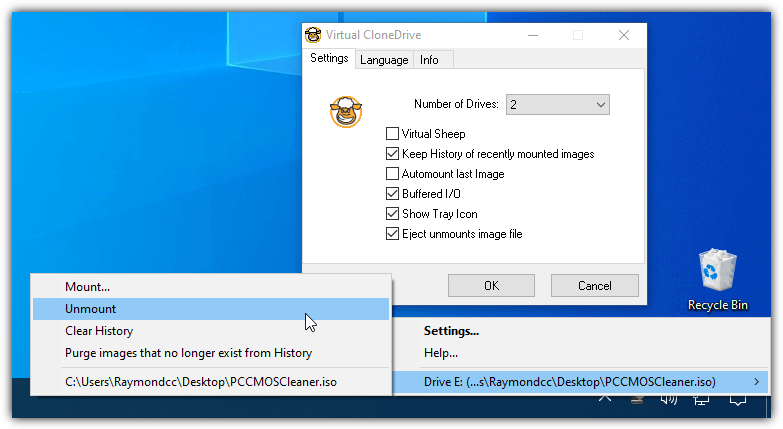 Operating System: Windows
Pricing: Freemium
Developer: Elaborate Bytes AG
Virtual CloneDrive has been around since 2005, and the company behind it, Elaborate Bytes, are the same people behind the famous CloneDVD and CloneBD ripping software.
Virtual CloneDrive is still fully compatible with Windows 10, with its last update in 2020. It behaves like a normal drive and fully integrates into the Windows Explorer context menu.
Several image file formats to mount a virtual disc are supported, and up to 15 virtual drives are allowed simultaneously. An image file can be mounted by double-clicking or right-clicking on the tray icon and selecting Mount.
The tray icon menu has the option to unmount each active drive and a recent history list of files that can be mounted at the click of a button.
Pros
Supports most common image formats, including ISO, BIN, IMG, UDF, DVD, and CCD
It can run 15 virtual drives simultaneously
The software shows a history of recently mounted devices
The context menu integrates seamlessly with the Windows Explorer context menu
Cons
Some users expressed dissatisfaction with the application's functionality
3. Alcohol Portable – Best for mounting virtual drives automatically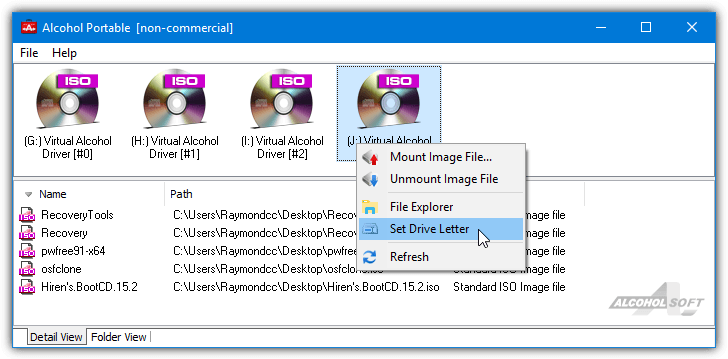 Operating System: Windows
Pricing: Freemium
Developer: Alcohol Soft
Alcohol Soft released a free-for-personal use version of their software in 2015 called Alcohol Portable. Apart from installing a system service and driver while running, Alcohol Portable is a standalone executable that can be launched from anywhere.
The maximum number of mounted virtual drives is four, and it accepts around a dozen different disc image formats. Drop an ISO onto the upper part of the window, and it will mount automatically.
Right-click on a virtual drive to unmount, mount another ISO or change the drive letter. A list of image files can be added in the lower half of the window for quick access. If you have finished with Alcohol Portable, click File > "Exit + Remove Device Driver and Service" to remove it from the system.
While the free version of Alcohol 52% is still available to install, we'd recommend against using it. Crapware called Smart File Advisor gets installed alongside Alcohol; you cannot deselect it during installation, and it cannot be uninstalled without removing Alcohol.
Pros
It doesn't require any installation on your system
The software leaves no footprint and can be installed on a USB drive
It supports 31 virtual drives where you can run your discs
Alcohol Soft supports many file types, including MDS, ISO, BWT, B6T, CCD, PDI, and NRG
Cons
It's only useful for copying CDs, creating virtual drives, and burning images
4. DVDFab Virtual Drive – Best for mounting, ripping, and converting media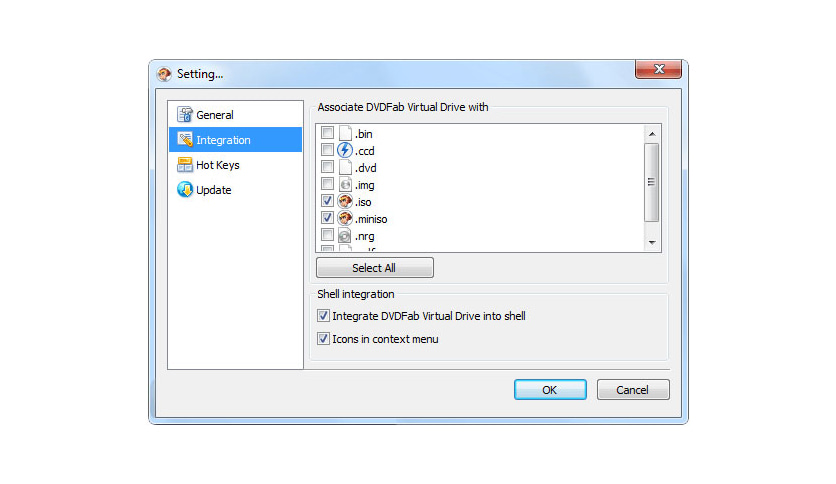 Operating System: Windows
Pricing: Free
Developer: DVDFab.cn
The DVDFab Virtual Drive is one of the most popular mount software on the market. Many users rely on it to rip and convert a lot of media. One great feature of this free application is that it supports up to 18 virtual drivers at once from 8 different types of disc images.
For example, with the Miniso DVD/Blu-Ray format feature, you can mount a DVD or Blu-ray ISO image/folder and play it in a media player like PowerDVD. You can also use the application to create a bootable USB drive when necessary.
To access other functions, click the tray icon menu. Additionally, if you want to perform tasks like changing the drive icons, Windows integration, and hotkeys, you can access these options via the Settings window.
Pros
The software can emulate up to 18 drives
It has a lower learning curve compared to other tools
It features a forum section to ask questions
You can request automatic updates to experience new features faster
Cons
Some users have complained about frequent hanging
5. WinCDEmu – Open-source tool for mounting optical discs on Windows Explorer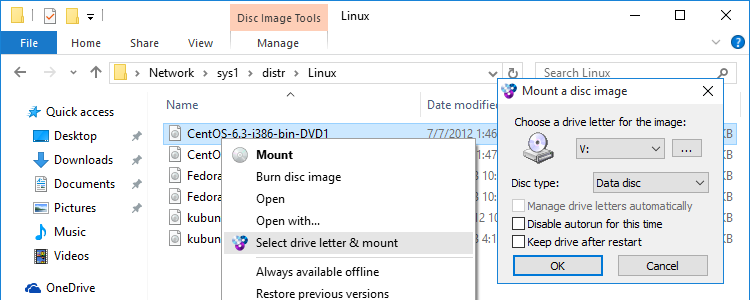 Operating System: Windows
Pricing: Free
Developer: Sysprogs OÜ
WinCDEmu is an open-source tool that's been around for decades. Sadly, it doesn't seem to be actively developed anymore, but all recent operating systems are fully compatible.
A portable WinCDEmu is also available, but it's still on version 4.0, whereas the installer version is 4.1. After installation, you only need to double-click on an ISO file to mount it to a drive letter automatically.
To not be asked which drive letter to use, check the "Manage drive letters automatically" box. If you want to unmount, right-click on the drive in Explorer and select Eject.
WinCDEmu has a simple option to create an ISO from a CD/DVD or Blu-Ray disc; right-click on the drive in Explorer and select "Create an ISO Image." A useful option for administrators is the requirement of admin rights to mount an ISO image.
Pros
WinCDEmu features a portable version you can use on any device
It's simple to use, with a modern user interface, considering it's free
The software supports common files like ISO, CUE, NRG, MDS/MDF, CCD, and IMG images
You can run the software easily from the Windows Explorer context menu
Cons
You need a Windows driver to run the portable version
6. gBurner Virtual Drive – Free utility for managing and creating virtual drives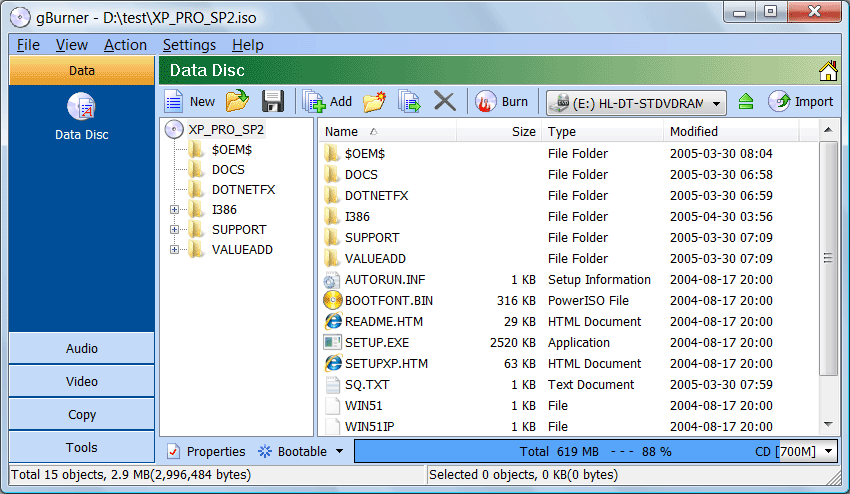 Operating System: Windows
Pricing: Freemium
Developer: Power Software Ltd
gBurner Virtual Drive is a free utility for creating and managing virtual drives. It allows you to use most CD/DVD images to burn a virtual disc to play games, listen to music, and install software tools.
The platform can create up to 16 virtual drives with unlimited storage. It supports all popular CD/DVD image file formats, including ISO, GBI/GBP, DAA, NRG, UIF, IMG, FCD, LCD, and VCD.
To mount your disc, you only need to right-click on the virtual drive tray icon; in the pop-up menu, choose Mount Image File to Drive, then browse and select the CD/DVD image you'd like to mount.
Pros
You can burn different file types, including ISO, NRG, DMG, and BIN
Create bootable USB drives to boot your Windows
Mount image files to a virtual drive and convert disc images to files
It can create up to 16 virtual drives to use simultaneously
Cons
Requires a paid subscription to access all features
Download gBurner Virtual Drive free
7. ToastMount –  Great tool for creating CD images on your computer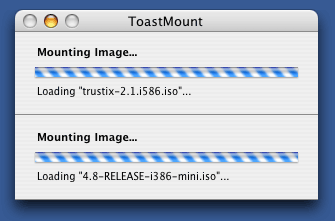 Operating System: MacOS
Pricing: Free
Developer: sourceforge.net
ToastMount is a tool for MacOS for loading CD images as virtual drives on your computer. It utilizes Roxio Toast 5 or 6 image mounting extensions to provide OS X users a swift tool for running ISO files on their drives.
The free software uses part of Toast to run functions using a simple drag-and-drop, or double-click, feature. Alternatively, click Menu and choose the drive you want to mount.
The new version works well without an internet connection, supports hybrid images, and detects image block size. It's a lightweight program requiring minimal storage space.
Pros
Uses Toast 6 to enhance drag-and-drop functionality
View recent drives on your app to restart them again
You don't need to startup Toast to use the application
It's completely free and open-source
Cons
It only supports ISO files
8. PowerISO – Excellent tool for creating bootable discs and virtual drives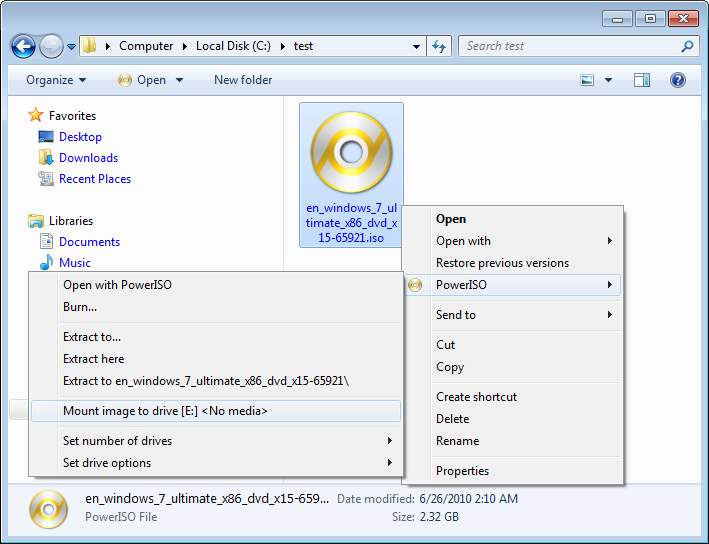 Operating System: Windows
Pricing: Freemium
Developer: Power Software Ltd
PowerISO is a powerful CD/DVD/BD image processing tool that can burn, mount, process, edit, compress, and encrypt image files. It can split, convert, create, open, and extract image files.
You can mount ISO and BIN files on internal hard drives. The software supports up to 23 virtual drives and will create one after installation by default.
To mount a virtual disk, navigate to the folder containing the ISO or BIN image, right-click on the file, and choose Mount Image to Drive under the PowerISO context menu.
Pros
Supports most CD/DVD image formats
Open and extract ISO files with a single click
Burn and rip a CD from MP3, FLAC, APE, WMA, or BIN files
Create a bootable USB drive
Cons
The free version is very limited
9. UltraISO – Good app for creating, managing, and converting ISO files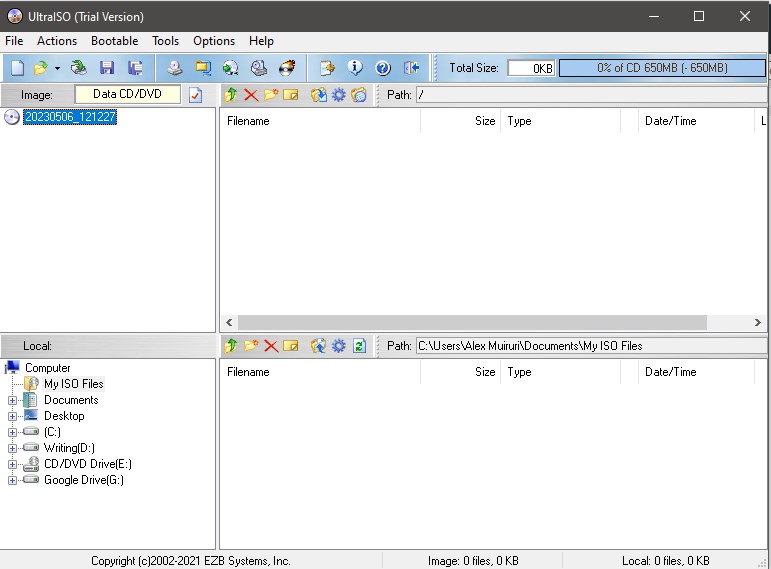 Operating System: Windows
Pricing: Freemium
Developer: EZB Systems, Inc
UltraISO is a powerful crippleware application for Windows for creating, managing, and converting ISO files. It's commonly used for making bootable CDs/DVDs and converting image files on a computer.
The software can create a virtual CD-ROM on your computer, allowing you to mount CD images instead of inserting a disc. You can also back up your discs on your PC, extract files from ISO images, and convert different disc formats.
To emulate ISO images as virtual CD/DVD drives, open Tools and navigate to Mount to Virtual Drive, then set the number of devices you'd like to emulate.
Pros
You can use it to create, organize, and convert your ISO files
Write bootable UEFI USB disk from Windows, CentOS, and Linux ISO files
Open, extract, and burn ISO images on a disc
Prompt notifications with actionable advice on how to fix errors
Cons
It has limited features compared to other tools
10. WinX DVD Copy Pro – Lightweight app for copying DVDs on Windows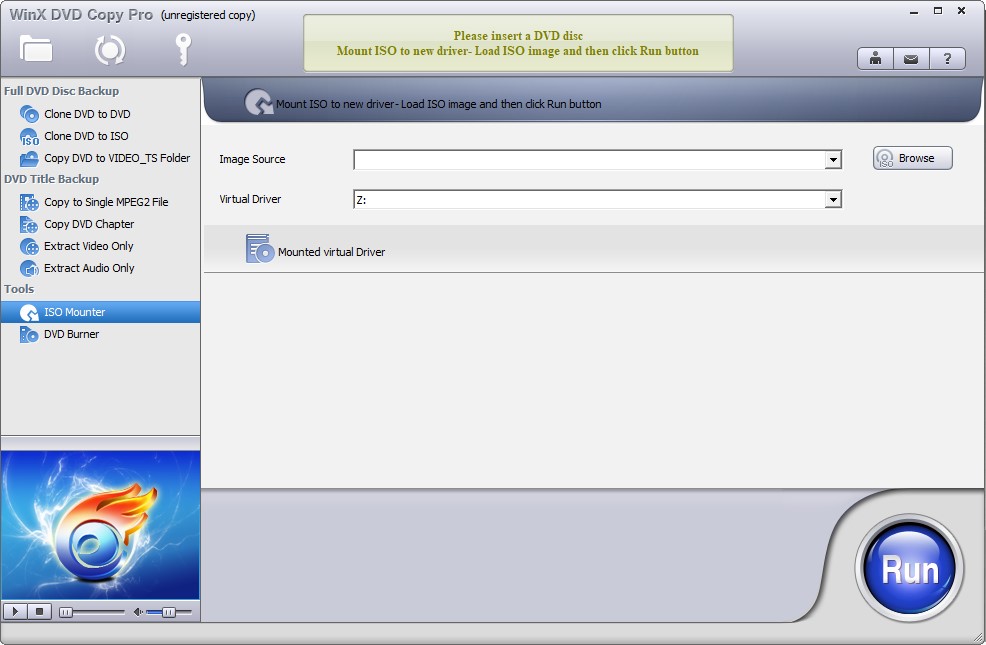 Operating System: Windows
Pricing: Freemium
Developer: Digiarty Software, Inc
WinX DVD Copy Pro is a lightweight and fast DVD copier for Windows. It allows users to copy DVD files to another DVD, clone DVDs to ISO, copy a DVD chapter, fix broken disks, and mount or burn DVDs.
You can convert a DVD to ISO and emulate the original DVD structure. The software has a built-in ISO mounter to create a virtual drive, allowing you to continue using your disc even when it's ejected.
After mounting your image, you can burn, play, or rip it directly. There are four steps to mounting a virtual drive: Click on ISO Mounter on your application, click Browse to upload the ISO image, and then on Run to mount the ISO file to available drives.
The application may prompt you to buy a premium version for full access, but by clicking on the >> button, you can mount your disc image for free with the free trial.
Pros
Supports most CD/DVD image files
Create DVD copies, backups, and bootable media
It's easy to set up your disk image
The software comes with many features compared to alternatives
Cons
You may get Ads to buy the premium version
| | | | |
| --- | --- | --- | --- |
| | | No. of Virtual Drives | Supported Files |
| 1. | Daemon Tools Lite | 4 | ISO, FLAC, CUE, APE, CDI, CCD, BWT, and B5T |
| 2. | Virtual CloneDrive | 15 | ISO, DVD, IMG, and BIN |
| 3. | Alcohol Portable | 31 | ISO, MDF, CUE, NRG, ISZ, and CCD |
| 4. | DVDFab Virtual Drive | 18 | DVD, CCD, UDF, NRG, BIN, IMG, and ISO |
| 5. | WinCDEmu | 8 | ISO, CUE, BIN, IMG, NRG, and MDF |
| 6. | gBurner Virtual Drive | 16 | ISO, BIN, CUE, MDF, MDS, IMG, GBI, DAA, UIF, CIF, NRG, GI, DMG |
| 7. | ToastMount | 10 | ISO |
| 8. | PowerISO | 23 | BIN / CUE, DAA, UIF, DMG, LCD, IMG, CDI, CIF, P01, PDI, NRG, NCD, PXI, GI, FCD, VCD, C2D, BIF, and more |
| 9. | UltraISO | N/A | BIN, NRG, IMG, CCD, CIF, MDS, DMG, BWI, ISZ, UIF, HFS, and DAA |
| 10. | WinX DVD Copy Pro | N/A | ISO, BIN |
Conclusion
Many advanced applications demand a real disc in your CD/DVD-ROM to run properly. However, most modern laptops lack CD/DVD readers, and getting one for a single user might be costly.
The best way to run games and software that require an installation disc is to emulate one on your hard drive. That's where the best ISO software to mount virtual drives can help.
Try the above shortlist and tell us which one you liked the most. If you find the article useful, don't forget to share and leave a comment below for others to view.