Fastest Ad Blocker: 13 Best We Tested for Performance in 2023
Overall Results and Summary
It's time to look at all the scores from the test websites as a combined total to see what the ad blockers have done overall.
Combined Chrome Results
Here are the combined average scores for all 10 websites in Chrome.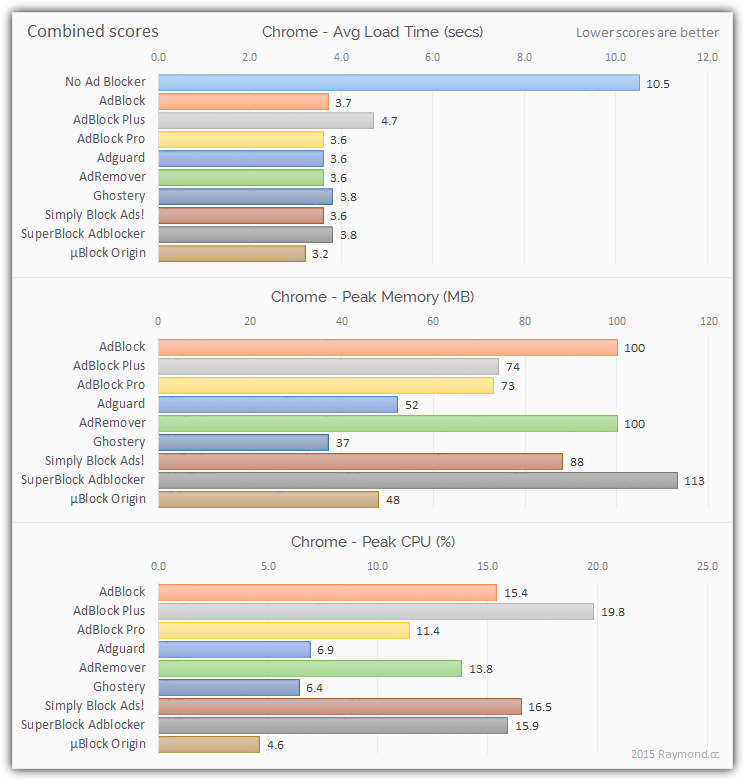 Page Load Time:
The results show that on average an ad blocker can reduce the time it takes to load a page with ads by around two thirds. Most averaged 3.6 – 3.8 seconds with a time to display the untouched page of 10.5 seconds. Two stand out, AdBlock Plus for being noticeably slower than the rest, and µBlock Origin for being a good 0.4 seconds faster than anything else. Ghostery would've been faster if it hadn't tripped up at Airliners.net.
Average Peak Memory:
There's certainly more of a difference in the average peak memory usage, Ghostery was incredibly efficient averaging a peak of 37MB across all 10 websites. Adguard was also very consistent and rarely strayed far from its 52MB average. The previous winner µBlock Origin is second but it's memory usage did vary a bit site by site. SuperBlock Pro was the highest memory user, followed by AdBlock and AdRemover.
Average Peak CPU:
µBlock Origin won this time as well, being the least taxing on the CPU by an average of almost 2% over Ghostery, Adguard was a close third. AdBlock and the AdBlock based extensions all struggled to control their CPU usage on a number of sites. AdBlock Plus was the most CPU intensive, more on that below.
Combined Firefox Results
Here are the combined load times for all 9 websites in Firefox (tmz.com wasn't tested).

Page Load Time:
Although not what we're looking at, it's interesting to see that Firefox was slower than Chrome to load our test pages in all but one test. All Firefox ad blockers were very close in the end, but like in Chrome, µBlock Origin managed to get a 0.4 second lead over everything else.
AdBlock Plus Anomalies
If you're wondering why the popular AdBlock Plus got low scores in some Chrome tests, the answer is simple and it's purely down to the acceptable ads check box. Disable "Allow some non-intrusive advertising" and AdBlock Plus will performance wise, sit in the middle of the pack.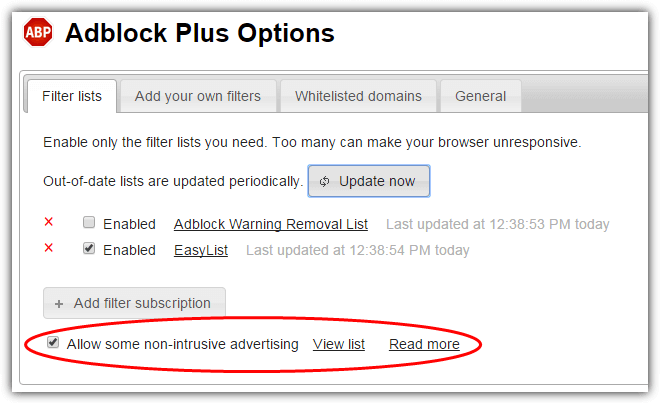 Whatever your opinion on acceptable ads, using the option in ABP is not recommended and if you wish to support showing specific ads while browsing, use something else. AdBlock, Adguard, AdRemover and SuperBlock all have an acceptable ads option of some sort, but none suffer a performance drop like ABP.
Multiple Tabs
What might surprise some is that with 10 tabs open and all test websites loading at once, an ad blocker's memory usage doesn't alter massively, the CPU usage can go up but it's not a cumulative increase and having 10 tabs open won't increase memory or CPU usage by 10 times. What does go up is the strain on the browser itself while loading multiple tabs, and it will use far more memory and processing power.
A more efficient ad blocker is preferable in this case so it and the browser are not fighting over resources. On the whole, an ad blocker's memory usage is not a major concern with multiple tabs open, but its CPU usage can be, and the less CPU cycles taken from the browser itself, the better.
Overall Winners
The overall winner in Firefox is simply the quickest, and that was µBlock origin. µ AdBlock is a fair choice if you want an easy to use but fast blocker, the rest are almost identical so it's down to personal preference and the options available as to which one you use.
The winner in Chrome is a closer call when you consider the results from all three tests. But as it got a couple of firsts and a second, we would say µBlock Origin is the definite winner, it truly is fast and efficient as the author claims. Both Ghostery and Adguard are still excellent choices and are viable alternatives to µBlock Origin providing good performance in all 3 categories.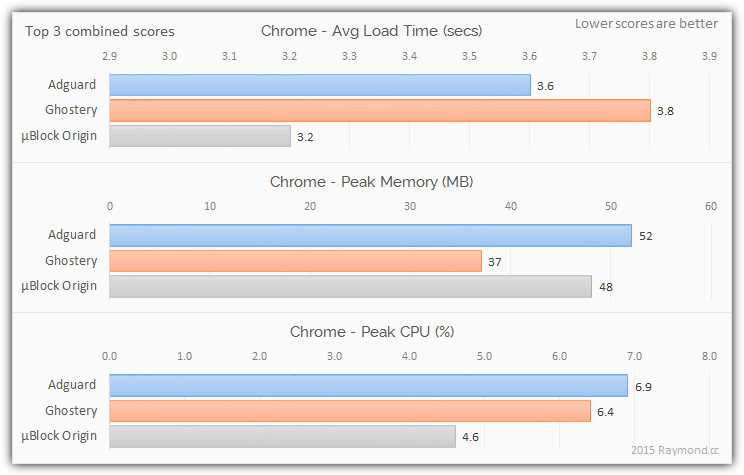 If you disable acceptable ads, Adblock Plus goes from being dead last to a blocker that performs similar to the rest. It's worth pointing out AdBlock and it's forked versions all suffer with higher CPU and memory usage, for that reason we would recommend something else if you have a low end system.
Of course, every web site, computer and internet connection is different and you would likely get slightly different scores on your system. But when the ad blockers are tested altogether in a controlled environment, the trends should be similar with what we have here. Also changing settings and adding/removing block lists will also likely have an effect on all 3 scores, which is why we left all ad blockers at their default settings.
Don't forget, this test has been about the performance impact an ad blocker has on the loading of a page and the system's resources consumed in doing so, it does not take into account other factors such as how many features are available and what can be blocked in additions to advertisements.
Final Note
Whether you think they are good or bad, ad blockers are here to stay for the foreseeable future and it's up to each individual website to strike a balance between providing the well placed ads they require while not annoying people so much that they feel there is no choice but to use an ad blocker. If you keep your website loading fast and efficiently both with and without ads, it increases the likelihood people will not block the ads on your site or they will be more willing to whitelist your site in their ad blocker.