Fastest Ad Blocker: 13 Best We Tested for Performance in 2023
Tested Websites and Results
We chose 10 websites to run the tests on, they have a mixture of themes that an average or tech minded user might visit. In general we've picked sites that are not too fast to load all content or have a sizable load time difference between showing ads and blocking ads.
Many articles and reports have highlighted news sites as one of the worst types for advertisements, so a major provider like this should be a good starting point. CNN.com doesn't seem too bad, we noticed 4 ads on the home page and promoted stories from outbrain inside the articles. This is a content rich site and that could affect the time differences between ads and no ads.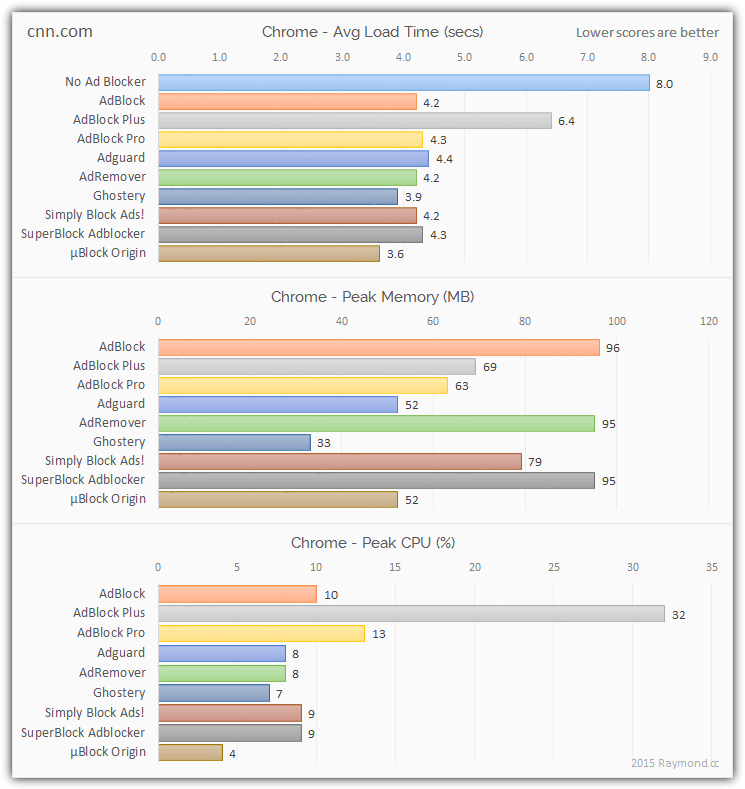 AdBlock Plus is noticeably slower while µBlock Origin and Ghostery are both a small amount quicker than the rest. Ghostery was also best in memory usage while AdBlock Plus was by far the biggest CPU hog.

The Firefox CNN load times were quite similar although µBlock Origin managed a small advantage over µ AdBlock, which had a small lead over the others.
---
PC Advisor is the UK branch of the American online PCWorld magazine. We originally intended to test pcworld.com but when it was found that pcadvisor.co.uk has far more and far bigger ads which can take up an astonishing 3/4 of the browser window, we switched to PC Advisor.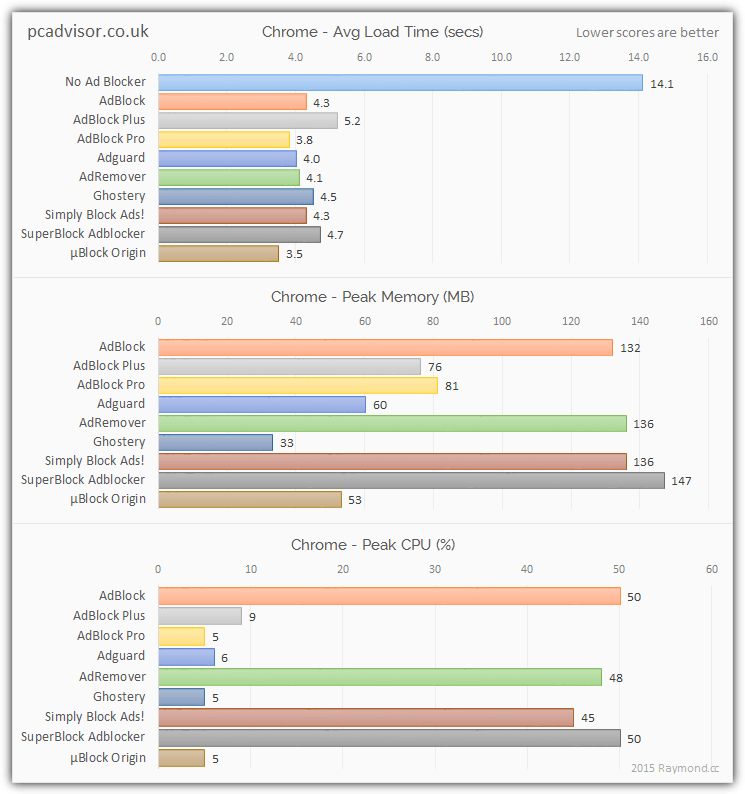 There was a reasonable time difference between the fastest (µBlock Origin) and the slowest (AdBlock Plus) in Chrome. AdBlock had CPU and memory spikes midway through the test, interestingly all the other AdBlock based addons suffered with the same problem.

Firefox didn't like this page and often displayed 2 header ads on top of each other and was often very sluggish when loading. Things improved with an ad blocker where µBlock Origin was noticeably faster.
---
The Airliners name popped up a few times on the internet as somewhere with a more than reasonable amount of ads. Unsurprisingly Airliners is an aviation website with information and news about aircraft. A pop in ad periodically appears on the homepage, the search pages however, have five ads and taboola sponsored links so we tested one of those.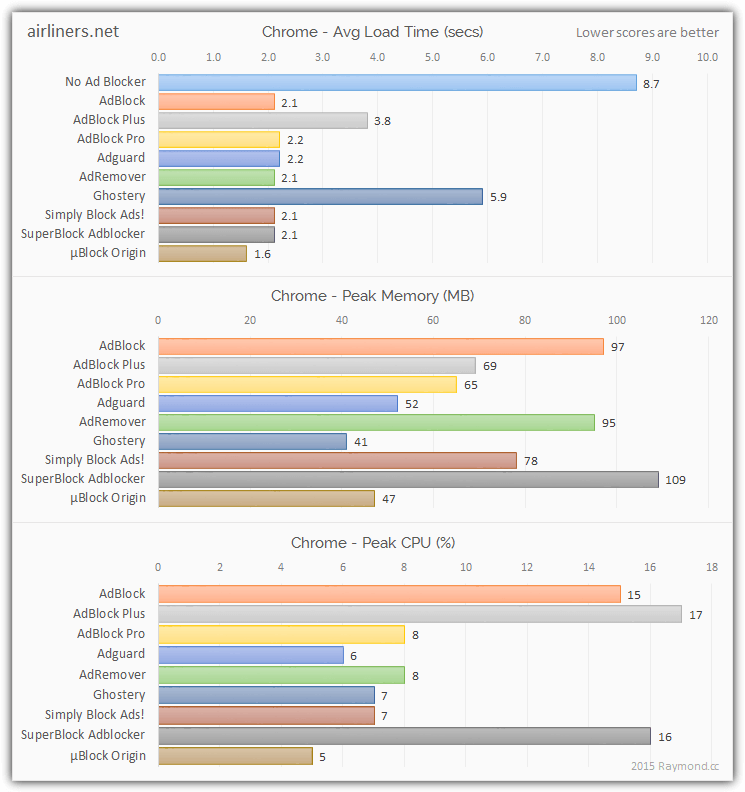 Ghostery's load time in Chrome was the slowest and it had issues with some on page Javascript. AdBlock Plus was second slowest with µBlock Origin the fastest by half a second. µBlock Origin and Ghostery were the best on memory usage.

µBlock Origin was fastest in Firefox too, and by quite a distance. Ghostery also suffered the same problem as it did in Chrome and got stuck on one of the pieces of Javascript.
---
CNET is one of the biggest technology news and review sites around and the download.com subdomain is a huge portal for software downloads. CNET is one of those guilty for starting off the trend of bundling adware wrappers with their software downloads. The homepage is content rich and displays 4 ads so it's debatable how much difference an ad blocker will make.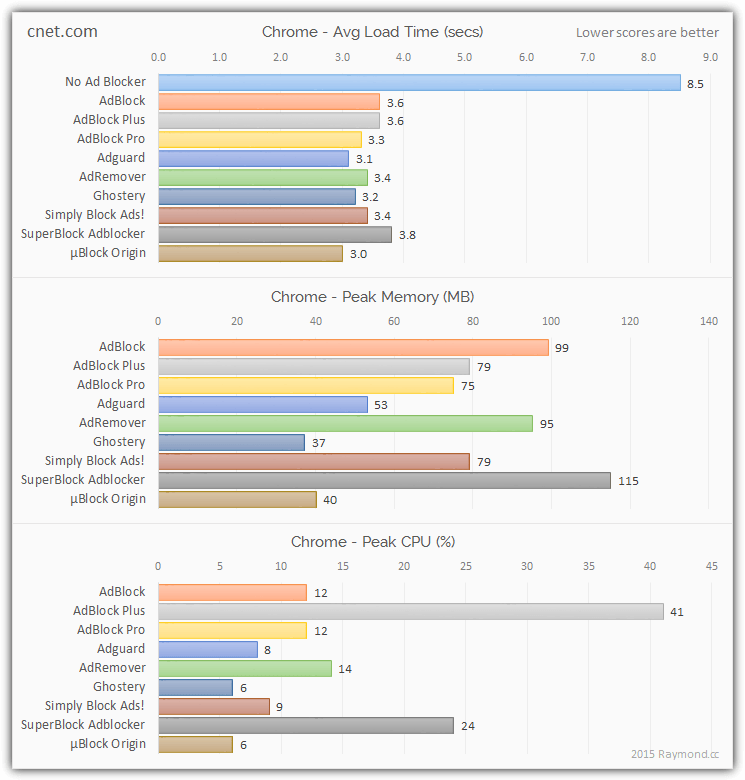 Most Chrome ad blockers were able to cut load time by more than half, with µBlock Origin eeking out a tiny lead over Adguard. AdBlock and SuperBlock were both higher on memory and processor usage.

µBlock Origin was fastest in Firefox, over a second faster than AdBlock Plus and nearly a second over Ghostery.
---
What makes Tmz amazing is not its entertainment news, but the sheer size and amount of content that needs to be loaded. The homepage alone requires over 600 requests, 10MB+ of data transfer and over 50 third party scripts, all of which cause high CPU usage and a slow time to completely load the page.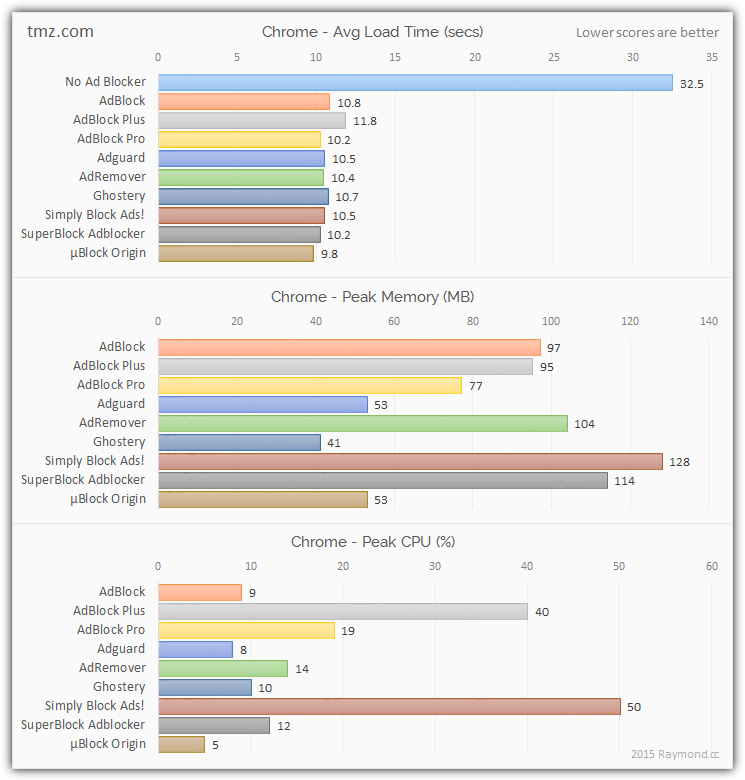 Ad blocking shaved a massive 20 seconds off load time and µBlock Origin was the only one under 10 seconds. Three blockers exceeded 100MB for memory usage while several suffered high CPU usage due to the page size, Simply Block Ads! especially.
Firefox didn't like this page at all and we couldn't get consistent readings to run tests, on every refresh the browser would simply not respond or crash. For this reason we've excluded Firefox from testing TMZ.
---
On first look Movie Mistakes doesn't look that bad with 5 or 6 ads on the page and no bandwidth hogging large images or animations. The page loading slows because there's more than 25 ad scripts downloading from various third parties, each of which takes time and slows overall progress down.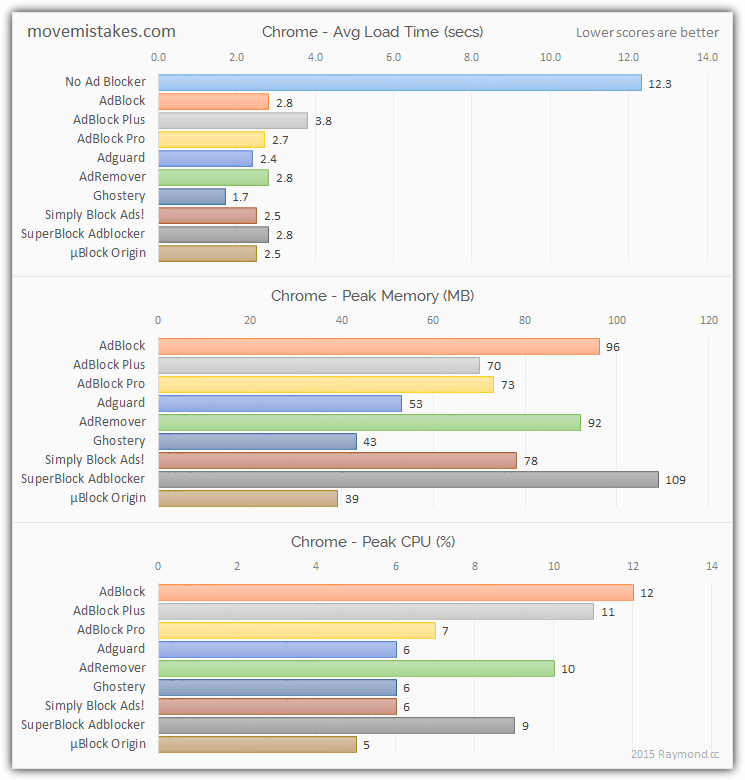 Almost all the Chrome ad blockers reduced load time by over 75%. Adblock Plus was the slowest by a second while none really suffered too much for memory memory and CPU cycles. Ghostery was incredibly efficient being the fastest and the second lightest on memory.

For Firefox the difference was similar with Ghostery being noticeably faster than the other blockers tested.
---
Sourceforge hosts a lot of open source software and hit the headlines a few years back by including adware in some of the software which caused developers like GIMP to leave in protest. While there are five ad banners on the main homepage, it does load consistently fast so you are not heavily penalized for allowing the ads.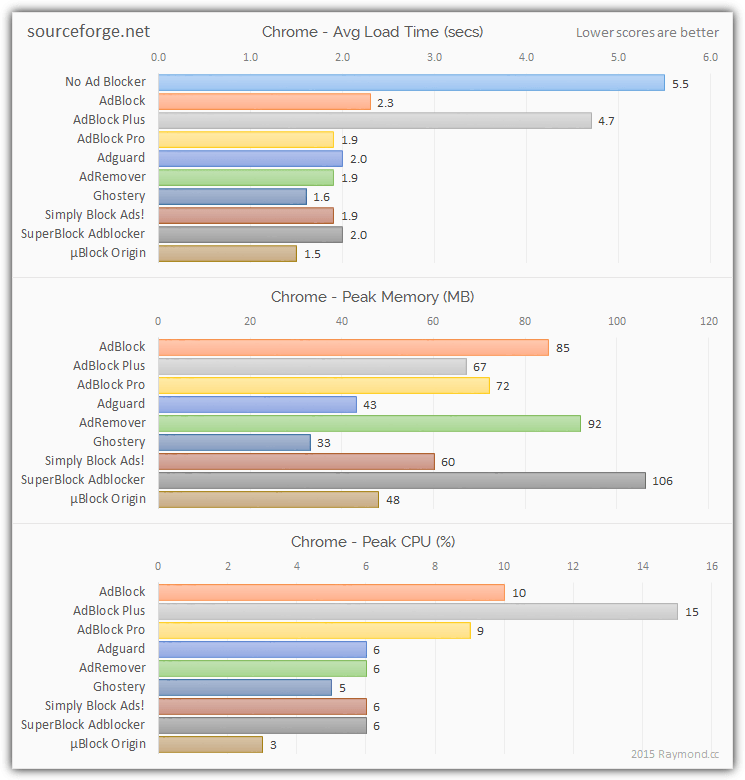 The best ad blockers in Chrome can reduce load time to a lightning fast 1.5 seconds. Most of the memory and CPU usage scores are quite low. One anomaly is Adblock Plus which uses more CPU and loads the page at almost the same speed as the page with ads.

The Adblock Plus result is similar in Firefox with a notably slower load speed, the rest are spread by only 0.3 seconds.
---
Tom's Hardware is one of the biggest hardware and software news and review sites. The time to completely load the homepage was consistently over 20 seconds and it has 3 or 4 large ads near the top, and an ad from time to time that covers the entire window. The number of ad and tracking scripts is over 50 which affects the page load time.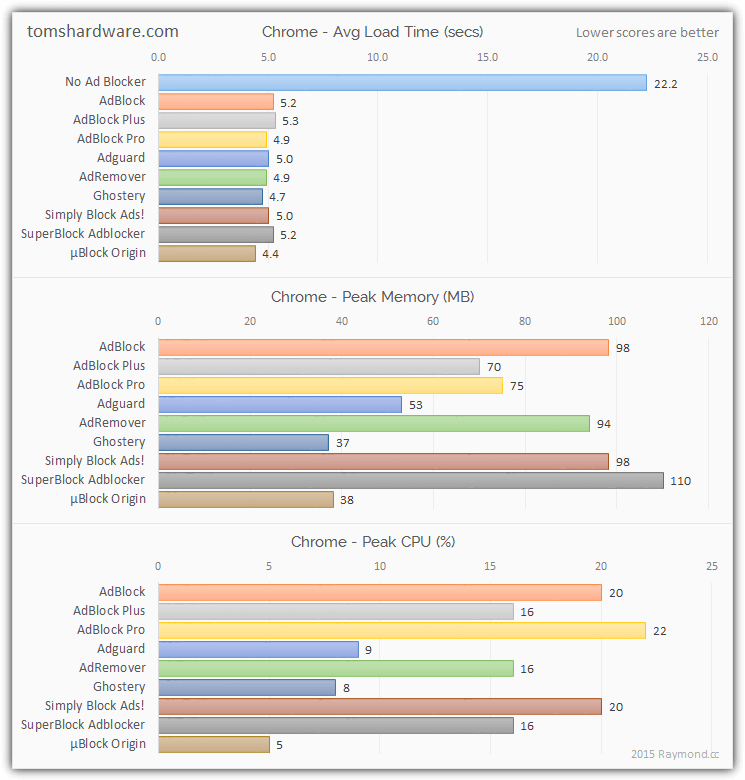 In Chrome all the scores were pretty even although µBlock Origin had an advantage in load time and CPU usage, Adguard and Ghostery again stayed consistent. Adblock and its forked versions were all higher for memory usage and CPU load was generally high with three blockers hitting 20%+.

For Firefox it was a similar story with the slowest (Ghostery) less than a second behind the fastest (µBlock Origin). It's worth noting that Adblock Plus displayed an "acceptable ad" on this page.
---
Megagames has a bit of everything for gamers, including news, reviews, cheats, trainers and even game fixes (no-cd patches). This website doesn't begin to load for 2-3 seconds, and a ton of ad, tracking and analytic scripts extend the overall load time by a sizable amount.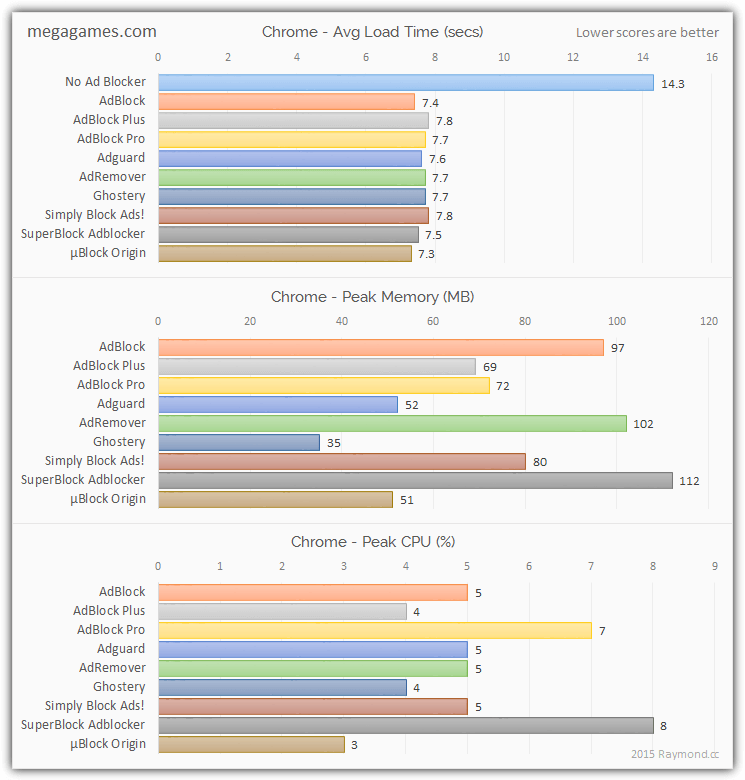 The best and worst times are only split by 0.5s and so close to be unnoticeable in real life. Ghostery, Adguard and µBlock Origin are again good on memory and processor usage while there were no terrible scores to write home about.

Times are also close in Firefox with Ghostery just slowest by a single tenth and AdBlock Plus fastest by a single tenth. The savings by using an ad blocker for Megagames are smaller compared to some other sites due to the overall slower page load time.
---
Raymond.cc
While we're testing other sites, it's only fair we should test our own, because like almost everyone else, Raymond.cc uses ads to help pay the bills. There's a maximum of 3 ads on any page and none on the homepage or index pages. To test a page with ads, we have used one of our most popular articles as the test page.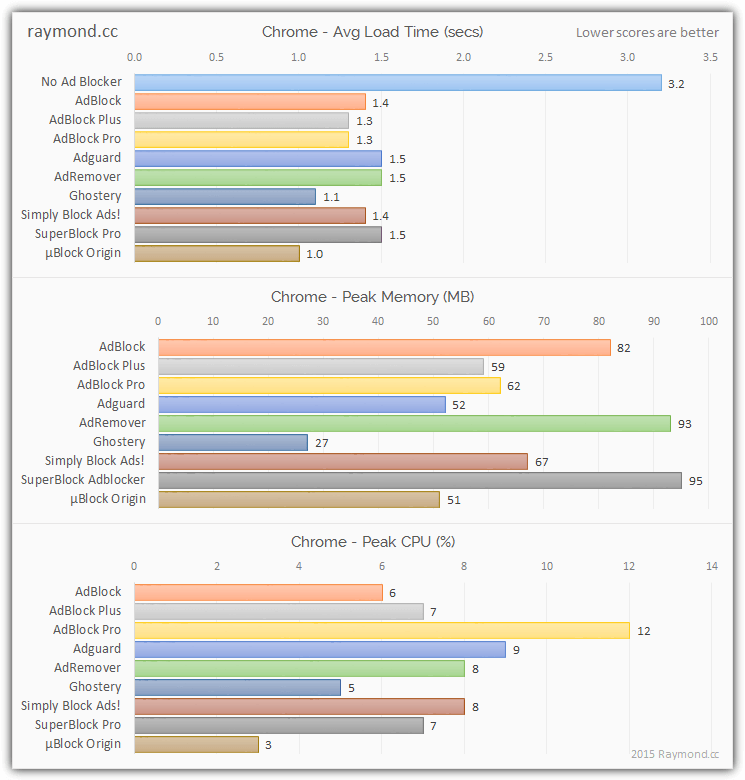 The normal page loading in Chrome was just over 3 seconds, an ad blocker cut this time in half and by two thirds for Ghostery and µBlock Origin. The memory usage was quite low across the board and only AdBlock Pro caused slightly higher than average CPU usage, at 12%.

Like Chrome, the Firefox times were tightly bunched and close enough to be unnoticeable in general use, µ Adblock was just fastest.
We're quite pleased that during the tests our pages with ads displayed were comparable in load time to many sites where the ads are blocked, and the time difference between blocked and viewable ads is usually only around 2 seconds. This means you are not heavily penalized if you wish to continue to show the ads or enable the viewing of ads in your ad blocker.
We'll now look at the combined scores and pick out the overall winners and losers.